Are you and your family thinking about building a new home?  Do you want something different and unique?  There is a new housing trend called a Barndominium.
So, the question is What is a Barndominium?  This is a metal barn that has been converted into a living space.  They look like a traditional barn on the exterior but a home, or condominium, on the interior.
What is a Barndominium?
A barndominium is a large building, usually made of steel, that has space for a work area and living quarters.  Some are actually a barn that has been converted to a home.  Many are built from the ground up.
With this type of home, you get the interior of a modern home and the exterior looks like a farmhouse.  Some are heave on the countryside, rustic look. 
They feature an open-concept common room with a high vaulted ceiling.  The bathrooms and bedrooms will offer privacy.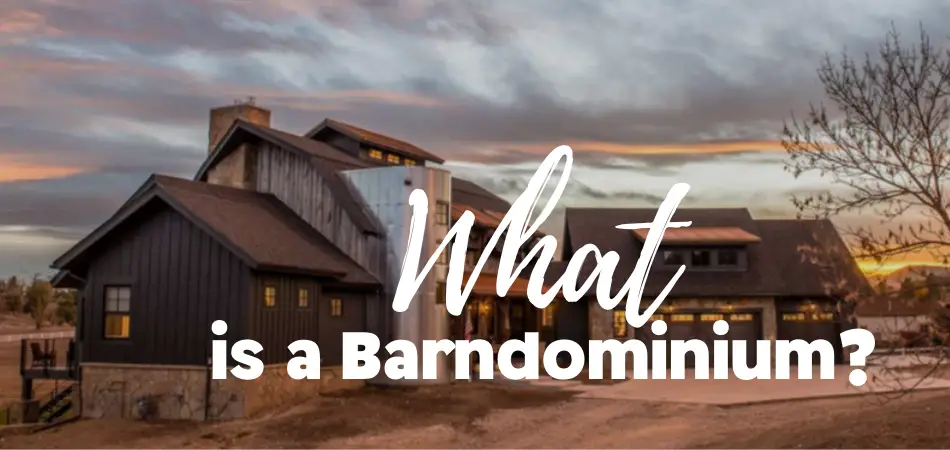 Most will have a concrete foundation that is shaped like a rectangle.  This will allow you to customize your floor plan.
Currently, they are the latest trend in alternative homes.
Instead of being built with 2×4 frames, their frames are made of steel posts driven into the ground.
The History of the Barndominium: How It Started
The word barndominium can be traced back to a man by the name of Karl Nilsen.  He was a real estate agent in Connecticut.
He coined this phrase in the 1980s.  Karl was working on a neighborhood that was going to be focused on people living with horses.
It lost its popularity soon afterward and did not regain its popularity until the mid-2010s.
That was due to a barndominium conversion on the hit show Fixer Upper.  The show was filmed in Texas.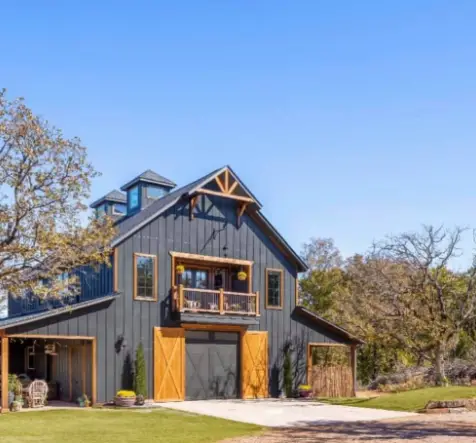 There is also history in Texas as they have been used for a long time there.  In times past, the smaller farms out in the country use the lower level of their barn to house their livestock.
They used the top floor for their home.  It was done for heating reasons, affordability, and convenience.
These earlier multifunction barns gave way to what is called the barndominium today.  They have been rising popularity for the past few years.
The barndominium first appeared in the real estate world about ten years ago.
The exterior kept the original barn look but the inside looked like a modern house.  Today the designs are more elaborate.
The exterior has been overhauled to have a steel structure but still maintains some of the aesthetics of an original barn.
In order for it to be considered a barndominium, he has to have this aesthetics.  Today some are still renovating old barns to turn them into a barndominium.
Many are opting to go with the new steel frame.
Why are Barndominiums Getting so Popular?
The main reason that people give for why they are so popular is that they are able to have a home/shop structure.
This is great for people working in jobs and need a place to work that is covered.  Being able to live above the work area makes the commute easy.
They are also large enough to fit relatives and big families in one living space.  They are also cheaper to build on a per square foot basis.
This makes it cheaper for a large home to be built to accommodate large families.
The floor plan that uses an open concept for the kitchen and living areas is very appealing to families.  In recent design trends, this is a luxury.
With a barndominium, you get a great a floor plan with an open concept that is less expensive.
Barndominium Pros and Cons You Must Know
How Much Does a Barndominium Cost?
After asking what a barndominium is, the second question is what do they cost?  It is safe to say that they are cheaper to build than a regular home.  On average, they cost $95 to $125 per square foot.  On average, the cost is $220,000.
You can build your Barndo with different sizes like 30×40, 40×40, 40×50, 40×60, 60×60 etc.
We've written guides on them so that you can plan on your next home with informed decisions.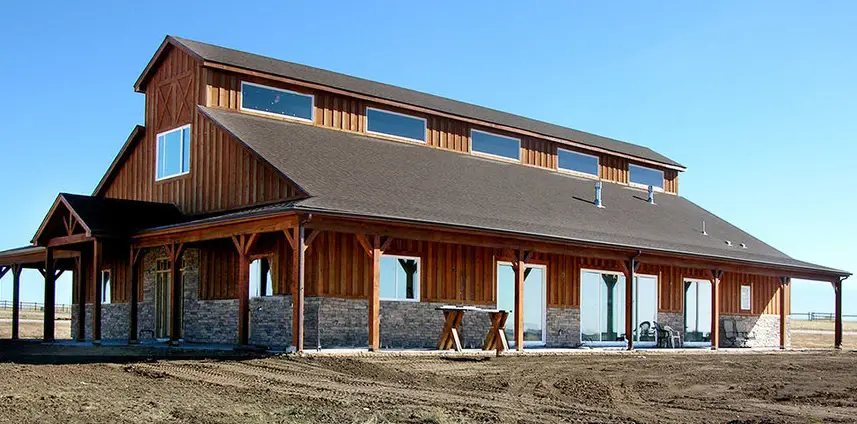 Some factors can change this price- 
How much it will cost depends on much you will do yourself. If you hire a contractor to do everything, it will be closer to $125 per square foot.
The location also figures into the price.
You need to factor in how much site work needs to be done before the building can begin. You may need a permit to do the grading to get the lot ready.
How hard it will be to hook up utilities.
Cost of the land
Foundation
Interior options
Permits are needed for plumbing, septic electric, building, and mechanical.
Inspections from the foundation to the final to get a certificate of occupancy
Is Barndominiums Cheaper to Build Than a Regular House?
The answer to this question is yes, it is cheaper to build a barndominium.  A traditional home generally starts at $145 per square foot.  This is for just an average-sized home. 
Most of that money is for the exterior framing of the walls with stucco, brick, or other material.  You also have to figure in the cost of the roof.
With a barndominium, the primary cost comes from the metal shell that includes a roof.  You can skip most of the costs of a regular home.
How to Build a Barndominium?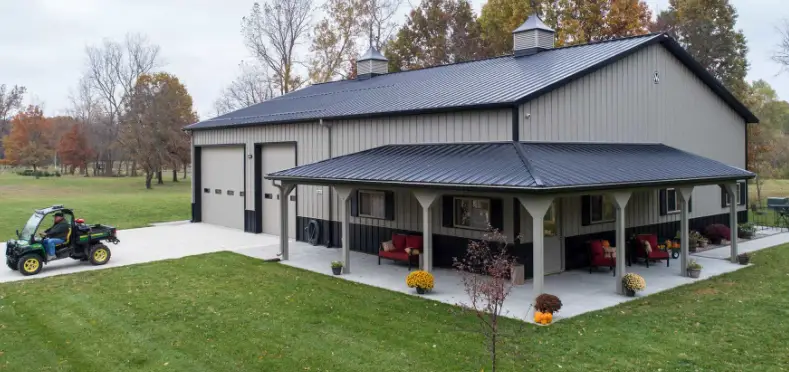 Buying the land
When looking for land, here are the things you need to consider.
Zoning
Most states and counties have established zoning classifications.  It does not matter how much you go out in the country or how far from the closest city.  Consider what it is classified for.
You need to know if it is zone residential, agricultural, commercial, or classified as a combination of zones.  Check with the local zoning and city or county planning department.
Taxes
Each state has tax rates that are different.  This is true even if the land plots do not have buildings.
Once you own it, you will need to check the tax rate as it could be different.  This is necessary if you are not building right away.
You need to consider what the taxes will be after you build your barndominium.
Some districts have tax rates that are figured on the size and value of the building that has been built on a section of land.
Utilities
Make sure that there are public utilities available.  This means electricity and running water.  Sometimes that is not available on a parcel of land out in rural areas.
If there is no running water, then a well will need to be drilled.
Make sure that you can connect up to a county/city sewer or septic system.  If this is not possible, you will have to install it.  Also, is there an electric grid that can be tapped into?
If not, this can be considered 'off the grid' and use solar power.
You also need to make sure that there are adequate internet options or cell coverage.  Some opt for satellite internet.
Barndominium Floor Plans
Once you have figured out where you are going to build your barndominium, the taxes, utilities, and zoning, it is time to design the home.
You need to have an idea of how the finished home is going to look like and how big you want it.  You also need to know what features the barndominium will have.
The first step should be to look at some floor plans.   To help make a decision on the floor plan, think about the different phases of your lifestyle.
Decide what is and is not important.  What size family do you have or plan to have?  If you are newlyweds, are you planning to have children?  Is this going to be a retirement home?
There are floor plans with two to five bedrooms.
There are open concept floor plans, floor plans with a shop, general floor plans, and so much more.
All these questions hold answers to the type of floor plan you should consider.
Check with the state where you are building your barndominium as some states require that the plans be done by someone that has basic knowledge of the zoning mandates.
Some want them done by a certified architect.
Below you will find three samples floor plans-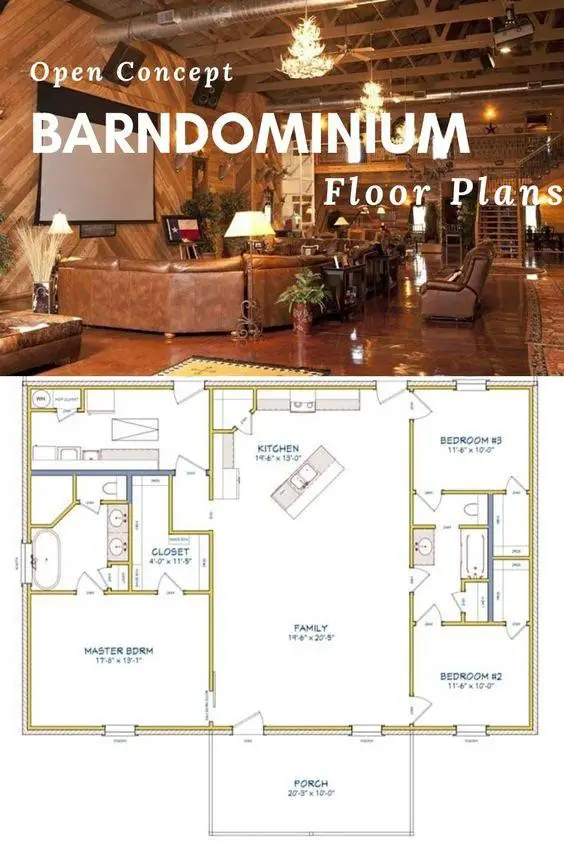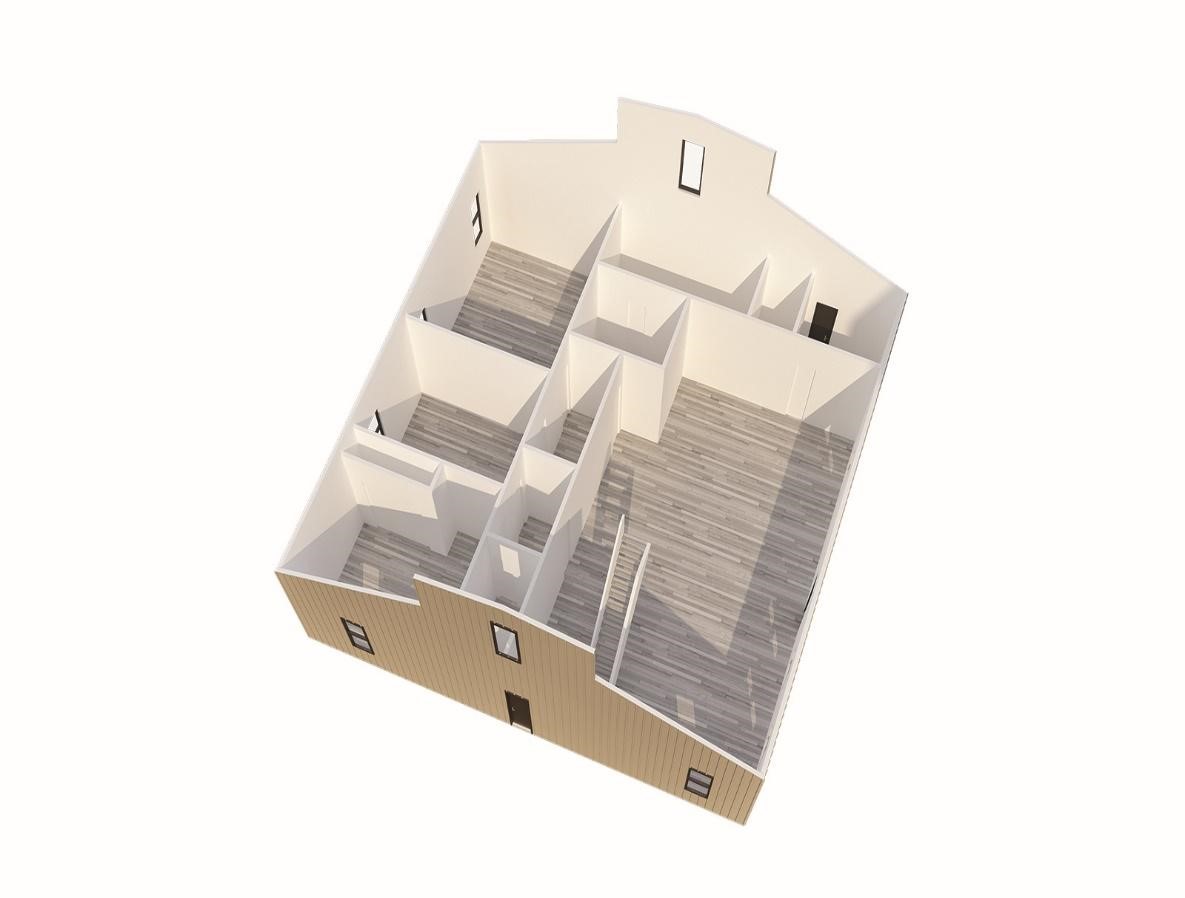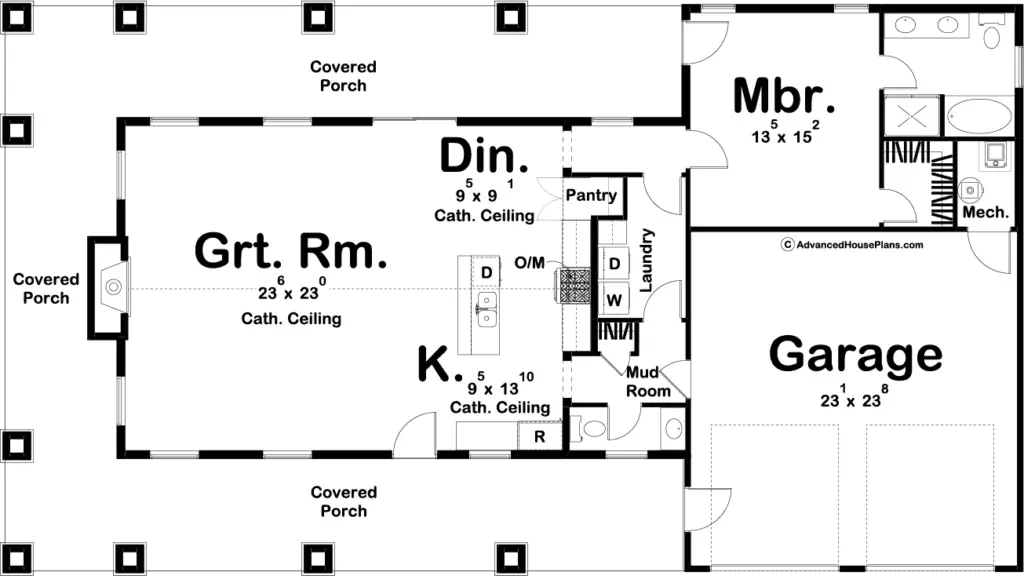 Building a Barndominium – Contractor or DIY
Both ways have both pros and cons, which this article will lay out for you to make an informed decision.
Contractor
If you are skilled in the fields required to build your barndominium or do not have time to dedicate to the build, you should hire a contractor.
On average, they charge a 20% commission on most projects.
Do-it-Yourself
If you like do-it-yourself projects and have experience with power tools and home construction, then you can build your barndominium.
If you purchase a kit, it will help to make the building process easier.
If you have the experience and knowledge you will have to add the electrical and plumbing, siding, roof, and fixtures.  If not, you will have to hire someone to do this work.
What to Know About a Barndominium Kit?
If you decide to buy a barndominium kit. It will make building your home easier.  It will arrive in a semi-trailer or on a pallet.
You have to put it together after pouring a concrete foundation.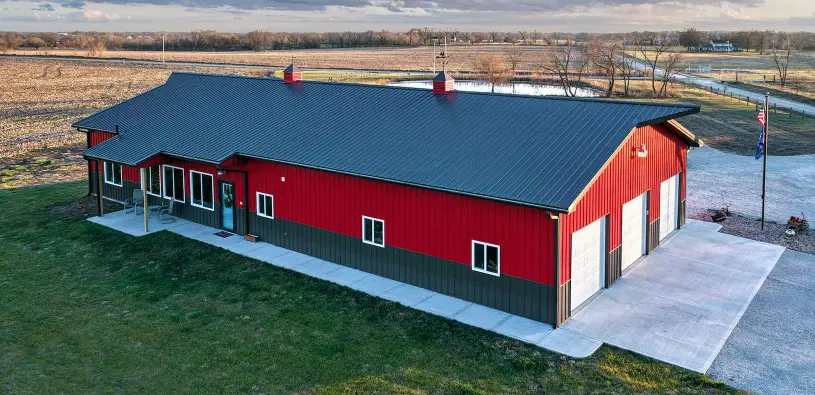 A kit is not turn-key, but it is easier than paying someone to do ground-up construction.
Some manufacturers will help you arrange construction crews to come to your land to help assemble your barndominium.
What is included in the kit?
Prime and secondary framing
Flashing
Sealants
Fasteners
Drawings and plans
Wall sheeting
Roofing material
Depending on the floor plan you created with the design company, you may get additional items.  With the kit, the interior items are not included.
Some of the extra additions can include:
Are Barndominiums Safe for you and Your Family?
Yes, barndominiums are safe for you and your family.  Here are several reasons why.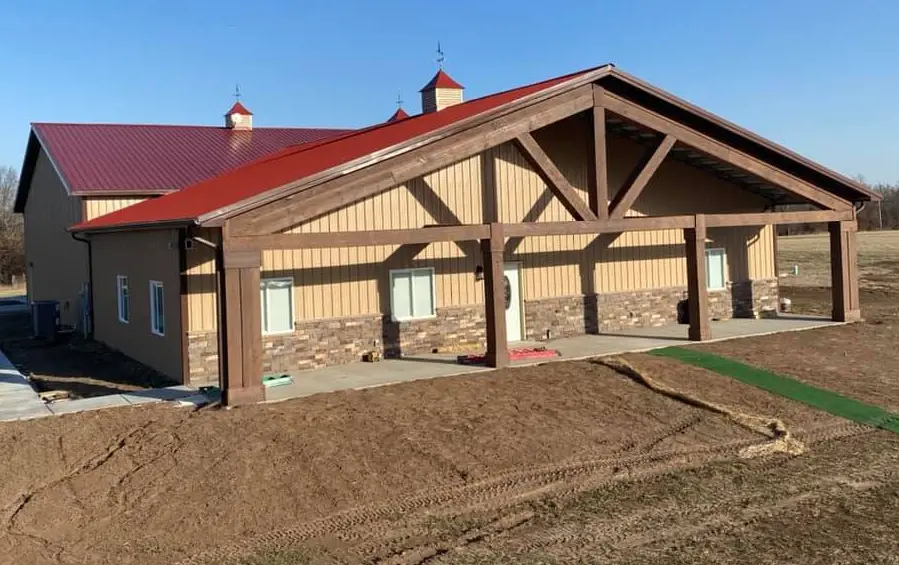 Safer in a tornado
Many barndominiums are built-in parts of tornado alley, which include Oklahoma, Kansas, Texas, and other states.
They are safer because of their steel construction.  They can stand up to an F-4 tornado or rigorous hurricanes.
Protection against a fire
Most traditional homes that are built use stick or wood construction.  A barndominium is made of steel so it makes it more durable.
This makes them better for protection against potential fires.
Earthquakes
With a barndominium, they are safe when compared to other forms of housing.  Steel buildings are considered safer according to the World Steel Organization.
Steel buildingsseem to be able to dissipate the energy from seismic waves.
Safe during lightning
Because barndominiums are made from steel, there is a potential concern they may not be safe when it is lightning.  Some question if they are more vulnerable to strikes by lightning.
This is not true.  When compared to other materials, the steel buildings have an electrical resistance that is low.
This will help the heat of the lightning strike to be more spread out.
Are Barndominiums Durable?
Before you build your barndominium as your permanent forever home, you may wonder if it is durable when compared to other traditional homes.
The answer would be yes and here is why.
They provide better protection against mold, rust, moisture, severe weather, and fire. This is because of the distinctive design of the dwelling.
It is made of steel, which the homeowner more protection against these things.
The maintenance is less than on traditional homes. You never have to repaint the barndominium due to the steel construction.
They are easier if you want to renovate them or have to repair them.
If you have to rebuild a wall because, in a traditional home, the wall could be an element of the structure. That would make it harder to replace or repair.
When your home is durable, you will have fewer maintenance and repair needs.
Are They Energy-Efficient?
When you compared it to traditional homes, a barndominium is a very energy-efficient homes that you could live in.
Energy-efficient windows.
When constructed of prefabricated steel, it decreases upkeep expenses and energy needs.
It is easier to create more rooms and metal partitions, which helps to close off the sections you live in. In doing so, it energy efficiency is increased.
Financing Your Barndominium
Most lenders are still warming up to the idea of financing barndominium but some lenders will finance them.  Make sure that you are prepared when applying for a loan.
You should have a solid plan for building your barndominium.  Be sure you have actual subcontractor or contractor bids.  You should also have a good credit rating.
The type of loan you are applying for will be a construction loan.  Because they are mostly new builds, it can be harder to get a loan than for an existing home.
The reason is that it is harder to get an accurate appraisal.  A barndominium is not identical to any other property.
If you have a good relationship with your credit union or bank, try to get your loan there.  If that does not work, you can try a farm credit shop.
Online mortgage brokers will generally be ready to issue a new loan.
Final Thoughts
Barndominiums are the latest trend in homebuilding.
This article will give you all the facts about why you should consider building a barndominium when you are ready to build your dream home.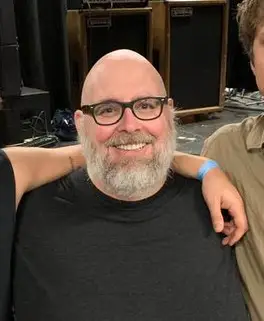 I'm James, your barndominiums advisor. Several years ago, I had no idea what barndominiums were. Although I'd spent over 10 years in the construction industry, the first time I heard about barndominiums was when I saw my neighbor building a new-style home. That was the first barndominium I've ever seen, and I found it so fascinating that I wanted to learn more about them.
More Posts