Barndominiums are quickly becoming a popular choice for homeowners across the nation! Many benefits, including cost-savings and energy efficiency, that appeal to those looking for an environmentally friendly home while saving money.
They accommodate many lifestyles and family sizes, ranging between 1000 to 4000 sq. ft. But a 6-bedroom barndominium floor plan might be the best option for those with bigger families or needing more space.
Depending on your city, they can be built on any property (location allowing), including rural land, acreage, and subdivisions.
6-bedroom barndominium floor plans are perfect for bigger families looking to get the most out of their spaces, and there are plenty of floor plans to choose from to fit your lifestyle.
Even if you don't need six bedrooms, having the extra space can allow for things like an office, game room, craft room, classroom, or internal storage for items you don't want in the garage.
What are the benefits of living in a barndominium?
A short list of benefits includes:
Versatile

Durable 

Easy To Build

Cost-Effective (cheaper than a traditional house)

Energy-Efficient
These homes are constructed of steel, combining a condo's features with a barn's style. They include everything a traditional house has but are cheaper and easier to build.
They are known for their durability and known to withstand severe weather conditions, including wildfires in California and household issues like rot and termites. They can be customized to include features such as horse stalls, workshops, and storage areas.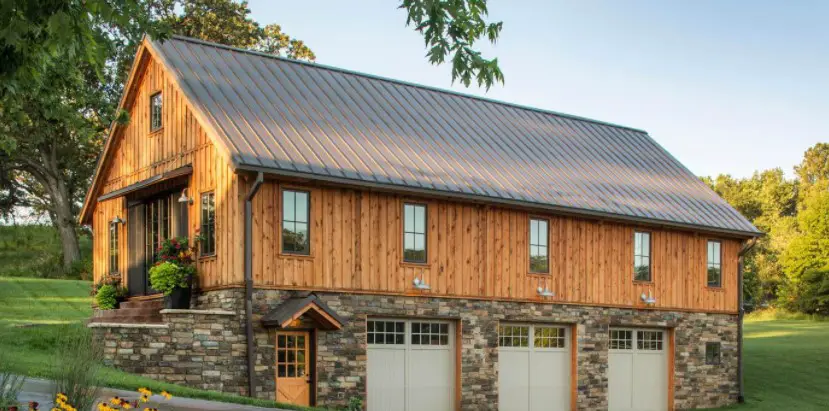 Here, we'll showcase a few six-bedroom barndominium floor plans for those looking for a bigger home option.
What is the average cost of building a 6-bedroom barndominium?
The average cost for a barndominium is around $20 to $160 per square, with the average size of a 6-bedroom space between 5,000-6,200 square feet.
The price is determined by the route you take to acquire your barndo, i.e., turnkey, shell kit, or contractor. But you can expect to pay around $700,000 to $868,000 for a 6-bedroom barndominium.
What is the overall size of the floor plan?
As stated above, a 6-bedroom barndominium floor plan is roughly 5,000-6,100 square feet. The floor plans below can help you visualize how much space you'll have and what it will be used for. An idea of a floor plan will help guide your decisions and maximize your space.
What is the roof style for a barndominium?
The most common barndominium roof style is a gable roof. It has two equal sides which meet the peak in an A shape—known for its simplicity and cost-efficiency. Other roof styles include the gambrel roof, single-slope or shed roofs, monitor-style roofs, and combination roofs.
What type of foundation is required?
There are different types of foundations to choose from, each with its requirements. The most common is poured concrete, which requires a minimum of 4-inches.
Others include block foundations (8-inches) and pier and beam foundations (12-inches). The foundation is determined by soil conditions, structure weight, and climate.
We'll dive more into the cost of a 6-bedroom below.
Barndominiums vs. Traditional Homes: Cost Comparison
When comparing a barndominium to a traditional home, barndos can be built faster, have lower maintenance, lower property tax, lower insurance rates, and are more energy-efficient. 
Below is the average cost for a 6,100 sq. ft home.
| | | |
| --- | --- | --- |
| Type of Structure | Average Cost | Cost Per Square Foot |
| Existing Home | $1,122,400 | $184/sq. Ft. |
| New Home | $945,500 | $155/sq. Ft. |
| Barndo Shell Kit | $122,000 | $20/sq. Ft. |
| Turnkey Barndominium | $854,000 | $140/sq. Ft. |
There are several reasons why a family might want a 6-bedroom barndominium. Either you have a big family or need the extra space for working remotely or hobbies. There is a wide range of 6-bedroom barndominium floor plans to choose from, but here are a few to give you an idea of what one might look like.
6-Bedroom Barndominiums Floor Plans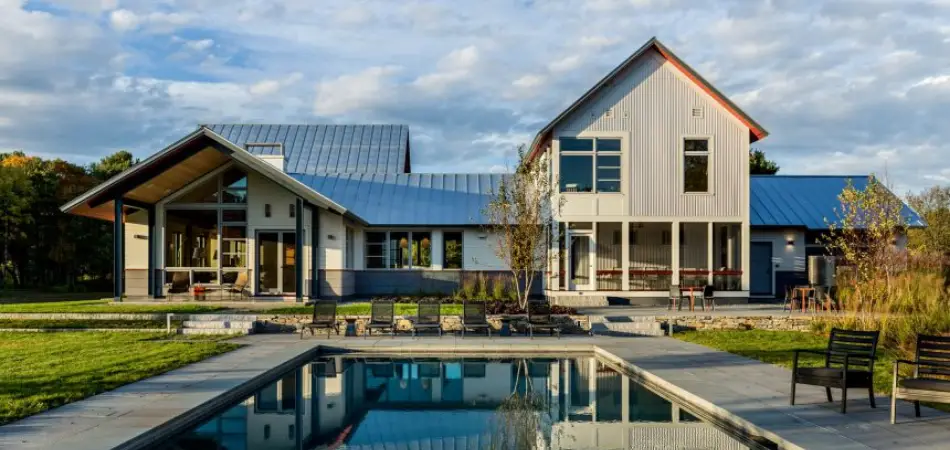 Floor Plan 081
This floor plan includes five bedrooms and a master bedroom. However, there is only one bathroom with a half bath off the living room with the laundry room near the master bedroom. The space for this floorplan could have been used better. There is no dining area, and the kitchen is too small, especially for a large family.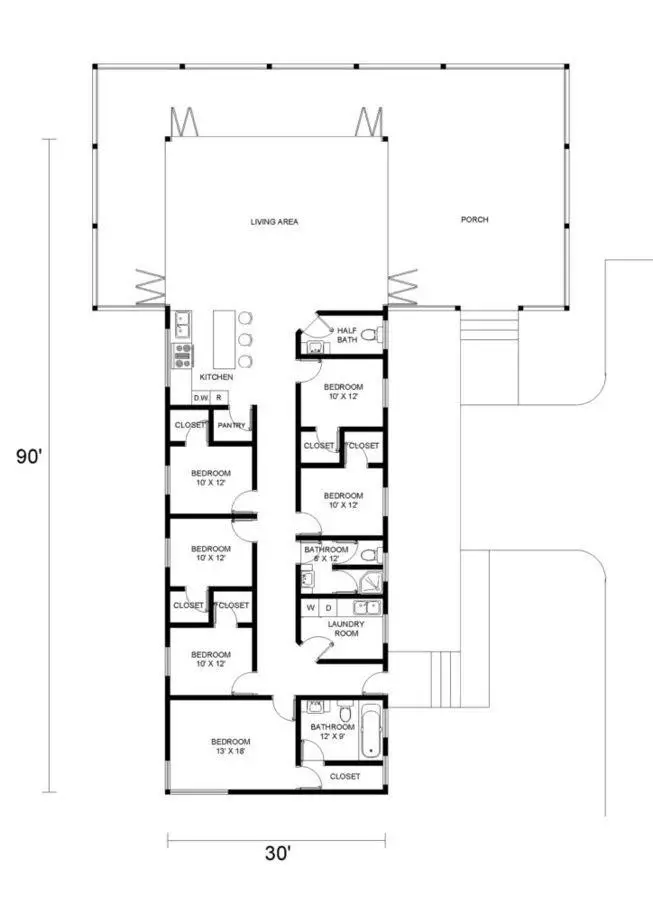 You must walk through the closet to get to the master bathroom. This is not the floor plan I would choose for my barndominium.
Floor Plan 082
This floor plan does not have a master bedroom. There is also a small kitchen and no dining room. There are two short hallways off the living room with two bathrooms and closets in the middle.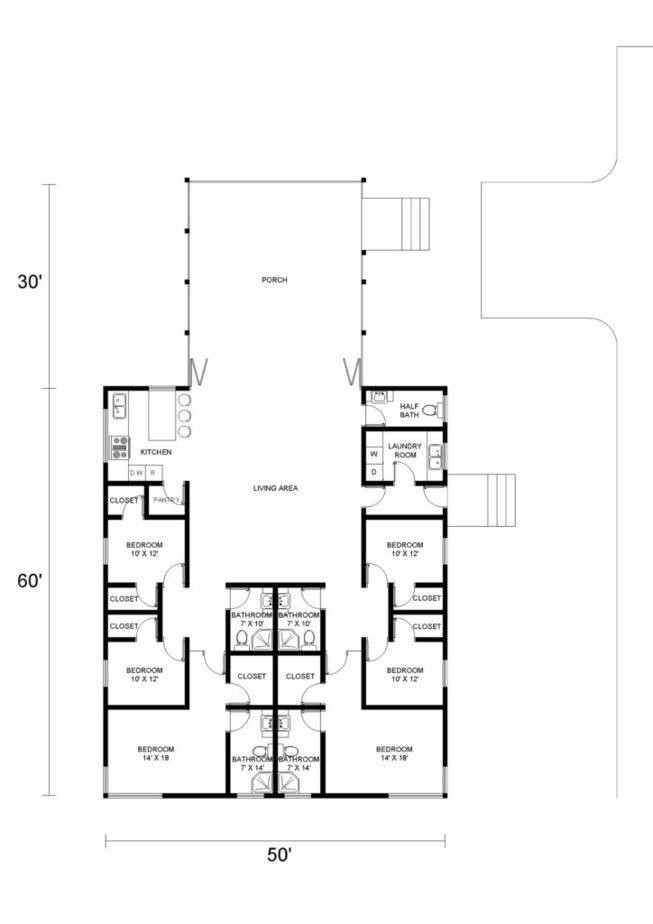 At the end of the barndominium, there are two bedrooms with attached bathrooms. Either of these could be used as the master bedroom. The strange thing about this floor plan is that the two-end bedrooms require you to step out of the room to get to the closet.
The front porch is large and could have been smaller to give more room inside. However, it's better utilized than 081.
Floor Plan 083
This is a two-story 6-bedroom barndominium with a space for the kitchen and living areas. There is a master bedroom, with two additional bedrooms on the first floor. The bathroom is shared but not connected. Includes a large living room and dining with a good-sized kitchen.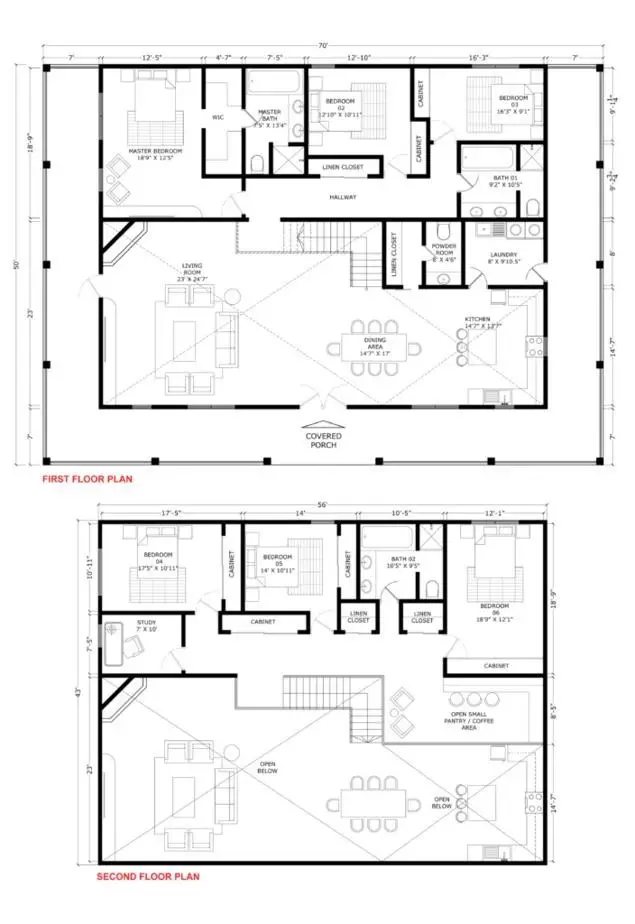 The upstairs houses the other three bedrooms and one bathroom. It also includes a small study and another common area that could be used for another living room, art room, and open office.
This is a great six-bedroom barndominium floor. The rooms are spacious and not cramped.
Floor Plan 085
This floor plan includes two bedrooms on one side, next to the garage. The living room, dining room, and kitchen area are in the middle, followed by four additional bedrooms.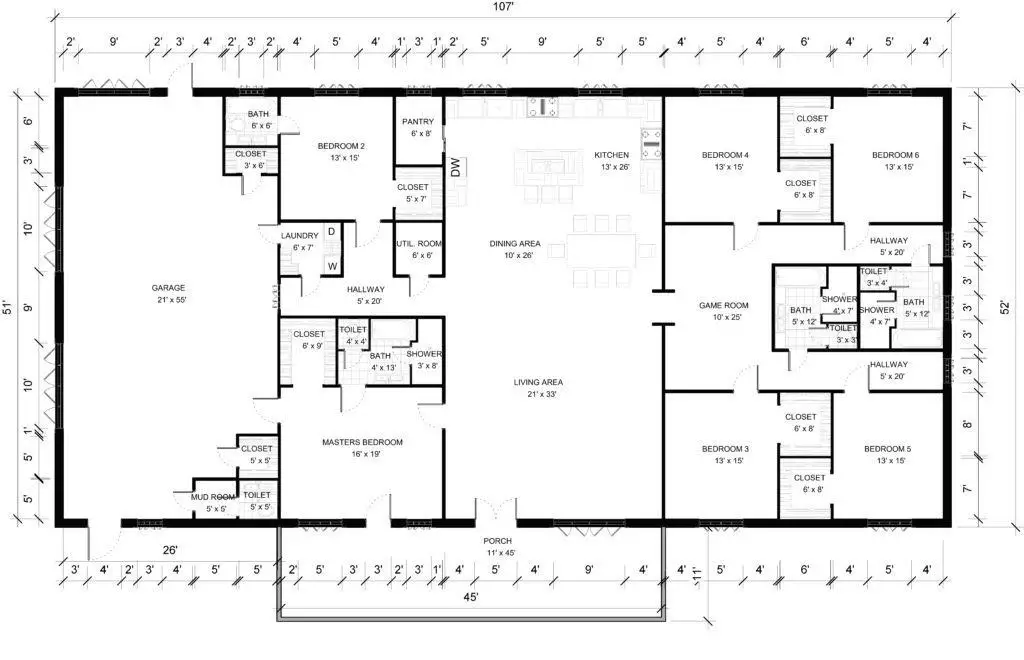 The four bedrooms seem a little crammed together to make space for the game room. The two bathrooms on that side are front to back.
The garage is taking up quite a bit of space and could have been smaller to make more room inside the barndominium. There is no guest bathroom, so a guest would have to use one of the bathrooms on the side with four bedrooms.
Floor Plan 086
This six-bedroom barndominium floor plan is laid out well for the most part. Although, the garage and kitchen are on opposite ends of the house, which seems strange.
You must enter the dining area to bring groceries and then move the car. But this floor plan has a great open concept.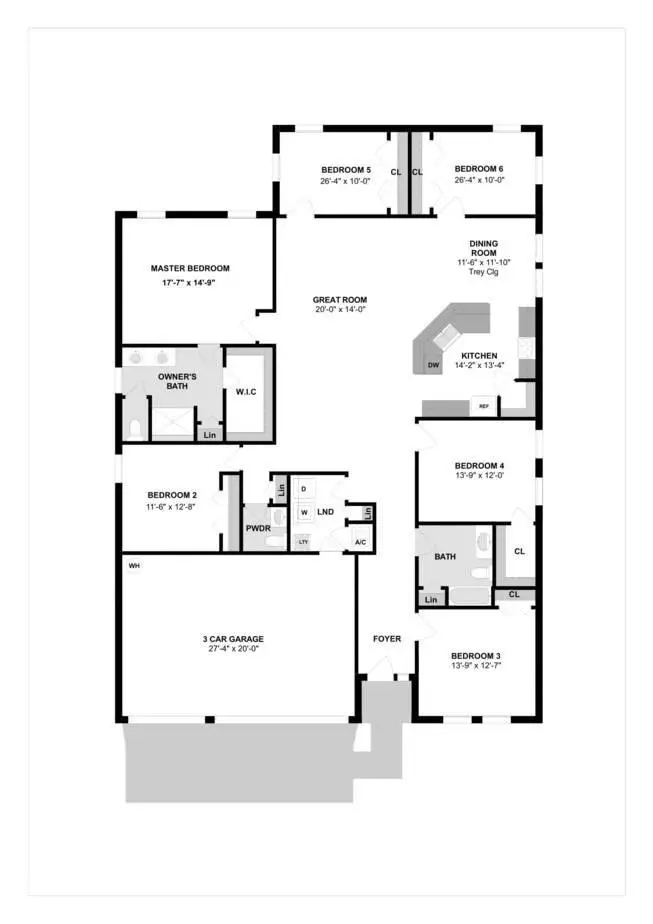 The bedrooms are laid out well, the kitchen has enough space to move around, and a corner-facing living room and dining area.
I would put this floor plan in my top 5 of 6-bedroom barndominiums.
Floor Plan 087
This floor plan has six bedrooms, but four are crammed tightly together at one end of the house. The kitchen is not very big, with the island taking up too much room. There is a living area but no formal dining area. Also, there is not a set master bedroom.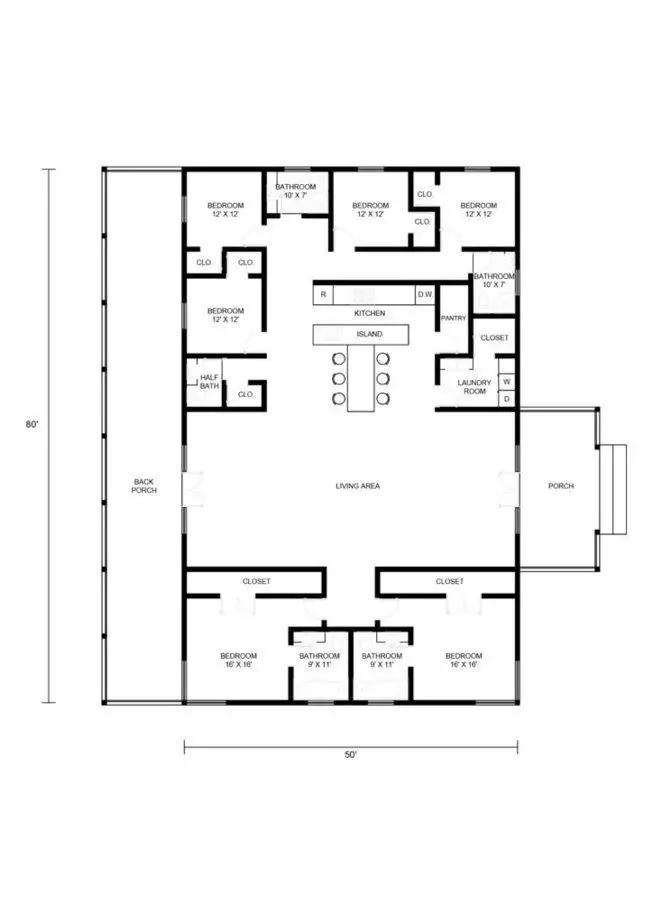 The bedrooms are a decent size, but there are just too many rooms on the side of the floor plan. The kitchen feels crowned, and the island could be smaller, making more room for a dining area. However, the island could be used as a bar.
Floor Plan 088
The rooms in this floor plan are evenly divided, with the kitchen good size and including a dining area, pantry, and laundry room. But this plan has two bedrooms but no privacy walls.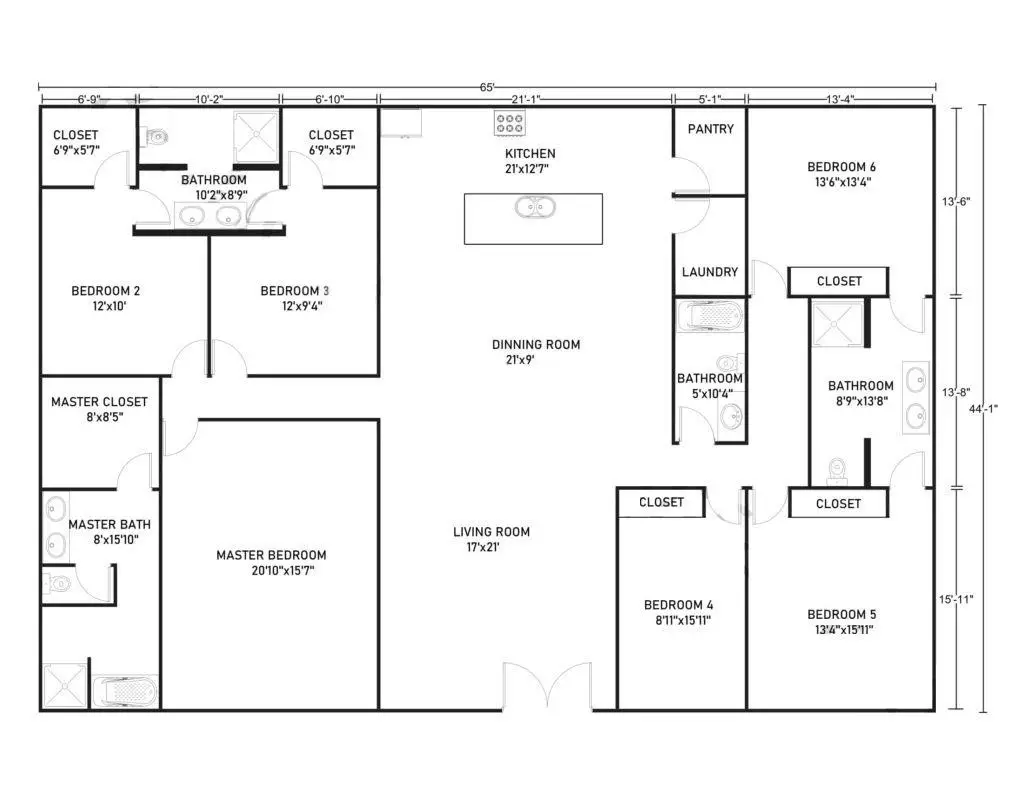 The master bedroom is a good size and includes a guest bathroom. It utilizes the open concept very well in this floor plan.
Floor Plan 089
All the bedrooms in this floor plan are on one side of the house except one, which is located on the other end of the living area. This would make a good guest room, but it doesn't have a bathroom, so it could be used as an office.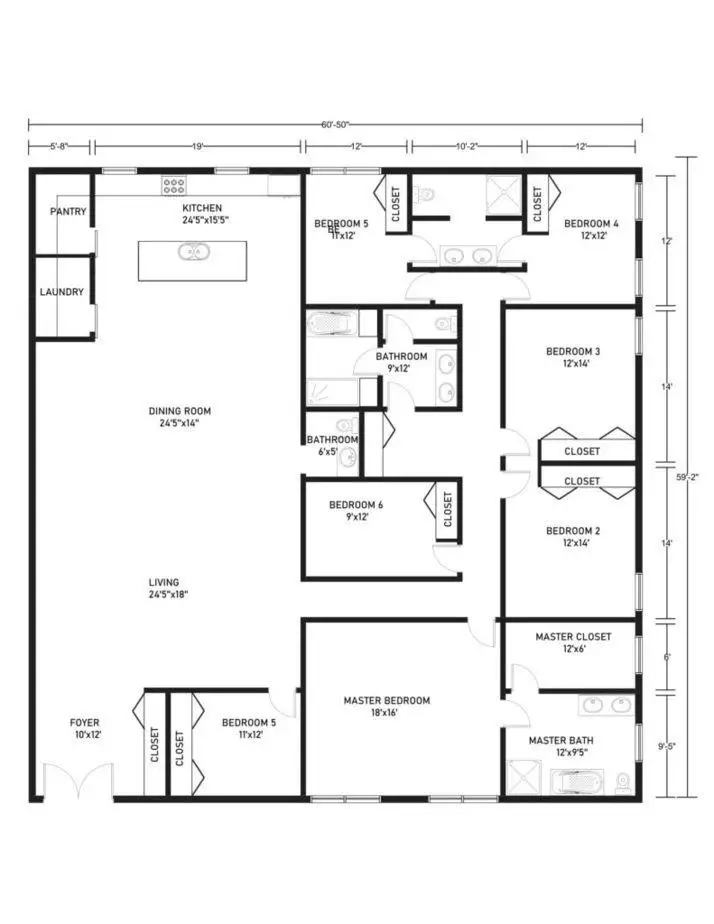 There appears to be a bathroom in between two of the bedrooms. This great open-concept and well-thought-out kitchen include a pantry and laundry room. The floor plan utilizes the space well for a 6-bedroom barndominium floor plan.
Floor Plan 090
This floor plan has a great open concept. It includes a master bedroom with a closet and a master bathroom.
The bathrooms are evenly spaced among the other five bedrooms. But it appears a guest bathroom is off the kitchen, but this could be used as a non-bedroom bathroom.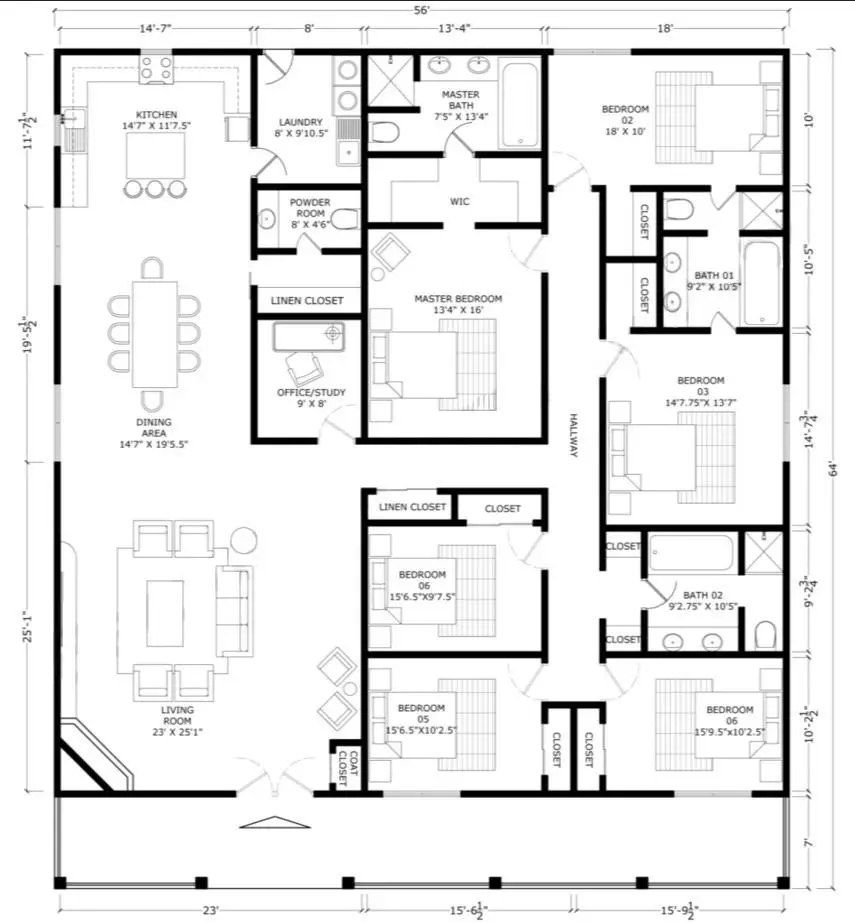 This floor plan includes an office but could also be used as a gamer or study. However, there is no pantry for the kitchen, which seems odd.
Building a 6-Bedroom Barndominium: The Cost
When building a 6-bedroom barndominium, several aspects of the process can increase and decrease the price point. It also depends on your routes, such as purchasing a shell kit, turnkey, or building from the ground up.
Again, the average cost is around $20 to $160 per square for a barndominium between 5,000-6,200 square feet.
Basic 6-Bedroom Barndominium Floor Plan Costs
Structural cost

Exterior & Interior costs

Roof

Building Permits

City Inspections

Labor costs

Materials

HVAC systems 

Utility hookups

Customizations

Drywall

Doors & Windows

Plumbing & Electrical

Countertops

Cabinets

Flooring
Cost Breakdown
Foundation: $20,000 to $37,200
While there are different foundations, the most common is a 4-inch reinforced concrete slab which runs $4-$6 per sq. ft. For a 6-bedroom structure, you can expect $20,000 to $37,200 for a barndominium foundation.
Electrical: $15,000 to $31,500
Electrical will include a licensed electrician and all the wiring, like indoor and outdoor outlets, appliances, and circuit breakers. The average cost is around $3-$5. 
Plumbing: $22,500 to $27,900
Plumbing, like electrical work, will require a professional unless you want to risk problems in the future. Sinks, toilets, sewage, septic tanks, water filters, and drainage is all included in plumbing. This is going to cost around $4.50 per square foot.
Windows: $16,000 to $43,200
The average cost for new windows for a 5400-square-foot home can be anywhere from $16,000 to $43,200. 
Doors: $155 to $3,734 per door
The cost of new doors depends on the type of doors. For closet, bedroom, and bathroom doors, you might be looking at $155 to $688 per door, whereas front doors could be between $667 to $3,734. It all depends on the type of doors you get.
Kitchen: $75,000 to $232,500
A kitchen could cost $100 to $250 per square foot. So for your 6-bedroom barndominium, with the kitchen roughly being 15% of the total square footage. You could spend anywhere between $75,000 to $232,500.
Bathrooms: $16,800 to $66,000
The national average price for a bathroom is between $70 to $275 per square foot; the average full-size bathroom is around 40 sq. ft. The general rule is one bathroom for every bedroom, so for a 6-bedroom barndominium, you could spend $16,800 to $66,000 for bathrooms.
Flooring: $2 to 25 per sq. ft.
Flooring will be determined by the material you use for your 6-bedroom barndominium.
Hardwood

: ​​$3-$22 per sq. ft.

Carpet

: $2 to $8 per sq. ft.

Title

: $2 to $25 per sq. ft.

Linoleum

: $3 to $5 per sq.ft.

Engineered Wood:

$6 to $12 per sq. ft.
Another idea that could save you money on flooring is to have the concrete slab stained and sealed.
Roofing: $7,800 to $14,000
The average cost for a 3,000+ square foot home can range from $7,800 to $14,001. This largely depends on the material, such as tile, metal, or shingles. 
Siding: $2-$15 per sq. ft.
The national average cost for siding is between $2 to $15 per square foot for your barndominium. But this also depends on the type of siding you get.
6-Bedroom Barndominium: Additional Costs
Travel & Delivery

Location

Customizations

Contractors

Land

Land Clearing

Permits & Inspections

Building Loan

Property Taxes
Travel & Delivery: $5,000 to $15,000
If you order a shell kit, those will need to be shipped to your location. Kit providers will likely charge a travel and delivery fee, which could be between $5,000 to $15,000, depending on your location and company.
Location: $20 to $200 per sq. ft.
This refers to your city, state, or county. Your location is going to have an impact on the average cost to build a 6-bedroom barndominium.
Customizations: $1000 to $50,000
This includes any additions you want to make to your barndominium—items like luxury bathroom features, specific appliances, and custom countertops. Depending on your wants, you could be looking at an extra $1,000 to $50,000.
Contractors: $15,000 to $42,000
Generally, contractors charge around 10-20% of the project's total construction, with bigger companies charging up to 25%. On the high end, hiring a contractor to build your 6-bedroom barndominium could cost $217,000 for a 6,200 square foot home.
Land: $1,500 to $4,500 per acre
$4,420 is the national average cost for an acre of land in the United States, but this will depend on your state.
Most expensive states to purchase land:
New Jersey

Rhode Island

Connecticut

Massachusetts

Maryland

Delaware

New York

California

Ohio

Pennsylvania
Cheapest states to purchase land:
Wyoming

New Mexico

Nevada

South Dakota

Montana

North Dakota

Nebraska

Idaho

Kansas

Arizona
Clearing The Land: $1,266 to $3,900
Homeowners can expect to pay between $1,266 to $3,900 to clear land for building, putting the average at $2,581. What also features in the cost is what debris is cleared, how the debris is cleared, and how much needs to be cleared.
Permits & Inspections: $50 to $500
The state and county determine building permits and city inspections. Check with your local permit office to get an idea of what it'll cost and their requirements for an application. 
Home Loan: 3.5% to 20% Down Payment
Getting financing for a 6-bedroom barndominium can be difficult to secure, but as they become more popular more banks or credit unions will provide funding. 
How to Finance the Construction of a 6-Bedroom Barndominium
Research shows that farm credit lenders and local banks are your best bets for getting a construction loan on your brand. You'll likely need solid blueprints, contractor bids, and a good credit rating.
Check out banks or credit unions, farm credit bureaus, mortgage banks, mortgage brokers, and online loan entities for financing a 6-bedroom barndominium. 
Property Taxes: 0% – 2.21%
Your property taxes are based on your city. Talk with your local tax assessor to get an average cost for your barndominium property taxes.
Average Property Tax By State
Wisconsin: 1.68% (8th highest in the U.S.)

California: 0.73% (Below the national average)

Texas: 0% (The state does not have property tax)

Michigan: 1.45%
Can I Build a 6-Bedroom Barndominium for 100K?
The average cost for a barndominium is $20 to $160 per square, with a 6-bedroom structure between 5,000 to 6,200 sq. ft. Your cost will be around $700,000 to $868,000.
To build a 5,000 sq. ft. 6-bedroom barndominium for $100,000, you would need to keep the cost at $20 per square foot.
While this is the average price for a shell kit, that does not include everything you need for a functional home. It would be incredibly difficult to build a 6-bedroom barndominium for $100,000.
Conclusion
When choosing your 6-bedroom barndominium floor plan, ensure you find the space that matches your lifestyle. You need something ideal for your hobbies, family size, and overall home goals.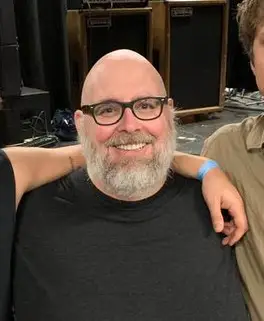 I'm James, your barndominiums advisor. Several years ago, I had no idea what barndominiums were. Although I'd spent over 10 years in the construction industry, the first time I heard about barndominiums was when I saw my neighbor building a new-style home. That was the first barndominium I've ever seen, and I found it so fascinating that I wanted to learn more about them.
More Posts