Functional and stylish barndominiums are becoming more popular throughout the United States as homeowners are looking for a more unique and energy-efficient home. Running between 900 to 4,000 square feet, the possibilities are limitless when designing your barndo.
But for those looking for a bigger option, building a 40×60 barndominium might be a good option. This option is large enough for 3 to 5 bedrooms and extra storage for your vehicles and equipment. Roughly 2,500 square feet to utilize. 
How much does it cost to build a 40×60 barndominium? 
You can expect to spend between $20 to $200 per square foot for a 40×60 barndominium. The price is determined by whether you use a DIY shell kit or if you choose a barndominium builder.
What Is A Barndominium?
In simple terms, a barndominium is exactly what it sounds like—merging a barn and a condominium, transforming it into a livable structure.
They are typically steel, having all the functionality and features of a home, including windows, doors, flooring, appliances, bathrooms, bedrooms, cabinetry, garage, and workshop. It's either built from the ground up, from a shell kit, or it's been renovated from an existing barn. 
In the past, barndominiums were apartments renovated above the barn so that people could be closer to their animals. Today, it's turned barns into livable spaces people call home. Combining the industrial looks of barns with the luxury of a traditional home.
Benefits
Versatile

Durable 

Easy To Build

Cost-Effective

Energy-Efficient
Cost Comparison: Barndominiums vs. Traditional Homes
Barndominiums are cheaper to build than traditional homes for many reasons. They can be built quicker, typically low maintenance, have lower property taxes and insurance rates, and are energy-efficient.
| | | |
| --- | --- | --- |
| Type of Structure | Average Cost | Cost Per Square Foot |
| Existing Home | $223,000 | $148/sq. ft. |
| New Home | $289,415 | $103/sq. ft. |
| Barndominium Shell | $50,000 | $20/sq. ft. |
| Turnkey Barndominium | $220,000 | $140/sq. ft. |
Building Barndominiums: Different Options For 40×60
When building a 40×60 barndominium, you've got a few options to choose from. The option you choose will ultimately determine how much it'll cost you. 
Costs To Consider For A 40×60 Structure.
Structural cost

Exterior costs

Interior costs

Roof

Permits

Labor costs

Materials

Building inspections

HVAC 

Utility hookups

Customizations 
Let's dive into the different ways you can build your barndo.
DIY Barndominium Shell Kit: 40×60
A shell kit is a prefabricated kit that is delivered to your property and includes all the necessary materials to construct your home. These kits could cost you as little as $20 per square for a 40×60 barndominium, but it depends on the kit provider and any customizations you make. 
A barndominium shell kit's average cost could be around $50,000 to $200,000. Kit providers and contractors you hire for the project will offer different prices. This is also determined by the State or City where you want to build.
Typically, the following items will be included in your kit:
Drywall

Doors & Windows

Plumbing & Electrical Supplies

Countertops

Cabinets

Flooring
Additional Costs To Factor In:
Foundation: $4-$6 per square foot

Cost of Materials 

Labor Costs

Travel & Delivery Costs
Turnkey Barndominium: 40×60
Turnkey barndominiums are renovated and ready to move into homes. While it can be more expensive, you only have to furnish it. The average cost for a 40×60 turnkey barndominium can be around $150-$160 per square foot. But you won't have to hire contractors, acquire materials, or go through the hassle of permits or building inspections. 
The following items will likely be included in a turnkey option: 
Plumbing & Electric

Stained Concrete Floor

Windows

Cabinets & Countertops

Drywall & Insulation

Hot Water Heater

HVAC
We recommend checking with the builder or owner of the barndominium to know exactly what's included in your home. This will help budget any additional items you want before or after moving into the 40×60 turnkey barndominium.
Barndominiums: 40×60 Floor Plans
There are a variety of 40×60 barndominium floor plans to help you visualize what your new home will look like. This will also give you an idea of any add-ons and customizations you want to make in addition to what comes in a kit or turnkey option.
The floor plan will show you the amount of space you have to work with and where you can put everything. 40×60 is roughly 2,500 square feet, and that space can go fast when you start adding additional storage or bedrooms. You'll want to choose the layout that helps you maximize all your space!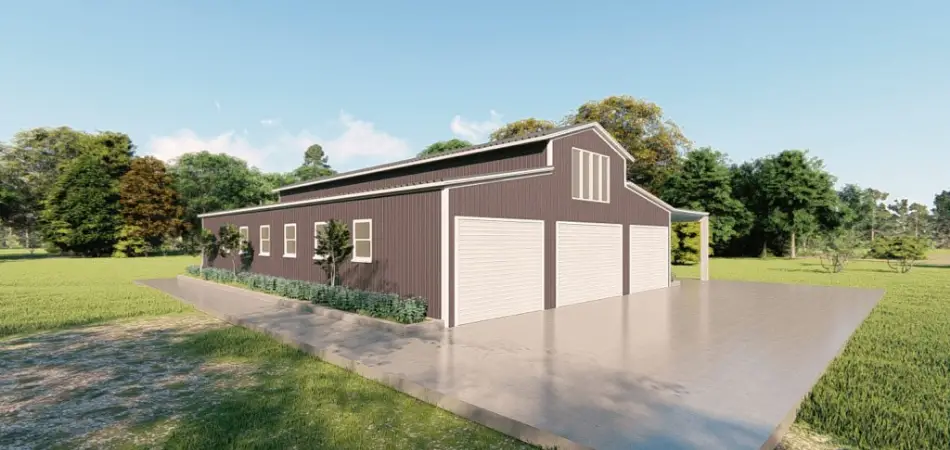 40×60 Barndominium: Floor Plan 051
This floor plan utilizes the square footage in the living space well. It has four bedrooms, including a master suite. It also has an additional extra room converted into a playroom.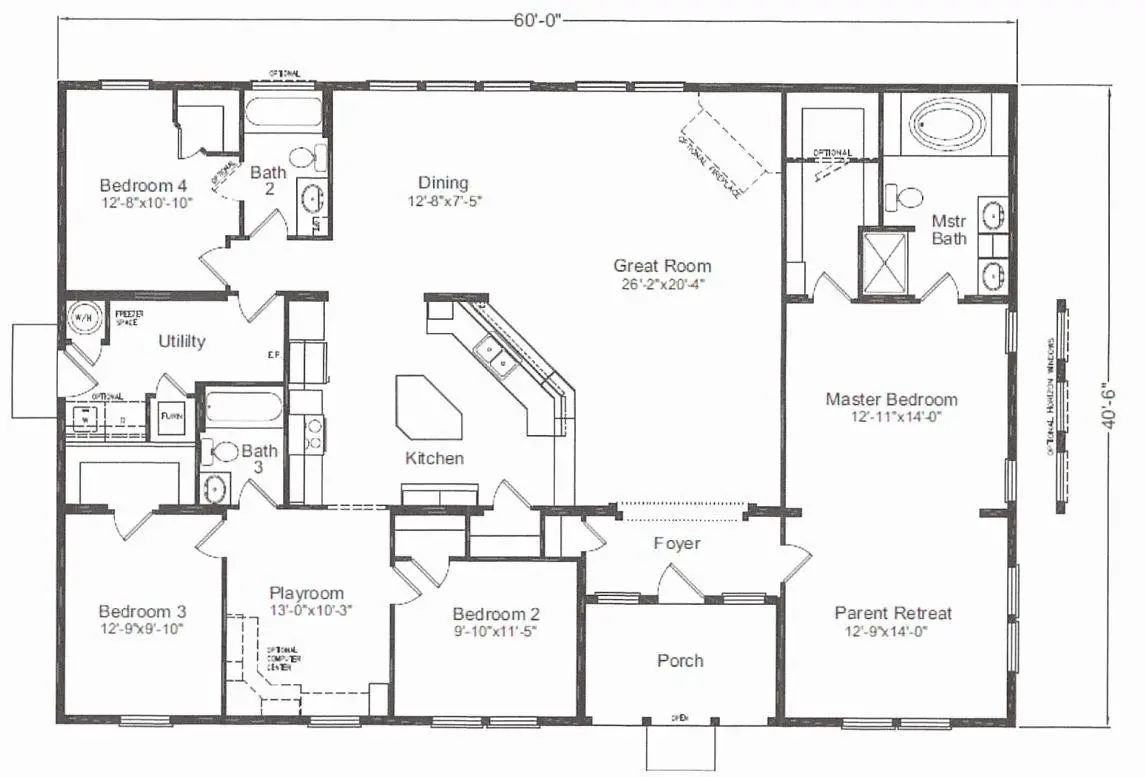 It has a large kitchen and is well-placed within the barndominium, so you can talk with your guests or watch the children as they play. One of the cons of this floor plan is the third bathroom and utility room as the same.
40×60 Barndominium: Floor Plan 052
This floor plan is an example of someone not taking advantage of the square footage of living space. The kitchen is usable but does not feel much room to move around. There is no guest bathroom, requiring the guest to use the bathroom down the hall.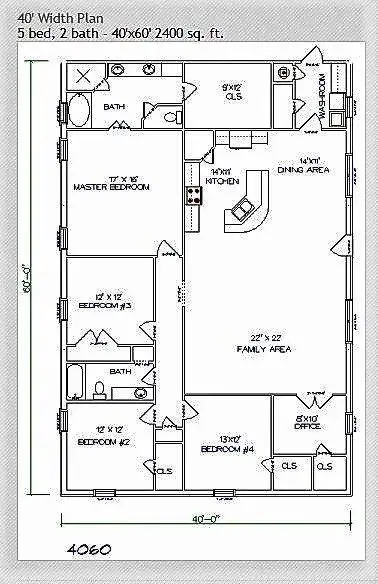 In the master bedroom, you must go through the bathroom to get to the closet. The additional bedrooms are a decent size and include an office area. Overall, it's probably not the best floor plan for a 40×60 barndominium.
40×60 Barndominium: Floor Plan 053
This floor plan includes a shop area and two living areas. There are only two bedrooms, but one of the living areas could be converted into a third bedroom. The bathroom is oddly placed, requiring you to go through the extra living space to reach it.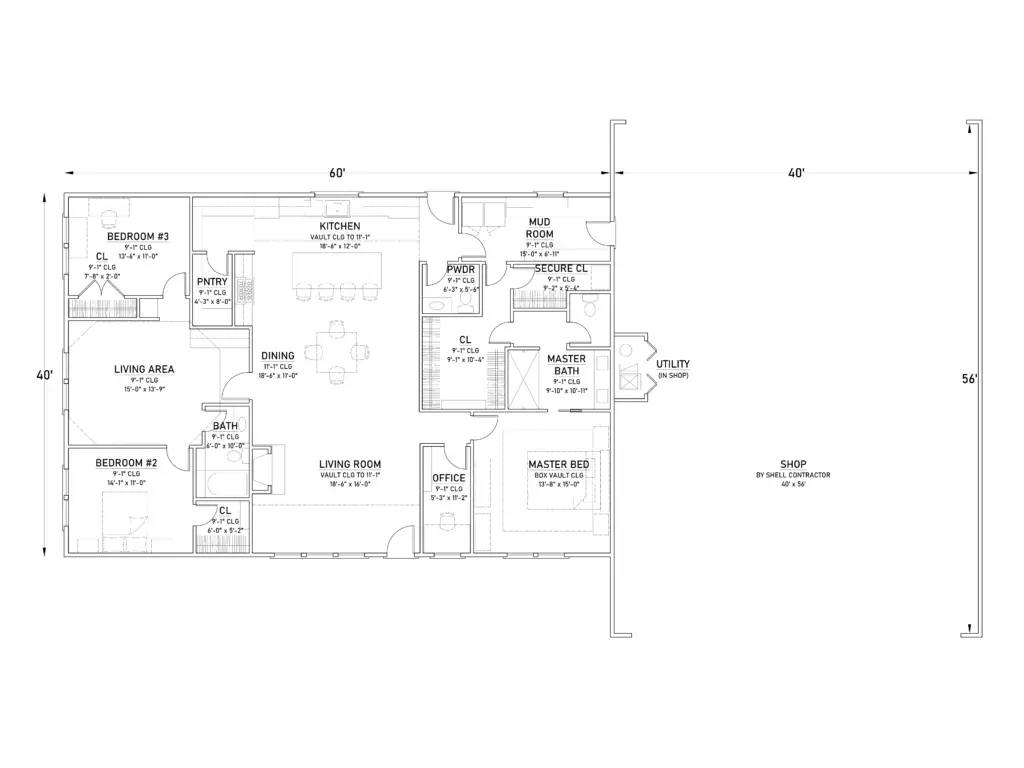 It includes a spacious kitchen but does not include an island. It comes with a pantry, but there is no obvious place for the washer and dryer.
There are a couple of additional rooms, but not specific to what they are. There is a master bedroom, but you have to go through the bathroom to get to it. There is also no bathroom in the shop. Not a deal breaker, but inconvenient.
For the most part, this floor is not utilizing the space as best and seems to be misusing rooms.
40×60 Barndominium: Floor Plan 054
This floor plan appears incomplete, and the kitchen is small. It has three bedrooms but does not show a master bedroom.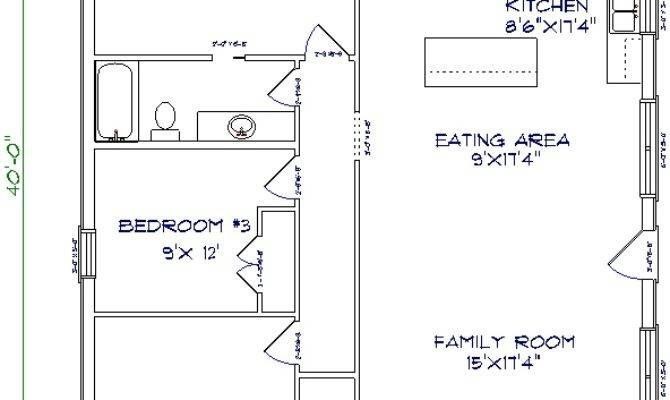 The Cost of Building a 40×60 Barndominium
The Foundation: $10,000 to $15,000
The foundation will be one of the most important aspects of the structure. The average cost for a 4-inch reinforced concrete slab is around $4 to $6 per square foot. This can cost you around $10,000 to $15,000 for a 40×60 barndominium foundation. You'll also need to factor in the cost of installation.
Electrical: $7,500 to $12,500
To wire your barndominium, which includes outlets (indoor & outdoor), appliances, and a circuit panel, paying a professional electrician can cost around $3 to $5 per square foot. That will cost you around $7,500 to $12,500 for a 40×60 structure.
Your home will also require a licensed inspector to pass an inspection. These requirements depend on your location, i.e., state, city, or county. 
Plumbing: $11,000 to $12,000
For new construction plumbing installments, including hooking up showers, bathtubs, sinks, and toilets, your average cost will be around $4.50 per square foot. So, for a 40×60 barndominium, you're looking at between $11,000 and $12,000 for plumbing work. 
Windows & Doors: $20,000
When you choose a shell kit, these typically come with cutouts for windows and doors. The exact cost of your windows and doors will depend on the type you get. For example, if you want high-energy-efficient windows, it will probably cost you more.
But on average, you can expect to pay around $20,000 for new windows and doors for your barndominium. 
Kitchen: $15,000 to $40,000
The cost of a kitchen can be hard to peg because of all the factors that go into a kitchen remodel or installment. The type of material you choose to use on your countertops or the brand of appliances you want can raise or lower the price of your kitchen. 
However, a kitchen remodel can cost between $100 to $250 per square foot. So you could be looking at a price tag between $15,000 to $40,000 for your 40×60 barndominium. Items for the kitchen can add up quickly, so you'll want to keep a sharp eye on those.
Top-Of-The-Line Appliances Cost:
Refrigerator

: $900-$8,000

Oven/Stove

: $650-$3,000

Dishwasher

: $400-$700
Bathrooms: $8,400 to $50,000
The national average cost for a bathroom will be between $70 and $275 per square foot. This price increases as you add items like custom showers, flooring, and fixtures. For a 40×60 barndominium with three bathrooms, you're looking at an average cost of $8,400 to $50,000. 
Flooring: $8,000 to $32,000
Flooring will be determined by the martial you want to use. An excellent way to save money is simply having the concrete slab turned into a floor. These will require painting and sealing the slab. But on average, you can expect to pay the following for a 40×60 barndominium floor.
Hardwood:

​​$15,000 to $30,000

Carpet

: $5,000 to $7,500

Tile

: $35,000 to $62,000

Linoleum

: $7,500 to $17,5000

Engineered Wood

: $7,500 to $32,500
Roofing: $9,000 to $20,000
The average cost for a new roof will be around $9,000 to $20,000 for a 40×60 structure. It largely depends on materials like tile, slate, wood, or steel. 
Siding: $5,000 to $37,000
The national average cost for siding for a 40×60 home will be $2 to $15 per square foot. So you can expect to pay $5,000 to $37,500 for siding. Again this depends on the material used, such as wood or vinyl, along with the cost of labor for installation.
Additional 40×60 Costs
Some other additional costs to factor into your 40×60 barndominium budget include:
Travel & Delivery

Location

Customizations

Price of Steel

Labor

Land

Land Clearing

Permits & Inspections

Building Loan

Property Taxes
Travel & Delivery: $5,000 to $15,000
If you purchase a 40×60 barndominium shell kit, you'll need to account for the cost of shipping the kit to your location. Most kit providers charge a fee per mile traveled; some providers will only ship within 50 to 750 miles. This could cost an extra $5,000 to $15,000.
Location: $20 to $150 per square foot
This refers to specialist companies in the area that can provide barndominiums kits, structures, and contractors for a 40×60 build. While states like Texas have more than one company that builds barndominiums, others might only have one.
Depending on your location, you might spend anywhere from $20 to $150 on how much access you have to barndominium supplies and contractors.
Customizations: $300 to $3,000
This is where people can dramatically increase the cost per square foot. You can make as many customizations as you can afford.
We recommend looking at your budget and ensuring you have everything you need to make the barndominium livable first. Customizations could add anywhere from a few hundred to a few thousand.
Price of Steel
Just like any commodity, prices will fluctuate based on several factors, like current world events. Steel is no different. Barndominiums are typically built out of steel so the price will affect your overall build.
When steel prices increase, the manufacturers also increase their prices to stay profitable. We recommend keeping a sharp eye on steel prices, as it could add thousands to the original price.
Labor Costs: $25,000 to $50,000
This price will depend on your location and the contractors you hire to build your 40×60 barndominium. You might be looking at an extra $10 to $20 per square foot. This could be an extra $26,000 to $52,000 for labor costs to build a 40×60 barndominium. 
This also depends on your state. For example, California generally bases its rates on a per-project basis and can charge 10% to 20% of your overall project cost.
Land: $1,500 to $4,500 per acre
You're going to need a place for your 40×60 barndominium. Either it's an empty lot or multiple acres of land, you'll need pre-existing land in your name, or it's time to invest in some land.
The land cost will depend on location and who you're buying from. That said, the national average for a single acre of land was valued at around $4,420 in 2021.
Clearing The Land: $500 to $8,000
Unless the land you bought or owned is cleared, you'll need to hire a contractor to level the land for new construction. This will include clearing trees and large rocks and surveying the property. This could cost anywhere from $500 to $8,000.
Permits & Inspections: $50 to $500
The project, state, and city determine permit fees and building inspections. It doesn't matter if you're building or buying; you'll need permits before you move forward on your 40×60 barndominium project.
Inspections and permits are required for remodeling and renovating an existing structure. This includes commercial buildings, houses, sheds, fences, patients, pools, garages, and decks.
Building permits are issued by the city's Building Inspection Office and require items like survey reports, blueprints, and inspections. What you'll end up paying is determined by your county.
Loan: 3.5% to 20% Down Payment
While a loan is an option for getting the money for your 40×60 structure, it could be a challenge to secure funds for a barndominium. It's not impossible, but you might need to find a specific financial institution to help you.
Once you find a bank or lender providing the funds, you'll need to be ready with financial information and a down payment.
Lenders require a debt-to-income ratio, current income, current employment, and a good credit score. Loans typically require a 20% down payment to secure financing for the building. There are options with a down payment as low as 3.5%, but it depends on the type of loan and lender.
Property Taxes: 0% – 2.21%
This is something that people don't think about when building a barndominium. No matter the type of house, structure, or asset you buy, you'll have to pay property taxes. These are determined by the state, and the average changes based on location.
The best way to determine what you might be paying in taxes is to speak with a city tax assessor. In some cases, a barndominium is classified as a dual-use structure and will have a different tax rate than traditional homes.
Average Property Tax By State Examples
Wisconsin: 1.68% (8th highest in the U.S.)

California: 0.73% (Below the national average)

Texas: 0% (The state does not have property tax)
Conclusion
When determining the cost per square foot for a 40×60 barndominium, there are several routes to take and factors to land on an exact price. 
Researching floor plans, builders, materials, and customizations will give you a better idea of your final cost per square foot.
Can I Build a 40×60 Barndominium for 100K?
Take a look at the average cost per square foot for a barndominium. A 40×60 floor plan will cost you between $200,000 and $250,000.
| | |
| --- | --- |
| Floor Plan Size  | Average Cost |
| 1,000 sq. ft. | $100,000 |
| 1,500 sq. ft. | $150,000 |
| 2,000 sq. ft. | $200,000 |
| 2,500 sq. ft. | $250,000 |
| 3,000 sq. ft. | $300,000 |
| 3,500 sq. ft. | $350,000 |
| 4,000 sq. ft. | $400,000 |
That being said, it's possible to build a 40×60 barndominium for $100,000. A 40×60 is approximately 2,500-2,600 square feet of living space. To build a barndominium this size for $100,000, you'd need to keep your cost between $20 and $40 per square foot.
This means you'll have to do most of the work yourself. If you hire a contractor, it'll be averaging closer to that $200,000 price tag.
Other expenses you'll need to consider are flooring, appliances, and furnishings—these items you might consider getting used or selling. Top-of-the-line customizations will not stay under $100,000.
To stay within a 100K budget, we recommend budgeting out for everything you have in your barndominium to make it livable and then start looking at extras. Be honest about the work you can do yourself and what you need to hire a builder to do. 
Keep in mind that items require a licensed professional and must be approved by the city. Just because it's a DIY project doesn't mean it doesn't have to be up to code.
Our last suggestion will be to consider a smaller barndominium floor plan if you need to stay within $100,000. 
Related Resources: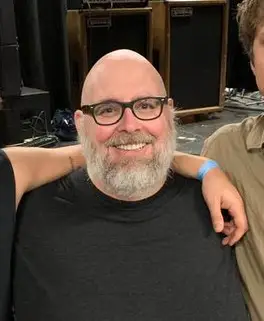 I'm James, your barndominiums advisor. Several years ago, I had no idea what barndominiums were. Although I'd spent over 10 years in the construction industry, the first time I heard about barndominiums was when I saw my neighbor building a new-style home. That was the first barndominium I've ever seen, and I found it so fascinating that I wanted to learn more about them.
More Posts