Do you want to have a unique home?  One that has about the square footage as a traditional house.  Does your family need a home with three or four bedrooms?  We have the answer to these questions.
The answer to these questions is 40×60 Barndominium Floor Plans.  This size barndominium gives you 2,400 square feet of living space.  That is about the size of your average traditional house.  It is the type of barndominium that has that many bedrooms plus two or three bathrooms.  It is even the right size for a couple who wants guest rooms or rooms to turn into offices.
The 40×60 barndominium is one of the most requested ones.  This is due to a large number of square feet of living space and that it bears some resemblance to a traditional home's square footage.  Read on to learn how to build your barndominium floor and the various floor plans.
Building a 40×60 Barndominium Floor
Some refer to it as a floor because they do not put anything over except maybe a coat of paint, but it is really the foundation of the barndominium.  It is what you have to have in order to build your barndominium because that is what you build your home on.
Most who are building a barndominium from a kit will not attempt to pour the concrete themselves and get it ready for their home.  They will hire someone to do it.  When ordering the floor for your barndominium, it will cost on average $9,500-$14,400.  This price includes the labor and material and cost of the concrete
This is for a four-inch foundation but if you want it to be six inches, the cost will naturally be more.  You want your barndominium floor to be strong because it will support your barndominium.  It will also carry any weight from your cars or trucks when you park them in the garage.
The reason that you should hire a contractor to do this work is they will have the experience.  They will know the right PSI, (Pounds per Square Inch) and how thick it should be.  The contractor will reinforce the floor with a row or two of rebar around the perimeter.
After the floor is built, it will have to cure from three to nine days before the barndominium can be built on it.  Once your barndominium is built, you can paint the concrete or put down flooring like carpet, linoleum, or wood.
40×60 Barndominium Floor Plans
As mentioned, these are some of the floor plans that most choose because of the amount of square footage living space.  There are many options as to the number of bedrooms and bathrooms, and how you can use these rooms.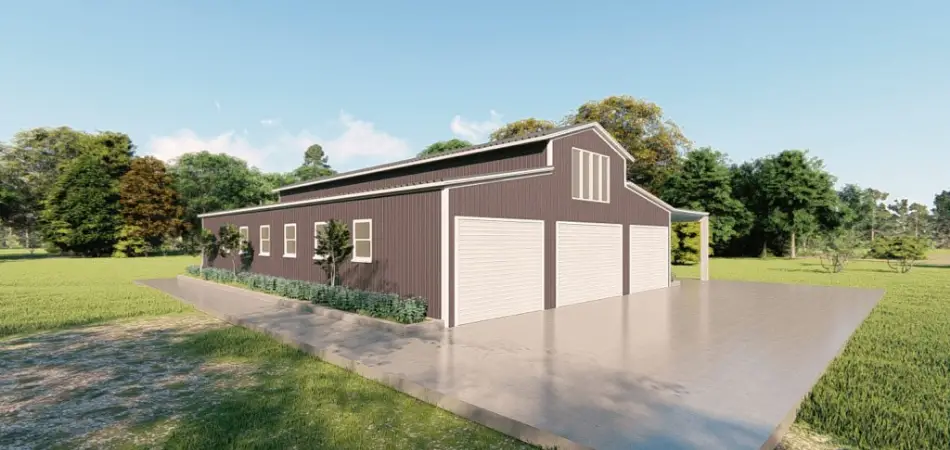 40×60 Barndominium Example 1 – Plan 051
This 40×60 barndominium has utilized the square footage living space very well.  They have the master bedroom and three other bedrooms.  One of the extra rooms they have turned into a playroom.  What I like is that in the master bedroom, they have made part of it a parent retreat.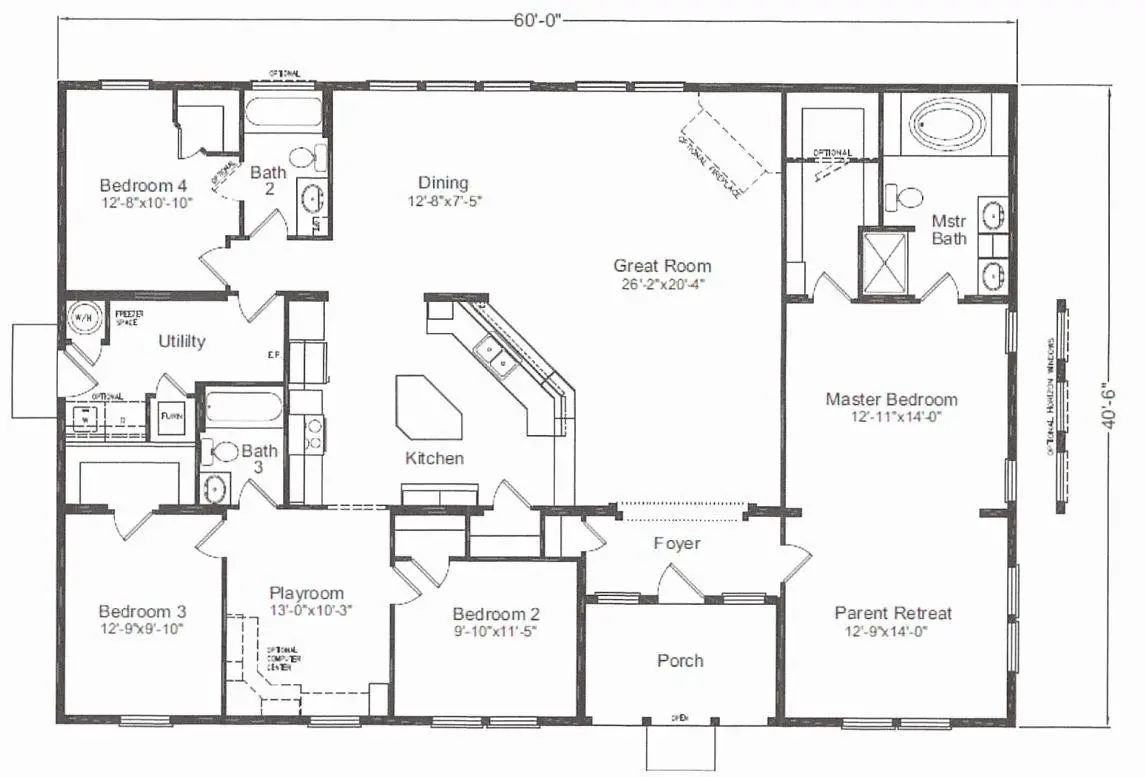 The kitchen is huge and well placed so when you are cooking you can talk to your guests or keep an eye on your children as they play in the great room.  The one thing I do not like about this layout is that according to the floor plans, it looks as if the third bathroom and utility room are all one room.  This layout would be on my top five list.
40×60 Barndominium Example 2 – Plan 052
This 40×60 barndominium has a floor plan that is a bit confusing and kind of cluttered.  They did not take advantage of the square footage living space.  The kitchen is adequate but not much room to move around.  There is no guest bathroom and if a guest needs one, they have to go down the hallway to use it.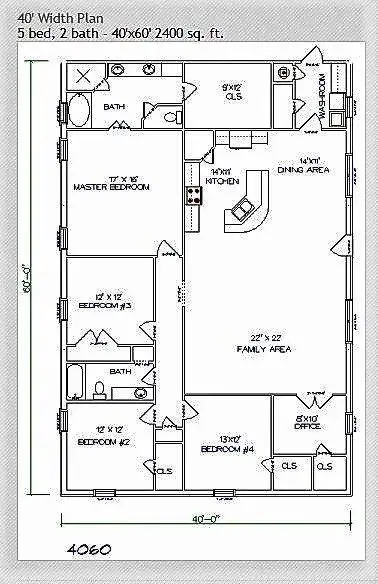 In the master bedroom, to get to the closet you have to go through the bathroom.  The bedrooms are a good size and there is even an office area.  I would put this floor plan at the bottom of my pick five.
40×60 Barndominium Example 3 – Plan 053
With this 40×60 barndominium, they even have a shop area.  For some odd reason, there are two living areas.  There are only two bedrooms but if they did not make the one the living area it could be three bedrooms.  The bathroom is oddly placed too.  To reach it, you have to go through the extra living area.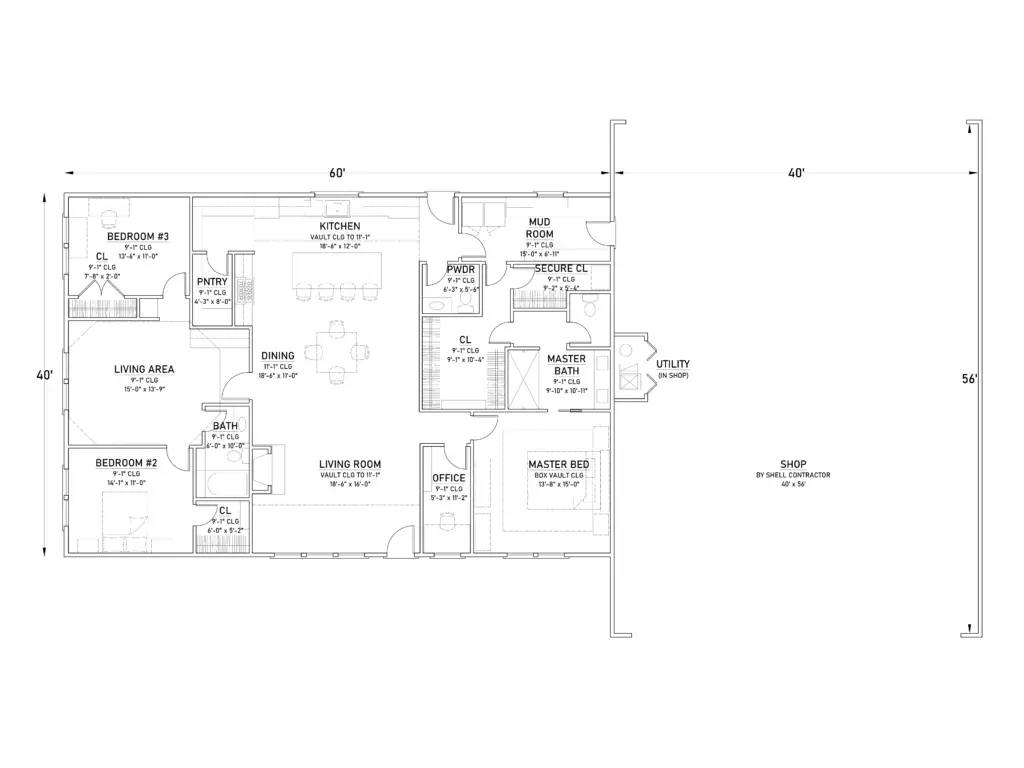 The kitchen is spacious but does not have an island.  There is a pantry but not sure where the washer/dryer would be placed.  A couple of the rooms have letters but no idea what they are.  Again, with the master bedroom, you have to go through the bathroom to get to it.  There is no bathroom in the shop.  I do not like this floor plan as necessary rooms seem to be missing or rooms misused.
40×60 Barndominium Example 4 – Plan 054
This 40×60 barndominium floor plan seems incomplete but from what I can see, the kitchen is quite small.  It shows bedroom 3, which is a good size.  They do not show the master bedroom or any other part of the floor plan.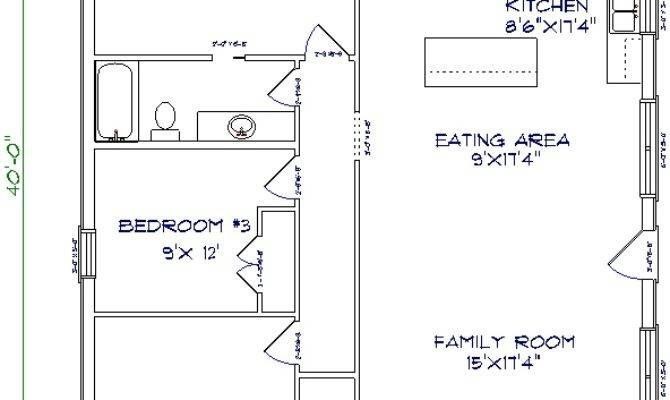 Can I Build a Barndominium for 100K?
Yes, it is possible, but you would have to do the majority of the work.  If you hire a contractor, it can cost over $200,000.  In the cost, you need to consider the furnishings, the flooring, and the appliances.  If you want top-of-the-line everything, then the price will be higher than $200,000.  It also depends on the square footage.
On average, the cost per square foot ranges from $95-$125 but the cost varies from area to area, and state to state.  You will need to sit down and list the cost of everything and then see where you are cost-wise.  If it is more than you want to spend, you can maybe cut back on some things or choose a less expensive alternative.
Final Verdict
40×60 Barndominium Floor Plans give you approximately 2,600 square feet of living space.  In this article, several floor plans show you the various ways to use that space.