Along with tiny houses, Barndominiums are another unique way of building a home. It is a combination of a barn and a condominium. On the outside, it may have a barn-like appearance, but inside it looks like a traditional home. Originally, these homes were barns where the owners lived on the top floor to make it easier to take care of their horses or cattle who lived in the barn below.
How much a 30 x 40 Barndominium costs will depend on various things. These include the type of siding, built from the ground up or kit, type of appliances, porches, and more. On average, the price can be as low as $20 per square foot to $100 per square foot if you build from the ground up. A 30 x 40 Barndominium has approximately 1,200 square feet, so just the structure would cost $24,000 to $120,000.
This article will cover the cost and what needs to be considered in that figure. We explain what a Barndominium kit is and what loans are available. We show some 30 x 40 Barndominium floor plans to help you see how you can design them to fit your family's needs and lifestyle.
What to Consider When Building a 30 x 40 Barndominium?
As mentioned, a 30 x 40 Barndominium has approximately 1,200 square feet of living space. This is enough space for two or three bedrooms, depending on size, and it is the perfect size for small families, empty-nesters, or couples. To decide if this size Barndominium is right for your family, you need to determine if it will fit your needs now and in the future.
With this size, it will be on one floor, so it is easy to design a floor plan that allows easy mobility if you have trouble walking. You should also look at traffic flow to ensure that if the children need to be close to their parents, you want to design it with bedrooms on one side. If you want more privacy, bedrooms can be on each side with the kitchen and living area in the middle.
Do you want a dining area, or will an island and stools work? If you want a separate dining area, you may have to give up some space in the kitchen or living area. You also want to be sure that these common areas and exits are accessible to all family members.
It would help if you decided on how much storage you need and where you will put it, plus closets and bathrooms. Do you want a half bath for guests, or will they use the bathroom shared with the children? Will there be a pantry or laundry room? All of these must be considered when planning your 30 x 40 Barndominium.
How Much Will it Cost to Build a 30 x 40 Barndominium?
A 30 x 40 Barndominium will cost approximately $24,000 to $120,000, but many factors will increase the cost. One factor is whether you build from the ground up or use a Barndominium kit, which could be a cheaper way to start. There are permits, inspections, contractors if you are not building it yourself, and subcontractors if you are. You need specialized licensed professionals for plumbing, electrical, etc., and more. When doing it yourself, you will have to find the subcontractors. Still, if a contractor does the entire build, they will find the subcontractors.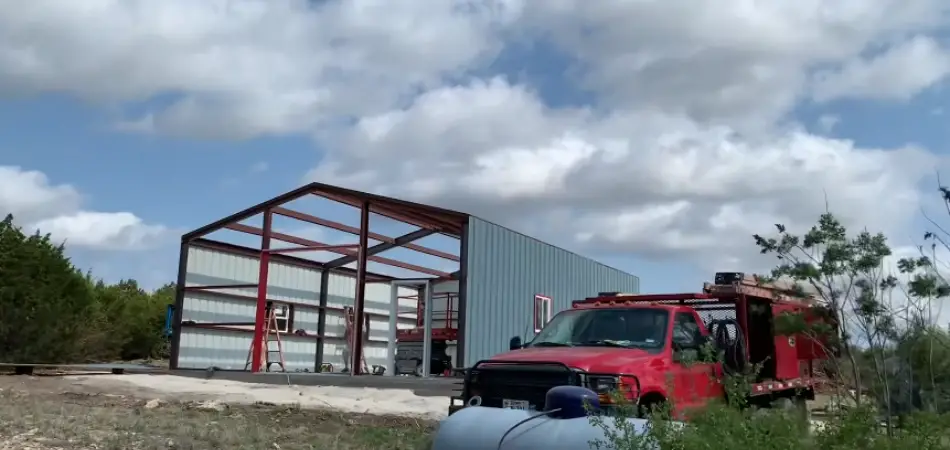 Before even considering construction, you must ensure you have the land upon which to build your Barndominium. This can cost, on average, $3,000 per acre, but it depends on where you are purchasing it and how many acres you want to buy. Be sure to check your zoning laws to ensure you can build a Barndominium there. You may also have to pay to have land cleared and leveled when you buy land. You must do this to pour the foundation upon before you construct your Barndominium.
If you are building a garage, workshop, porch(es), or patio, there needs to be land for that and a foundation to pour. You will also need to see if you need any permits for this. With the foundation, you will also have labor costs. The foundation can be four to six inches thick and cost $5,000 to $22,000. The permits mentioned cost approximately $1,100 to $2,100, depending on the requirements in your county. One essential permit is a building permit.
The approximate costs per square foot for other expenses can include:
Drywall–$.050 to $.075
Flooring–$.075 to $20
Insulation–$.060 to $6
Indoor wall and trim painting–$30 to $60 per 350 square feet
The electrical and plumbing will include:
Installing outlets, both indoors and outdoors.
Setting up all your major appliances, such as your stove and refrigerator.
Installing a circuit panel.
Running all the wiring.
The average cost is $5 per square foot or $5,000 to $17,000.
Plumbing includes installing the pipes and hookups for your sinks, bathtubs, toilets, showers, washer and dryer, and dishwasher. This averages $4.25 per square foot or $4,800 to $17,000. You will have doors and windows plus closet doors. Some Barndominium kits do include windows and outer doors, but on average, it can cost $25,000 or more, including installation. The cost will depend on the type you get, the size, and how many. Energy efficient windows will cost more but are energy saving.
The two most expensive rooms in your Barndominium are your bathrooms and kitchen. The materials and labor can be costly as you have cabinets, appliances, countertops, toilets, shower doors, stove, refrigerator, and more. The more upgraded everything is, the more expensive it becomes. How many full and half bathrooms will also figure into the price. The average cost can be over $65,000.
Barndominium Kits – Are They Cheaper?
Yes, but one thing to remember is that a Barndominium kit is just a prefabricated shell. Generally, it only includes the framework, roof, and hardware to build it. They come with set floor plans and designs to make them easy to put together. You can get them in a variety of styles and designs.
One of the benefits of a Barndominium kit is that it is cheaper and averages $35 per square foot; some are less expensive. They are simple and easy to put together by a contractor. They are quick to build, so you can get the structure built in a few days, cutting the construction cost. There may be a delivery fee, but that depends on the company you purchase the kit from.
What Type Of Loans Can You Get?
Sometimes, this is the hardest part about building a Barndominium. Many banks and credit unions do not want to finance a Barndominium. They are a new thing, and they don't understand them. The type of loan you will most likely be able to get is a construction loan. With this type of loan, you will not get in one lump sum, as you would if you were to purchase a traditional home.
With a construction loan, you will receive periodic amounts to cover construction at each stage. The lender will usually send the checks directly to your contractor. They will release the payments at preset intervals, such as the completion of the framework.
It is a short-term loan with an average term of twelve months. It has higher interest rates than traditional mortgages. The interest is paid only on what you use for construction. For example, you borrow $100,000 and use $20,00 for the initial project cost. The interest would only be on the amount the lender paid to the contractor, which would be $20,000.
Once your barndominium is completed, you will pay off the construction loan balance, or you can refinance it into a long-term mortgage. The balance will be the amount the lender releases for construction plus any interest not paid.
To get this construction loan, you can try your local bank with which you have an account or a farm credit union. Still, some regular credit unions may also finance a barndominium construction loan. Getting a construction loan is the same process as getting a typical loan. Differences include providing a timeline for construction, your plans for the build, a list of supplies, and bids from the contractors, plus an appraisal. You may also have to have a down payment.
Applying for a regular mortgage or loan may only be for 15 years instead of the typical 30-year mortgage for traditional loans. Some lenders may offer construction to permanent loans, which means it would go into a permanent loan after construction.
30 x 40 Barndominium Floor Plans
Below are four-floor plans to help you with the layout of your new 30 x 40 Barndominium and how to get the most out of your living space. All show you the open concept that Barndominiums are known for.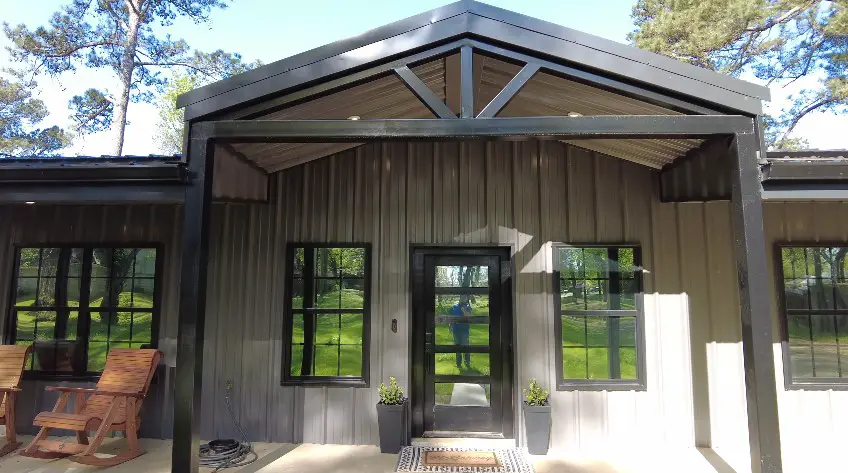 1. This floor plan offers you a master suite and one other bedroom on one side of the Barndominium. The bathroom is shared with the bedroom and is also a guest bathroom. The master suite has a walk-in closet, double sinks, and a shower and tub.
On the other side are the dining and living room and kitchen. The kitchen area has a nice island with four stools. There is no pantry or utility room, and this floor plan could add a front porch if you wanted to. It is a well-thought-out floor plan and makes excellent use of the space with large size rooms.
2. This floor plan has divided the 30 x 40 Barndominium in half, giving the adults the space and privacy they want. On one side is the master suite with a lovely ensuite bathroom. The only drawback with this plan is that you have to pass through the bathroom to get to the closet. The living room, dining room, and kitchen are in the middle.
There is no pantry or utility room. On the other side, there are two more bedrooms with a bathroom in the middle. A short dining and living area hallway leads to the bedrooms and bathroom. It is not a jack and jill bathroom but a guest bathroom also—great use of space.
3. This floor plan does not have a designated master suite, but one of the two bedrooms does have its own bathroom. The occupants of the other bedroom have to enter a hallway to get to the bathroom, which is also a guest bathroom. They have made the rooms smaller to incorporate a pantry and utility room.
There is also no formal dining area, but there is an island with seating for four. The large living room could be divided in half to make a dining room if you wanted to do that. Although the rooms are a little smaller and have no dining area, it makes great use of the space and gives you a utility room and pantry. If the pantry is not needed, it could be used as a nook for a dining table and chairs.
4. This floor plan makes excellent use of the space with two bedrooms and a master suite. The only drawback to this floor plan is the bathroom placement for the other two bedrooms. Instead of being in the middle, it is at the end of the two bedrooms. So the ones in the corner bedroom have a long walk to the bathroom, which is also the guest bathroom. To get to the bathroom, you have to walk into the dining area and then into the bathroom.
Off the kitchen is a large utility room with a door leading to the outside, which is good. If you have muddy boots or shoes, you can step into the utility room to remove them before going into the barndominium. There is no kitchen island or a lot of counter space, and there is a nice dining area and living space.
Conclusion
As you can see from the contents of this article, the 30 x 40 Barndominium cost will range from $24,000 to $120,000 just for the structure but fully completed, and it will be over $200,000. The actual cost will depend on many factors covered in this article. Talk to someone who builds a barndominium to help determine costs and determine if it fits your budget.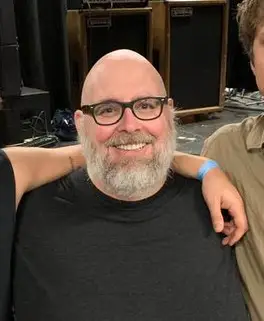 I'm James, your barndominiums advisor. Several years ago, I had no idea what barndominiums were. Although I'd spent over 10 years in the construction industry, the first time I heard about barndominiums was when I saw my neighbor building a new-style home. That was the first barndominium I've ever seen, and I found it so fascinating that I wanted to learn more about them.
More Posts