Are you tired of the hustle and bustle of city life?  Do you want a place where there is some peace?  Do you want to design your own home?
Is your house getting too small for your growing family?  We may have a solution if the answer is yes to any of these questions.
With a barndominium, most offer an open concept.  You can look at the different floor plans to find one that meets the needs of your growing family.  A barndominium has energy-efficient windows, can be built quickly, and is easy to maintain.
If you are unsure about this type of alternate housing, read this article, look at the different floor plans, and then decide.
You will be glad if you choose to build your barndominium.  The square footage can range from 9,000 square feet to 40,000 square feet.
Quick Recap: What is a Barndominium?
If you have never heard about this type of house, let's say it combines a condominium and a barn.
It has a steel frame with metal siding; A barndominium offers exposed beams in the living area and kitchen.
They also offer vaulted ceilings, and some offer floor-to-ceiling windows.  You can make it one or two floors and add a workspace if you work at home.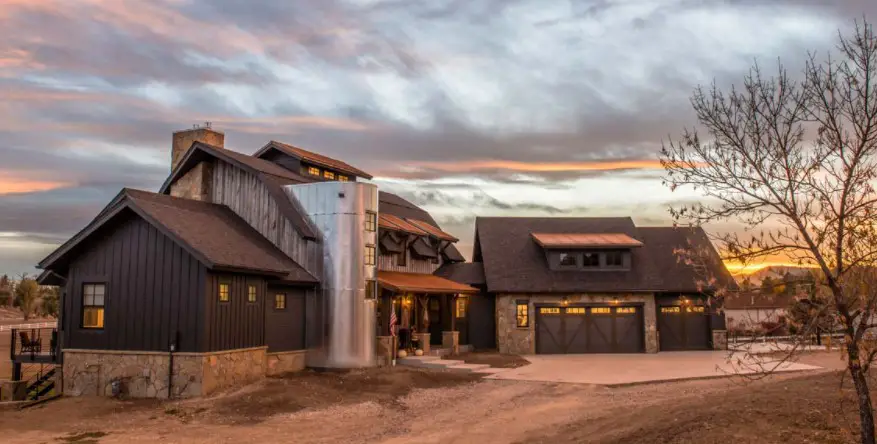 The barndominium has a metal frame that is covered with sheet metal siding.  The inside can be done to any 4-bedroom barndominium face plans.
A barndominium can come in a variety of shapes and sizes.  Because of its steel frame, it can also be described as a type of steel building.
How to Select the Best 4-Bedroom Barndominium Floor Plans
This is your dream home, which you may have for the rest of your life.  You want to make sure it is perfect for you and your family.
If you are new at designing your unique floor plan, you can use Barndominium designer software.
Before you select your floor plan, think about your lifestyle.  If you are newly married, consider how many children you might have and if you want guest rooms for family visiting.
If you are considering retiring in a few years, think about the space you need.
You don't want to choose square footage than you need as a barndominiums average cost is built on square footage.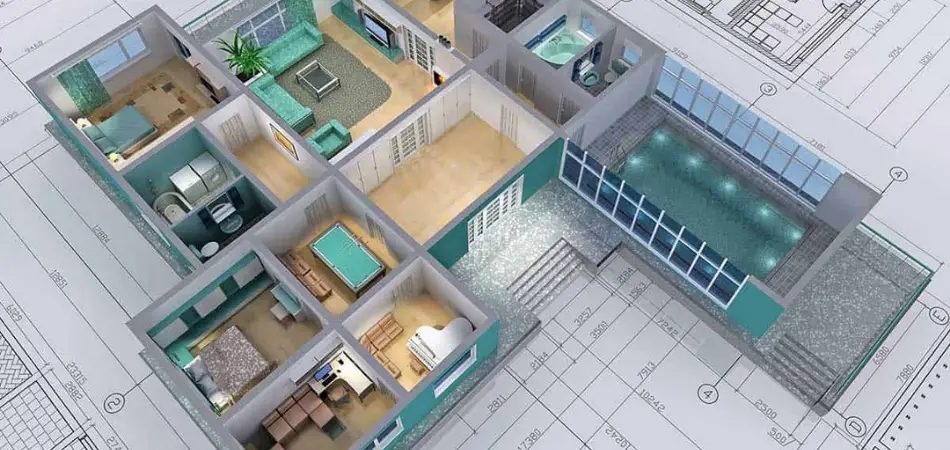 Once you have decided on that, think about the size of the rooms and where you want to place them.
Do you want to have all the bedrooms in one area of the barndominium, or would you prefer to have the main suite away from the other three bedrooms for more privacy?
Considering these things will help your 4-bedroom barndominium floor plan selection be easier.
4 Bedroom Barndominium Floor Plans (The Guides)
Below there are several ways in which you can design your barndominium with 4 bedrooms.
With four bedrooms, you can have two levels, or maybe one of those four could be a loft bedroom.  If you want to maintain that open concept, consider the square footage you have to work with and place your bedrooms accordingly.
4 Bedroom Barndominium Floor Plans Example 1 (Floor Plan 072) – (50″x60″)
This floor plan uses much of the outer wall space for its bedrooms, leaving the middle an open concept.  They put the kitchen in a corner with the kitchen island looking like a boomerang.
The setup gives you a clear view of the living and dining area, making it easy to watch the children while you cook.
They used some space to make an office and a craft room.  One bedroom is in the corner, with a bedroom on each side.
What is kind of strange is two bedrooms share a bathroom, and then there is a bathroom for guests to use in the same area.  The master bedroom is on the other corner with a master suite.
This is a great floor plan and how to utilize the space and placement of the four bedrooms.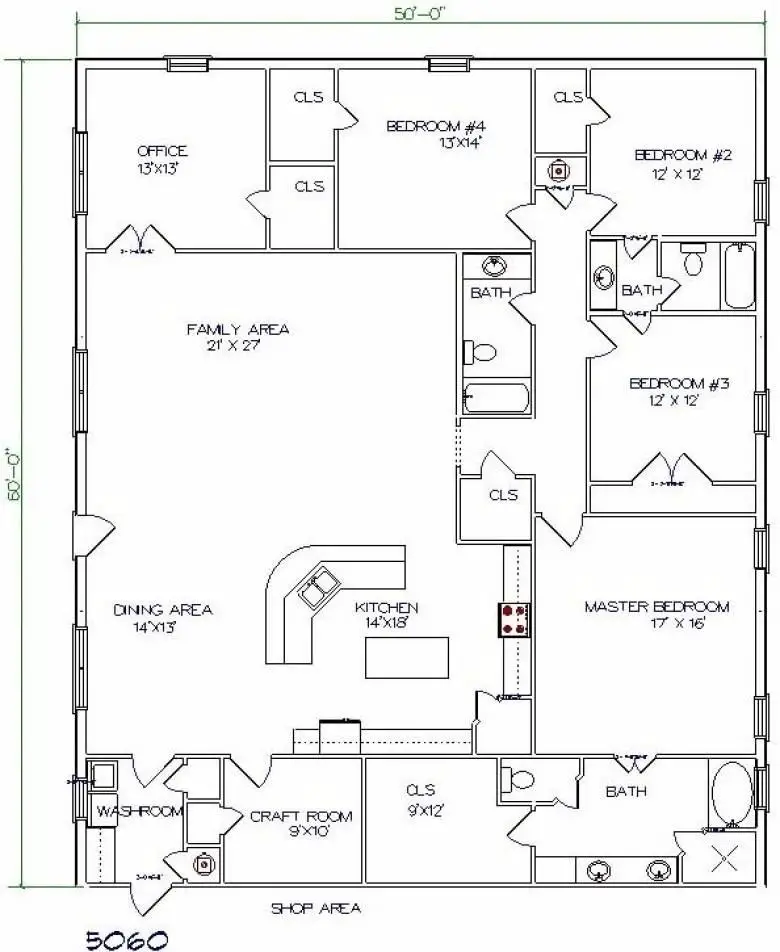 4 Bedroom Barndominium Floor Plans Example 2 (Floor Plan 073) – (50″x50″)

 
This floor plan also utilizes the inner three walls for all the bedrooms, wash or utility room, mudroom, and pantry.
The master bedroom and master suite are on one corner, followed by the other three bedrooms.  In this main bedroom, you enter the walk-in closet from the bedroom and not the bathroom.
The three bedrooms and one bathroom entrance are off the family area.  The kitchen is shaped like the above floor plan but is in the opposite corner.
How this floor plan is designed gives the family a very large family area.  Again, this floor plan uses the open concept to give the family a large area to entertain.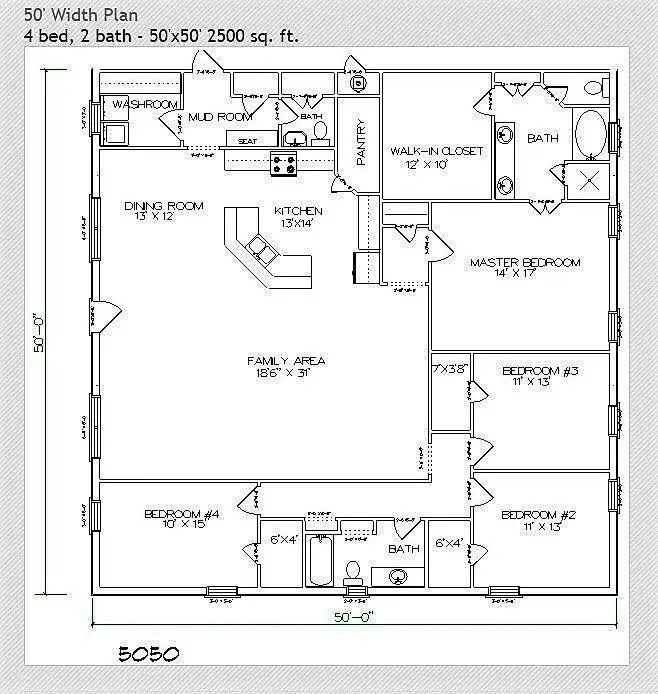 4 Bedroom Barndominium Floor Plans Example 3 – (Floor Plan 074)  – (40″x60″)
This floor plan is about 10 feet narrower but ten feet long.  To make sure you and the family do not feel cramped, you need to use the space wisely, which they did.  Again, they used the inner walls for the bedrooms, wash, laundry room, and even a small office.
The kitchen is the same shape as the other floor plans, but the dining and living room is a little smaller in area.
This one has just two bathrooms, with the master bedroom having its bathroom.  To enter the master closet, you have to go to their bathroom to get to it.
This can be awkward if someone is using the bathroom.  It is not a bad floor plan, but it seems more spacious when the width and length are the same size.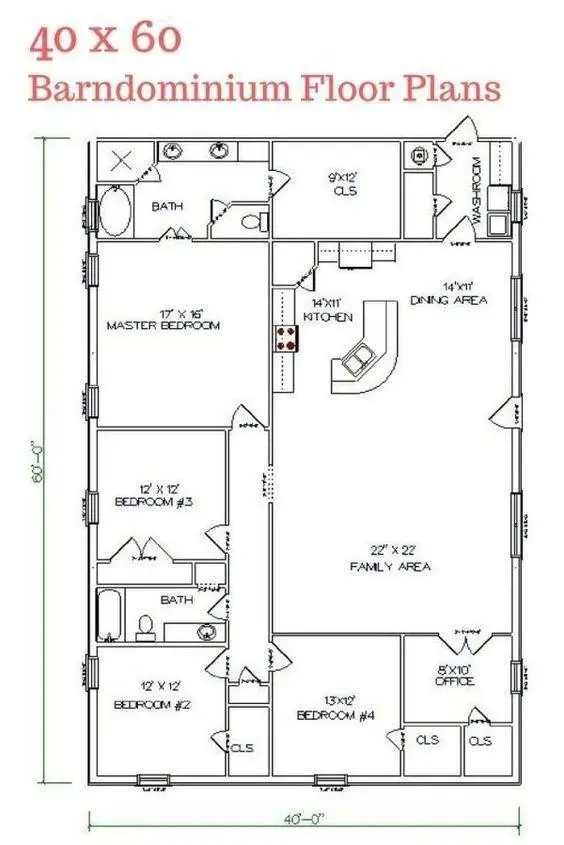 4 Bedroom Barndominium Floor Plans Example 4 – (Floor Plan 075) – (40″x60″)
Using this floor plan, there is a large front porch.  The living, dining rooms, and kitchen occupy the front of the barndominium, keeping the open concept.
The first two bedrooms are just off the living and dining area.  One of the bedrooms has its bathroom, and the other two share one.
A shop area and a mudroom on the back wall are in one corner.
In the mudroom, there is also the laundry area.  Right in front of the master bedroom is a storage area.
This 4-bedroom floor plan is not drawn out that well, and it is hard to tell what some of the areas are.  It is not one of my favorite floor plans.
It seems too crowded into two-thirds of the barndominium, making it not seem very spacious.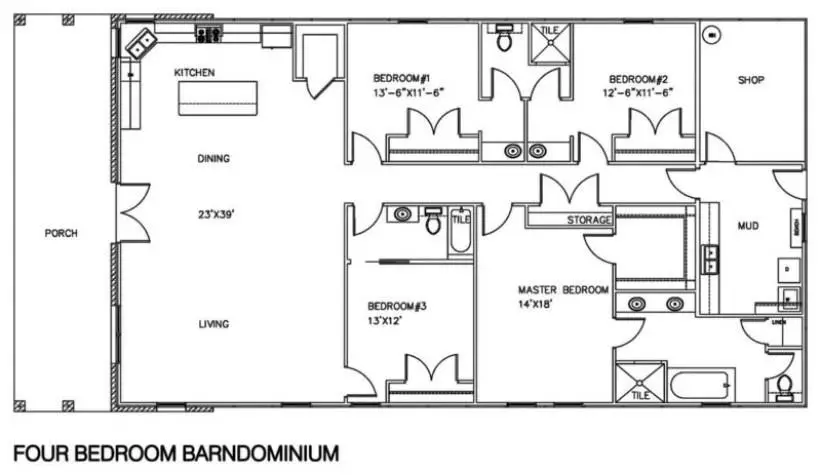 Conclusion
4 Bedroom Barndominium Floor Plans can be utilized in various ways.  Look over the information in this article to help you select the right floor plan for your family.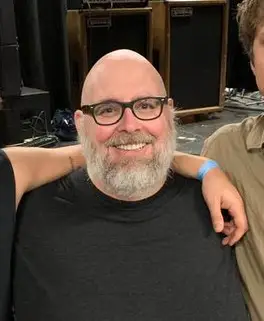 I'm James, your barndominiums advisor. Several years ago, I had no idea what barndominiums were. Although I'd spent over 10 years in the construction industry, the first time I heard about barndominiums was when I saw my neighbor building a new-style home. That was the first barndominium I've ever seen, and I found it so fascinating that I wanted to learn more about them.
More Posts