You have a large piece of land in the mountains. You have four children, all married with a couple of children of their own.
You are retiring and want to build a home on this land that will accommodate the family when they visit. Is it possible to have a large home with five or six bedrooms?
Yes, it is possible. You could build a barndominium and design it as you want. To construct a barndominium with the space you want, you need to look at 50×100 Barndominium Floor Plans. 
This barndominium has the space to give you and your family needs. It is quicker to build a barndominium than a traditional house and less expensive.
With this size barndominium, you will have room for the entire family. Read on to check out some of the awesome floor plans for a 50×50 barndominium,
Building a 50×100 Barndominium Floor: Things To Know Before
Building a 50×100 barndominium floor can be expensive. It is unlike a manufactured home that can use cement blocks to support its weight.
With a barndominium, you have to have a solid foundation. If you want, you can build a basement or even have a crawl space.
Because it will be such a huge barndominium floor, getting a contractor with experience building these types of floors is advised.
They will make sure that the land is cleared and that it has been marked and framed properly. They will also reinforce the barndominium floor with rebar.
Once the concrete has been poured, it will have to sit for three to nine days to cure. This means it has to be set and dry so it will be strong enough for the structure that will be built on it.
When the contractor feels it is ready, you can erect your barndominium. Before you build it, you will need to decide if you want a four or six-inch floor.
The thicker it is, the stronger it will be.
50×100 Barndominium Floor Plans And Layouts
50×50 barndominium floor plans give you a lot of room to design that perfect dream home.
There is enough square footage of living space that you can have four to six bedrooms and a nice spacious kitchen and eating area.
Check out these floor plans to find one that you like.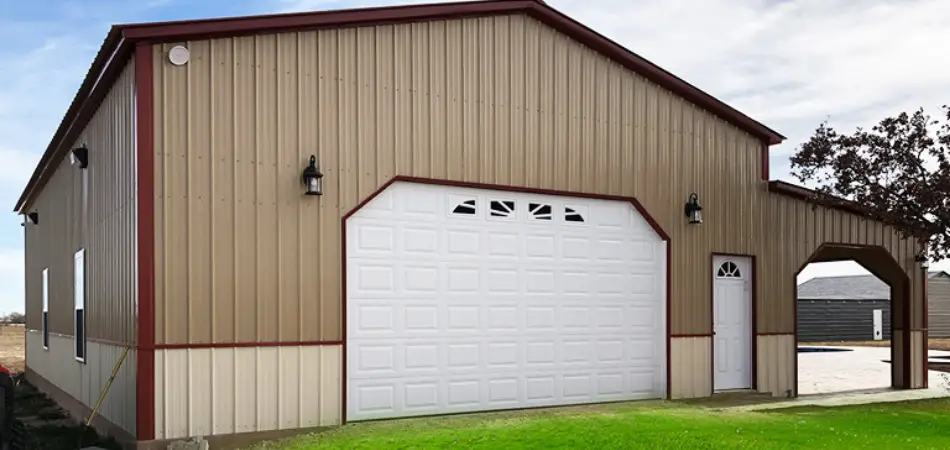 50×100 Barndominium Example 1 – Floor Plan 046
With this 50×100 barndominium, there was room for putting in a shop, man cave, or however you choose to use it.
It is nice to have that extra space, but it could have been a little smaller so you could make the kitchen larger and have a dining area. As it is, there is just an island with stools.
Hardly room for any parties or family dinners.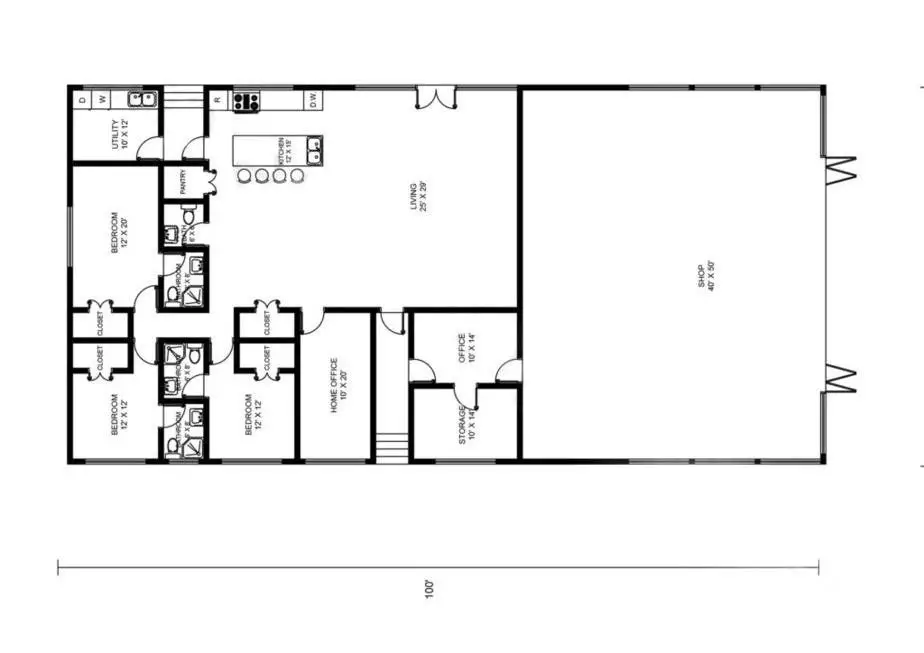 Also, there are only three bedrooms, and none is a master bedroom. Each bedroom has its bathroom, including a half bath for guests off the living area.
Some of the space that could have been used for another bedroom was for storage and two offices. With this floor plan, I do not feel that they used the space wisely.
50×100 Barndominium Example 2 – Floor Plan 047
This 50×100 barndominium floor plan gives you five bedrooms but no master bedroom.
The two bedrooms at the end have their bathrooms, and then there are two more bathrooms for the other.
The kitchen is too small and cramped for me, and no dining area. Again, a dining island with four stools.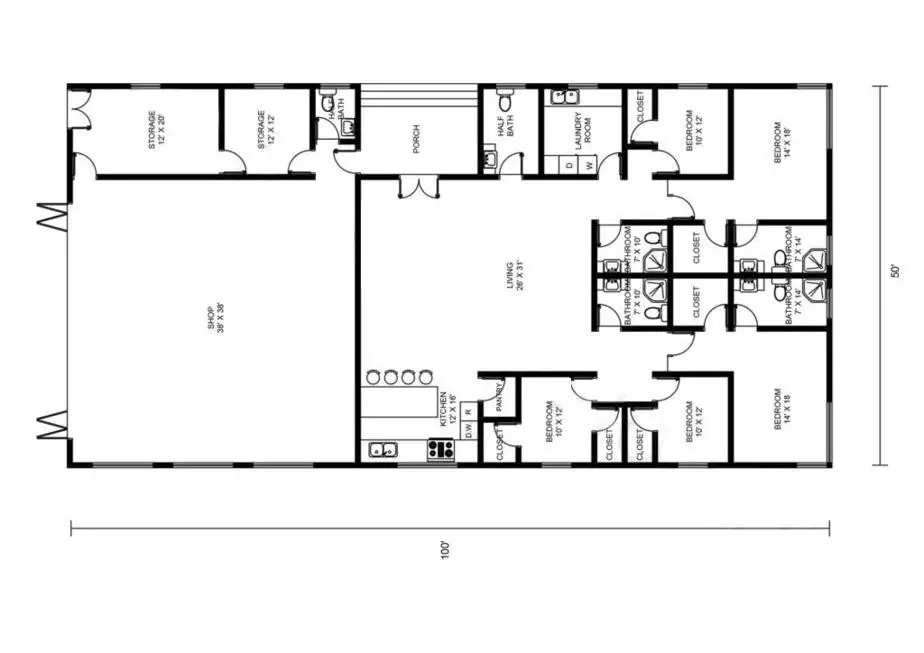 There is a half bath off the living room. The other two bathrooms could have been just one, possibly giving some dining space.
Having a shop is nice, but why do you need two storage areas? They could have made the shop smaller and used those two storage rooms for something else.
This house has too many bathrooms, and I like the kitchen. I would put this floor plan in my 'do not want pile.
50×100 Barndominium Example 3 – Floor Plan 048
Again, this 50×100 barndominium appears to give more room to the shop than the living space. There is a shop office, a regular office, and a storage room.
There are three bedrooms with a bathroom and a nice master bedroom. The bathroom seems to be a bit small to be called a master bath.
In one corner, there is the laundry room and half bath, both off the kitchen.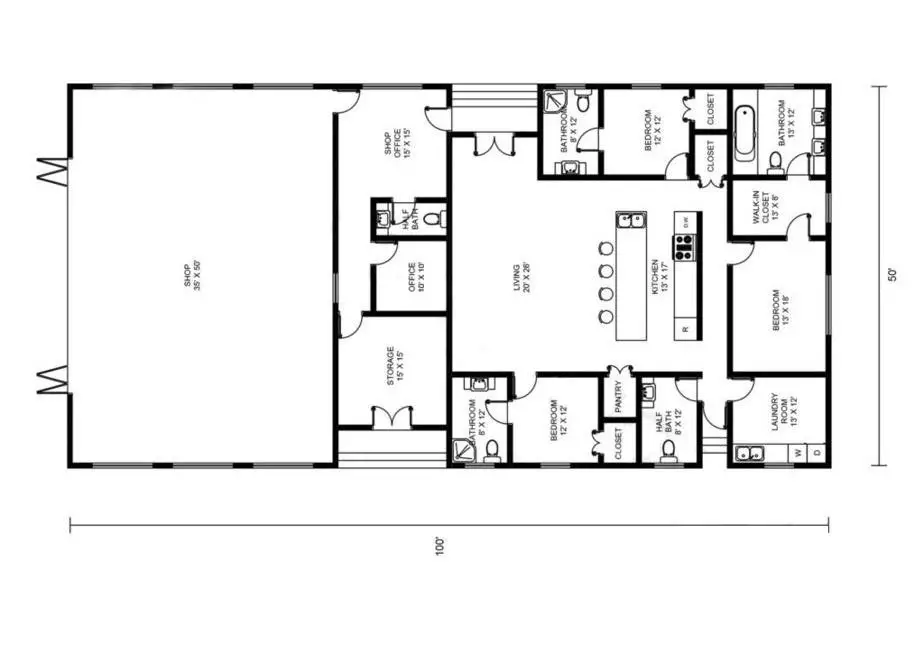 No dining area and no decent size living area. The kitchen has a dining island and stool but no cabinet space. To get to the master bedroom, you go down a hallway behind the kitchen.
This floor plan could have been thought out better. The shop area did not need that space for the offices and bathroom.
They could have been worked into the shop and given the kitchen and living space more room.
I am unhappy with the kitchen; it looks like it was just stuck there because it needed a kitchen.
50×100 Barndominium Example 4 – Floor Plan 049
This 50×100 barndominium floor plan has been well thought out to use the space wisely as they have done.
Yes, there is a shop, but there are 5 bedrooms, a spacious master bedroom, and a bathroom. There is a living and dining space. There is a pantry and laundry room.
The kitchen is larger with more room to move. With this layout, it does not seem like you are crammed into a smaller space that seems an afterthought to the shop.
This is one of my favorite floor plans and one I would use to build my barndominium.
50×100 Barndominium Example 5 – Floor Plan 050
This 50×100 barndominium has compartmentalized the rooms. You have the shop, and then you have the kitchen, living, and dining areas.
The only drawback here is that there is no pantry or laundry room. With the size of the shop, they could have built a laundry room in one corner.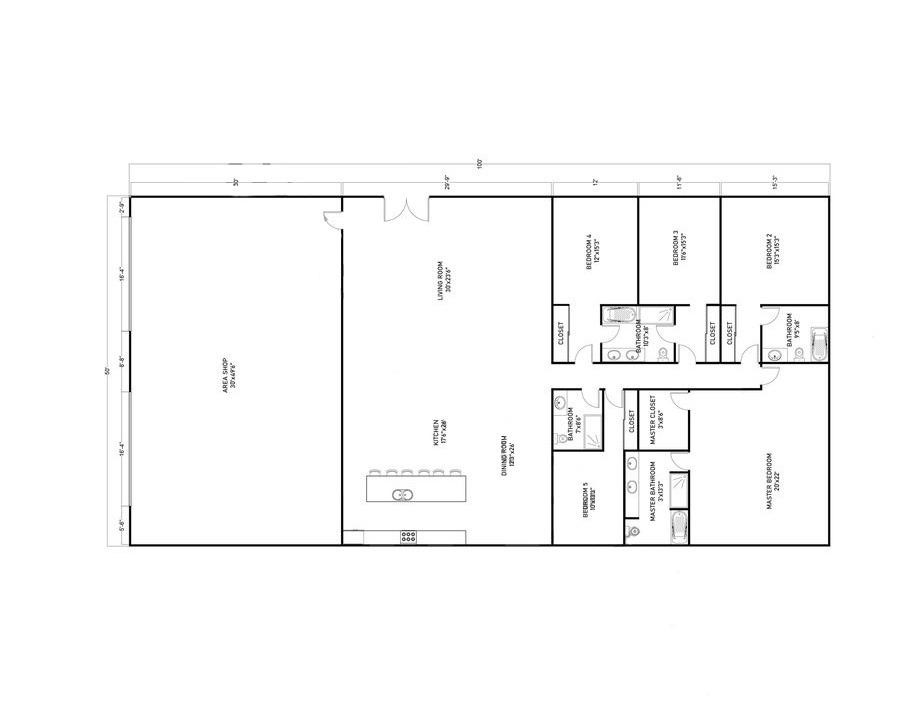 Then at the end of the barndominium are the four bedrooms and master bedroom. Two bedrooms have a Jack & Jill bathroom, while the other has its bathroom.
The other bedroom has a bathroom you must walk out to, also used for guests. I like the layout of this floor plan but wish there was a pantry and laundry room.
Is a 50×100 Barndominium House Cost Affordable
With the space you get, it is worth the cost, but it is cost affordable. This depends on your finances, your budget for a barndominium, and if you can get a loan.
Barndominiums cost $95-$125 per square footage. In your area, it could be more or less per square footage.
The price also needs to include the barndominium floor cost, which is based on square footage, labor, and material.
There are also furnishings, appliances, flooring, putting in electric and plumbing, and more.
With a 50×100 barndominium, it could cost over $300,000. You have to decide if that would cost affordable.
Conclusion
These 50×100 barndominium floor plans included a shop, with some taking square footage of living space than they should.
There were a couple that used the space wisely. We also covered how to build a barndominium floor and whether it is affordable.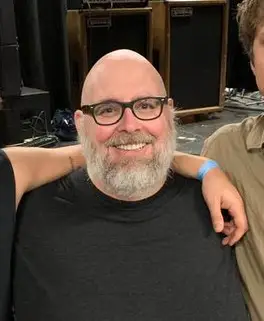 I'm James, your barndominiums advisor. Several years ago, I had no idea what barndominiums were. Although I'd spent over 10 years in the construction industry, the first time I heard about barndominiums was when I saw my neighbor building a new-style home. That was the first barndominium I've ever seen, and I found it so fascinating that I wanted to learn more about them.
More Posts