Do you want to build a get-away house where you can get a relaxing time? Maybe you need extra room for family, or you could be a foster parent.
Are you a new homeowner and want room to expand your family without moving?
60×60 Barndominium Floor might be the answer. You can design the house to suit your needs. 
You can even have a recreation room for the teenagers or an office for mom or dad. There is enough room for a shop for a home business.
The number of bedrooms can range from two to five bedrooms. It can even have a second story.
You can build a barndominium from the ground up or hire a contractor. There is even a barndominium kit.
Barndominiums are less expensive than a traditional home and allow you to design it as you want.
Building a 60×60 Barndominium Floor: The Layout
Some refer to what the barndominium sits on a foundation, while others call it a floor.
They may call it a floor because they are just using the concrete base as their floor, painting it, and putting rugs on it.
Before you get to that point, or even to build your barndominium, there has to be something to build it on.
Because of the size of this barndominium, 60×60 feet, a lot of concrete needs to be poured.
To make the barndominium energy-efficient and level, it has to have an even floor to be built on. This is why building a floor should be left to professionals.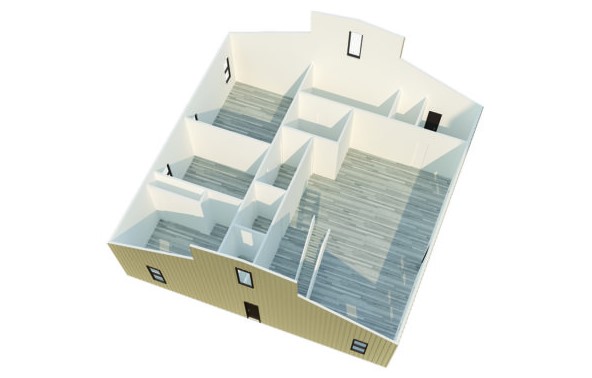 The contractor will check out the area where the barndominium will be built and make sure it is cleared of all debris before making a frame. After the frame is put in, normally wood, they will put it in rebar. This is to help strengthen the parts of the floor where it is not sitting on the frame.
The concrete is poured and leveled out, then left to cure for three to nine days before work can begin on the barndominium. The average cost is $4-$8 per square foot, but the actual cost depends on where you live. You also have to figure in material and labor.
60×60 Barndominium Floor Plans And Drawings
A 60×60 barndominium will give you over 2,500 square feet of living space.
Enough for four to five bedrooms, even a second story if you choose to. Below are several 60×60 barndominium floor plans.
Look them over to see which one meets your family's needs.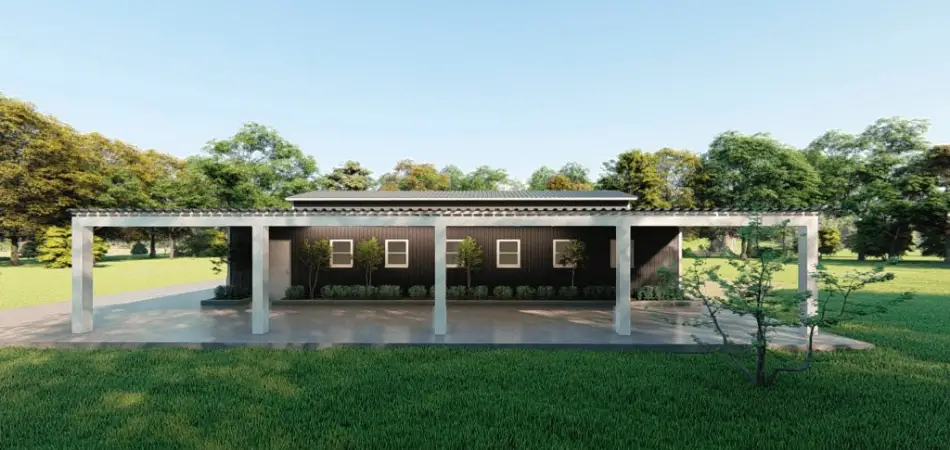 60×60 Barndominium Example 1 – Floor Plan 022
This 60×60 barndominium floor plan offers four bedrooms, including a large master bedroom.
Two bedrooms share a bathroom, while the last bedroom has a bathroom that guests share. The kitchen gives you plenty of cabinets and counter space.
You must go down a small hall to get to the laundry room at the end and the pantry, all off the kitchen.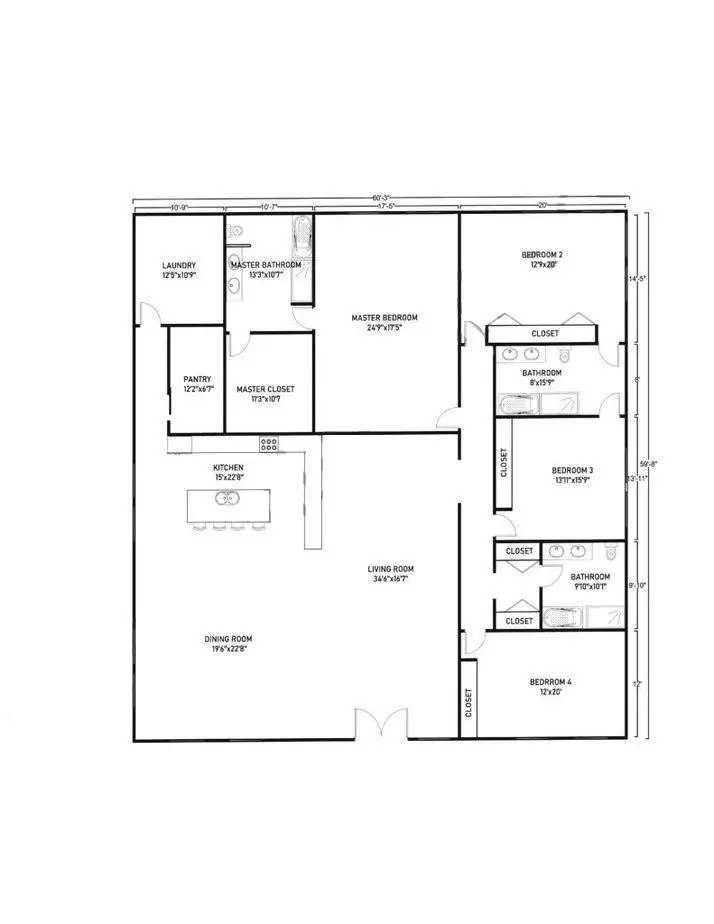 The dining and living room are large, but I feel they should have been switched so the dining room would be closer to the kitchen and the living room would be larger.
The layout is good except for the issue I mentioned. This is one I would consider using to build my barndominium.
60×60 Barndominium Example 2 – Floor Plan 023
This 60×60 barndominium floor plan makes great use of the living space by having five bedrooms, including a master bedroom and a family room.
The other four bedrooms are grouped into two, with a bathroom between them.
Again, I do not like the setup of the master bedroom because you have to go through the bathroom to get to the closet.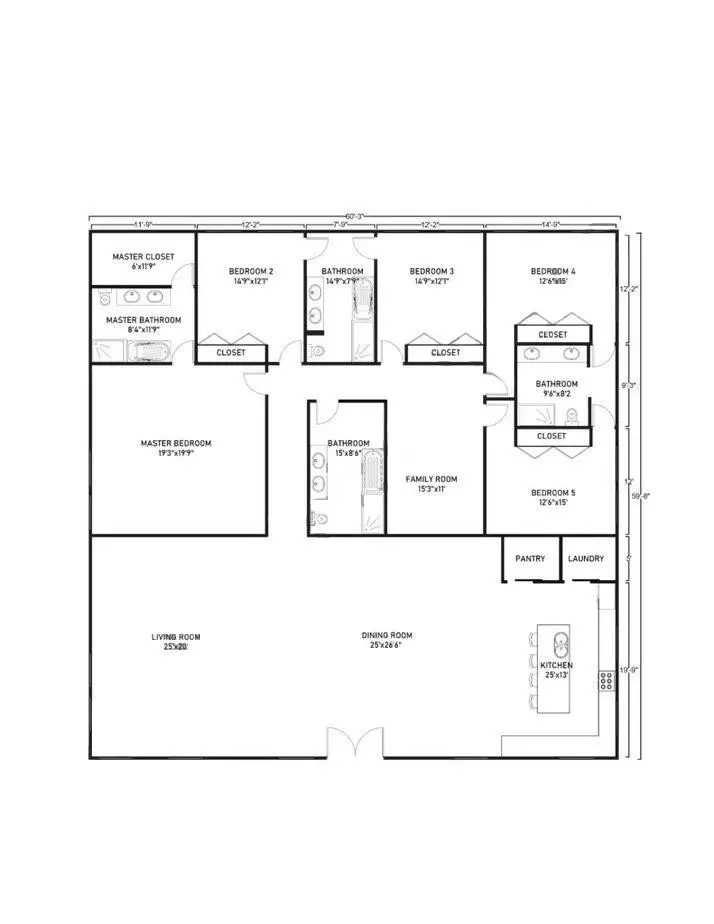 The guest bathroom appears full but could have been a half bath instead. The front of the barndominium contains the living and dining room and the kitchen.
Off the kitchen are the pantry and laundry room. This is a great setup and one I would use to build my barndominium.
60×60 Barndominium Example 3 – Floor Plan 024
This 60×60 barndominium floor plan did not utilize the space well at all. There are only three bedrooms, and none is a master bedroom.
A huge office, utility room, and garage take up the extra square footage. The bedrooms are not even that large.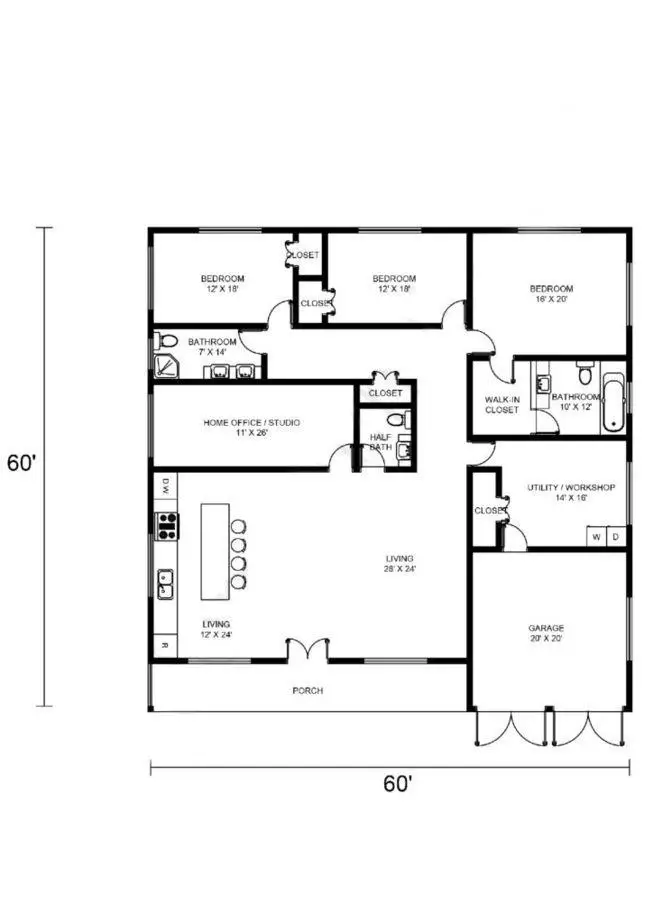 There is not even a dining area, just a dining island, which does not make for entertaining. The kitchen is also quite small with little counter space.
There is also a half bath for the guests. It appears to be a very cramped and compact living space. I would pass this one up for my barndominium.
60×60 Barndominium Example 4 – Floor Plan 025
This 60×60 barndominium once again did not use the square footage of living space adequately. It looks cramped—only two bedrooms with their bathroom.
You must go through the walk-in closet to get to the bathrooms. The large front porch, shop, and office take up most of the space.
There is no dining space and only a dining island with four stools. Instead of the large living room, they could have used part of it for a dining room.
The utility room looks small and narrow. This floor plan is one I would pass on and look for one that uses the space wisely.
60×60 Barndominium Example 5 – Floor Plan 026
This 60×60 barndominium floor plan is another sample of not using the space wisely.
No master bedroom, but it has three bedrooms. Two bedrooms have attached bathrooms, which you enter through the walk-in closet.
The third bedroom is listed as the guest bedroom, and you have to step out into a small hallway to get to the closet. The bathroom is off the living room.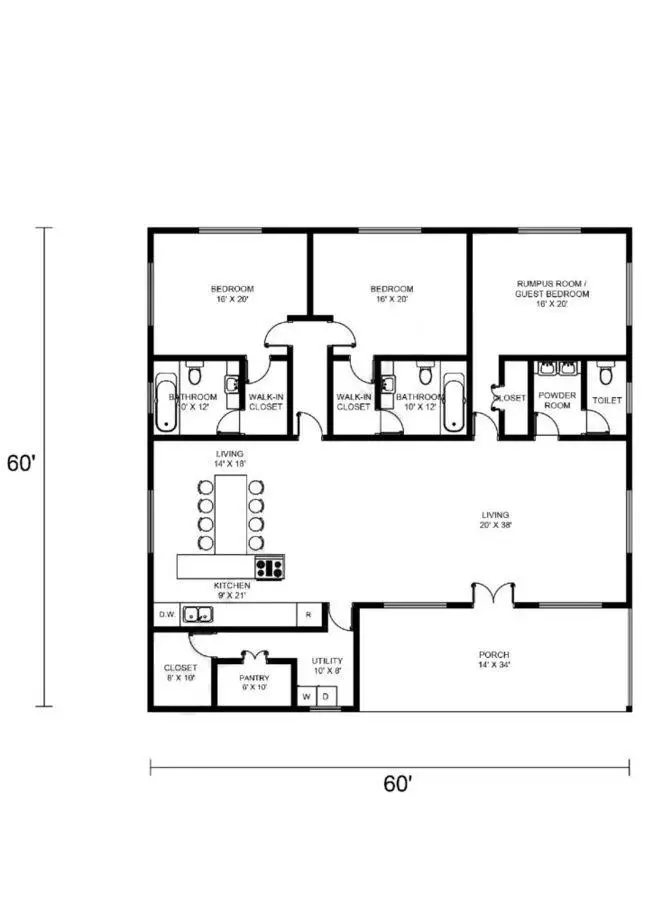 There is no dining space, but the dining island has four seats on each side. The kitchen is not very large, with little counter space or cabinets.
You go into the utility room from the kitchen, then to the pantry, and finally, a closet. The living room opens to a large front porch. Not good if you have a family of four or more.
Is a 60×60 Barndominium House Very Costly? (Less Than Regular House!)
Yes, a 60×60 barndominium can be costly, considering the cost per square footage of living space. The price will depend on the area where you live.
It will also depend on whether you build from the ground up or a kit. A barndominium this size could be around $300 000.
You also must consider the furnishings, appliances, floors, and more.
Final Verdict
As you can see by the 60×60 barndominium floor plans, most did not utilize the square footage of living space wisely. They used it for shops, offices, playrooms, etc.
It is good to have these areas, but they could have been made a little smaller to give more room for other areas. You also learned in this article how to build a barndominium floor.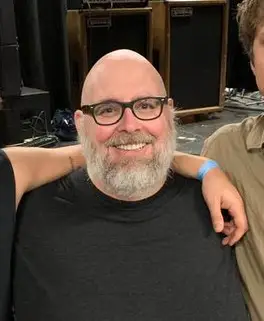 I'm James, your barndominiums advisor. Several years ago, I had no idea what barndominiums were. Although I'd spent over 10 years in the construction industry, the first time I heard about barndominiums was when I saw my neighbor building a new-style home. That was the first barndominium I've ever seen, and I found it so fascinating that I wanted to learn more about them.
More Posts