The kitchen in any home, whether it be a traditional home or a barndominium, is the central hub.
It is the place where the family gathers to sit at the island or dining table to eat, do homework, play boardgames, and so much more.
If there is more than one in the family that cooks, then you need to make sure it is large enough to accommodate two people.
Today, when building barndominium kitchens, many homeowners are choosing an open concept so they can be in their cooking and still converse with friends and family while they are in the living or dining area. 
Most want a lot of counter space with granite countertops, plenty of cabinets, and room. Read on to find out what things you need to consider when choosing the layout of your barndominium kitchen.
This article will also show you many different kitchen layouts to give you some decoration inspiration when designing your barndominium kitchen.
Key Takeaways:
Your barndominium kitchen is a very important room to consider when choosing your floor plan
The kitchen design and layout can make or break your barndominium
It is the hub of your home and a gathering place
What to Consider When Planning to Build a Barndominium Kitchen?
When it is time to choose your floor plans for your new barndominium, it is important to consider the size of your family to know how many bedrooms and bathrooms you need.
But it is equally important to know how to design your kitchen.  Do you want an island?  What type of counters do you want?
How many people will be cooking or helping in the kitchen at the same time?  Below are three things to consider when designing barndominium kitchens.
Draw it out and make changes if necessary before you select your barndominium kitchen floor plan.
Appliance options
When thinking about appliances, you need to decide if you want stainless steel or appliances with color.
One color that seems to be prominent now is black.  Whatever you choose should fit into your design style.  Although they are more expensive, you can even find custom appliances.
Space and Accommodation
This is one of the first things to consider when choosing the layout and design of your barndominium kitchens. You want to make good use of the space.
When there is enough room in your kitchen, it helps you get your cooking done easily and efficiently without having to sacrifice any appliance, just as a dishwasher or microwave.
An important feather to consider is the counter space.
You want to make sure it is laid out to give you ample space to work on and to keep your small appliances like a juicer, air fryer, or toaster handy so you don't have to drag them out of a cabinet every time you want to use them.
If you are a baker, you want to have the counter space to roll out cookie dough, or to put freshly baked cookies on cooling racks.
Think about the needs of your family and make sure there is room for others to help you in the kitchen.  Utilize the space well.
Layout
This is also very important.  You do not want your stove to be on one side of the kitchen and the refrigerator on the other side.
That is inconvenient and makes you take more steps than you need to make.  You also want your kitchen to be utilized in a way that will be beneficial to the rest of your home.
The configuration will have a lot to do with it. Most people choose to have an open concept kitchen, which has no separation between the rest of the barndominium and the kitchen.
If you do not like this layout, then you can have a closed concept, which simply means that the kitchen has its own room in the barndominium.
The reason that most choose the open concept is that it will allow you to socialize while cooking.  It also saves space.
When designing the layout of barndominium kitchens, you will need to decide where the kitchen will be constructed.
Do you want the kitchen in one corner of the barndominium or the middle in line with the dining and living area of the open concept if that is what you are using?
You will also want to know how you are going to place the cabinets, where the sink will go, where you will put the pantry, and more.
Best Barndominium Kitchen Ideas
Below in this article are ten unique and different barndominium kitchens to give you some inspirational ideas of how your kitchen could look.
Raw Wood And Stone – Idea 1
This is a unique barndominium kitchen that combines stone and raw wood as two of the main elements.  The ceiling appears to be white shiplap with black or dark brown beams.
The accent wall has some unusual designs on it with a light brown countertop and dark brown or grey cabinets and doors on the front of the cabinets.
The floors appear to be an unfinished grey with a raw look.

Warehouse Look – Idea 2
This look will give your kitchen a rustic, farmhouse look with large windows looking to either the backyard or the patio with lots of green plants on the windowsill.
The cabinets and shelves are white with black handles, a black sink, a beautiful butcher block countertop, and a matching back wall.
They have a black pole with hooks attached to hang coffee mugs   The table also is made of wood, adding to the rustic look.

Outdoor Kitchen Goals – Idea 3
Yes, you need indoor barndominium kitchens but if you live in a mild climate, it is nice to have a nice outdoor kitchen complete with a fireplace and grill, all set in natural stone along with a small fridge and what appears to be stainless steel drawers.
It looks as if there is a granite countertop.  There is a large wooden picnic table for guests and family.
Task Lighting In A Barndominium – Idea 4
Depending on the size of your barndominium and how much space you want to dedicate to the living and dining space, the kitchen can sometimes be a little small.
This kitchen is very unique with its white cabinets with a brown wash it appears on the columns and handles.   Using task lighting in this kitchen gives it a much larger feel.
It makes it feel warm and inviting.

Log Walls And Skirt – Idea 5
This barndominium kitchen has a very modern feel to it from the straightforward island to the barstool.  Clean lines with unique cabinets.
The appliances appear to be a combination of white and stainless steel as do the cabinets.  The countertops and island have a white countertop with a light brown wood front.
The dark grey brick accent on the back wall gives it a rustic look.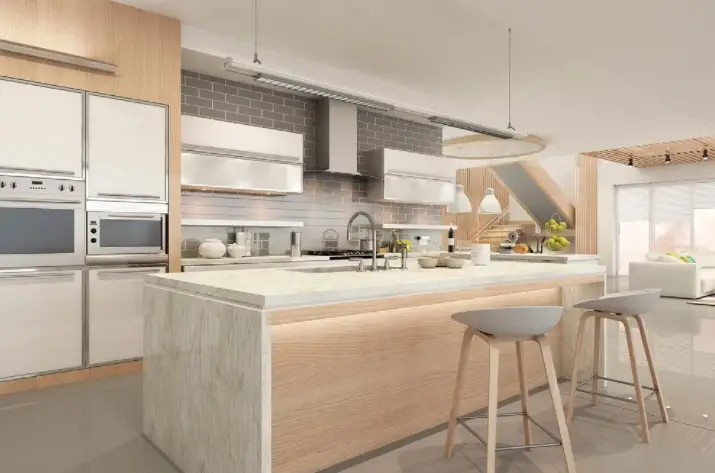 Retro Ship With Pine Walls – Idea 6
The pine cabinets along with the stainless steel appliances and granite countertop with a brown pattern give this a rustic touch.
The wooden floors are light pine wood with a brick backsplash.  The range hood is also pine wood.  Lots of cabinet space and what appears to be a nice pantry.
Ample counter space including the island.

Salvage Kitchen Woods – Idea 7
This interesting barndominium kitchen has used old repurposed barn wood to make the cabinets, one of which they have painted light grey and the other a brown.
The stove is in the middle and there are two sets of shelves but no cabinets.  Although rustic it is simple but not very much counter or cabinet space.  There is one standup cabinet to the side.
This is a kitchen you might find in a smaller barndominium or it has been scaled down to save space.

Classic Barn Beams – Idea 8
This kitchen is simplistic with white cabinets and a butcher block countertop.  There are open shelves and one cabinet on top with most of the storage in the bottom cabinets.
The wooden table looks to be repurposed wood with drawers and storage space below.
There is lots of greenery around to give it a homey look.  The floor is large tiles in shades of brown.
Cover The Fifth Wall – Idea 9
This is a great kitchen with a white ceiling and large beams.  There even appears to be a skylight to give your kitchen more natural light.
There are granite countertops and a large island with a wine cooler and extra storage.  The sink is also there.
There is a silver backspace and the walls are dark grey.  The appliances are stainless steel with an extra-large refrigerator-freezer on the sidewall.
The floor is several shades of wood.  It is more of a galley-style kitchen so not much room to work and more of a kitchen for one.

Farmhouse Barndominium Kitchen – Idea 10
With this kitchen, they have kept it to two colors, a white countertop, cabinets, and appliances plus a white window frame and blinds.
The island is white with a butcher block countertop.  The floor is even white.  There appears to be a pull-out stool for seating on the small island.

Conclusion
Barndominium kitchens can be fun to design from rustic to modern contemporary.  Just be sure to take in the space, how you want it laid out, and appliances as you make your design.
Look online at the different barndominium kitchens to inspire you.  If you want to be able to converse with your friends and family, go with an open concept.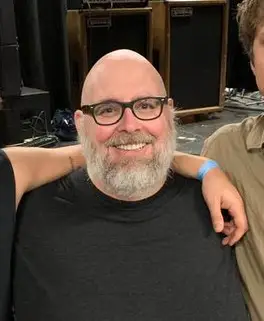 I'm James, your barndominiums advisor. Several years ago, I had no idea what barndominiums were. Although I'd spent over 10 years in the construction industry, the first time I heard about barndominiums was when I saw my neighbor building a new-style home. That was the first barndominium I've ever seen, and I found it so fascinating that I wanted to learn more about them.
More Posts