When you do not want to build a barndominium from the ground up, you can use a barndominium kit. Using a kit will give you the materials needed to build the shell of your barndominium.
It can get you started on your build quicker.
On average, they cost $10,000, but what size is that price for? What does a kit include? Is it worth getting a kit, or would it be better to start from the ground up?
Read on to find out just what a barndominium kit is and what is included. We will also cover the prices of a barndominium kit in several states.
This article will also cover the benefits of using a barndominium kit.
By the end of this article, you will have enough knowledge to decide if you want to start with a barndominium kit or build your barndominium from the ground up.
Key Takeaways:
Using a barndominium kit is cheaper than building a custom-built barndominium.
The kits can range in price from $20-$100 per square foot.
With a barndominium kit, you can do most of the work to save money.
On average, a professionally installed kit costs $40,000, but it depends on the builder.
What Is A Barndominium Kit?
This is a prefabricated barndominium that a contractor you hire or yourself has to assemble. They are customizable and come in a variety of styles and sizes.
They can be anything from simple to modern—generally, they with a steel or metal framing.  The most common size barndominium kits are 40×60, 30×40, 60×70, and 60×60.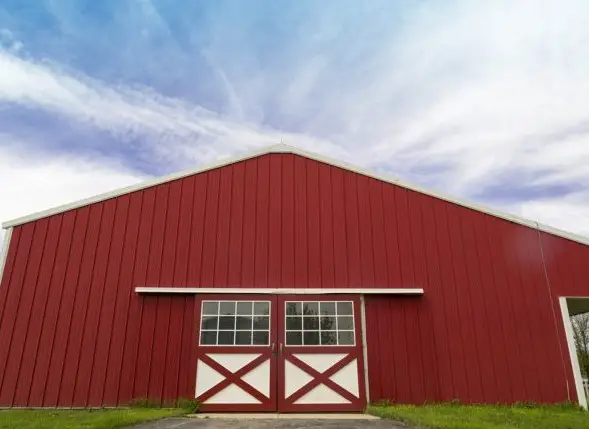 Depending on the company you buy your barndominium from, they may offer a kit with downspouts and gutters, bracing, and a standard paint warranty.
Some may offer a multi-year structural warranty.
Some providers of barndominium kits may have some that come with both main and secondary framing, stamped building plans, and exterior sheeting.
You will have to check with the various providers of barndominium kits to find exactly what you want.
Benefits of a Barndominium Kit
Purchasing a barndominium kit comes with many benefits, which is one reason they are growing in popularity among those building barndominiums.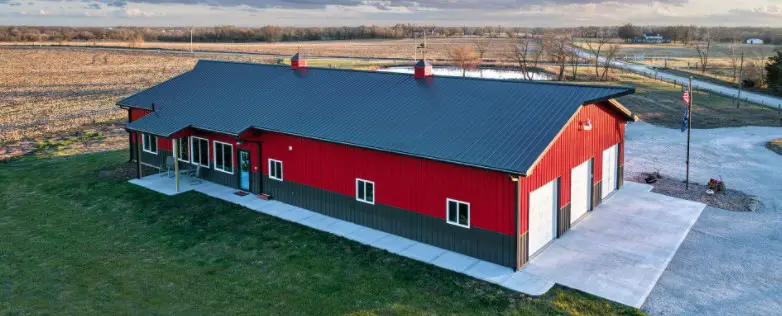 They are quicker and easier to build, with some units being able to be built in as little as three weeks.
The kits are customizable, so you can increase the space available or make additions.
Most of the kits are made of metal, giving you a long-lasting and durable structure.
The kits are resistant to pest attacks and the elements.
More affordable and easy to maintain.
Purchasing A Barndominium Kit: Know These Before Buying
The main purpose of building a barndominium
To make sure you choose the right kit, you need to know if it will be used as a vacation home, your primary residence, have a workspace for a home business, and more.
Location's zoning restrictions and regulations and building permits
The zoning requirements and building codes will vary from state to state and location, so if you decide that you are going to build it yourself, you need to know all of these.
This is why if you choose a barndominium kit, you should hire a contractor as they know these.
Where you are building your barndominium
If you have not purchased your land for your barndominium, take into consideration the size of the lot to make sure it is large enough to build the size barndominium you have decided on, any zoning restrictions, road access, and utilities, and how close to amenities such as schools, hospitals, and shopping centers.
Average Barndominium Kit Prices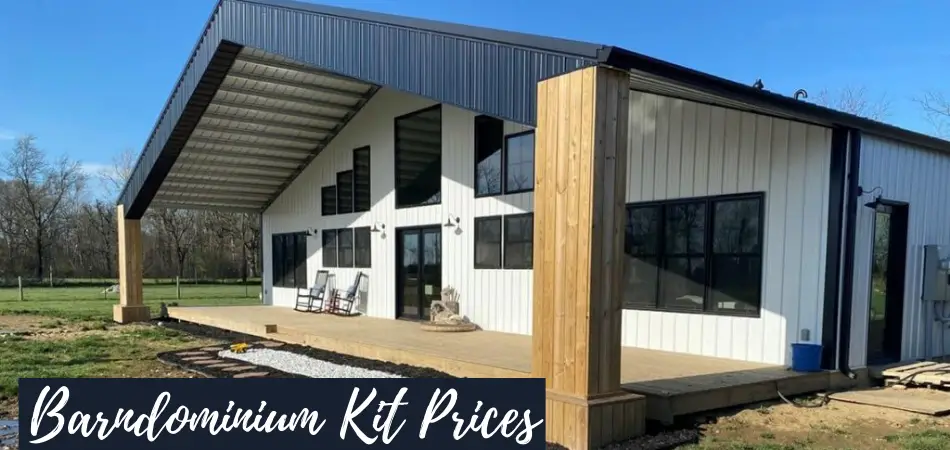 Factors That Can Influence The Price
Size of the kit
The location where you bought it
Number of rooms in your barndominium
How do you want to outfit the barndominium
Type of metal that is used for the shell of your barndominium structure
Insulation material
How you will build it, using a contractor or do-it-yourself.
Delivery fees, if any
Building permit fees
Foundation, plumbing, electrical, etc.
Windows and doors.
How large is the company that you are considering getting the kit at? The larger the company, the less expensive their kits will generally be.
How Do Barndominium Kits Work To Build Up From Scratch?
With a barndominium kit, it is as easy as putting furniture together. When you order a barndominium kit, you will get everything you need to build your home.
The company will deliver your kit to the location where it will be built.
At this time, you are ready to start putting the frame together, or the contractor you hired will start constructing the barndominium frame.

What Is Included In A Barndominium Kit?
Main framing and sometimes secondary framing
Exterior sheeting
Closures and fasteners
Trim
Stamped building plans
Depending on the builder where you get your barndominium kit, it may include your concrete slab to build your barndominium on, energy-efficient windows and doors, and spray foam insulation.
Barndominium Kit Prices in Various States
No state or location offers barndominium kits for the same price. Below are some of the different states and what a barndominium kit would cost in that state.
Michigan—the providers of kits in this state offer turn-key barndominium kits at $95-$125 per square foot on average.
Texas—on average, the price per square foot is $38 and includes mid-range doors and windows.
Colorado—barndominium kit prices here are some of the lowest in the country. The average price is $20 per square foot but does not include doors and windows.
South Carolina's price per square foot includes mid-range doors and windows, averaging $35.
Florida—their basic kits also average $20 per square foot without doors and windows.
Ohio—the average price per square foot without doors and windows is also $20
The above prices are average but could be higher than what is stated. It depends on what you have included in your barndominium kit.
These prices are just for the shell, so you will still need to pay for electrical, plumbing, hanging drywall, and more.
Conclusion
As you can see from the information in this article, barndominium kit prices can range from $20 per square foot for just the basic shell without doors and windows to as much as $100 per square foot.
Barndominium kits have many great benefits, especially if you plan to do most of the work yourself.
Before making your decision, weigh the pros and cons of using a barndominium kit and building from the ground up.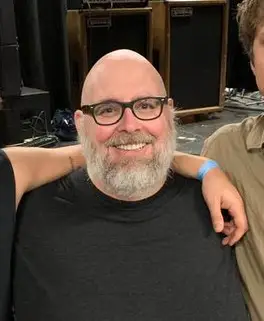 I'm James, your barndominiums advisor. Several years ago, I had no idea what barndominiums were. Although I'd spent over 10 years in the construction industry, the first time I heard about barndominiums was when I saw my neighbor building a new-style home. That was the first barndominium I've ever seen, and I found it so fascinating that I wanted to learn more about them.
More Posts