Have you always dreamed of having your own home that you designed yourself? Do you and your spouse work from home?
Maybe you live on or near the beach and have a lot of company during the summer months.
Now that it is time to design your home, how should you place the rooms?
Many, when designing their dream home, go with the traditional home. If you want something different, that will give you an open concept for your kitchen, living, and dining room, check out the 5 bedroom barndominium floor plans.
If this sounds like an interesting idea, one that you may not have considered, read on.
Learn what a barndominium is, how energy-efficient it is, and how it is not as expensive as a traditional home.
You can get all the rooms you need with an open concept for less than what it would cost for a traditional home.
An Overview Of Barndominiums
The barndominium is the latest in ulterior housing and seems to be catching on all over the United States. But what is a barndominium?
A barndominium is a part barn and part condominium. No, the inside is not going to look like a barn. The inside can be as luxurious as you make it.
One thing that makes it so popular is that it is quicker to build than a traditional home.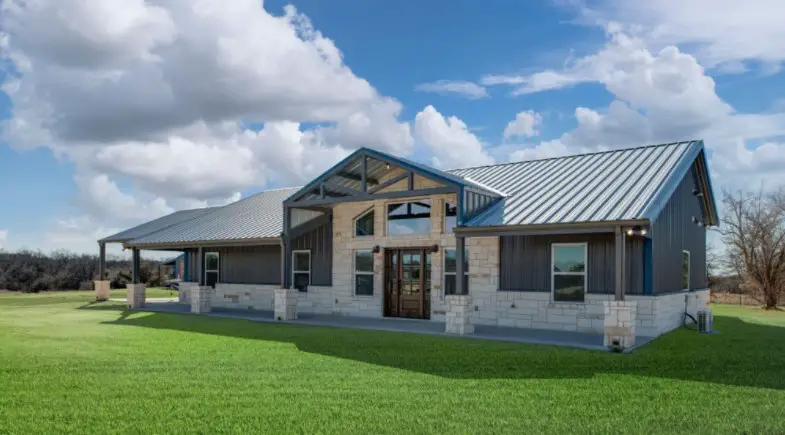 It has an open concept and if you want a lot of bedrooms, choose the 5-bedroom barndominium floor plans to get you started on your dream home.
There is also barndominium design software if the floor plans overwhelm you.
A barndominium can be any shape or size you want. Its steel frame makes it tougher to stand up to all types of weather.
A barndominium is an affordable option for first-time home buyers. They are energy efficient and easy to maintain.
How to Select the Best 5-Bedroom Barndominium Floor Plans
You have decided to build your dream home, and it will be a barndominium. You have looked at several floor plans, but which one should you choose?
First, think of your family and lifestyle. Do you spend much time as a family watching television or playing board games?
Do you like to entertain? If yes, you want to ensure that area has a lot of square footage.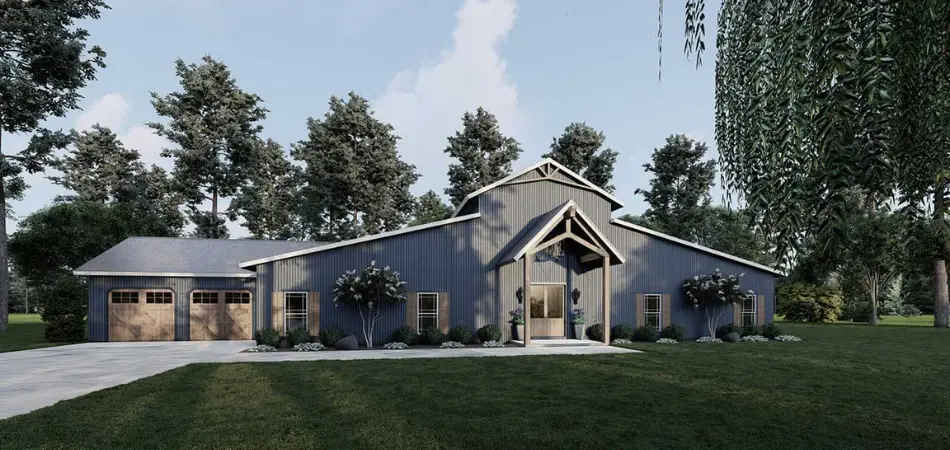 With the bedrooms, how do you want them placed? Many prefer to have the master bedroom away from the other bedrooms.
You also need to decide how many bathrooms. You may put two full baths around the other four bedrooms and then a half-bath for guests.
Consider the flow of traffic through your barndominium.
If you park in the garage and bring groceries in, you want to make sure that there is a door connecting the two so you don't have to carry the groceries very far.
If you have a pond or something interesting to see on your land, have wall-to-ceiling windows in your living room so you can view it when you are sitting there.
5 Bedroom Barndominium Floor Plans
Below are several 5 bedroom barndominium floor plans. When deciding which you prefer, look at the layout to ensure that it fits your family and lifestyle.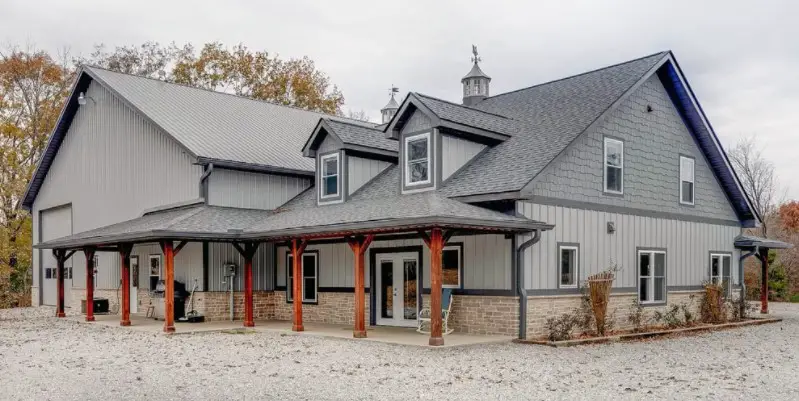 5 Bedroom Barndominium Floor Plan Example 1 – Floor Plan O76
This is not the ideal floor plan when bringing in groceries from the car.
You have to go through the mudroom, down a hallway, through the bathroom door to a porch, and then through another door to get to the kitchen finally.
The master bedroom is well-placed, but the pantry is not. It appears to be too far from the kitchen.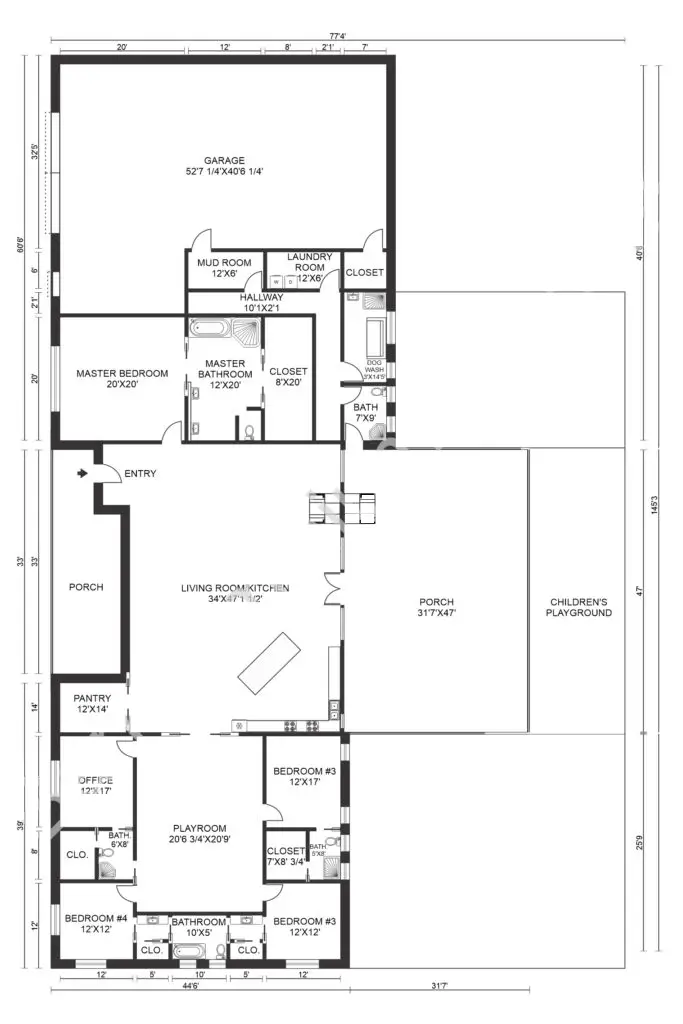 To get to the other four bedrooms, you step into a playroom to reach them. Two bedrooms have bathrooms attached, while the other two share a bathroom.
From the floor plans, a guest must go through a bedroom to get to the bathroom. This is not a well-thought-out floor plan and not one I would use.
5 Bedroom Barndominium Floor Plans Example 2 – Floor Plan 077
This is a two-story floor plan that uses the space wisely. If this is a large family, the kitchen seems to be a little small. They do offer a bathroom for guests to use near the master bedroom.
The second story is well laid out.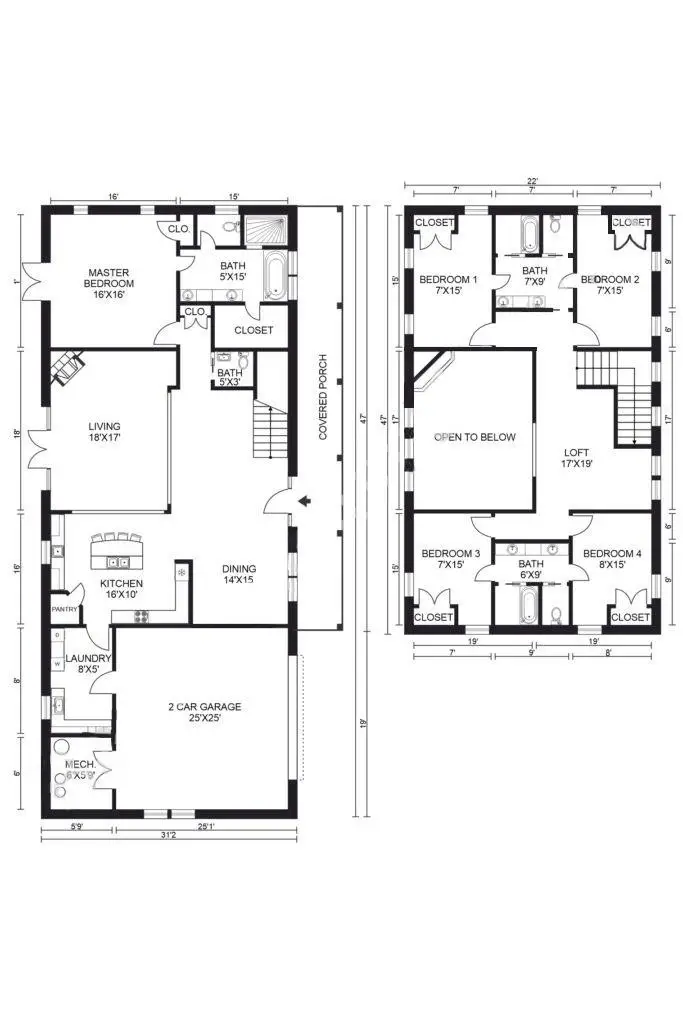 Two bedrooms on each side of the upper floor, with a shared bathroom between the rooms.
There is also a loft where they could make a space for watching television or an extra sleeping area.
If I were to choose a floor plan, this one would be in my top three.
5 Bedroom Barndominium Floor Plans Example 3 – Floor Plan 078
One drawback with this floor plan is the distance you have to carry groceries. Also, you have to go through the master closet to get to the bathroom.
The four bedrooms are laid out perfectly—two on each side with Jack and Jill's bathroom. The guest bathroom is off the kitchen.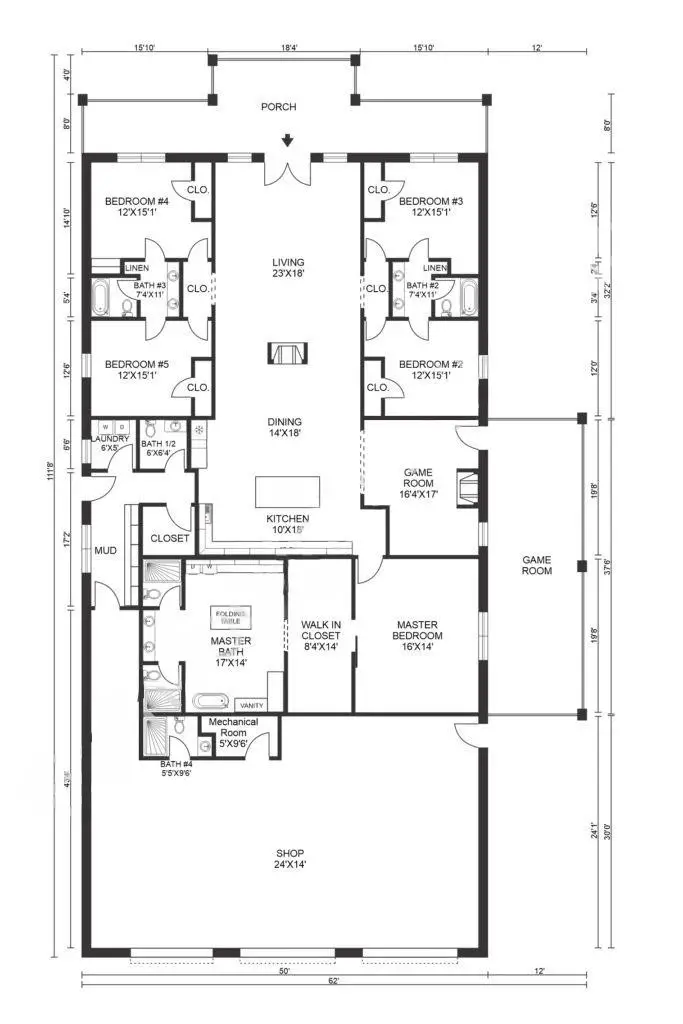 There are two game rooms off the living room. There is also no pantry but a closet off the kitchen.
This is not a bad floor plan, but I would choose the one above if it was between two floors. The added shop area is a nice addition.
5 Bedroom Barndominium Floor Plans Example 4 – Floor Plan 079
I can see a few things wrong with this floor plan. First off, there is one bathroom for four bedrooms. They have put a game room in this area also.
The bedrooms could have been figured differently, and there could have been Jack and Jill bathrooms.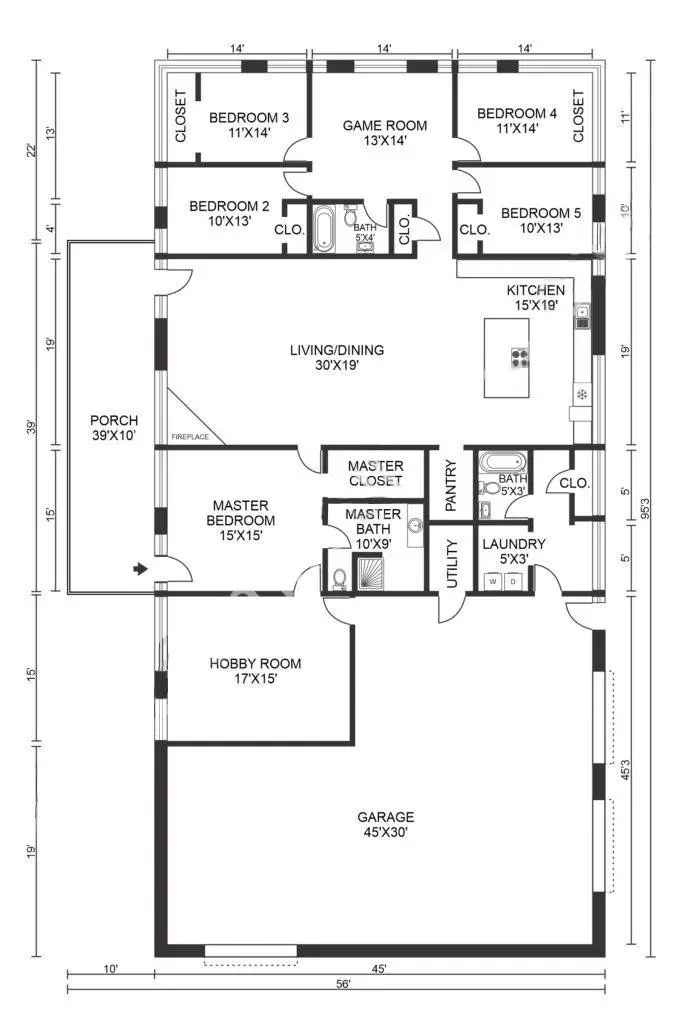 The master bedroom is different because you can enter from the living room or the porch.
There appears to be no guest bathroom, but a bathroom in the area has a laundry room. You enter this area off the garage.
This floor plan would be in my bottom three. Not well thought out.
5 Bedroom Barndominium Floor Plans Example 5 – Floor Plan 080
This is not a floor plan I would consider. The occupants of one bedroom would have to cross the family area and go down the hall to get to the bathroom. Two of the bedrooms share a bathroom. The ones in the other bathroom have to use the hall bathroom but do not have far to go. These bedrooms could have been set up differently.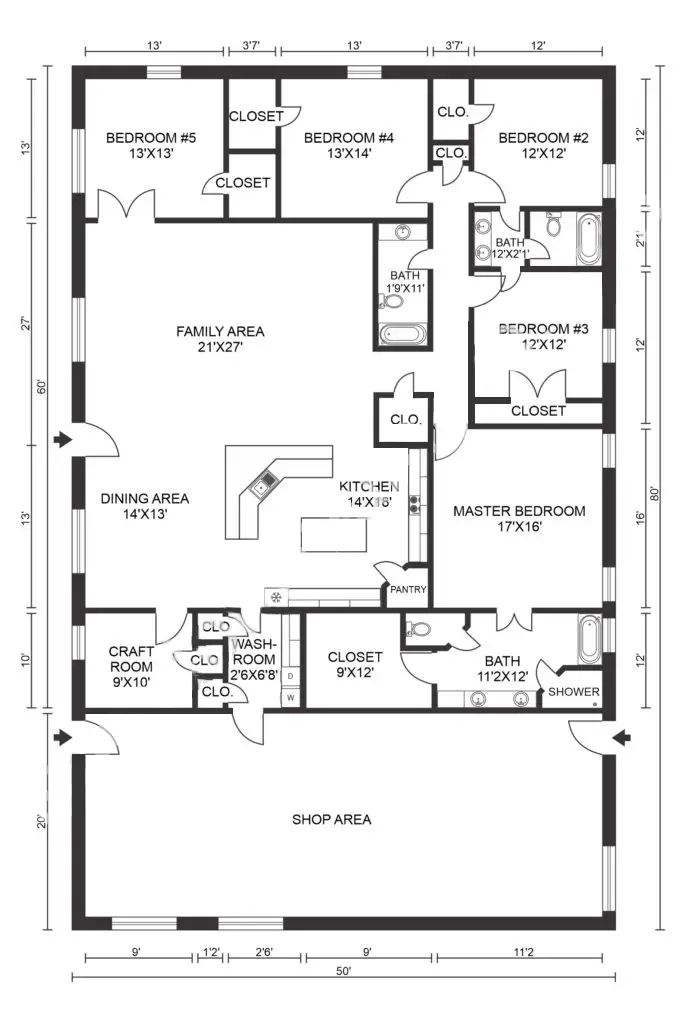 To get to the master closet, you must go through the bathroom. The kitchen space for cooking seems a bit cramped.
Guests would have to use the bathroom in the hallway. There are two bonus areas, the shop and the craft room.   This would not be in my top three floor plans.
Final Verdict
These 5 bedroom barndominium floor plans show ways to utilize the space to give you a great home. There are also a couple that shows you how not to.
Check this article over and see which floor plan fits your family.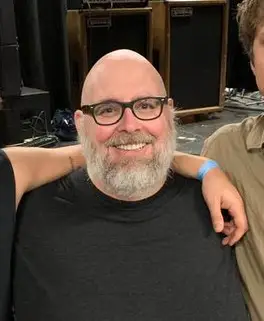 I'm James, your barndominiums advisor. Several years ago, I had no idea what barndominiums were. Although I'd spent over 10 years in the construction industry, the first time I heard about barndominiums was when I saw my neighbor building a new-style home. That was the first barndominium I've ever seen, and I found it so fascinating that I wanted to learn more about them.
More Posts