Are the children tired of sharing the same room with their siblings? Would you like to have a bedroom for each of them?
Do you work at home off your kitchen table because there is no other space? Are you ready to build a new alternative home?
The answer to these questions is simple. Build a barndominium from scratch or a kit. 
To fit all the bedrooms and offices you need, you would need to look at 50×50 Barndominium Floor Plans. This one can be three or four bedrooms, and generally, they are less expensive to build than a traditional house.
When you build a barndominium, you can choose the layout that best suits your family's needs.
A 50×50 barndominium has approximately 2,500 square feet of living space. How much you would have depended on the layout.
Read on to see some of the floor plans for this barndominium.
Building a 50×50 Barndominium Floor: Things to Know Before
What the barndominium sits on is not the floor; it is the foundation. There are some that like concrete floors and will keep them like that.
The barndominium needs to sit on some foundation to ensure that it will be a stable home and not sink or become uneven if the ground shifts.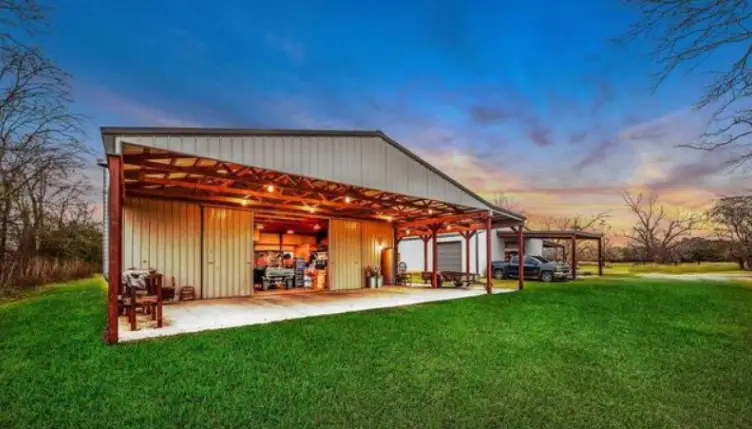 Before you build your barndominium floor, you must decide if you want a solid foundation, one with a crawl space, or even a basement.
Having a basement can add to the barndominium resale value.
If you are building your barndominium from scratch, doing a lot of the work yourself, pouring the foundation is something a contractor should do.
They have the experience to make sure it will pass the inspection.
The first thing to do is prepare the land for the foundation. This means ensuring it is level, with no tree roots or anything that might damage the floor after it has been poured.
The contractor will build a frame for the concrete and reinforce it with rebar. After pouring the concrete, you must let it cure for three to nine days.
Then you can start building your barndominium on the concrete slab.
50×50 Barndominium Floor Plans With Map And Drawing
Below are some floor plans that offer you three or four bedrooms, maybe an office.
Depending on the layout, you can have 2,500 square feet or more living space.
Look the floor plans over, list the pros and cons of each one, and then make your decision.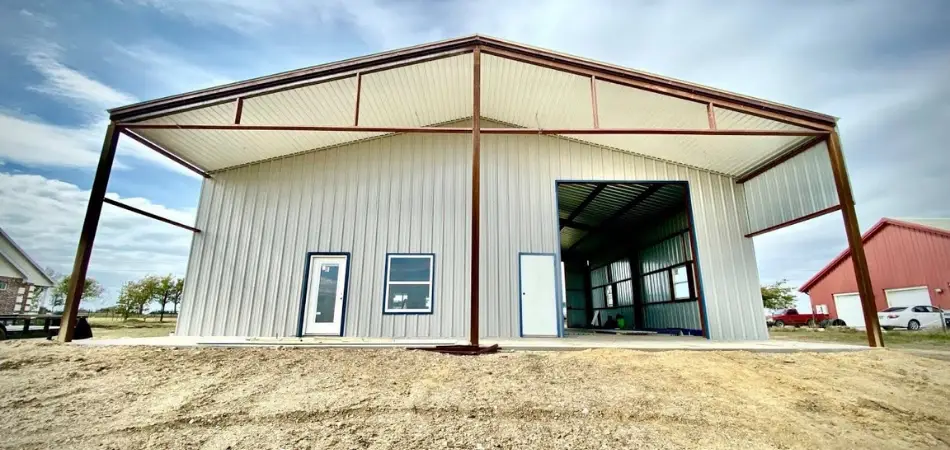 50×50 Barndominium Example 1 – Floor Plan 018
This 50×50 barndominium floor plan gives you 2,500 square feet of living space. There are four bedrooms, including the master bedroom.
The one thing I do not like about this floor plan is that no guest bathroom is easily accessible. You have to go through the mudroom to reach it.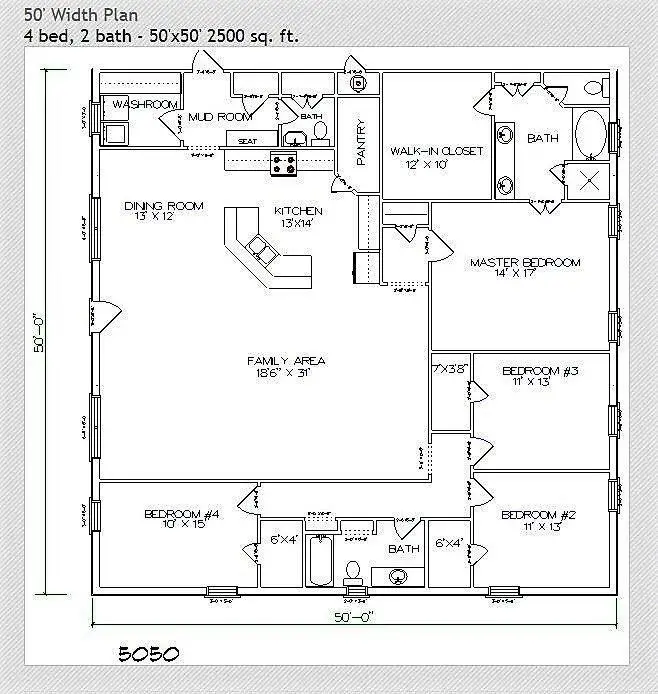 The kitchen is large with a pantry. The open concept has been used perfectly. There is a small dining area and a very large family area.
You can see into the living and dining areas when working in the kitchen. There is a lot of living space for the size, which is a floor plan I would consider using.
50×50 Barndominium Example 2 – Floor Plan 019
With this 50×50 barndominium floor plan, the living space has not been used wisely. There are only two bedrooms, one being the master bedroom.
I would not call it a master bathroom because it looks like a regular bathroom in size and fixtures.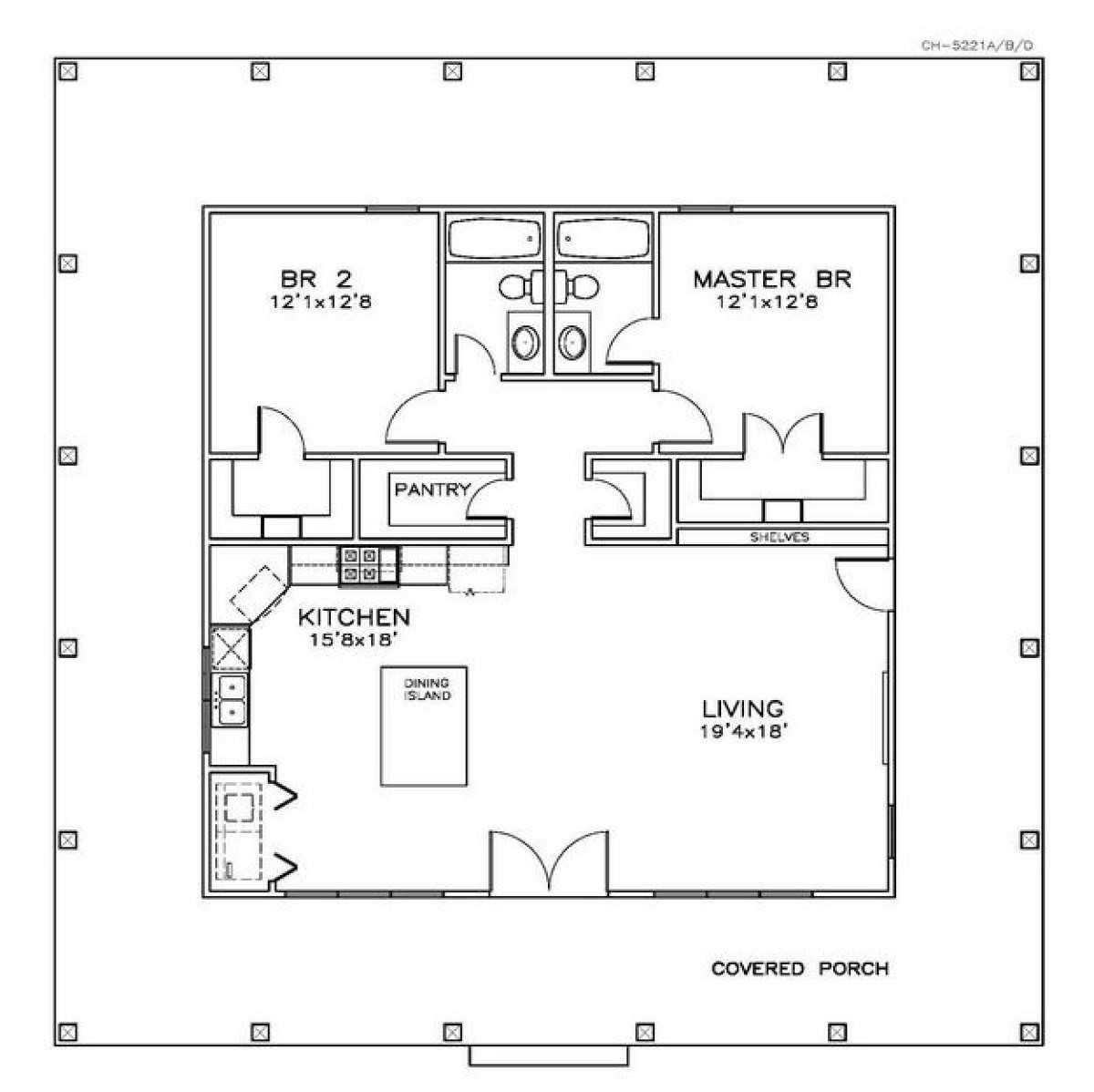 Off the living area is the pantry, which is slightly far from the kitchen. There is no dining area or room for one.
The master bedroom is also not the size you would call a master bedroom. I would not choose this floor plan; it looks too crowded and poorly designed.
50×50 Barndominium Example 3 – Floor Plan 021
This 50×50 barndominium floor plan is laid out like the one above. What makes it different is the bedrooms are larger, but the kitchen and living room are smaller.
The pantry is also on the other side of the hall. It does not matter if you change the size of the rooms, there is still no dining area, and it is only two bedrooms.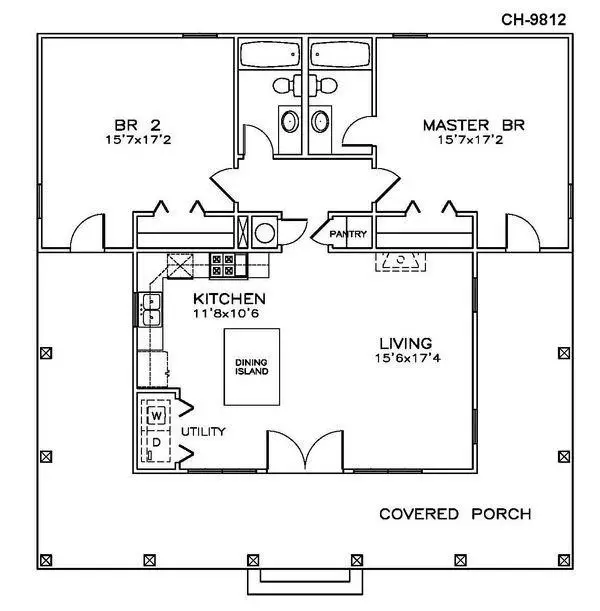 They do have what they call a dining island, but that is not big enough to do much entertaining.
There is a covered porch, which maybe could have been made smaller and used some of that room for another bedroom. I would not choose this floor plan.
Can I Build a 50×50 Barndominium House at Lower Budget?
It depends on what you are referring to as a lower budget. On average most barndominiums cost over $200,000.
Some are cheaper, but they have very little square footage of living space.
If you are considering a one-bedroom barndominium, you might be able to get it in your lower budget range.
With this, it would be basic furnishing and appliances.
In addition to building a barndominium, you need to figure in the concrete for the floor, labor, and other materials.
To find one in your budget, you may have to look at several floor plans to find the one that suits your needs.
Conclusion
Only one of these 50×50 Barndominium Floor Plans use the space wisely and gives the owner of the barndominium an open concept.
In this article, you will learn about barndominium floors and if you can afford a barndominium on a lower budget.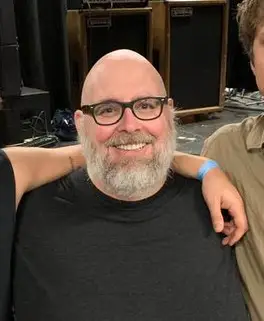 I'm James, your barndominiums advisor. Several years ago, I had no idea what barndominiums were. Although I'd spent over 10 years in the construction industry, the first time I heard about barndominiums was when I saw my neighbor building a new-style home. That was the first barndominium I've ever seen, and I found it so fascinating that I wanted to learn more about them.
More Posts