Are you just starting as a couple or empty nesters and want something besides an apartment? Do you have a tight budget? Then consider building a barndominium for 100K. It will not be a large or fancy barndominium, but it will be something you can afford.
Can you build a barndominium for 100K, and the answer is yes? On average, a barndominium for that price will have approximately 600 square feet. Depending on the size of the rooms, it can be a one or two bedroom barndominium. Even with this budget, your barndominium can be a place you will be proud to show off and invite people to visit.
This article will cover the basics of how you can build your barndominium for 100K, plus show you four plans and how you can utilize this amount of space. Read on to see how your new barndominium can be built for 100K.
Can You Build a Barndominium For 100K?
Yes, you can build a Barndominium for 100K, as they are more affordable than a traditional house. It will take research and proper planning to get the right materials. You also need to know the ideal size for your budget, which would be under 650 square feet. You also need to know the cost of materials, and you can save even more if you can build it yourself. You are only hiring subcontractors for work that must be done by a licensed professional, so it passes inspection.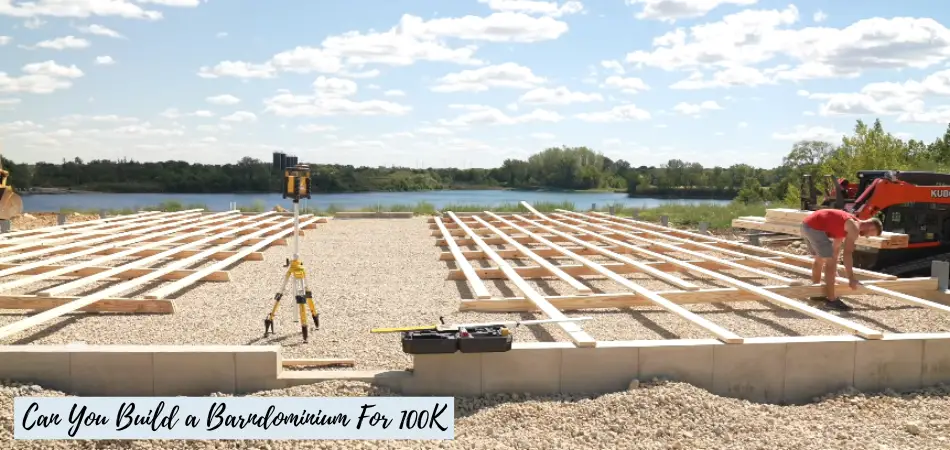 This would include plumbing, electrical, and HVAC. You may also have to hire someone to pour the foundation, which could be four or six inches thick. If you have to hire a contractor, check different ones before making the final decision. Please make sure they are reputable and have experience building Barndominiums.
On average, materials cost $25 to $45 per square foot. The one thing to remember is that with this budget, you might not get all the features of a standard home.
Factors to consider
Land—this is the most important part as you have to have somewhere to build your Barndominium. The land cost per acre will depend on the region you are building. On average, an acre of land costs $3,500. It can cut into your budget depending on how many acres you want. Yes, you have to figure out the cost for land, but it is best not to include its price in the 100K budget to build your Barndominium.
Closeness to basic amenities—for every Barndominium, basic amenities like water and electricity are necessary. It can be expensive to connect these amenities to your Barndominium. So to cut costs, you want your Barndominium close to them, so connecting pipes and wires are easy.
Size—as mentioned, it will not be a large Barndominium. If you want three or four bedrooms, a large master suite, two or more bathrooms, a laundry room, or a pantry, your cost will double or more. For example, it is best to go 650 square feet or less. It will cost approximately $85,000, leaving you money for other amenities. This square footage Barndominium is about 20 x 30.
Ways to Cut Cost
Building a Barndominium for 100K is a tight budget, but there are ways it can be done. Here are some ways in which you can cut costs but not quality.
Use a square floor plan—this type of floor plan is cheaper and easier to build than an L-shaped one. It would be best if you also tried to avoid angles and bump-outs as it can take time to get those right, adding extra labor and material to the cost.
Build it tall—most Barndominiums are one floor, but you can build one with a second floor. You will add a little to the material cost and labor, but you will have the same square footage and save on the foundation and roof.
Customizations—avoid these until you have your Barndominium finished. If there is any money left in the budget, you can add some in, such as a fireplace or upgraded appliances.
Materials—always research the materials you will use to find the one within your budget that still meets safety standards. For example, you could find older cabinets and refinish them to match your interior design. Instead of a steel framework, choose a wooden one, as they are cheaper. They will still give you the luxurious feel of a steel frame.
Roof—choose a simple one that fits your budget. Do your research on the different materials. If hiring a roofer, talk to several to find one that is experienced, reputable, and will work with your budget.
Floor Plans
Below are four plans of 600 square feet to give you an idea of what a 100K budget would give you. Depending on where you build, how much work you do yourself, the cost of materials, etc., you may be able to get more square footage.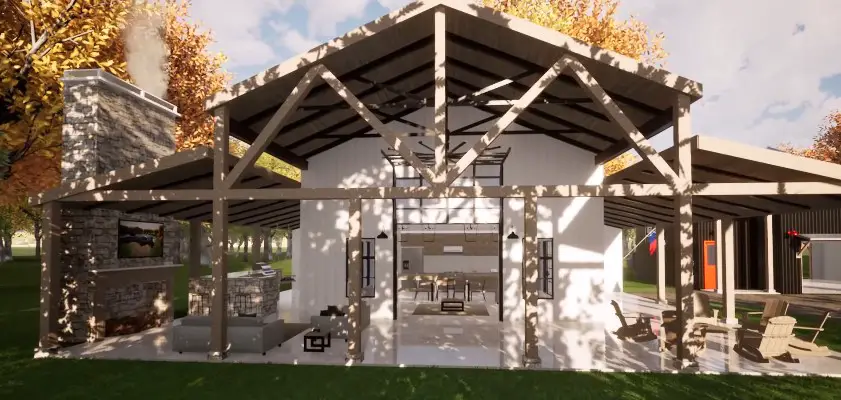 1. This floor plan offers you two bedrooms and one bathroom that also serves as the guest bathroom. A nice kitchen area has a door leading to the outside and a small laundry room. Between the living room and kitchen is a small eating area. This floor plan makes excellent use of the open concept and space and measures 20 x 40.
2. At one end of the Barndominium are two bedrooms that are approximately 9 x 9, which is a good size bedroom. The bathtub is a shower-tub combination and is the only bathroom, and it is right off the living room. There is no formal dining area, but the kitchen looks as if it is large enough to put a small table and two chairs against one wall.
3. This is a one-bedroom, one-bathroom floor plan. Between the bedroom and the bathroom is a space for a washer/dryer. The drawback with this floor plan is that for your guests to use the bathroom, they have to go through your bedroom. The floor plan could be adjusted to make an entrance to the bathroom off the living room. There is a spacious kitchen but no dining space.
4. This is also a one-bedroom, one-bathroom floor plan with a small laundry room. There is no formal dining area, but the living room is large enough that you could take a little of its space to put in a small table and chairs. The way this floor plan is set up has made the living room and kitchen appear to be one big room.
Conclusion
The big question in this article was can you build a Barndominium for 100K, and the answer is yes, with careful planning and research. If you can do the work yourself, you will save on labor and have more money to spend on amenities and some customizations. One thing to remember is if you are figuring land into this budget, your home will be smaller, and it might not be possible to stay within the budget.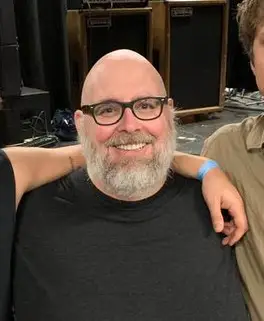 I'm James, your barndominiums advisor. Several years ago, I had no idea what barndominiums were. Although I'd spent over 10 years in the construction industry, the first time I heard about barndominiums was when I saw my neighbor building a new-style home. That was the first barndominium I've ever seen, and I found it so fascinating that I wanted to learn more about them.
More Posts