Barndominiums of 40×60 dimensions are becoming popular every day in several parts of the world.
Their building size is an ideal combination of recreational space and living quarters, all at an affordable price.
Although, despite its large space one might still wonder how big is a 40×60 barndominium.
The 40×60 barndominium covers a foundation of 2400 square feet, an equivalent of 679.604 per cubic meter of land.
It can have up to three bedrooms, three bathrooms, and a large enough space to work. However, depending on the design, the size can be even bigger.
Below is a description of the size of a 40×60 barndominium.
Key Takeaways
A 40×60 barndominium can accommodate up to four rooms.
It costs between $100 to $130 per square foot to construct a barndominium.
A 40×60 barndominium has a height of 14 feet.
A large barndominium is suitable for raising children.
The materials to build a barndominium cost between $20 to $30 per square foot.
Big Barndominium: Are They Good Or Risky?
From the very beginning, the concept behind the barndominium was to provide a big space to work and live in.
Back in the day, farmers had their barns and animals within reach to perform any activity; this made things a lot easier.
However, recently people have looked to barndominiums for several other reasons because of their large size and free space.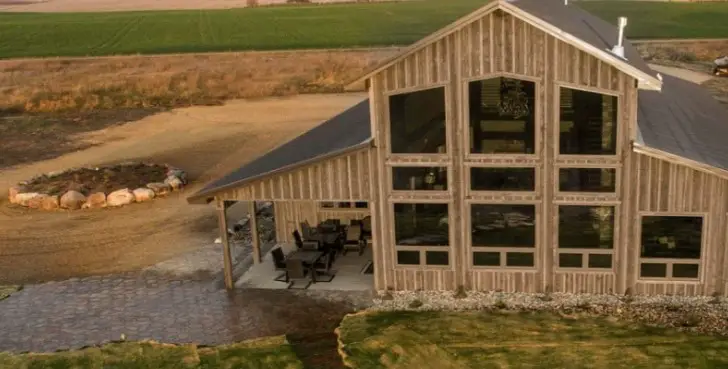 Like a regular house, a big barndominium comes with several benefits. The large space provides room for occupants to do other things.
One of the many perks of getting a large barndominium is that one can add a shop to the house. It makes it possible to work and at the same time tend to other things in the home.
Many industries have also looked to barndominiums as the ideal structure for a workplace.
This is due to its high ceilings and space, giving a more extensive production area. It is also possible to set up equipment like air vents that can help reduce air pollution in the environment.
Besides work, large barndominiums make for an ideal country house for a large family. It can accommodate an extended family of ten or more.
And then, there is the large space one can use for a garage. The garage can take boats, trucks, and minivans.
There are several other reasons why a big barndominium is good. A few of them are:
You Have Great scope for Interior Planning
For anyone that loves classy home décor, a big barndominium provides space to go all out.
One can bring in big furniture, mirrors, electronics or any other accessory to give that extra comfortable look to the house.
What's more, it is possible to create sections without using walls.
Enough Indoor space for children to have fun
Growing children require space to play. One can create a playroom for children in a large home with many rooms.
It allows children to experiment and grow while also allowing adults to monitor their children's playtime. This also prevents any interference with daily activities.
Possible to put a separate study room
One can also convert a space in a big barndominium into a study room for the children. Many people now use the online teaching models in schools and colleges all over the world.
The repetition of daily chores, visitors, and so on can easily distract children.
One can, however, use the extra space as a dedicated classroom where children can attend classes without being disturbed by others.
It is also possible to have a library in the house; this helps to increase kids' cognitive abilities.
It offers room for health-based activities
A large barndominium has its benefits for a health-conscious person as well. It provides space to set up equipment for working out.
There wouldn't be a need always to attend the gym to exercise. The space also creates a serene environment where one can meditate and do yoga.
With a large home, one can focus on health without having to worry about finding a -free space to work out.
There is enough natural lighting
Because the houses have large windows all around them, a lot of sunlight can flood in and brighten up the entire living space.
More light spreads across space when there are fewer walls. This will help save money on installing and purchasing bulbs in individual rooms, unlike in conventional buildings.
How Big Is A 40×60 Barndominium?
When it comes to numbers, a 40×60 barndominium home covers a foundation of 2400 square feet, and is slightly bigger than 40 x 50 barndos.
That is also an equivalent of 679.604 per cubic meter of land. This is quite a large number, especially when one considers the height of the building.
Small barndominium type houses have ceiling heights of eight to nine feet, an equivalent of 2.4 to 2.7 meters.
The larger ones, like that of 40×60, have incredible high ceiling heights that extend up to 14 feet and more.
This makes them valued for their size and structure. It also gives one the ability to modify the house to taste.
For example, it is possible to split the house into two floors, one upper and one below.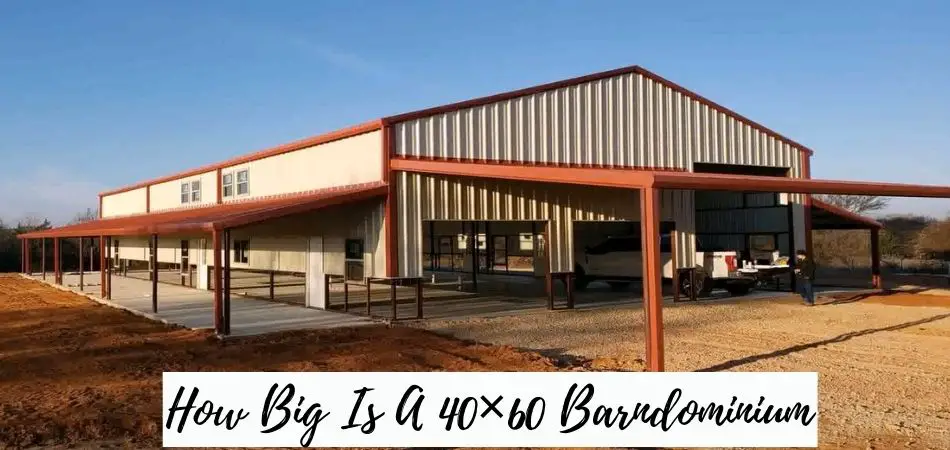 Regardless of all the numbers, one might still ask how big is a 40×60 Barndominium? Well, the size of this house is similar to that of a 2400 square foot duplex.
The only difference is that the cost of building or buying a barndominium is cheaper than that of a duplex.
And unlike a duplex with split units, the units or sections of a barndominium are bound together.
The 40×60 barndominium floor plan is very popular, especially in the United States. One of the things that contribute to its popularity is the size.
It is the average size of family homes in the country. The size can accommodate three to four bedrooms and two to three bathrooms.
The open floor plan of the house comes in handy. One can personalize the living space with various interior designs for open concept homes.
This gives one the freedom to style the entire living area while spending very little money.
Depending on the design and size of each room, there is also enough space for other rooms.
To get a clear picture and see different dimensions designs, endeavor to contact a contractor in the area.
For a visual description of how big the size is, check this out:
How Much Does It Cost To Build A 40×60 Barndominium?
According to several construction experts, it'll cost on an average between $100 to $130 per square foot to erect a barndominium.
This means that it'll cost between $240,000 to $312,000 for a construction company to erect that of 40×60 dimensions.
However, it is crucial to note that several factors in play can alter the price range. For example:
The construction company for the job.
The material cost in one's area.
Several additions and amenities.
Location of the building.
Like a regular house, the more luxurious one wants the building to be, the more there will be an increase in overall cost.
Several options cause an increase, such as a fireplace, flooring details, extra roofing, countertops for the kitchen, and many more.
To calculate the estimated cost in one's area, sum up the various costs. Check the kit's price for construction and the finishing materials for both the interior and exterior of the building.
Also, remember to include the cost of labour in the equation. Then sum everything up to get the overall cost for construction.
It is possible to bring down the total cost of building by doing it oneself. For this, one must have experience in construction.
For instance, the cost of materials for the building is between $20 to $30. This means that it'll cost between $48000 to $72000 for a 40×60 dimension.
One gets to spend about 80 per cent already, although these figures are for construction. At the end of the day, it's possible to save up to 40 per cent.
Whichever way, it is not advisable to try building a barndominium without any civil engineering experience. It poses a risk to one's family and everyone else around.
To avoid collapse, it's always best to call for experts in the field to erect the building.
Conclusion
Wondering, how big is a 40×60 barndominium? This building is big enough to accommodate three to four bedrooms, a workspace, and more.
It is a suitable size that provides an extra space necessary for a large family. Be rest assured the size is massive.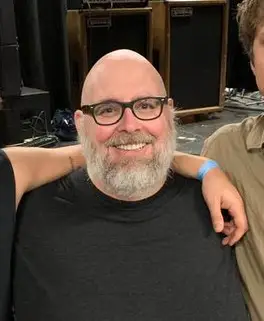 I'm James, your barndominiums advisor. Several years ago, I had no idea what barndominiums were. Although I'd spent over 10 years in the construction industry, the first time I heard about barndominiums was when I saw my neighbor building a new-style home. That was the first barndominium I've ever seen, and I found it so fascinating that I wanted to learn more about them.
More Posts