Having an RV gives you the freedom of exploring the country but when you come home, you want to have someplace to put your RV out of the elements.  It is too large for a regular garage because an RV is taller and wider than a regular vehicle.
If you have an RV or plan to get one, when you are ready to build your barndominium, you should look at RV barndominium floor plans.  It is easier to figure them into your plans at the beginning instead of adding them later.  It would probably be cheaper to include it in the budget build in the beginning.  Even if you build it before you have an RV, you can use the area for storage, entertainment room, or garage.
This article will show you some RV barndominium floor plans, and tell you what they are and their features. It will also discuss the pros and cons of building an RV barndominium and its cost.  At the end of this article, you will know all about an RV barndominium.
What Is An Rv Barndominium?
An RV barndominium is a combination between a garage and a condominium.  They are designed to provide protection and coverage to your barndominium and double as a space to live.  Generally, the center of your barndominium will be occupied by a large garage but the garage could be on either side of the living space.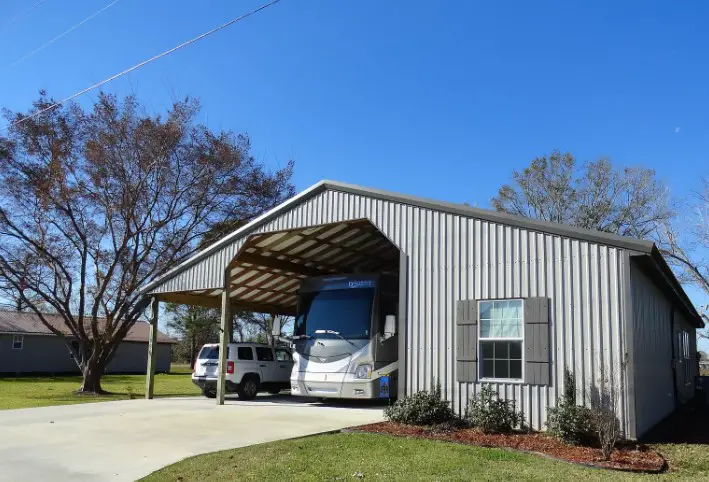 Features of an RV Barndominium
One of the features of an RV barndominium is its high ceilings, which are a necessity.  On average, an RV is 8.5 feet wide, 20 to 45 feet long, and 10   to 14 feet tall.  To make sure the RV garage and living spaces do not look too much out of sync, the ceilings of the living space will have a similar height.  Sometimes the ceilings of the living area will be sloped but it depends on the design.
To make sure that an RV barndominium garage is stable, they are usually made with a steel frame, like the barndominium.  To add a rustic look, they may have a faux wood exterior. With the steel framework and panel, it makes them low-maintenance and strong.
An RV barndominium is also very durable.  They are constructed to withstand the natural elements in your area.  Depending on where you are building your barndominium, they can be designed to be resistant to extreme temperatures, heavy snowfalls, winds, and wildfires.  Another feature that an RV garage might have is a small car garage for your vehicle. It could also be storage for a motorcycle, ATV, or extra storage.
An RV barndominium can range from 800 square footage to 5,000 square footage.  Although it is called an RV barndominium, the garage may house a smaller camper or motorhome.  You want to make sure that you have enough room to comfortably walk around the RV and open the doors to get inside.
It is a garage that you can attach to the living space or leave as a separate building. One thing to note is that if it is attached it will cost more to insulate.  A detached building will cost more to build because it is free-standing and does not share a wall with the living space.
Cost to Build an RV Barndominium
The actual cost of building a barndominium with an RV garage will depend on whether it is attached or detached and the size.  The average cost is $90,000 but it can range from $40,000-$150,000.
Estimating costs
Location—this is the first step in figuring out what it is going to cost. You need to make sure that the site you choose has the proper drainage.  The exterior design should match the look of your barndominium.  There also needs to be easy access to the extension of electric lines and plumbing.  You also need to know the number of doors, door size, number of windows, and how far you need to extend the plumbing and electricity.  This will give you a ballpark figure to start with.
Materials—you will need many different materials to build an RV barndominium. You will need the steel framework, siding material, doors, windows, and roofing.
Size—the larger the RV, the larger the garage so the more materials it will take. The time it will take to build it will be longer so more labor costs, etc.  If you decide to make sure that there is room in your RV garage for extra storage, that will add to the cost.  You will need to check with your local office to see if any building codes would require the RV garage to be a certain size.
Labor—on average, the cost is $30-$70 per square foot, which accounts for about half of the cost to build the RV garage. You can try to do some of the work yourself and save labor, but with such a large project it is advisable to hire someone to build it.
Permits—you will also need to have a building permit to build your RV barndominium. Depending on where you live, it can range from $1,500-$2,000.
RV Barndominium Floor Plans
1. This RV barndominium has a total of almost 3,500 square feet with 1,800 square feet of living space and 2,200 square feet to park your RV.  There is still leftover space for a covered patio and covered porch.  It offers a two-car garage.  In the living area, there are three bedrooms, one being a master suite.
There is a bathroom between two of the bedrooms.  You enter it off the hallway.  There is a laundry room, good size kitchen, and a living space with an eating nook.  This RV barndominium floor plan makes great use of the square footage.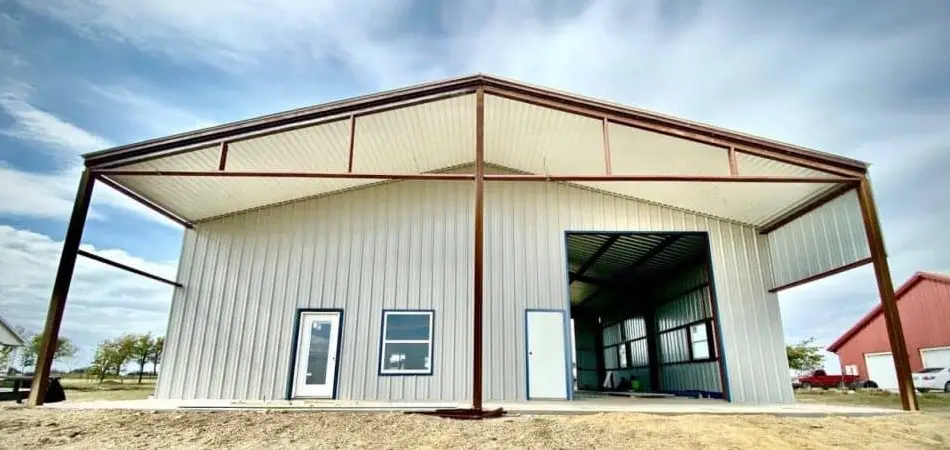 2. This RV barndominium floor plan is approximately 1,600 square feet.  There are two garage doors enabling you to use the one end of the barndominium to park your car, motorcycle, or ATV.  It has two bedrooms, a living space, and a kitchen area.  There is no designated dining area.
The drawback to this floor plan is to get to the bathroom from the one bedroom you have to cross the living area and kitchen to get to it.  Except for that one drawback, the amount of space was well used.
3. This RV barndominium floor plan is approximately 2,300 square feet with one bedroom and one and a half bathrooms.  It measures 50 x 48.  This RV barndominium design has the garage in the middle with the living space on one side.  It has a small kitchen with room for a washer and dryer and a pantry.  There is a living space but no dining area.
On the other side of the RV barndominium are two rooms that can be used for a game room, office, gym, or craft room plus a half bath.  There is also a shop area.
4. This floor plan is 1,480 square feet and measures 36 x 42.  It has one bedroom and bathroom with a nice size kitchen and living area.  There is no dining area but there is a kitchen island for eating.  It is a great floor plan for a someone or a couple who lives in their RV and uses their barndominium as a place to regroup and reconnect with family.
Conclusion
Now that you have read this article you have an idea of the features of an RV barndominium and what it will cost to build an RV barndominium.  As you can see, there are many different ways you can design your RV barndominium floor plans.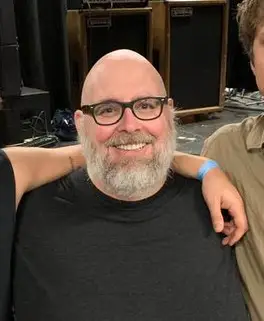 I'm James, your barndominiums advisor. Several years ago, I had no idea what barndominiums were. Although I'd spent over 10 years in the construction industry, the first time I heard about barndominiums was when I saw my neighbor building a new-style home. That was the first barndominium I've ever seen, and I found it so fascinating that I wanted to learn more about them.
More Posts