In times past, the first barndominium was not called that at the time, and it was living quarters above the barn where they kept their horses.
Sometimes they also kept other livestock in the barn.
It was convenient for the farmers to live above their barn and cost-effective as they did not have to spend money or time to build another living space.
Today, many people own horses and have built a barndominium with horse stalls for various reasons.
The man who came up with the name 'barndominium' worked in a community centered around those who wanted to live near horses in Connecticut in the 1980s. 
When building a barndominium with horse stalls, some are built above the horse stalls while others are built in the actual stable.
We will cover the different floor plans used, what a barndominium with horse stalls can look like from the exterior, and the cost.
If you are interested in a barndominium with horse stalls, read this article.
Key Takeaways
In times past, many farmers built their homes on top of their barns
If you are raising horses, it is convenient to live as close to them as possible in case of an emergency.
It saves money by not having to build a second living space.
Can you Live in a Barndominium With Horses?
Yes, you can live in a barndominium with horses, but there can be challenges such as the cost, zoning laws, etc. There are also fun parts to it.
Challenges
Cost
Some think having a barndominium with horse stalls is cheaper than having a separate residence. That is not always the case.
This is especially true if you want a wood structure. The price can also vary on what you want for your interior finishes.
You also have to consider the cost of labor, ground preparation, and materials shipping. The price will vary account on where you will be building your barndominium.
If you choose a kit, there are still all the other expenses to build it.
Buying land
When buying land, you should look for land that is level and has been cleared. The soil also has to be suitable for construction.
You have the expense to clear and level it off if it is not. You want to make sure that water and electrical services are accessible.
Zoning
This can determine whether you can build a barndominium with horse stalls.
All zoning laws are different, no matter whether you live in a suburban or rural area and, of course, the state.
Make sure that before you purchase land, you check with your local zoning and building departments.
Some areas will not allow a residence to be in the same structure as animals. You may also be required to have installed commercial fire-suppression systems, which are expensive.
In some areas, you will have to submit plans for safety concerns and approval of property lines.
Other areas have no zoning at all regarding barndominiums with horse stalls.
Other areas have strict zoning laws, which can vary greatly by jurisdiction changes of just a few miles. Some locales consider this type of structure residential, while others consider it commercial.
Financing
This can be an issue with barndominiums, but it could be harder if they include horse stalls.
Most will either pay cash to build it, or in some cases, the financing company or bank will use the land as collateral.
Insurance
When looking for insurance, you may be able to find a standard ranch farm policy that will work.
Some homeowners' insurance companies will cover the barndominium but not the barn part of the structure.
Always check to make sure that they will cover the barn, horse stalls, and a portion of your barndominium because you don't want to find out later that you are not covered in case of a fire or other disaster.
Barndominium With Horse Stalls: How To Build One?
One of the first things you need to decide is where your residence will be.
Will it be above your horse stalls or inside the horse stall area at one end?
In some designs, they will take an area and build a bedroom, kitchen/living space, and utility room.
One example is that they made the bedroom 13'3″ x10′, the kitchen/living area 13'3″ x19'3″, and then a small utility room with the bathroom in the bedroom.
Most of the horse stalls were 11'x11′.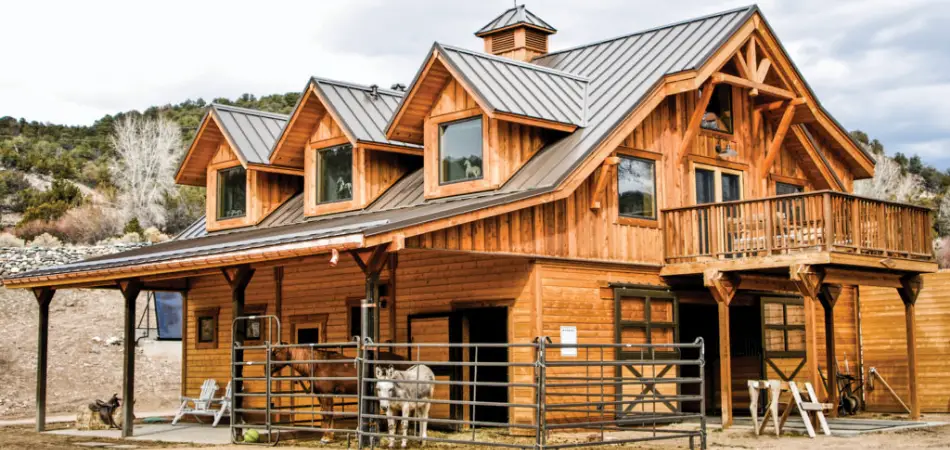 Although you could build it yourself, combining two different buildings, a residential and a barn for your horses, it would be best if you hired a contractor.
Once you decide whether you are building your barndominium above or in the same building as the horse stalls, you can start to work.
The first thing that would need to be done in the framework.
Once this is done, you can start measuring off the horse stalls and your area for the barndominium, whether in the same building or above the horse stalls.
Once you have this figured out, you will need to ensure the plumbing, electricity, HVAC, and insulation are all done.
Then you can finish the interior of your barndominium with horse stalls.
Here is a sample chart to help you decide on the square footage you will need for the horse part of the build
| | |
| --- | --- |
| Number of Horses | Square Footage |
| 2 | 1,200 |
| 4 | 1,600 |
| 6 | 2,400 |
| 8 | 3.200 |
The typical horse stall is 12×12, but if you are raising larger horses, like a draft horse, you may need to make each stall 14×14.
You want to ensure that the horse can move around easily without touching the stall walls and can lie down in a reclined position.
The stalls can be designed to be separate from the outdoor space, but you can also make it so that the horse can run outside to a fenced-in area to get some exercise.
To this square footage, you need to add the square footage for your barndominium and tack and feed room, wash stalls, a room for bedding and shavings, and more.
When looking at land, you should figure two acres for one horse, adding another acre for each additional horse.
The stall walls can be a partial or solid grill, but which type will depend on the type of horse. If you have well-behaved horses, you would want solid walls four feet from the ground.
Above that, you would put grille walls, giving the area a warm, airy feeling.
A portion of the sidewall of the stalls should be solid where you have the feed box mounted, so they do not fight over food.
The stall doors can be swinging or sliding. Most will use sliding doors because, with a swinging door, they can be dangerous as they swing into the aisle.
You can use the swinging doors outside where this is more space to open them. You can make the stall doors partially solid or open the grille.
An open grille allows the horse to see out of its stall. Some stall doors will allow the horse to stick their head out.
With the windows and openings, you want to give it as much natural light as possible.
When using glass windows, they should be five feet or higher in the walls, protected with bars on the horse side, and made of tempered glass.
You can also use a shutter so it can be closed in bad weather and opened in good weather.
You can make the front of the stalls partially solid or open-grilled.
For the stalls, some use prefabricated modular stalls, but most will use high-quality materials and hardware.
Because there is less chance of the finishes and paint flaking off, less denting and warping, and less chance of sharp edges from developing and causing a safety issue.
You can use wood to build your stalls, from cedar to domestic to exotic hardwoods.
One of the issues with cedar is that it is softwood and is prone to twisting, warping, and shrinking over time.
You want to ensure that the wood you are using is not toxic for the horses, like locust wood.
The best wood to use is an exotic hardwood, which is very dense. They hold up better to kicking, but they are more expensive.
One of the most important things to consider is the stall's floor.
You should use a well-draining mixed aggregate base, like a road base, but make sure there are no sharp stones in the base.
You should use a stall mat on top and then the bedding.
The rubber mats that are used should be at least three-quarter inches thick and made of rubber.
Horse Barn Design
Designing your barndominium can be challenging yet fun. When looking at the design of your barndominium with horse stalls, there are some things to consider:
Structural style
The main difference in barndominiums is in the style of the underlying structure. One of these is the pole-barn construction.
This is where you have wood poles set in the ground to support the rest of the building. You can also use wood beans, where the posts are 12-14 feet apart.
They are attached to metal plates that are fixed to your concrete slab. In the south, they are built using welded metal beams, which are set in concrete.
They use this type due to insect and weather threats.
Interior
To hire your utilities and wiring, you need to know where your interior features will be located.
Barndominiums do not have load-bearing walls like traditional homes, so there are no stud walls. With the open concept plan, there are fewer places for the wiring and ductwork to be hidden.
One way to do this with a barndominium with horse stalls is to install a false ceiling in the barn where the horses will be to hire all the wiring, plumbing, and more.
It also gives you more space for insulation. It also allows you to soundproof your home if you do not want to hear horse noises all night.
It is advisable to have a fly spray system installed in the barn area.
Building the stalls
In a barndominium, it is standard to have the poles or beams 12=14 feet apart, so it is easy to build the stalls in the grid.
You can do it from scratch or use a kit. You also need to make room for tack, feed, and other supplies.
You should also consider overhangs on the side to give your horses shade.
Barndominium With Horse Stalls: Cost to Finish One
How much it will cost will depend on where you build your barndominium, the size of the barndominium and horse stalls, how much work you do yourself, how many horse stalls you have, and more.
A standard barndominium, built on top of your horse stalls, can cost $30 or more per square foot. This can add up to $100,000 or more.
Then you have the cost of building your horse stalls, which can be $30,000-$150,000 or more.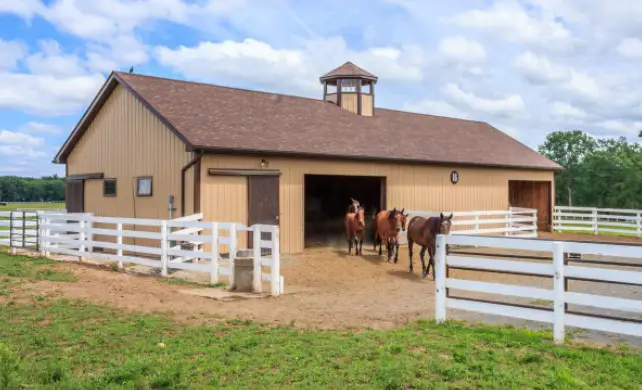 You must have all the information to get an accurate cost to build your barndominium with horse stalls.
You would need to sit down with someone who is an expert in building this type of barndominium, tell them your needs, square footage, and where you want your barndominium built, and look at the various floor plans to find one that is right for you.
Barndominium With Horse Stall Ideas
Below you will find several ideas to help you design and build your barndominium with horse stalls.
The design will depend on the square footage and the number of horses.
Barndominium With Horse Stall Idea 1
With this barndominium with horse stalls, it appears they have built their residence above the horse stalls.
The barndominium is white with a grey roof and has doors trimmed in brown with a light brown insert with the traditional "X."
It also has a stall with a half-open door that the horse can look outside. A porch runs the entire length of the front of the structure.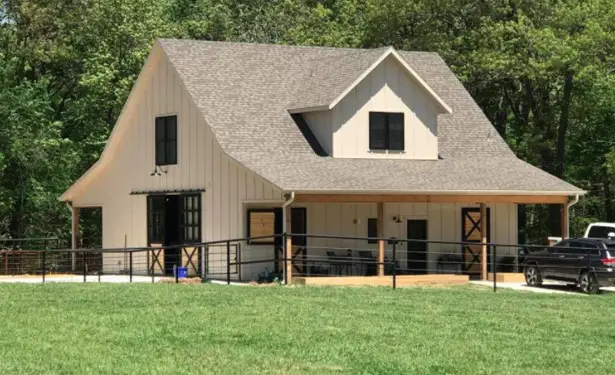 Barndominium With Horse Stall Idea 2
This style also has the residence above the horse stalls. It is made of wood and trimmed in darker wood.
There are three dormers for the residence, each with a window and a nice porch off the one end.
There is a fenced area where the horses can walk out to get some fresh air—a luxurious-looking barndominium with horse stalls.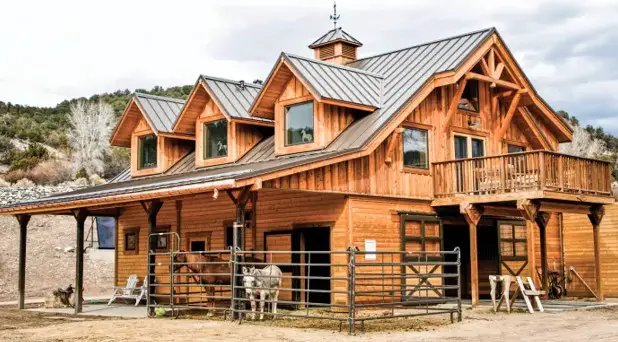 Barndominium With Horse Stall Idea 3
This gives you an idea of what your barndominium with horse stalls can look like inside.
This may be a design built into the barn area, so there is just one floor, as you can see off to the side, a set of rustic-looking bunk beds and a small seating area.
The inside is white, with one wall made of wood at the end, along with wooden beams.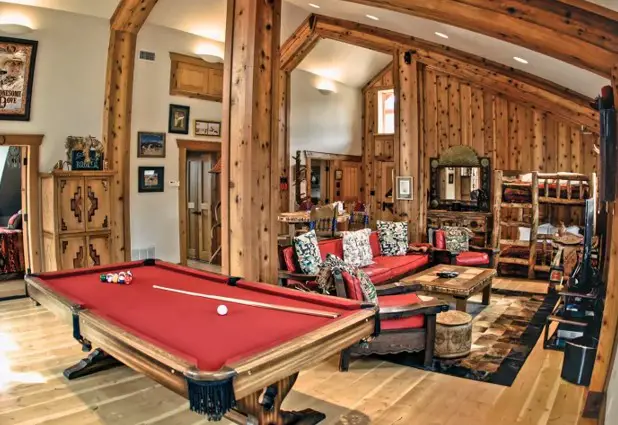 Barndominium With Horse Stall Idea 4
This barndominium with horse stalls is made of wood siding on the upper half with wood planks or logs along the bottom half.
There is a small balcony/porch above the entrance with large glass windows and doors. Above these are three smaller windows. There is also a large front porch.
Since it is not shown, the entrance to the horse stalls is on the other end of the barndominium.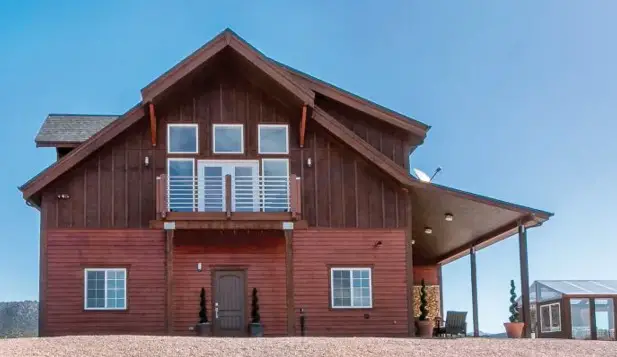 Barndominium With Horse Stall Idea 5
This barndominium with horse stalls has an L-shaped barndominium, with the barndominium being attached to the side of the barn with the horse stalls.
It is a white barndominium with a grey stone on the lower half. There is a long front porch across the front of the barndominium.
The windows are trimmed in grey with a white insert and a grey "X' so there appears to be no glass.
Barndominium With Horse Stall Plans
Now that you have seen the inside and outside of a barndominium with horse stalls, it is time to look at the floorplans to give you information on how to design your new home.
Barndominium with horse stall – Floor plan 248
With this first floorplan, the residence is inside the barn at one end. Nine horse stalls surround it, one almost touching the residence.
This simple barndominium planned residence would be good for one or two people as it only has a living room/kitchen area and one bedroom with a bathroom.
Each stall averages 11×11 with a covered stoop that has 10′ ceilings.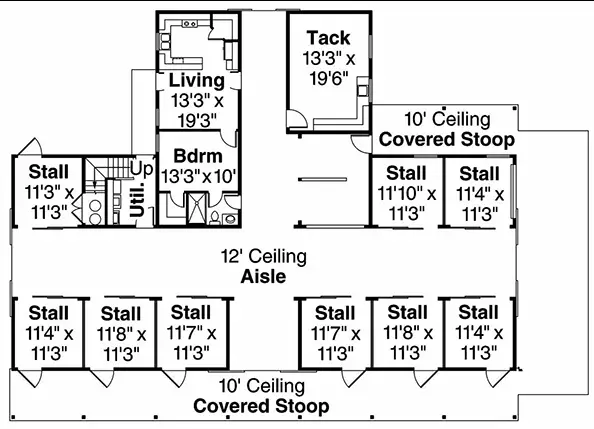 Barndominium with horse stall – floor plan 249
This one is also built in the same building where the horses live but appears to be a little larger. There are eight horse stalls and areas for hay, shavings, tack, and feed.
There is a 12×48 shed and a 12×66 concrete porch on both sides. The barndominium still has one bedroom, but the dining and living areas are larger.
The bathroom is off the dining area.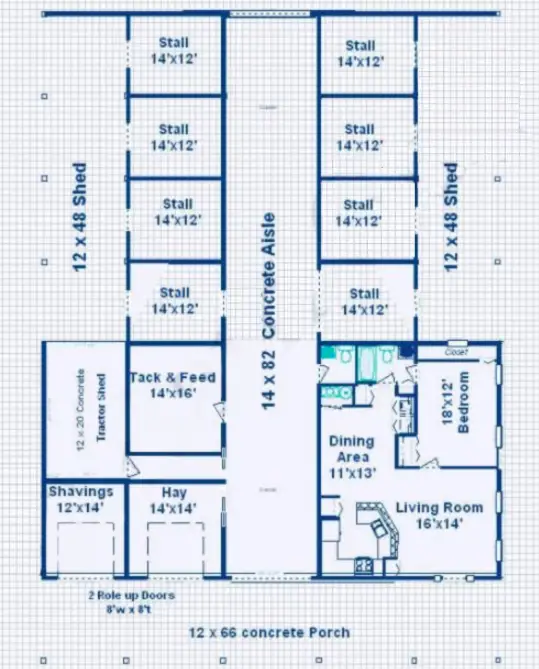 Barndominium with horse stall – Floor plan 250
This barndominium with horse stalls has divided the space into two washrooms, one on each side, between the living space and horse stalls, of which there are four.
There is a loft area that could be used as another bedroom. There is a large kitchen, a great room, and a space for an office, which could also be used as a bedroom.
There is also a utility room and a covered front porch. The two washrooms for the horses are set in a breezeway.
This barndominium with horse stalls is approximately 4,000 square feet.
Barndominium with horse stall – floor plans 252
This barndominium with horse stalls is also divided by a breezeway with the horse stalls and tack and feed room on one end and the residence on the other.
There is a nice large living and kitchen area and bedroom. There are five horse stalls—a perfect setup.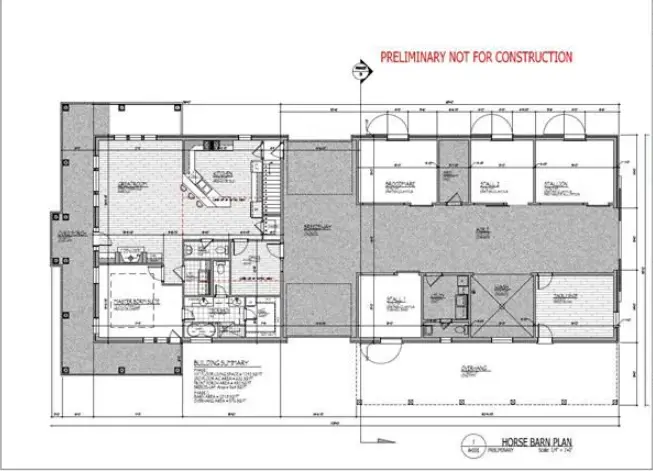 Conclusion
Yes, you can live with your horses, but you need to make sure that you check all zoning laws and codes.
A barndominium with horse stalls takes a lot of planning and can take a while to build, probably longer than a regular barndominium.
To build one can cost over $200,000, but the exact costs vary, which was covered in this article.
Take to someone that has built this type of barndominium before and let them help you with the layout and construction.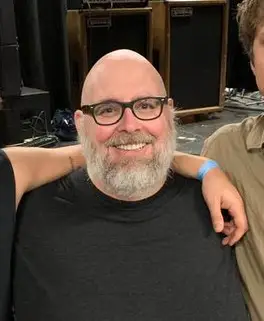 I'm James, your barndominiums advisor. Several years ago, I had no idea what barndominiums were. Although I'd spent over 10 years in the construction industry, the first time I heard about barndominiums was when I saw my neighbor building a new-style home. That was the first barndominium I've ever seen, and I found it so fascinating that I wanted to learn more about them.
More Posts