Ranch-style homes can be traced back to the first half of the 20th century and are one of the most popular styles in the United States.
Now they are becoming a popular type of barndominium. As with a barndominium, they were usually built on a concrete slab and had an open floor plan.
Most are single stories, but some have multiple levels.
A ranch-style barndominium is great for those with land to expand if needed. They are easy to build onto.
There are also different styles of ranch-style barndominiums to choose from. This style of barndominium is L-shaped, U-shaped, or rectangular, with sliding glass doors and large windows.
In this article, we will cover different ranch-style barndominium floorplans to choose from, the cost to build one vs. the cost of a traditional home, and what they are in general.
After reading this article, you will know if a ranch-style barndominium will fit your lifestyle.
Key Takeaways:
It will sometimes feature an attached garage
Has deck or patio space
They can be found across the United States, although they originated in the Southwest.
Ranch Style Barndominiums:  Overview
A ranch-style barndominium is built using an open concept layout and gives you patio or porch space. They will often have long, low-pitch rooflines.
There are also large windows along the front of the barndominium to let in plenty of natural light.
Although the shape of this style can vary, they can be built with a U- or L-shaped floor plan.
Other common features include an attached garage, wide roof eaves, and sliding glass doors leading to the backyard or patio.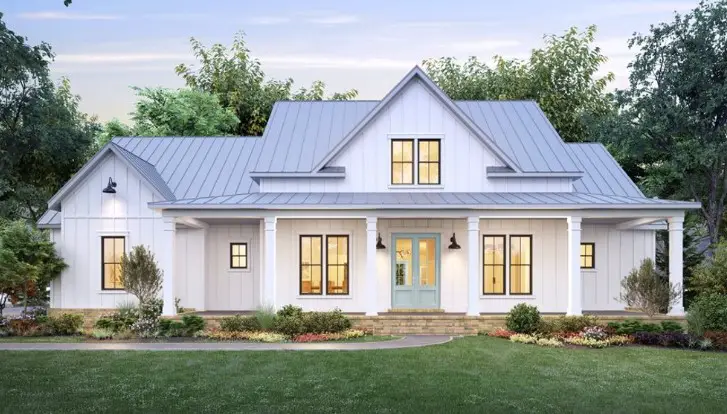 Styles Of Ranch Style Barndominiums
California
This is also known as a rambling ranch and is characterized by a U- or L-shaped structure. It is also built low to the ground and is a single-story ranch-style barndominium.
It is designed to blend in with nature. The two key features of this style are the front lawn and patio.
Split-level
This style usually has three stories of living space, giving you staggered living space. The front door will lead into the dining, kitchen, and living space with two half-flights of stairs.
They lead to additional living space and bedrooms. This is not a style that most barndominiums are built like, as most barndominiums are single stories.
Suburban
This style also has the U- or L-shaped open concept but is more asymmetrical and compact in structure.
The main features of this style are the backyard and attached garage.
Raised
This is like the split-level as it also has many living space stories but a different layout. When you enter this style, it will lead to the downstairs and upstairs staircases.
The kitchen and bedrooms are on the upper floor, while the living space is on the lower floor.
Again, this is not a style generally used to build a ranch-style barndominium because of the multiple floors.
Storybook
This style is also known as the fairytale because of its ornamental details.
It can include diamond-shaped windowpanes, a steep gabled roof, and a decorative chimney made of stone or brick.
Ranch Style Barndominium: Benefits & Advantages
This floorplan style has several benefits to choosing a ranch-style barndominium.
Open, inviting floorplan.
This style offers you large, open-concept floorplans.
This will make it entertaining for your friends and family because the kitchen, living area, and dining area are all together, making it easier to talk to everyone while preparing a meal.
This floor plan captures all the natural sunlight in every room in your barndominium.
No stairs to climb
As stated, most of these do not have a second floor, so you don't have to worry about going up and down stairs, making it an ideal style of barndominium that find it difficult to do stairs. No stairs give you more living space on the first level.
Exterior maintenance is easier.
With the low-pitched roofline and one floor, it is easier to take care of the exterior. Even if you have to climb a ladder to clean the gutters, it will not be a high climb.
Ranch Barndominiums Vs. Houses: Which Is Cheaper to Build?
When you are calculating what it costs to build a barndominium vs. a traditional home, it can be tricky to do so.
A barndominium with the basic amenities generally costs about $30-$40 per square foot, but with a traditional house, it averages $100-$200 per square foot.
This may not seem like a big deal if you are only building an 800-square-foot home, but the difference can be substantial with 2,000 square feet or more.
Another thing that comes into the cost is the features that you choose. There are also labor costs and materials used.
When looking at 2,000 square feet, a ranch-style barndominium can cost $190,000-$250,000. The same space in a traditional home would cost $210,000-$310,000.
When looking at the amounts, it is cheaper to build a ranch-style barndominium than a traditional house, but it all depends on the features, square footage, the material used, and labor costs.
With a ranch-style barndominium, you can save some on the costs if you make it a DIY project.
Get Ranch Style Barndominium Kits
When buying a ranch-style barndominium kit, they are either wood or metal structures, which some may only be 'shells.'
This means that it was a framed structure with only doors and windows and empties on the inside, so you could design it as you wanted.
Before you can start to build your ranch-style barndominium, you need to have your interior floorplans.
Finishing your DIY ranch-style barndominium can take time and will probably require you to hire subcontractors for jobs such as plumbing, HVAC, and electricity.
You will need to have exceptional technical and organizational skills.
When you look at the price for a ranch-style barndominium kit, they are, on average, $10,000, but when finished, it can cost $100,000 or more.
You can get a ranch-style barndominium kit in various sizes, such as 30×40, 40×60, 40×75, or 60×60.
Ranch Style Barndominium Plans (With Layouts)
Below are some ranch-style barndominium floorplans to show you just how you can design your barndominium.
With this style, there are endless floorplans that you can choose from. Most of them will include an attached garage and porch area.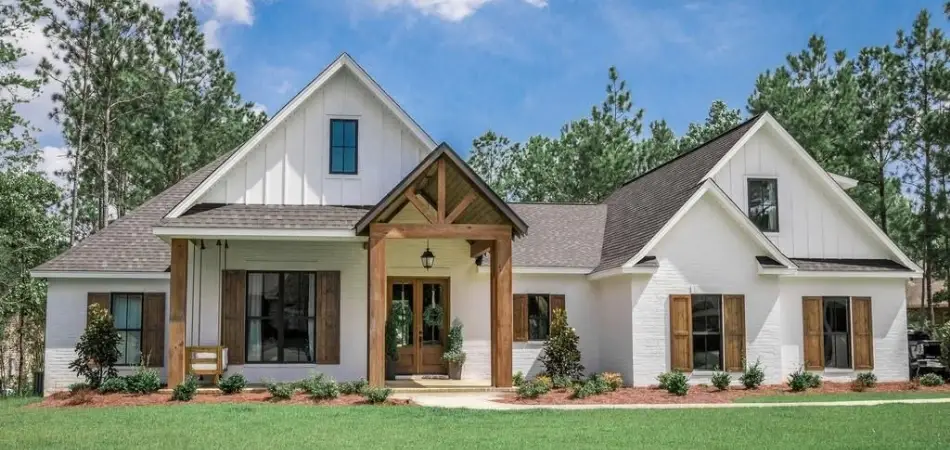 Ranch Style Barndominium – Floor Plans 243
This ranch-style barndominium plan offers you three bedrooms, including a master bedroom suite, laundry room, and living and dining space.
There is also a nice 12×9 patio and a large front porch. The garage is also attached. The kitchen area is not very large, and you can walk into the laundry room.
To the one side are two-bedroom with a bathroom between them that is entered from the hallway.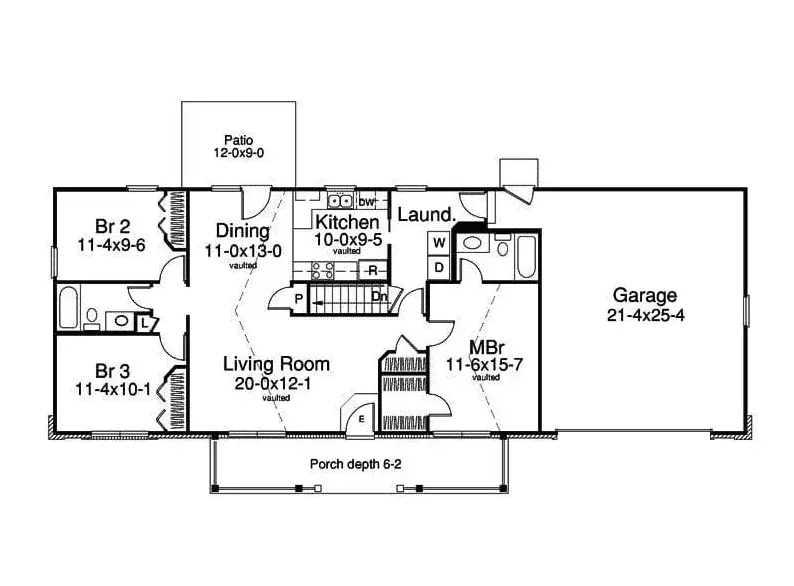 Ranch Style Barndominium – Floor Plans 244
This floorplan is well thought out, with a nice three-car garage with some storage and workspace: a nice size kitchen and dining area from which you will find a pantry and laundry room.
This floorplan also offers living space and a great room. You could even use the living room as an office or play area for the children.
There is the master suite and two other bathrooms.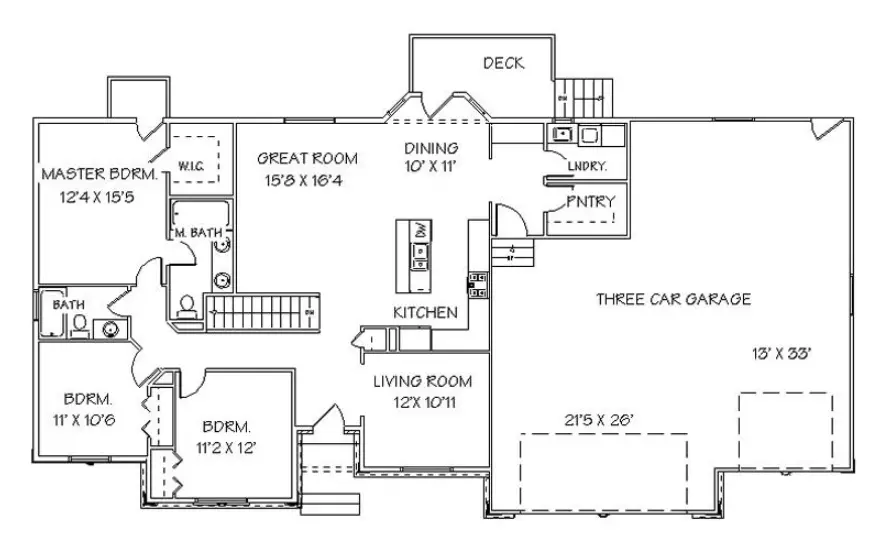 Ranch Style Barndominium – Floor Plans 246
These ranch-style barndominium plans include two bedrooms and a master suite. There is a nice great room with the laundry room leading off the kitchen and dining area.
There is also a nice front porch and garage. You step into the barndominium from the front porch into a foyer.
You then go through the dining area to get to the kitchen and great room. You enter from the great room to get to the hallway leading to the bedrooms.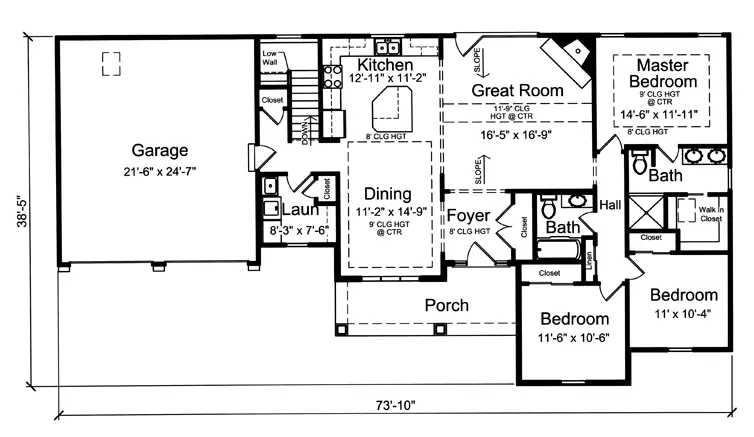 Ranch Style Barndominium – Floor Plans 247
This is a unique ranch-style barndominium floor plan. You step off the patio into the sitting/media room with a wet bar. Off this area are one bedroom and the utility room.
From the floorplan, there does not look like there is a bathroom. The bathroom is off the living, kitchen, and dining areas, where you will also find the second bedroom.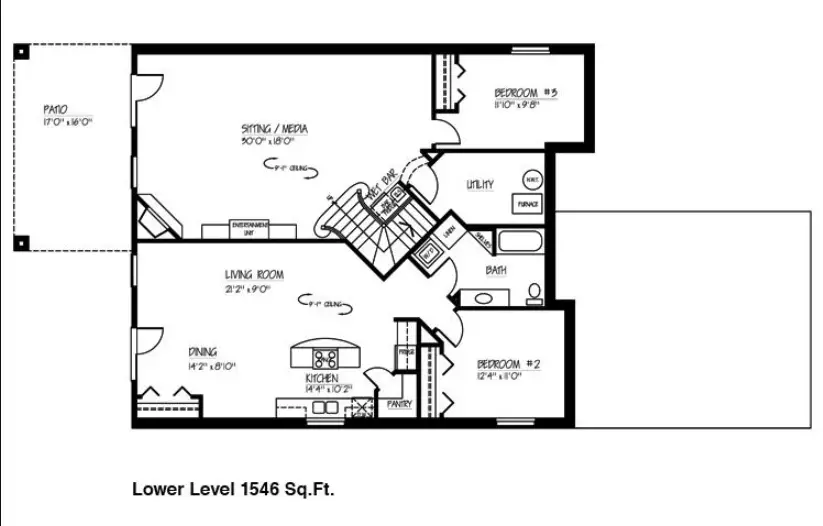 Final Advice
A ranch-style barndominium offers you a variety of floorplans that will suit your and your family's lifestyle.
We have also covered the benefits of choosing this style and general information about it.
When looking at costs, it is cheaper to build a ranch-style barndominium than a traditional home.
Related Resources: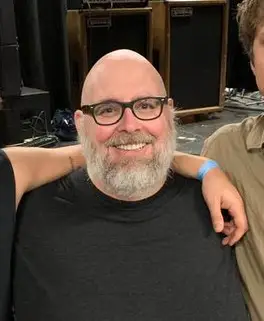 I'm James, your barndominiums advisor. Several years ago, I had no idea what barndominiums were. Although I'd spent over 10 years in the construction industry, the first time I heard about barndominiums was when I saw my neighbor building a new-style home. That was the first barndominium I've ever seen, and I found it so fascinating that I wanted to learn more about them.
More Posts