You have decided that it is time to build your new home and you want it to be a barndominium.  You want to have extra space for entertainment, a game room, a place for the laundry room, maybe even an extra bedroom but how can you do that without making your barndominium larger or adding a second floor.?
One way to do this is to look at barndominium floor plans with walkout basements.  Traditionally, this is not done but you can get barndominium floor plans with a basement.  If you only have so many square feet or acres (s) to build your barndominium on, this would be a good option.
This article will cover if you can build your barndominium with a walkout basement, why you would want to do so, and some floor plans of how you could use that extra space.  Read on to see if this would be ideal for your family and lifestyle.
What is a Walkout Basement?
A walkout basement has a wall, windows, and a door that will let you go out into your yard without going through the house to get outside.  They are generally more expensive than your standard basement.  They can cost $45,000 to $100,000 but it depends on the size and features of your walkout basement.  The one plus is that it can add value to your home.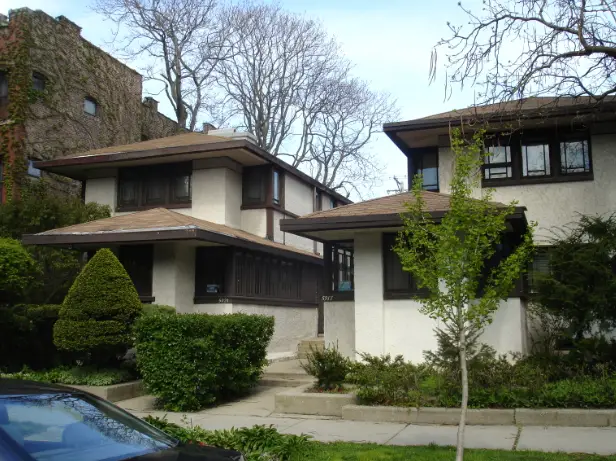 Can you Build a Barndominium With a Walkout Basement?
When barndominiums were first built, they did not have basements.  They were built on solid concrete slabs four or six inches thick.  Now, there are many of them being built over a walk-out basement foundation.  For this type of basement to work, you will need to build your barndominium on some kind of slope.  They have a different design from your standard basement.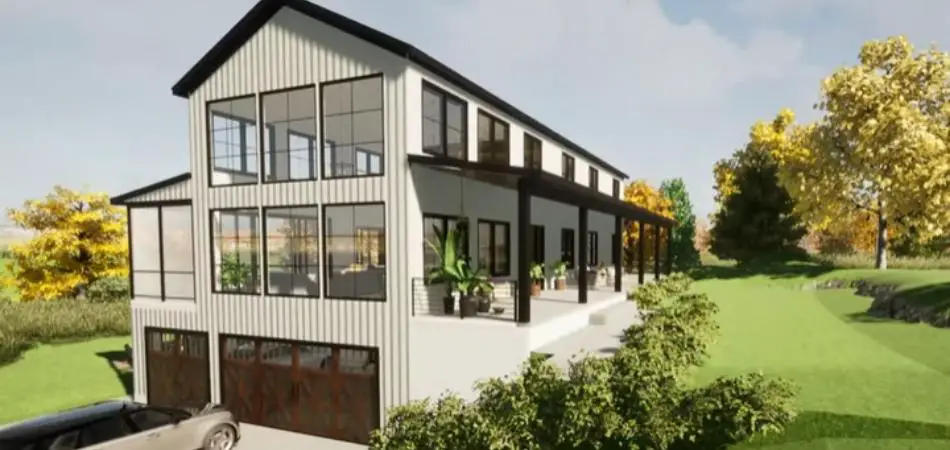 How to Build a Walkout Basement
Before you even pour your foundation, you will have to design your walkout basement because the foundation will have to be modified.  It will require special framing so it can support the wall with the window(s) and door.  As walkout basements can be expensive as most times the cost can be more than the return or value added to your barndominium.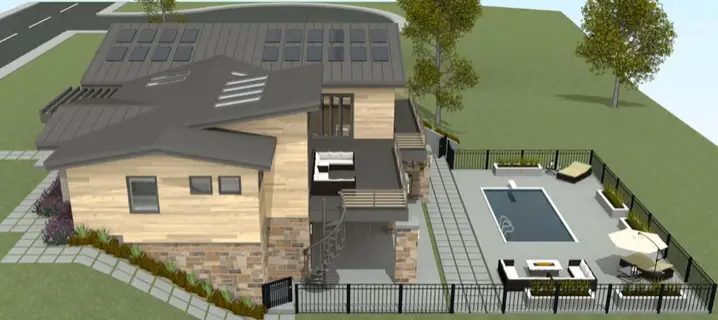 For example, this type of basement will be more cost-effective if the lot slopes across the width of the home by eight to twelve feet.  Many times these basements are built over monolithic concrete slabs.  This is more cost-effective than pouring a separate pad and footers.
Step 1:
After the walls are built and the concrete footers and pad are poured, it is time to build the walls that will support the floor above the basement.  The lumber used should be pressured-treated lumber and should be placed at least a half-inch away from the masonry surface.  Use corrosion-cut nails or galvanized lag bolts to fasten the wood to the walls.
The bottom plate of the wall is the bottom boards that are directly connected to the concrete pad and have to be the pressured treated lumber also.  The wall is built the normal way but make sure that the board that touches the masonry are pressure treated lumber.  The vertical board is what forms the connection pain for the wall.  They also tie the wall to the foundation.
Step 2:
Now it is time to lay out the wall and mark it for the window(s) and doors.  Since this wall is a foundation wall, it has to be the type of lumber that the building code requires.  If your barndominium is a single-story home, for example, it can be supported by 2" x 6" or on the 12" centers, you can use 2" x 4" studs.  If you are building a two-story barndominium, it may require 2" x 12" or 2" x 10" studs.  Check your building codes to be sure.
Many times, with this type of basement, the foundation framing studs will be installed closer together than your normal walls.  With a foundation wall, 12" centers are common if your barndominium has more than one level.  The door has to have a 36" minimum width with an exterior grade.  The windows have no size requirements.
Step 3:
When you mark the bottom and top plates for the studs, make sure that you leave an opening of approximately 38" to build a header and for the door.  The header will span this distance.  It will then rest on two jack studs, which extend 82" from the bottom plate. This makes the door opening about 82" tall x 34" wide.
For the header, you will construct it with one layer of oriented strand board (OSB).  It will be put between two 2" x 12". 40" long lumber.  There is an additional 6" so it can rest on two jack studs, which will be located under the rough opening on each side.  Once this is done, you will continue with the studs until you reach the window (s).  Usually, the doors and windows are the same height if they are on the same wall.
This will allow you to duplicate the measurements from the door.  You can narrow the opening if you need to.  From the bottom sill of the rough opening of the window to the bottom plate, you will extend cripple studs to complete the rough framing.
Step 4:
In this last step, you are going to install the house wrap and exterior sheathing.  You do not install the window(s) and door at this time to prevent damaging them.  You will install them when you install the rest of the windows and doors.
Reasons to Have a Walkout Basement?
There are many reasons to build a walkout basement.  One big reason is that it will give you extra space.  The extra space can be used for extra bedrooms, storage, laundry room, family room, media room, or even an apartment for extra income and more.  With a full walkout basement, you can double your living area without needing to add a second floor or building outward.  This will allow you to use the extra land for a garage or workshop.
If your land is on uneven terrain, building your barndominium with a walkout basement will make it easier to build.  This will save you money on leveling out the ground.  It will offset the increased cost of a walkout basement.
Walkout Basement Floor Plans
Below are three floor plans showing you how you can utilize your walkout basement space.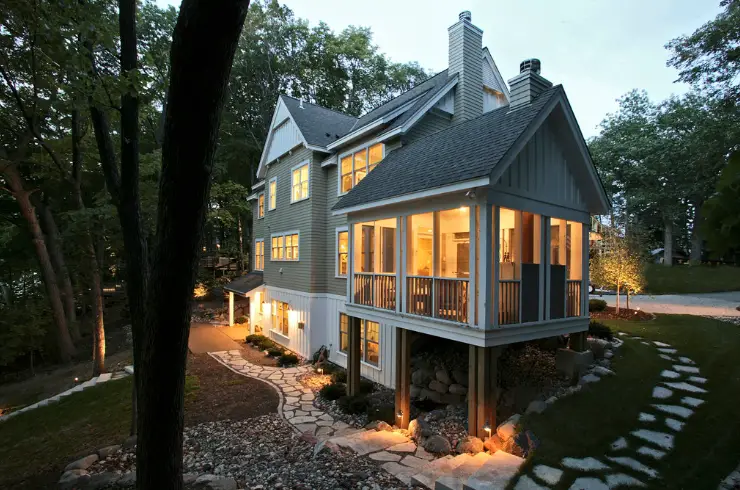 1. This walkout basement floor plan allows you room for two more bedrooms with ensuite bathrooms and a half-bath.  There is also an exercise room, recreation room, and wet bar plus storage.  There is also a basement garage.
If you have teenagers, this would be a great area for them to hang out with their friends.  It is also great area for guests.  This is a great use of space.
2. This barndominium walkout basement floor plan offers two bedrooms and one bathroom plus a game room, office, and laundry room.  The bedrooms could also be used for other purposes such as a media room, storage, another office space, craft room, and more.
3. With this floor plan, they have made it large enough for another three bedrooms and two bathrooms.  In the middle is a large recreation area plus they also have a theater room, wine cellar, and a mechanical/storage room.
Conclusion
Building a barndominium with a walkout basement can add more cost to your build budget but it will give you more room for storage, recreation areas, game rooms, extra bedrooms, and more.  It will also save the cost of leveling out uneven terrain.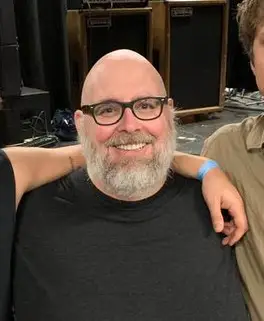 I'm James, your barndominiums advisor. Several years ago, I had no idea what barndominiums were. Although I'd spent over 10 years in the construction industry, the first time I heard about barndominiums was when I saw my neighbor building a new-style home. That was the first barndominium I've ever seen, and I found it so fascinating that I wanted to learn more about them.
More Posts