Metal barndominiums?  When you look at them, that is not the first thing that comes to mind.  From the outside, they resemble a traditional home.  Nothing indicates that it is a metal barndominium.
Barndominiums are often just a metal home or frame around which the exterior is built so it looks like a traditional home.  Many times, they are referred to as metal barndominiums.  Although the frame is metal, the barndominium can be customized to fit your lifestyle and needs.
In this article we are going to cover the benefits of living in a metal barndominium, is it cheaper to build than traditional homes, how to build them, and more.  We will also enclose some metal barndominium ideas so you can get an idea of what they look like.
Key Takeaways
With a metal barndominium, you get more for your money.
They are low maintenance.
They can appear utilitarian on the outside but look awesome inside.
Is it Cheaper to Build a Metal Barndominium?
When comparing the cost of building a metal barndominium to a traditional home, the answer is yes, but the initial expense may be higher for the barndominium.  The reason is that most traditional houses use a wood frame but with a metal frame, you have the added expense of the labor and machinery that is required to build the shell.
On the other hand, you save because you do not need to have weight-bearing walls in a barndominium.  The way a metal barndominium is designed, the metal frame will help to eliminate any potential design issues by using the roof system to support the weight of the barndominium.
Using as an example, 2,000 square feet, for a metal barndominium the cost would average around $200,000 or $100 per square foot.  For the same size traditional home, it would average $220,000-$340,000 or $110-$170 per square foot.
Metal Barndominium: How Much Would it Cost?
On average, metal barndominiums cost $20-$70 per square foot but this is only if you have arranged for the installation of utilities, cleared the land, and poured the foundation.  If you have done none of these, the price can rise to an average of $50-$120 per square foot.  If you need to purchase floor plans, that will add another $500-$2,000 but if you hire an architect to design your floor plans, it can cost $2,000-$8,000.  On average, a metal barndominium can cost $73,400-$228,000, which includes most services and materials that you will need to turn your piece of land into a home that is livable.  It is a kit and will need to be assembled.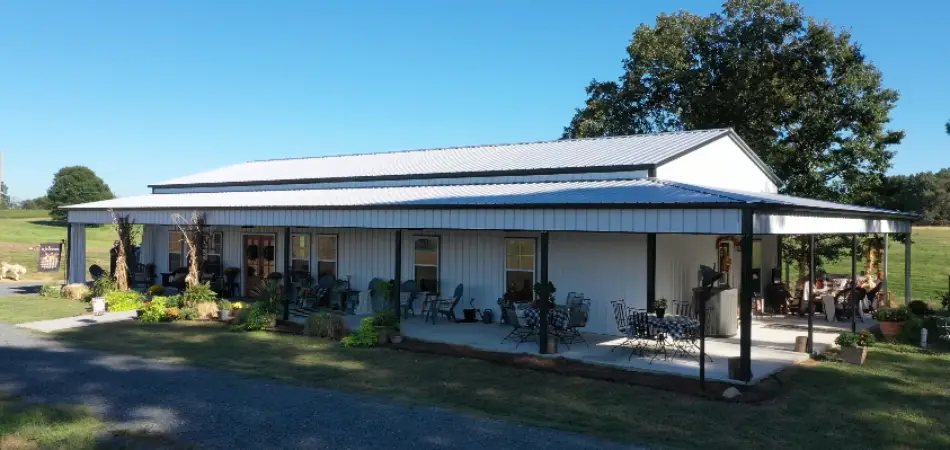 To break down the cost of a metal barndominium, we have included a chart to help you see an average of what each thing can cost.  Delivery includes the supplies and the metal barndominium kit.  When assembling your metal barndominium, it may include some exterior and interior finishings like flooring and drywall.
For the plumbing, the cost includes installation and materials but not the cost of connection to the septic tank or main sewer line.  The cost of septic/sewer includes the price if you have to install a septic tank or install a sewer line and the cost to install a water main that hooks up to the municipal water supply.  If you have to drill or dig a well, that is can add $1,500-$12,000 to the cost.
The cost will depend on the materials used and the square footage of your metal barndominium.
| | |
| --- | --- |
| Kit | $20,000-$90,000 |
| Clear land | $1,300-$4,300 |
| Delivery of kit | $5,000-$15,000 |
| Assembly | $25,000-$50,000 |
| Foundation | $4,000-$12,500 |
| Insulation (bat and roll type) | $1,100-$2,400 |
| Plumbing | $400-$1,900 |
| Septic/sewer | $2,000-$9,500 |
| Electrical | $600-$2,200 |
| HVAC | $2,600-$13,500 |
| Siding | $6,000-$13,500 |
| Roofing | $5,400-$10,700 |
| Total | $73,400-$228,000 |
Benefits of a Metal Barndominium
With a metal barndominium, there are many benefits that you might get with a traditional house.
Aesthetics: a metal barndominium loos great and there is no limit on what you can do with the basic structure. Having this type of barndominium is one of the best ways you can make your new home have a country living vibe.
Cost-efficient: because of the ease of procurement and manufacturing and low maintenance, this type of barndominium can be built and maintained at a fraction of the cost of a traditional home. They can also decrease your cooling and heating bills if they are insulated properly.
Durability: metal lasts a long time when compared to wood. The metal roofs on this type of barndominium have a lifespan of 40-70 years while a shingle roof has a life span of 25 years.  To increase the durability of your metal barndominium, you can paint and rust-proof the metal.  It is also waterproof.
Environmental responsibly: when building a traditional home, they use a lot of wood. With a metal barndominium, the metal is recyclable and sustainable.  You can use recycled metal to build your barndominium and if the barndominium is damaged and the metal needs to be replaced, the old metal is recyclable.
Flexibility: if you need to expand on your metal barndominium due to an increase in family size or your business grows, you can easily do this. The cost of building one is so low that you can afford to add on that extra space you need.
Value: when a metal barndominium is well-built and maintained and is on a solid foundation, it can increase in value. You just need to make sure that you keep the exterior and interior in good shape.  When people are looking for an eco-conscious home without sacrificing style and comfort, a metal barndominium fits the bill.
How to Build a Metal Barndominium
When you are ready to build your metal barndominium yourself or use a contractor, the process consists of three major parts, which include the concrete foundation, metal building construction, and the build-out of the living area.  If you are planning to have a workshop, make sure that before the foundation is poured that you plan ahead and include any plumbing.   You will also need to determine how deep you will need to have the water lines, also.
You will also need to know how you are going to place your metal barndominium.  Do you want to avoid the summer sun but catch the winter sun as much as possible?  Do you want to have great views of your property?  This is all-important before you can start to build your barndominium.
The concrete foundation can be poured four or six inches thick.  To build your metal barndominium, they will use steel beams, with are heavy so they will have to be set using a crane.  Then the metal frame is built around those steel beams with the room set on top.  Then the inside will be framed with lumber to make it easier to add drywall and insulation easier.  Generally, the nature of the framework will eliminate the need for weight-bearing walls.
The roof is considered part of the framing process because the metal panels that are used for the roof will use the same tools that were used to erect the metal siding.  Doing it at the same time as erecting your metal barndominium will save on the cost of labor and renting the equipment for a second time.  At this time, they will also put on the aluminum gutters.
The next step is to put in all of the interior systems, which include the plumbing, HAVC, and wiring.  Even if you have elected to do some of the work yourself, this work is done by contractors who know how to do it so it will pass inspection.  The way it is usually done is to do the plumbing first because there is plenty of room if they have to make bends and angles with the pipes.  The next part will be the electrical work and the HAVC system.
Once this is done, the insulation is put in.  There are some jurisdictions that have building codes in regard to insulation so if you are doing this work, check to make sure before the work is done.  With a contractor, they will know if there is a code or not.  When all of the systems, plumbing, electrical, and HAVC, have been tested and pass inspection then it is time to drywall, and paint.  The flooring can also be put in at this time.
When all this is done, it is time for the final inspection.  The windows are usually put in when the metal barndominium is being erected along with the exterior doors.
Metal Barndominium Ideas
In this article, we have talked about the cost and how to build a metal barndominium.  Now is the time to look at some ideas of what yours could look like.
Metal Barndominium Idea 1
This idea is one that would be used on a horse farm as you can see at least three stable doors.  Although it is hard to see, the living quarters are most likely on the other end of the metal barndominium.  When looking at it, it is hard to see that it has metal siding. From the outside, you cannot see that it is a metal frame.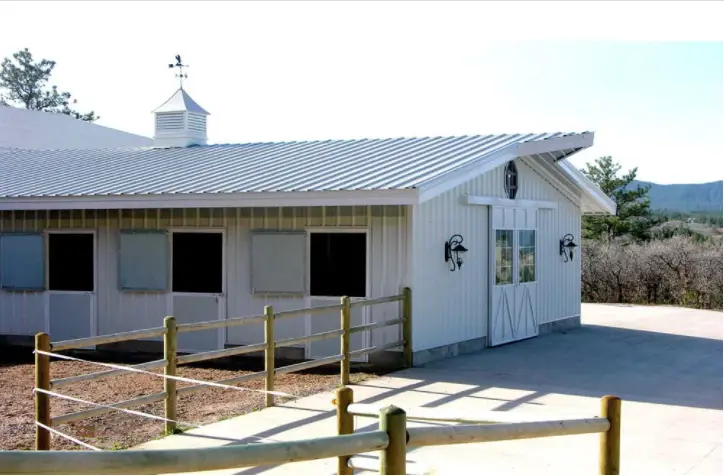 Metal Barndominium Idea 2
With this idea, it also looks as if it could be a horse barn with two stable-like doors on the side and the sliding barn doors on the front.  This metal barndominium has a black metal roof to add some color along with black trim around the sliding barn doors and bottom of the barndominium.  Gray accents the two side doors.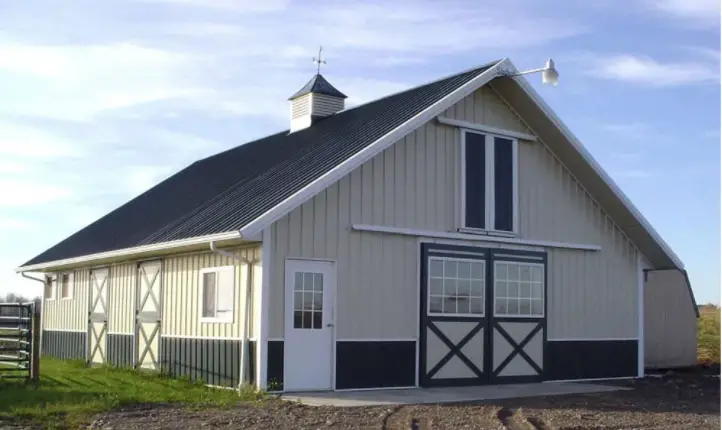 Metal Barndominium Idea 3
Yes, another metal barndominium is being used as a stable.  It has a stunning red roof with unique light fixtures.  The siding of this metal barndominium is grey with white trim.  Across the front of the doors is a nice walkway, which leads to a concrete patio.  This would be great for BBQs or family gatherings.
Metal Barndominium Idea 4
This metal barndominium is used also as a stable with wood accent trim and white exterior siding.  The doors are a shade of red with gray trim.  From the doors, there is a big concrete pad that can be used for entertaining.
Metal Barndominium Idea 5
Again, another metal barndominium is being used as a stable with wooden sliding barn doors and four wooden stable doors on the side.  There is a concrete walkway around this barndominium.  It is a light shade of grey with a darker shade of grey around the bottom.
Metal Barndominium Plans
Now that you have seen some of what a metal barndominium looks like on the outside, it is time to turn your attention to what they can look like inside.  You will see the placement of the rooms, including the number of bedrooms and bathrooms.
Metal Barndominium Plan 219
This metal barndominium is approximately 40×35 and centers all the bedrooms on one side of the barndominium divided by a hallway.  You have a master bedroom along with two other bedrooms.  On the other side are the family room, dining area, and kitchen, including a laundry room.
Metal Barndominium Plan 220
This metal barndominium is a 50×35 with the kitchen, dining, and family area on one end of the barndominium.  A short hallway leads to the laundry room with two bedrooms on one side that share a bathroom, but it is not a jack and jill bathroom.  On the other side is the master suite.
Metal Barndominium Plan 221
This metal barndominium is 40×50 and features four bedrooms, including a master suite on one end and a very large family room, smaller kitchen, and dining area on this site.  Between them is the laundry room, a bathroom that is to be used by the three bedrooms and guests.  It is a well-thought-out floor plan.
Metal Barndominium Plan 222
This metal barndominium is 50×40 and has four bedrooms, including a master suite.  The three regular bedrooms are off a hallway that comes off the living area with one bathroom that is also shared by guests. The master suite is just off the eating area.  This one has the laundry room and pantry off the kitchen, which leads to the eating area and living area.
Metal Barndominium Plan 223
This metal barndominium is 50×50 so there is more room in this barndominium that has a similar layout to the one above.  The master suite is off the kitchen area, but the other three bedrooms and one bath are off the family area down a hallway.  There is a mudroom off the kitchen and off the mudroom is what would be a guest bathroom.  There is also a pantry off the kitchen.  You also enter the laundry room from the mudroom.
Conclusion
After finishing this article, you have the knowledge to know if a metal barndominium is right for your family and lifestyle.  Not all metal barndominiums are stables but some are used this way. We have also given you an idea of the cost for this type of barndominium and the benefits of living in one.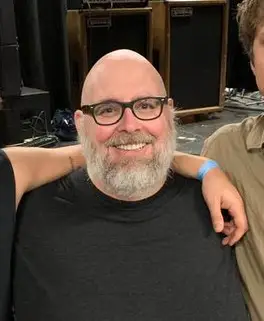 I'm James, your barndominiums advisor. Several years ago, I had no idea what barndominiums were. Although I'd spent over 10 years in the construction industry, the first time I heard about barndominiums was when I saw my neighbor building a new-style home. That was the first barndominium I've ever seen, and I found it so fascinating that I wanted to learn more about them.
More Posts