When picturing a steel barndominium in your mind, it is not a very appealing picture.
Most will immediately think of a steel building with no curb appeal, no color, and uninviting to live in but that is not correct.
When talking steel barndominium, they are talking about the framework, not what it looks like.
A steel barndominium is the framework and the outside will still look like a warm, inviting, home although it does not resemble a traditional home in its shape.
Yes, some do use steel, or metal, material for the roof and outer wall panels but they are constructed in a variety of colors so when first looking at it, it does not appear to be made of steel.
In this article, we will cover the cost to build a steel barndominium, look at some floor plans, and show you why choosing this type of barndominium is a good idea.
By the end of the article, you will have the information to determine if a steel barndominium is the right fit for you and your family.
Key Takeaways:
A steel barndominium is a durable option for your new home
The framing can be designed to support a variety of wall systems outside
Most barndominium kits use the steel framework
Is a Steel Barndominium Cheaper to Build?
Yes, it is cheaper to build a steel barndominium than a traditional wooden barndominium in regards to materials but for the concrete slab and building erection, it is the same.
For a steel barndominium, on average it costs $10-$14 per square foot and for a wood barndominium, it costs $14-$18 per square foot for materials.
How Much Does a Steel Barndominium Cost?
When you look at a steel barndominium kit, its durability of it makes it cost-effective.
When you also use a metal roof and exterior wall panels, it makes your steel barndominium low-maintenance and energy-efficient.
The steel panels can be designed with high insulation.  On average, a steel barndominium can cost $10-$14 per square foot for the materials.
There is also the cost for the concrete foundation, which is $4-$6 per square foot.  The exact cost will depend on the thickness of the concrete slab, which is generally four or six inches thick.
To erect your steel barndominium, it averages $8-$12 per square foot.  The final price will depend on the size of your steel barndominium.
| | | | | |
| --- | --- | --- | --- | --- |
| Size | Building System | Concrete Slab | Erect Building | Finish Interior |
| 2 bedroom 30'x40' | $15,000-$17,400 | $4,800-$7,200 | $9,600-$14,400 | $48,000-$120,000 |
| 3 bedroom 40'60' or 40'x75' | $26,000-$29,900 | $9,600-$14,400 | $19,200-$28,800 | $64,000-$160,000 |
| 4 bedroom 60'x60; or 60'x70' | $32,000-$41,800 | $12,000-$18,000 | $24,000-$36,000 | $72,000-$180,000 |
Steel Barndominium Cost Chart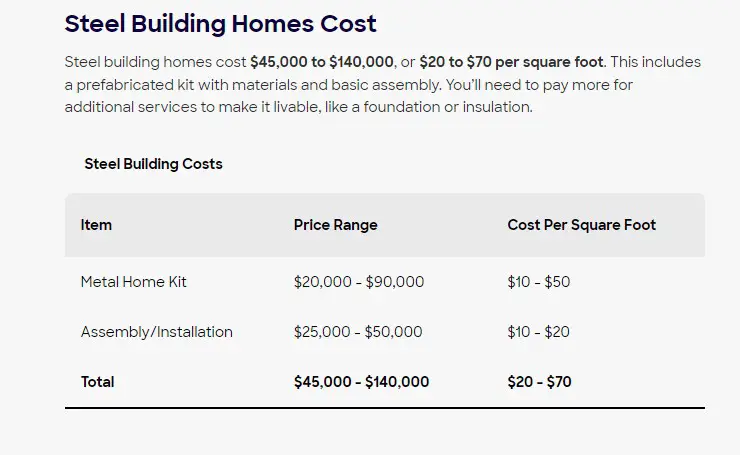 Steel Barndominium Plans
Although it is a steel barndominium, the interior of these types of barndominiums can look as traditional as a regular house.
There are many floor plans to choose from, allowing you to choose the number of bedrooms, bathrooms, and placement of the rooms with the open concept.
Below is a steel barndominium floor plan to give you an insight as to how they can look inside.
Steel barndominium – Floor plan 231
This steel barndominium floor plan includes three bedrooms, including a master suite.  Off the living room is the entrance to the garage.
The master suite is on one end of the steel barndominium giving you some privacy from your children.  The two bedrooms share a bath but it is not a Jack and Jill bathroom.
It is also a bathroom that the guests would need to use.  There is a laundry room off the same hallway as the bedrooms.  There is a decent size kitchen and living space.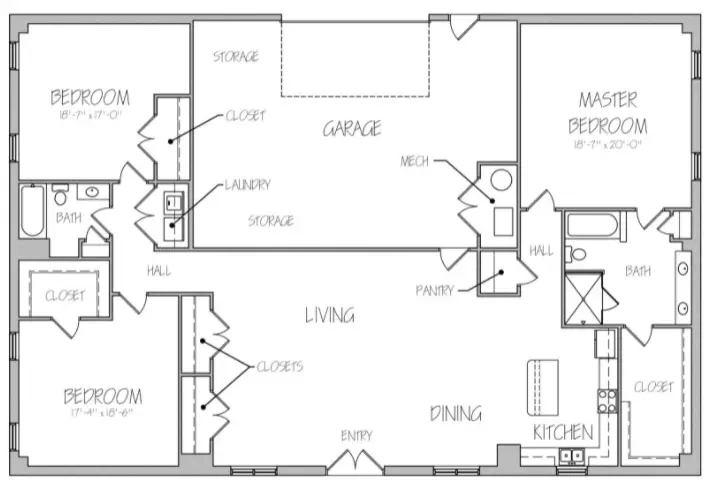 Steel Barndominium Ideas
Now that you have an idea of what the floor plan can be for a steel barndominium, let's look at some of the ideas which the exterior of your barndominium can look like.
As you can see from the pictures, there are a variety of colors that you can use for the exterior and the shape of your steel barndominium.
Steel barndominium idea 1
This steel barndominium has a dark grey exterior with brown trim around the windows and a darker brown front door.
There are also dark brown poles that are supporting the large front porch roof.
There is also plenty of windows to let in the natural light and it is sitting on a concrete pad that also doubles as the outdoor entertaining area.
The porch area extends around the front and both sides of your steel barndominium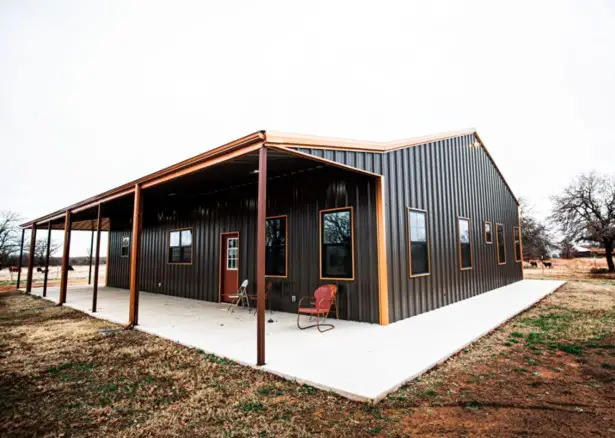 Steel barndominium idea 2
Looking at this steel barndominium from the front, it is hard to tell that it has a steel frame.  It looks like a traditional luxury home.
It has white siding with a grey roof and in the middle, there is red siding plus the middle section roof is slightly elevated.  This gives your home a look of more space.
There is a nice porch area that leads to two large glass doors and large windows.
It is also beautifully landscaped on both sides of the circular driveway.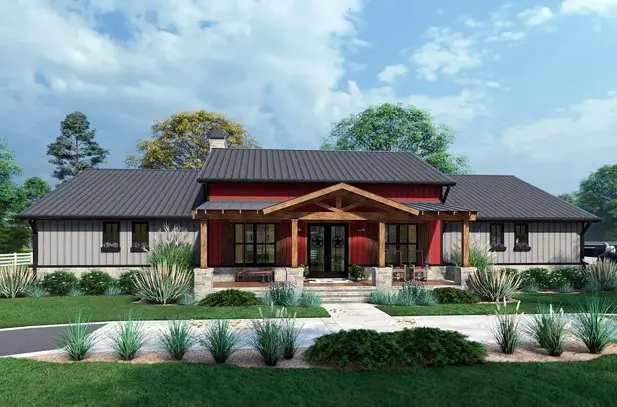 Steel barndominium idea 3
This three-car garage steel barndominium sits on a large concrete slab that doubles as a porch, entertaining area, or a place to park vehicles.
The three-car garage could also possibly double as a workshop or storage space.
It is a medium shade of grey with white garage doors and white trim around the grey roof and white pillars.
The entrance to the steel barndominium is also white.
Steel barndominium idea 4
This is a two-story steel barndominium with a driveway leading to a one-car garage.  There is a nice front and side porch plus one on the second floor that may lead from the master bedroom.
It is a shade of light brown with a white roof and darker brown poles holding up the roof porches and the second-story porch or balcony.
There is also a white trim around the windows and doors.  Around the base of your steel barndominium is a stone façade.
Steel barndominium idea 5
This steel barndominium has a three-car garage with an area that looks large enough to have a work area or home business.
It is done in red with white garage doors and white trim around the windows.
The roof is a nice dark grey and also has what appears to be grey stone along the lower part of the barndominium.
There is a small porch and a long narrow walkway toward the garage area.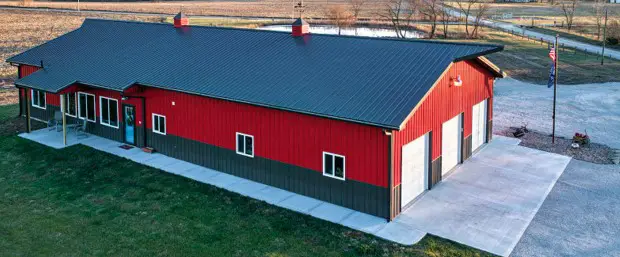 Conclusion
As you can see from the floor plan and steel barndominium ideas, it looks like a traditional barndominium.
The inside of these types of barndominiums can be designed to suit you and your family's needs.
We have also covered the cost to build a steel barndominium, which you can see is slightly cheaper than a traditional home.
See Also: Barndominium Cost Calculator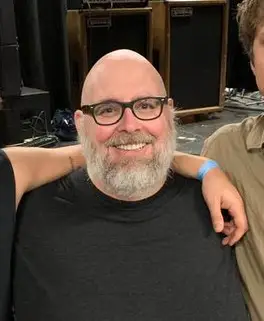 I'm James, your barndominiums advisor. Several years ago, I had no idea what barndominiums were. Although I'd spent over 10 years in the construction industry, the first time I heard about barndominiums was when I saw my neighbor building a new-style home. That was the first barndominium I've ever seen, and I found it so fascinating that I wanted to learn more about them.
More Posts