L-shaped barndominium…what are they and does their shape make them special in some way?  One way that makes them special is their many layout options.
It is a style that is well-suited for suburban and rural areas.
There are many advantages of having an L-shaped barndominium and they do not cost any more to build than a traditional barndominium.
With an L-shaped barndominium, they include a central focus such as a family entertainment area, patio, or courtyard.
In this article, we will cover the advantages the L-shaped barndominium will give to you and your family.
We will also cover what it costs to build it plus ideas and floor plans to show you what they look like. The floor plans will show you their uniqueness and how they can benefit your lifestyle.
Key Takeaways
Not all are the same and can vary in square footage and size.
Can be built with one or two stories although most barndominiums are one-story.
The L-shape can be assigned to the garage or living area
Is the L-shaped Barndominium Good?
Yes, it is a good design for a barndominium.  If you are looking for a barndominium with a contemporary but modest design, then an L-shaped barndominium would be a good fit.
They have attention-grabbing dimensions and lines that set them apart from other barndominiums.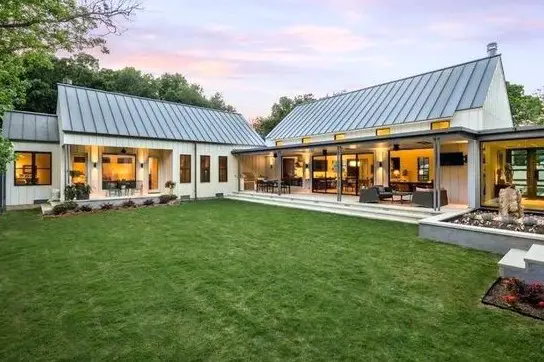 They are a type of barndominium that can be built in most residential areas whether it is in the country or city and look like they belong there.
The L-shaped barndominium can range in various styles and sizes.  The interior is customizable, which makes it easy to fit with every lifestyle.
Common Features
Interior
The interior of an L-shaped barndominium is usually spacious.  They also feature open-concept dining and living areas with an inviting front entrance.
There are some that will have breakfast nooks, vaulted ceilings, and split bedrooms.  Other features may include:
Modern fireplaces
Clean surfaces and lines
Combination of carpeted and wood flooring
Mudrooms
Lots of storage space
Exterior
As mentioned, with an L-shaped barndominium, the part that is L-shaped is generally assigned to the garage area with the living and dining areas off the garage.
Some of the common exterior features you might find can include:
Vinyl and wood siding
Multiple dormers
Brick covered facades
Gables and front hip roofs
Modest front porches
One or more garages
L-shaped Floor: Advantages
Some may wonder why anyone would choose an L-shaped barndominium floor plan but there are many advantages to having this type of floor plan.
Wide-open spaces
With an L-shaped barndominium, there are a lot of wide-open spaces that are bright and welcoming and extend to the dining and kitchen areas.
Unlimited possibilities
With an L-shaped barndominium, you have a lot of opportunities to develop and customize your barndominium to suit your family's lifestyle.
You can personalize it the way you want with some great landscaping outside.
You could add a rock garden, an infinity pool, an outdoor kitchen-entertainment center, and so much more.
Outdoor-indoor harmony
With the shape of this barndominium you can have the appearance of having the continuity of the outdoors and indoors.
Large glass doors that open to the outside entertaining area are one concept you can use.
Views that are breathtaking
It does not matter if your L-shaped barndominium is in the country on several acres or in a suburban subdivision, with this barndominium you can get some breathtaking views with the large windows you install.
The L-shape will let you take advantage of the great views out of these windows.
Guides And Styles of L-shaped Barndominiums
With an L-shaped barndominium, there are also several styles from which you can choose.
This type of plan will give you, your builder, and your designer flexibility in floor plans with these different styles.  With so many different styles, you are not boxed in with one style.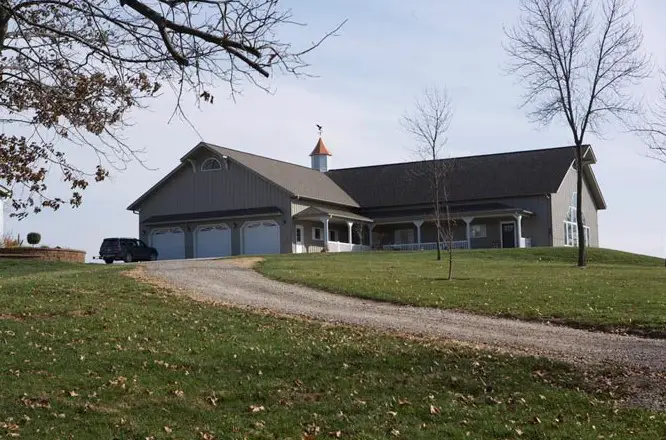 Ranch style
This is one of the most common designs that homeowners choose.  It is a classic architectural style.  It has modern amenities and clean lines.  This style offers you a spacious kitchen and open floor plan, which are great for social and family gatherings.
Some of these styles have sliding glass doors that lead to a large backyard or entertaining area with an outdoor kitchen.  They are the style that can fit on small lots or extensive acreage.  With their custom design, it is easy to expand for more living space and bedrooms if the need arises.
European style
This is the style that works for colorful European designs with stucco and brick exteriors, arched windows, and doorways, but also for the boxy Modern homes that have flat roofs and stark wooden exteriors.  They can add a touch of Old World charm to your L-shaped barndominium with their dormers and hip roofs.
Courtyard style
This is the style that you should choose if you want a courtyard to install water features, grow a lush garden, or have an outdoor kitchen.  The courtyard could stretch from the L-shape to the front or rear of your barndominium to give it a calming, relaxing feel for your family and friends.  For great outdoor views of your courtyard, add large glass-paned windows around your barndominium.
Rustic style
The L-shaped floor plan will also be able to give you the farmhouse look that many barndominiums are noted for.  It can have a wraparound porch to give you great entertaining space.  Inside, this style will generally incorporate exposed wood beams, stone-based columns, and heavy timber.  There are no restrictions or limitations for this type of style so you can be as creative as you want.
L-shaped Barndominium: How Much Does it Cost?
On average, the materials and basic assembly of an L-shaped barndominium are $30-$40 per square foot but there are just the bare-bone essentials, and if you do it yourself.  The final cost will depend on when you are building it if you do it yourself or hire a builder, and what features you have included.  One thing that will impact the cost is the market trends, which can affect what the materials cost.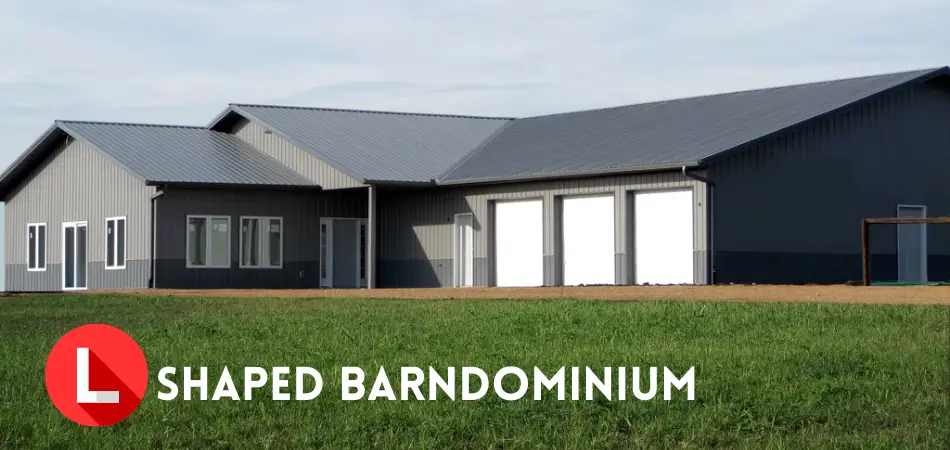 What this means is that if there are a lot of people who are building, rebuilding, or renovating their home or barndominium when you decide to build yours, the demand for building material will be on the rise and so will the price.
If you add extra features, you can expect to have more added to the cost.  For example:
Adding a workshop can cost $30-$60 per square foot
For roof-covered areas like a porch, on average, that is $30-$50 per square foot.
For heated and cooled spaces, that averages $125-$140 per square foot.
If you decide to hire a general contractor, some charge by the square footage, which can average $125 per square foot.
If you use a DIY barndominium kit, it may save you some money but you would still have to hire subcontractors for work like plumbing, HVAC, electricity, and more.
The typical range for a barndominium is $73,000-$228,000 or higher.
It depends on the square footage, number of bedrooms, types of furnishings and appliances, and any other extra features you want to add.
See Also: Stunning 4 Bedroom Barndominium Floor Plans with Image
L-shaped Barndominium Ideas
Below we will show you different L-shaped barndominium ideas so you can see the different styles and how they could fit into your lifestyle.
L-Shaped Barndominium idea 1
With this design, you have a long driveway that leads to the two-car garage to the right.  There is a small porch area leading to the front door.
There are windows in the front of the garage that could lead to a work area.  There are also windows that let in the natural light with metal awnings over the garage and front windows.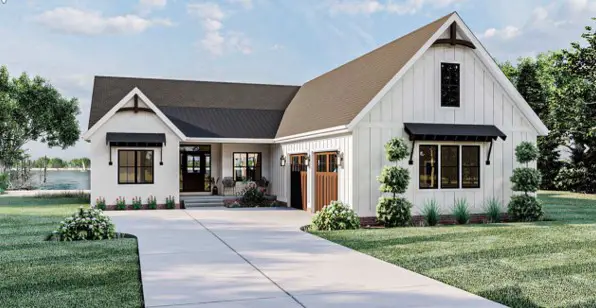 L-Shaped Barndominium idea 2
This L-shaped barndominium idea feathers a large circular driveway that branches off to a three-car garage.
The roof on the garage raises in the middle with three windows that gives the appearance that this could be a loft or living area, like an extra apartment.
In the main house, there are two dormers and large windows from floor to ceiling.  The L-part is the garage area.
L-Shaped Barndominium idea 3
With this design, it is hard to tell where the garage is if there is any.  Out front, they have a courtyard with an infinity pool and beautiful landscaping.
There also appear to be stone stepping stones to one side of the pool.
There is also a small area where you can put a patio table and chairs but there is no porch overhang to keep the area out of the sun.
The entire L-shaped barndominium has floor-to-ceiling windows.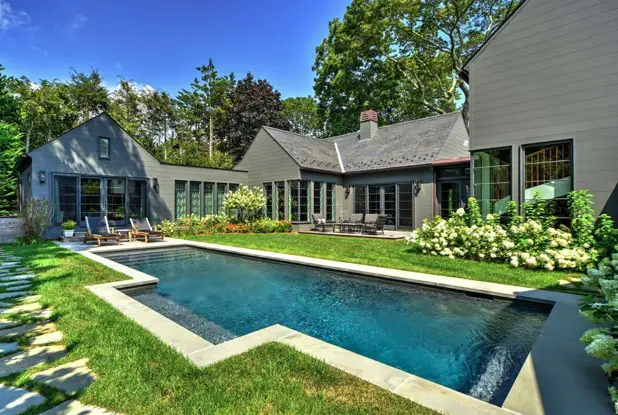 L-Shaped Barndominium idea 4
This is a very unique L-shaped barndominium with most of the living quarters being L-shaped.  It is two stories with floor-to-ceiling windows on the backside that overlook the pool area.
Off to the side are stairs that lead to the upper balcony and inside the barndominium.
When you come out the back, there is a small porch area and off to the ends of the pool are areas that could be used to have a Bar-b-que and family gathering place.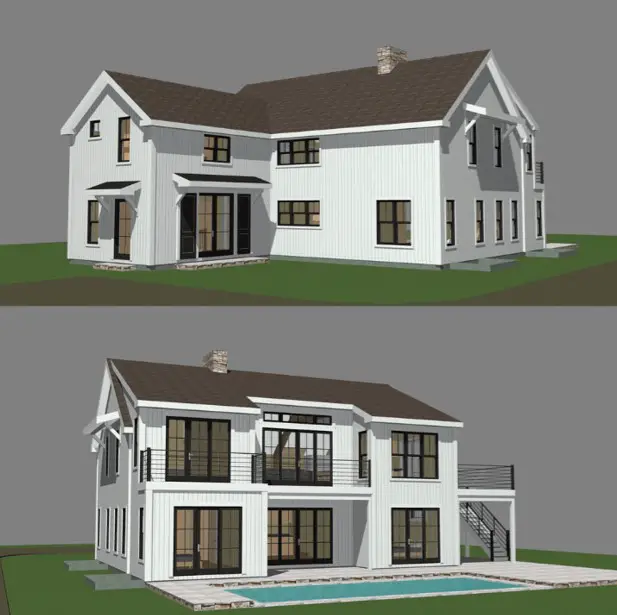 L-Shaped Barndominium idea 5
A very luxurious L-shaped barndominium that is beautifully landscaped.  There is a sunroom with large windows to let in a lot of sunshine that opens onto a patio.
There are also other doors that lead into the house and the garage.  It is also two-story with lots of windows.  Above the sunroom is a balcony for you to enjoy.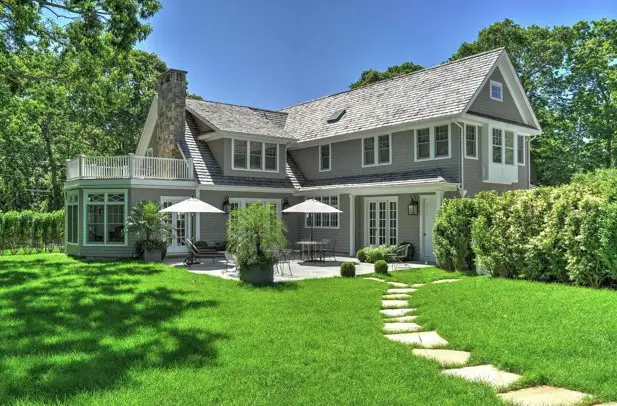 L-Shaped Barndominium Plans
Now that you have seen what the outside of an L-shaped barndominium can look like, it is time to look at the interior.
In these floor plans, you will see the different ways in which having an L-shaped barndominium can benefit your family with an open floor plan.
L-Shaped Barndominium –  Floor plan 233
The L-shape is the garage, mudroom, and kitchen, which opens up to the dining area and great room.  On this floor is the oddly designed master suite.
You go down a small hallway but the master closet and bathroom are off the hallway but not connected to the master suite.  Off the master suite, there is a porch.
There is also a breakfast nook and if you carry groceries from the garage, there is a long walk to the pantry, which is off a small hallway before you step into the kitchen.
There may be a second story but it is hard to distinguish with these floor plans.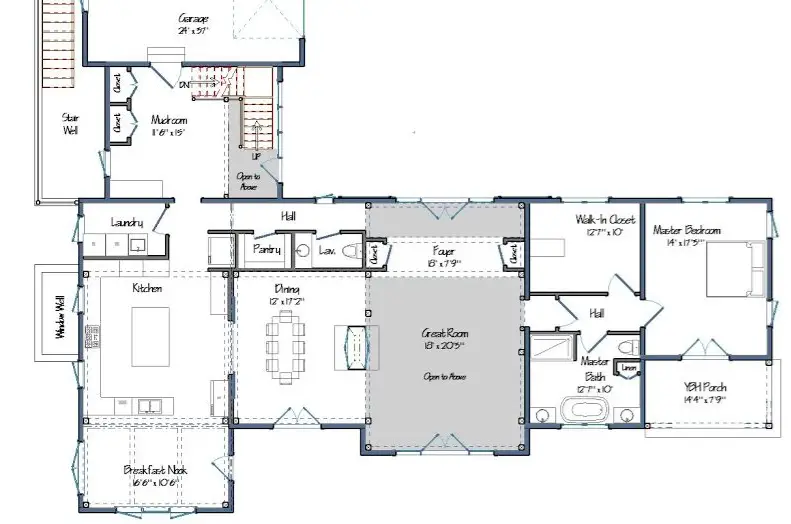 L-Shaped Barndominium – Floor plan 234
This L-shaped barndominium also appears to have a second floor, as most of them do but the floor plans for it are not shown.
On one end you have the laundry room and office with a guest bathroom.  You then go through an entryway into the living room, and then the dining and kitchen area.
This opens to a hallway that leads to the master bedroom.
Again, the master bath is not attached to the bedroom and as you enter into the master bath, there is a closet on each side of the entrance.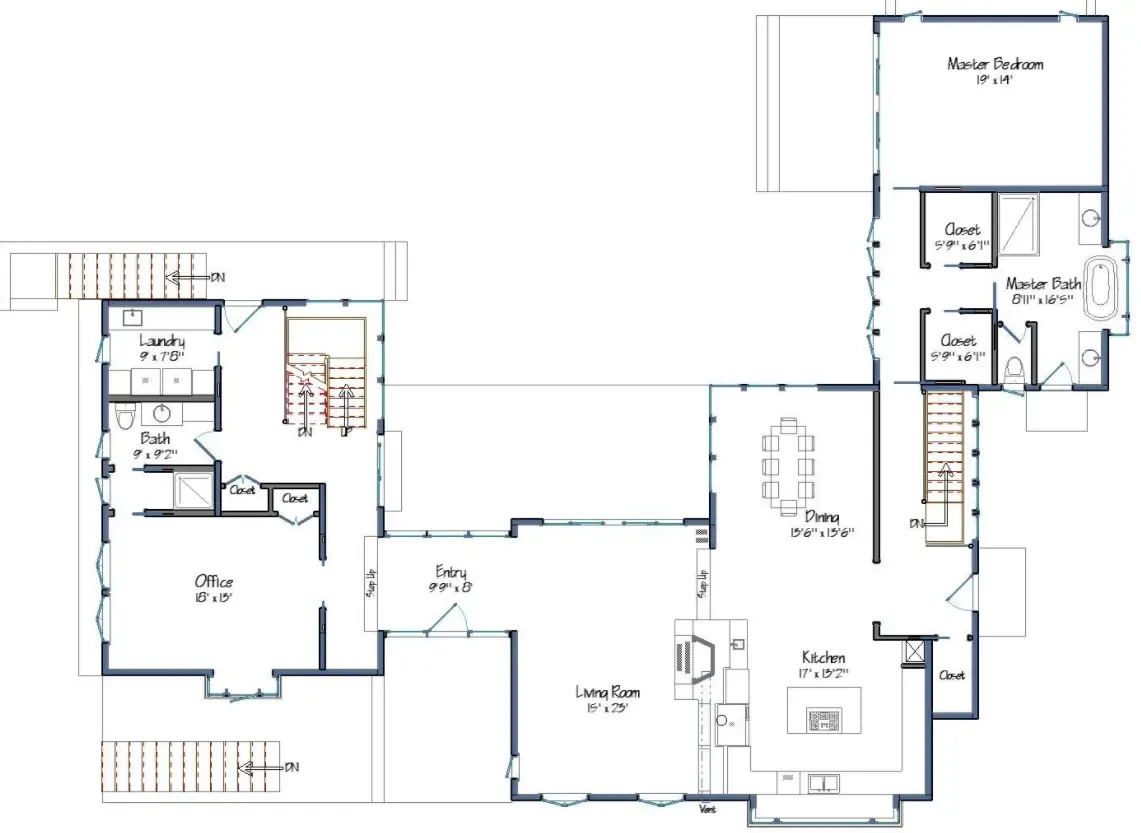 L-Shaped Barndominium – Floor plan 235
This is a two-story L-shaped barndominium because it has an elevator.  There is also an outdoor shower.  This barndominium has three bedrooms, each with its bathroom and closet.
There is also a laundry room and a large family room with a wet bar.  This may be the second floor because there is no dining or kitchen space shown.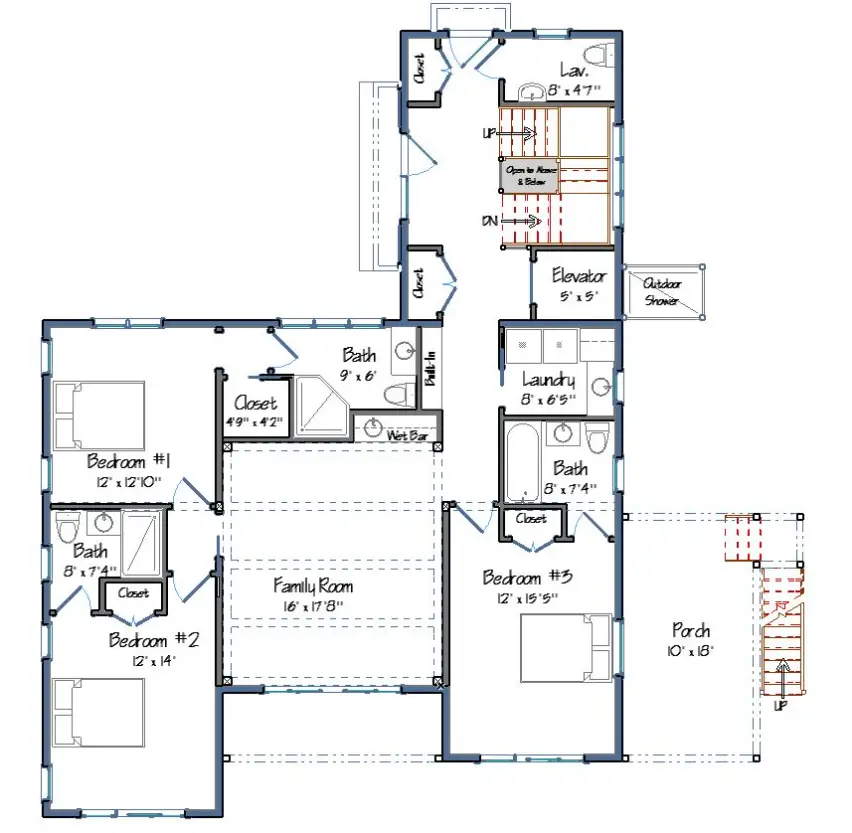 L-Shaped Barndominium – Floor plan 236
In this L-shaped barndominium you have the dining, living room, and sunroom in the middle.  Off to one side is a bedroom with an attached bathroom.
On the other side are the kitchen, breakfast area, laundry, and mudroom, which leads to a porch.  This also appears to have a second floor.
On the front of the entry is a large porch that you can also access from the sunroom.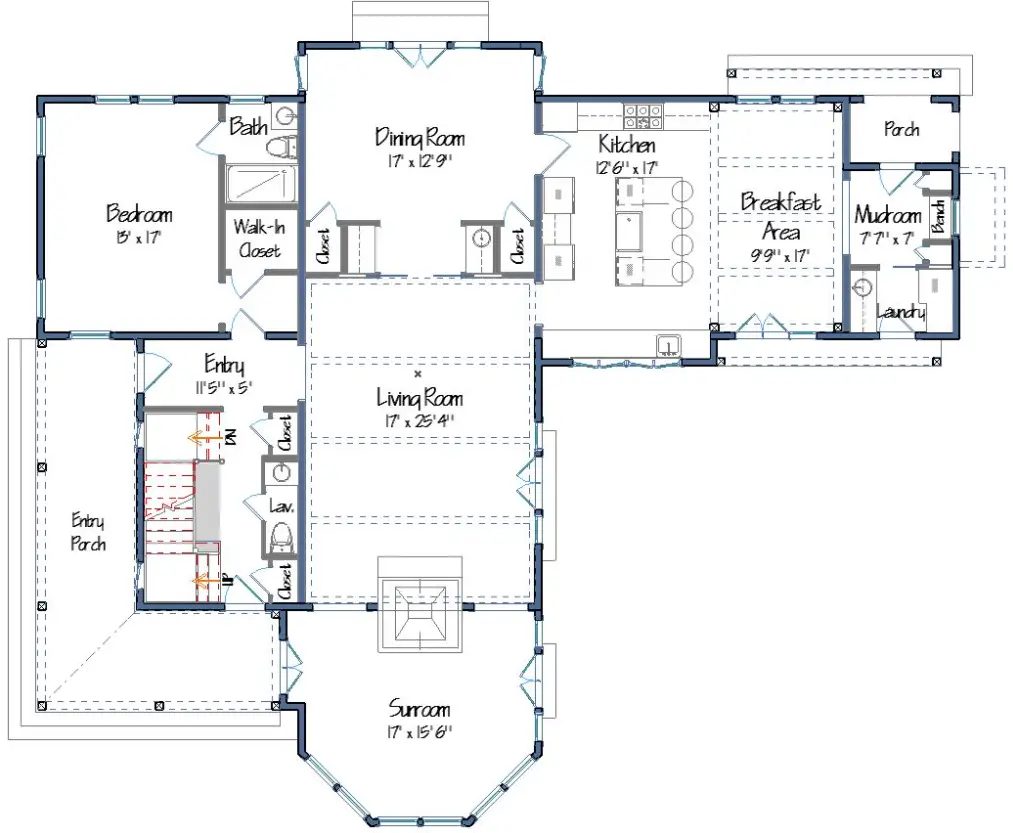 L-Shaped Barndominium – Floor plan 237
This L-shaped barndominium starts with a garage that leads to a nice porch and mudroom, which leads into the kitchen.  Off the kitchen is a greenhouse.
It leads to a dining area, great room, media room, and computer.  There also appears to be a half-bath for guests.
When you step into the entranceway, it goes into the dressing area for the master bedroom.  Off the dressing room is the master bathroom.  Again, there is most likely a second floor.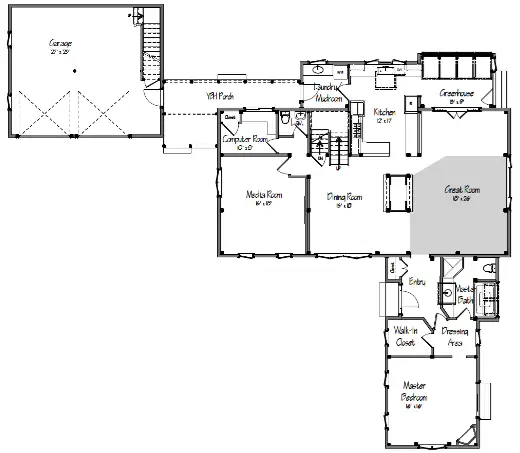 Conclusion
As you can see, an L-shape barndominium can have some quirky floor plans and almost always has a second floor where most of the bedrooms are located.
There are many advantages to having this type of floor plan, which we have covered in this article.  We have also covered the cost and the different styles of an L-shaped barndominium.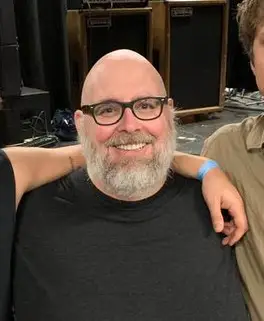 I'm James, your barndominiums advisor. Several years ago, I had no idea what barndominiums were. Although I'd spent over 10 years in the construction industry, the first time I heard about barndominiums was when I saw my neighbor building a new-style home. That was the first barndominium I've ever seen, and I found it so fascinating that I wanted to learn more about them.
More Posts