Having an outdoor kitchen in your barndominium is great for entertaining your friends and family.  It is also ideal if it is too hot to cook inside.  An outdoor kitchen also adds value to your barndominium if you decide to resell.  There are many different ways to make your outdoor kitchen an entertainment center.
There are many barndominium floor plans with outdoor kitchen to choose from.  You need to have a list of what you want it to have and then check to see if it is within your budget.  It is something you can include in your original build or add on later.
Having an outdoor kitchen is many people's dream, especially if you like to entertain and grill out.  This article will help to make this dream come true.  It will cover things to consider and how to build your barndominium outdoor kitchen.  There will also be some floor plans to help you visualize what it will look like when finished.
What Makes a Great Barndominium Outdoor Kitchen?
The minimum you will need to call it an outdoor kitchen is counter space and a grill.  To make it great, add a refrigerator and a sink plus some type of roof.  How much more you want to add is up to you but some also include a weatherproof cabinet to store the charcoal if you have a grill that uses that and the grilling tools.  It could also store paper plates, plastic cutlery, napkins, etc.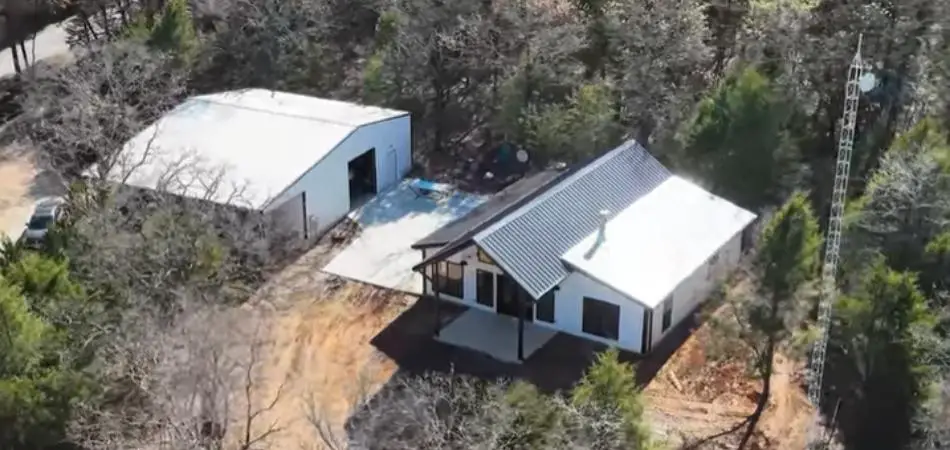 You will also want to add some tables and chairs plus some extra chairs if the guests do not want to sit around the table.  Whatever you add needs to be weatherproof and able to withstand the heat, wind, moisture, and rain.
What to Consider When Building a Barndominium Outdoor Kitchen?
One thing to consider is the cost, which averages $6,000 to $14,000, depending on how small or large you want it to be, and what is included.  Many times there is more than one cook in the family so you need to think about that when designing your barndominium outdoor kitchen.  You want to make sure that there is enough room to move around when there is more than one cooking.
You need to decide just what you want in the outdoor kitchen such as the type and size of the grill, how much counter space you want, do you want a small or dorm-size refrigerator, a sink, type of roof, and more.  You also need to consider the type of cabinets and furniture.
Take time to draw it out and make changes before you start to build.  It is hard to make changes once you start to build, not to mention extra expenses.
Building a Barndominium Outdoor Kitchen (DIY)
When building a barndominium outdoor kitchen, many choose an open concept so they can talk with everyone while they are cooking.  You can do all or some of the work yourself or hire a contractor.  If you need electricity or gas lines to your kitchen you will have to have a professional do this to be within code and pass inspection if you are doing the building.
There are many prefabricated modules you can order or you can have them custom-made.  Some even build their own.  Once you have everything done, all you need to do is put your grill and mini-fridge, if you have one, in place.
If you decide to do the work yourself, you will have to have all the plumbing and electrical lines run to your kitchen first before you can do much besides building any cabinets or storage areas.  If you have a propane grill and don't want to use propane tanks, you will have to have a professional install an underground gas line.
You will also need to check to see if you need any permits.  There are some areas that require permits for installing gas and plumbing lines.  You may also need a building permit to build the outdoor kitchen and some even require a permit if your work goes over a certain amount.  The kitchen should be built near your kitchen so it is easy to bring things from the house to the outdoor kitchen.
Most will build their outdoor kitchen on their patio or deck if it is large enough.  When designing your outdoor kitchen choose a figuration that fits your budget and space.  Most choose a U-shape or L-shape design.  The most affordable design is a simple line configuration.  It would extend out like a peninsula or sit against your house.
There would be a grill with cabinets and countertops on one or both sides.  There could even be space for a mini-fridge and sink if you had the money.  The drawback with adding one or both of them is that the space might be tight.
When choosing material for your barndominium outdoor kitchen, make sure that all of it is weather-resistant.  Two weather-resistant materials would be granite and brick veneer.  If this is a DYI project, use treated plywood for the bases or frames of your cabinets, and then you could cover it with stone or brick veneer.  One thing to remember is that wood is combustible so you will have to install an insulated grill tray if you have a built-in grill.
When you buy any appliances for your outdoor kitchen, like a mini fridge, make sure it is rated for exterior use.  If you do not want to build your cabinets from scratch, you can always purchase bases and cabinets that are prefabricated. They are also easier to install.  You just attach the cabinets to the base with construction adhesive and metal fasteners.  You can get the bases with openings for the electrical, water, and gas lines.
If you decide to build the cabinets instead of using prefabricated ones, you should use plywood boards.  The total height of the cabinet bases should be about 40 inches.  To find the right height for your corner posts, you will have to take the height of it and subtract it from the height of the base.  Make sure that where the grill will go that you leave room for an insulated jacket.
The insulated jacket will need to fit the grill.  It will contain the heat that the grill produces so nothing catches fire. Once you have your cabinets built and installed it is time to add the final touches.  The first thing to do is hang your cabinet doors.  If you are using wooden cabinet doors, seal them with a wood varnish made for exterior wood furniture.  You may need to revarnish them every couple of years.  The most durable option would be to use steel cabinet doors.  If you are including a sink in your design, install it and hook it up to the pipes.  Then it is time to put on the countertops.  The best option if it is within your budget is a natural stone cut to fit.
If you use this type of countertop, you will first need to put plywood on top and then fit the natural stone countertop over it.  The final thing to do is to slide your standing grill into place or if you are using a drop-in grill, put it into the insulated jacket.
Barndominium Floor Plans With Outdoor Kitchen
1.This barndominium outdoor kitchen floorplan is in an L-shape that gives you plenty of room to move and cook with more than one person in the kitchen area.  There is also plenty of room for a table and chairs plus extra chairs.  The one drawback is that the refrigerator is not closer to the grill.  This one also has a side burner to cook things like pots of green beans, corn, etc.  There is even an icemaker so you do not have to continually go inside for ice.
2.This is a four-bedroom barndominium with a three-car garage. There is a nice back porch off which you will find the outdoor kitchen.  It is set in an L-shape and has room for a table and chairs on the porch.  There is also an island for sitting and eating on one end of the outdoor kitchen.  It is large enough to add a refrigerator and has plenty of counter space.  It may be a little tight if you have more than two people trying to cook.
3.This barndominium floor plan with an outdoor kitchen features three bedrooms, a study, and a covered patio with a nice outdoor kitchen layout.  They have even included a pizza oven in their design.  There is plenty of room to put a table and chairs.  It might be a bit tight to get more than one in the kitchen to grill.  It is also close to the kitchen if you need to go get anything.
Conclusion
In this article, we have included barndominium floor plans with outdoor kitchen plus one of just an outdoor kitchen floor plan to give you some insight as to how it might look when finished.  This article has also told you what you need to do if it is a DIY project and what things to consider.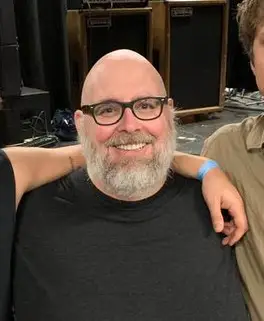 I'm James, your barndominiums advisor. Several years ago, I had no idea what barndominiums were. Although I'd spent over 10 years in the construction industry, the first time I heard about barndominiums was when I saw my neighbor building a new-style home. That was the first barndominium I've ever seen, and I found it so fascinating that I wanted to learn more about them.
More Posts