You have a piece of land in the country where you are going to build your home but are unsure which type of home.
One home that would look ideal there is a farmhouse barndominium.  This barndominium would give you a cozy, rustic charm that would fit into this type of landscape.
A farmhouse barndominium is made for families with an open concept.
This would give you large living space, dining area, and kitchen that would allow you to converse with your family and friends while cooking a meal.
The rustic charm gives it a look of minimalistic simplicity.
If this is a type of barndominium that piques your interest, read on to see some farmhouse barndominium ideas to give you a feel of what they are and the charm they offer.
If you are unsure about building one from the ground up, we will cover a kit you can use to build your barndominium and what it will cost to build your dream home.
Key Takeaways:
A farmhouse barndominium is a blank canvas that is just waiting for your decorative touch.
Most of these types of barndominiums have large wrap-around front porches.
What Is A Farmhouse Barndominium?
Many of these farmhouse barndominiums may have several porches with some of them screened in.
Generally, in a traditional farmhouse, the kitchen is the main focal point so in this type of barndominium, they have the same large, spacious kitchen.
They have an open concept with simple, square, or rectangular floor plans with a straightforward design.
They also have a lot of open space and modestly sized bathrooms and bedrooms.
Below is a floor plan of a farmhouse barndominium, which you can see has a large porch and ample kitchen with a large living space.
Farmhouse Barndominium Kits
A farmhouse barndominium kit is either wood or metal structures.  Some come with doors and windows on the outside, giving you a clean slate inside to design as you want.
Although it is faster to build your barndominium using a kit, it can still be time-consuming, especially if you are doing most of the work yourself.
You will need to have good organizational and technical skills.  This is why most will hire a contractor to build their farmhouse barndominium.
Depending on the company you purchase your farmhouse barndominium kit form, the following items can be included.
Concrete slab
Stained concrete floors
Exterior doors
Spray foam insulation
Exterior walls
Energy-efficient windows
Roof
Some of the things that do not come with the kit can include:
Foundation design
Anchor bolts
Exterior finishes
Landscaping
Site prep or site work
Interior walls and finishes
Floor plan layout
Electrical, mechanical, or plumbing
On-site inspections
These will all be the responsibility of the buyer of the kit if not included.  Some companies have a crew that will come out to do the build or you can hire a contractor.
Depending on how far they have to go to deliver your kit, there may or may not be a delivery fee.
Before you purchase your farmhouse barndominium kit, ask the company what is included to ensure you are getting what you need for a reasonable price.
Some will offer a bundle deal that includes it being delivered and built on-site for a set price.
Typically, a kit will cost less than $10,000 or $20 per square foot but it all depends on the size and what is included.
For a 2,500 square foot shell, it would average $50,000-$100,000 for just the shell.
Most farmhouse barndominium kits come in sizes 30×60, 40×60, 40×75, and 60×60 but some companies may offer other sizes.
Farmhouse Barndominiums:  How Much Would it Cost?
The cost to build a farmhouse barndominium would depend on the size, what prep work you have to do to get the land ready, what type of furnishings and appliances, whether you are doing most of the work yourself or hiring a contractor, and more.
On average, it can cost $30-$165 per square foot but if you want to have a turnkey barndominium, it can cost over $150 per square foot at the low end.
A turnkey farmhouse barndominium is fitted with flooring and flooring.  The average cost for a turnkey farmhouse barndominium is $220,000.
Farmhouse Barndominium Ideas
Below are some farmhouse barndominium ideas for you to see to give you an idea of what they look like on the outside and whether they are right for you.
Before deciding which one, look at all the features, go online or visit your local barndominium company to check out the floor plans.
And decide if you want to use a kit or build from the ground up against the budget you have set.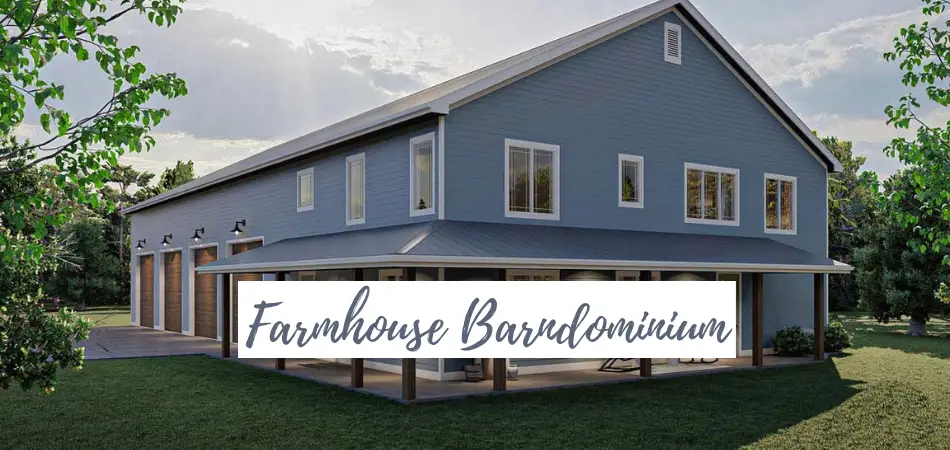 Farmhouse Barndominium idea 1
This is a standard farmhouse barndominium that has a white exterior with a brown roof.
Very simplistic but the one thing that most farmhouse barndominiums have that this one does not is a covered porch or any porch at all.
It does sit on a nice piece of land that is surrounded by green grass and beautiful trees.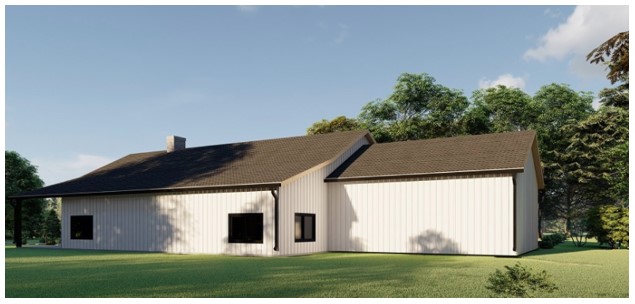 Farmhouse Barndominium idea 2
This is your idea farmhouse barndominium with a huge, covered porch and patio area.  There is also a well-manicured lawn and lush trees.
The roof over the concrete porch and sitting area give you plenty of shade to entertain family and friends.
White siding is something that most people would expect to find on a barn but with a barn, it would most likely be wood.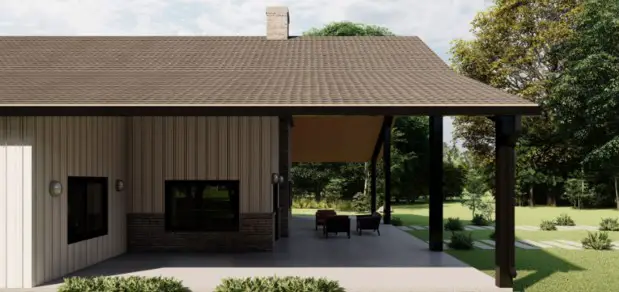 Farmhouse Barndominium idea 3
This beautiful farmhouse barndominium has a nice front porch although it is not wrap around.  As with most of these types of barndominiums, it is white.
There is also a two-car attached garage with two stories.  There are many windows to let in the light to give it a bright, airy feeling inside.
There is also a nice concrete driveway leading up to the garage.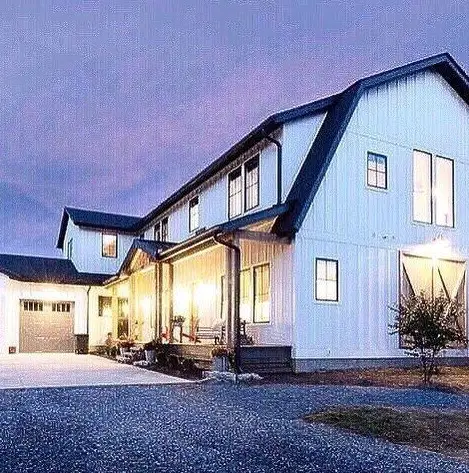 Farmhouse Barndominium idea 4
At one end of this farmhouse, barndominium is a driveway that leads to the garage while at the other end is a nice concrete porch/patio that has a nice roof over it to keep it shaded during the hot summer months.
There is plenty of room in this space for a bar-b-que grill and table for wonderful cookouts with friends and family.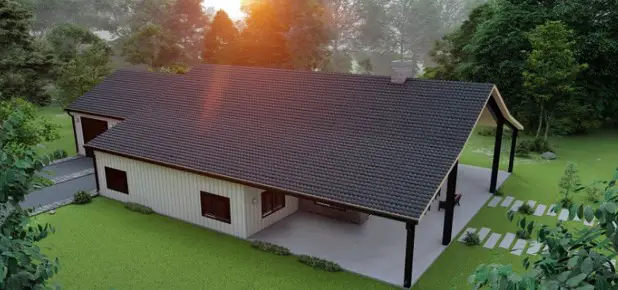 Farmhouse Barndominium idea 5
This is the front of the farmhouse barndominium above, giving you a better view of the large front porch/patio entertaining space.
Well-manicured yard with two concrete pathways leading away from the front of the barndominium.
One of the features that many farmhouse barndominiums have that this one does not is there are not that many windows.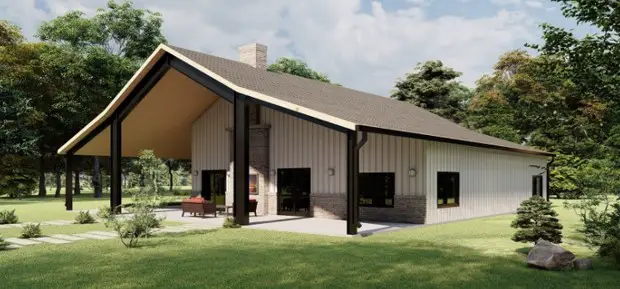 Farmhouse Barndominium idea 6
This barndominium has a great space for entertaining and appears to have an outdoor fireplace that you can use for those chilly nights.
Two double glass doors lead into the barndominium with a single-window on each side of the doors.
The farmhouse barndominium is white with dark brown accents on the columns holding up the roof and the doors and windows are also accented with a dark brown frame.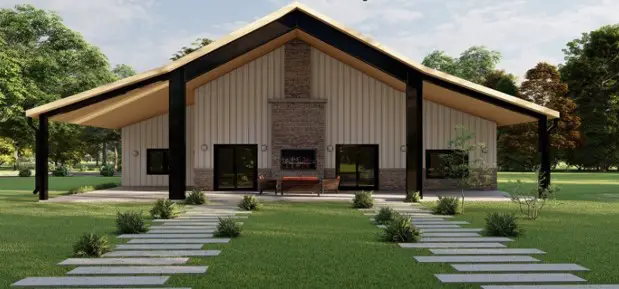 Farmhouse Barndominium idea 7
This beautiful farmhouse barndominium has a wrap-around porch that is beautifully landscaped in front with small bushes.
There is also a nice two-car garage.  The barndominium has lots of windows on the ground floor and the second floor.
It has a very warm, inviting feel to it when you first look at it.  A place where you want to gather with friends and family.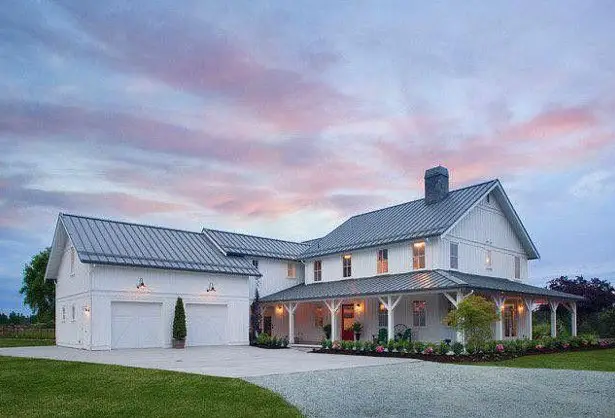 Farmhouse Barndominium idea 8
This farmhouse barndominium gives off the vibes that it is more of a workspace than a residential or combination of the two.
The reason is that there are no windows in the building, which makes this a very unappealing barndominium, even if it is just a workspace.
In addition to the door to the garage, there are also two other doors leading into the building.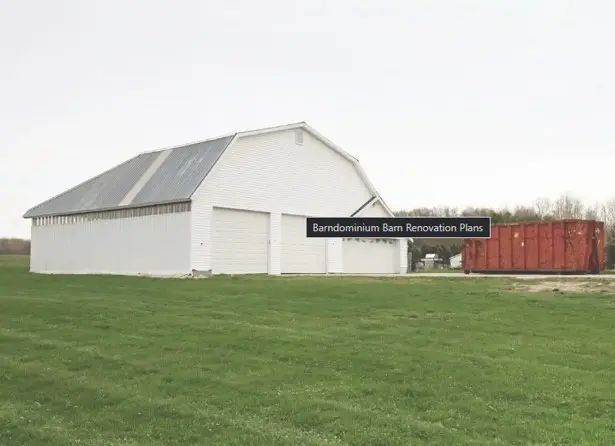 Conclusion
In this article, we have covered what a farmhouse barndominium is plus what it could cost to build your own.
We also offered you an alternative to building from scratch, which was to purchase a kit.  Although it may be a little harder work using a kit, it can save you money.
There are also several images and ideas of what this type of barndominium looks like.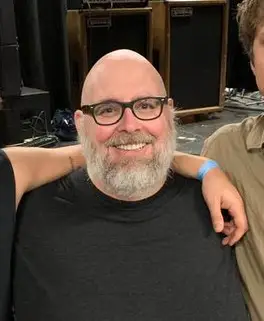 I'm James, your barndominiums advisor. Several years ago, I had no idea what barndominiums were. Although I'd spent over 10 years in the construction industry, the first time I heard about barndominiums was when I saw my neighbor building a new-style home. That was the first barndominium I've ever seen, and I found it so fascinating that I wanted to learn more about them.
More Posts