You have been living in an apartment and have finally decided it is time to move, but the question is, where?
The latest internet buzz is about different housing options, and one is a barndominium.
When some hear the word Oklahoma barndominium, the first picture that comes to mind is living in a barn.
That is not the case, although when the term barndominium started, it was by a real estate developer who was building a community centered around horses.
So, the horses would be in the barn below, and the family would love them.
In this article, we will learn what an Oklahoma barndominium is, the pros and cons, and look at the outside, kitchen, and living space of a barndominium.
We will also advise where to find land to build your barndominium and how much it will cost.
Oklahoma Barndominium – Complete Guide
You have decided to build a barndominium as your first home, but what are they? What are the pros and cons of living in a barndominium?
Should you consider a traditional home or a barndominium? Read on to learn about an Oklahoma barndominium.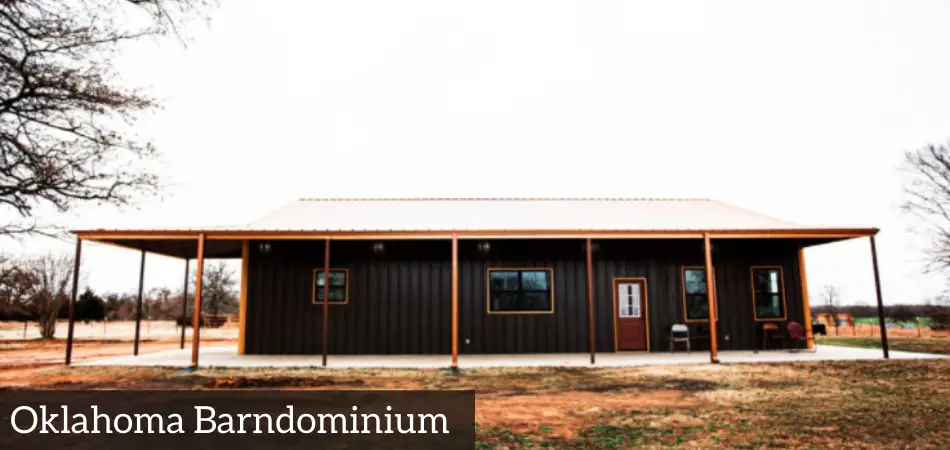 What Is an Oklahoma Barndominium?
You can build it from scratch, hire a contractor, or buy a kit. With a barndominium, you can choose your floor plan and how big you want it to be.
The word barndominium is a play on the words condominium and barn.
An Oklahoma barndominium is faster and easier to build than your traditional home.
A barndominium has more advantages than disadvantages, which are detailed below.
Oklahoma Barndominium Pros
Durable:
This is one of the main reasons many consider building an Oklahoma barndominium. They are built from wood, steel, and other sturdy materials. They are made to withstand severe weather conditions that traditional homes might be able to handle. Being durable means that your maintenance costs will remain low.
Dual-purpose:
When you build a barndominium, you can also include space for an office, workshop, or home business in the floor plans. This way, you can use them for a business and a home.
It makes it easier to work from home if your business is right there.
Easy to construct in a short time:
An Oklahoma barndominium will take less time to construct compared to the time it takes to construct a traditional home.
On average, it will take two to three weeks to finish a barndominium, but it could take weeks, even months, to finish a traditional home.
To help reduce the time for construction, there are pre-cut components and pre-designed plans. These will also help you to save on construction and design costs.
Eco-friendly:
Most of your Oklahoma barndominiums are made with eco-friendly materials to help reduce the carbon footprint. One example is insulation technology.
It will negate the need for energy-guzzling air-conditioners and save you on cooling and heating costs. They also have energy-efficient windows.
Generally, the utilities are lower, especially in heating and power, compared to a traditional house. Some owners have said that they have saved 25%-60% in savings.
Large space:
One of the characteristics of an Oklahoma barndominium is the open space that gives you creativity.
With a traditional house, you have to pay attention to load-bearing walls, but not in a barndominium.
This will give you many options as to how you want to customize the interior of your barndominium.
Safe:
This, for many, is one of their biggest concerns when choosing a home.
Although many barndominiums are sometimes built in the countryside away from other residential homes, they are safe even in a tornado.
Most are built using structures made of steel, which can withstand tornadoes.
Maintenance requirements are low:
Inside, the barndominium is no different than traditional homes. The only difference is the extra space that the barndominium has, but there is quite a bit of distinction on the outside.
Traditional homes use a wide array of materials, intricate roofing, and components; your Oklahoma barndominium generally has the standard steel exterior.
This means that your barndominium will require little repair so that it will last longer. Even if they are made of wood, they still are as durable and have low maintenance.
As a traditional home, your Oklahoma barndominium will not require painting every few years.   Over the years, your renovation and repairs will be far between and less with a barndominium.
Good for the long and short term:
Some use their barndominiums as second homes, interim, or weekend homes. Approximately 60% of barndominiums built are used as second or weekend homes.
No matter which way you use your barndominium. It can accommodate all your needs.
Energy-efficient:
Most barndominiums are built with spray foam insulation, energy-efficient windows, and other features that make the barndominium energy efficient.
Oklahoma Barndominium Cons
Exteriors might not be what everyone likes:
The unconventional exterior is one of the things that is most noticeable about your Oklahoma barndominium.
Some look as if it is a barn, so some people do not like that idea and prefer a traditional home's look.
On the other hand, some look great on the outside and give you the impression it is a traditional homes. Generally, most of them, when compared to the outside, look beautiful on the inside.
When choosing a barndominium, there are some contractors that you can hire that will transform the exterior and interior to look like any traditional home.
When it is time to sell, there may be a limited number of buyers:
With the barndominium still being fairly new to the market, some are unfamiliar with the barndominium concept.
Fewer people are looking to buy a home in the real estate market.
Another factor in selling your barndominium is that most are customized to suit the needs of the previous owner.
Everyone has different preferences and tastes, so your barndominium might not be theirs.
One example is the color scheme of the owner of the barndominium might not be the same as the potential buyer.
Mortgage financing might be hard to find:
Most lenders do not consider a barndominium a traditional house, so it could be hard to find financing. This is the one obstacle that most owners of barndominiums find daunting.
The appraisers often lack comparable sales in the market, which can inhibit the process of appraising it.
Appraisers have found that as more and more barndominiums are being built, they hold their value. Most will sell at competitive prices.
Barndominiums are not immune to corrosion:
Building with metal can mean that your barndominium home may suffer from corrosion over time. This is especially true in areas that have a tropical climate.
If you notice any corrosion, you will have to manage it, which can be done using specific exterior treatment and painting.
Fabrication error:
Steel is usually a versatile material, but it can be challenging to make field corrections if one or more components fail.
Most manufacturers of metal components have strict quality assurance procedures that make sure that the parts fit together; there can be some that do not fit.
If they don't, and it is found out when you are trying to put your barndominium together, the contractor will have to make adjustments at the building site.
This has to be done so there will be no weakness in the structure, which can be almost impossible.
Usually one story:
If you want a second story, it may not be ideal to choose a barndominium, but some will have an extended loft. You could use it for the second floor.
Advantages And Disadvantages Of A Kit
With a barndominium kit, you can save construction time because all the components are pre-made. You don't have to worry about design costs, which can save you money.
The designs produce less waste compared to one built from scratch.
The potential disadvantage is that it will come with less customization than a home that has been custom designed.
Oklahoma Barndominium Outdoors
Here are some different pictures of the outdoors of an Oklahoma barndominium. As you can see, there are many options for different landscape variations.
With this barndominium, a concrete pad is wider in the front and goes down each side, offering plenty of outdoor living space for patio furniture and a grill.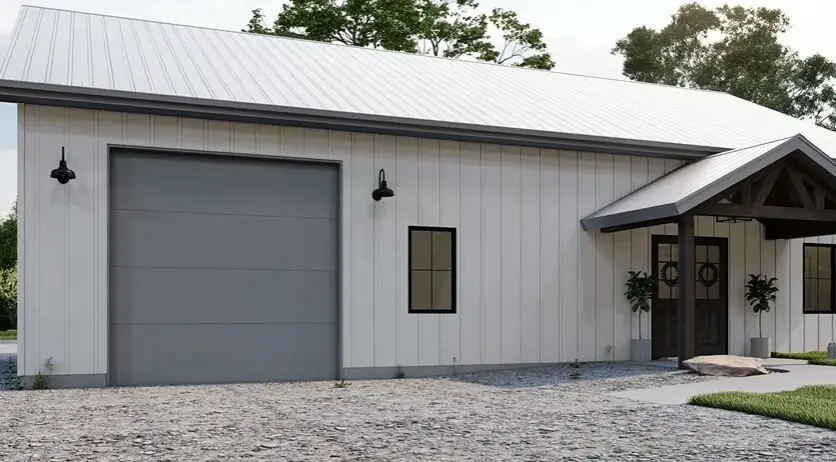 Plenty of windows will let in all the natural light you want. On the side, it leads to a large door that could be a garage, home business, or workshop.
All ready for you to put your personal touches on.
Oklahoma Barndominium Kitchens
With this Oklahoma barndominium, there is plenty of cabinetry for all your needs, along with lots of counter space.
There is an island where you can put barstools so you can eat breakfast there, or the children can do their homework while you cook.
On one side, you have your sink and dishwasher; on the other, you have a stainless-steel double-door refrigerator.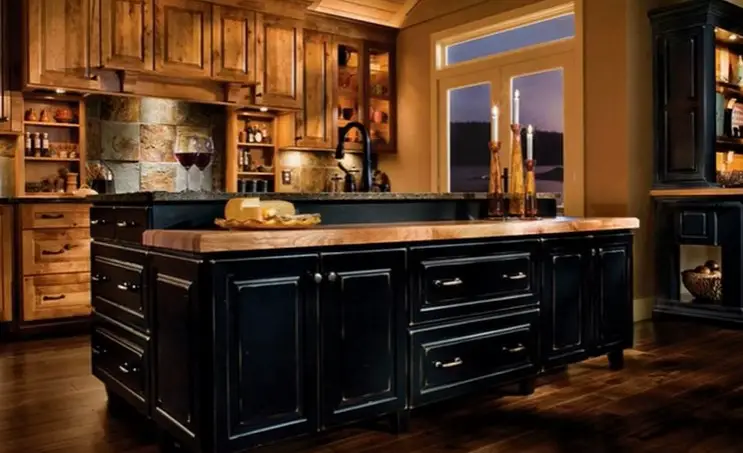 On the back wall, there is a nice electric stove and microwave. The counters are granite, and two beautiful lights hang over the island.
The kitchen faces into the living room, so you can converse with friends and family while you cook or the children play there.
Oklahoma Barndominium Living Rooms
Very open floorplan with dark wood floors that carry into the kitchen area. There is lighting along the ceiling in the form of can lighting, but it still has a lot of natural light.
There is plenty of room to place the furniture as you want and still have room for a small dining table and chairs.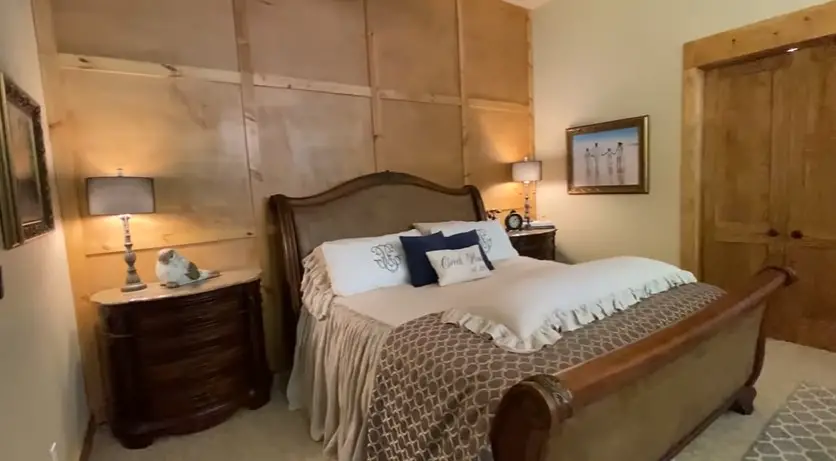 It would look great with a sectional couch with the television mounted on the wall, so there is a lot of room for the entire family to sit and watch television.
This is the type of open floor plan for which an Oklahoma barndominium is noted.
Where To Find Land For A Barndominium In Oklahoma?
When building an Oklahoma barndominium, you must find a plot that complies with all the regulations and zoning laws.
Sometimes finding just the right plot of land can be one of the most difficult parts of the process.
There are many places where you can find land to build your barndominium in Oklahoma.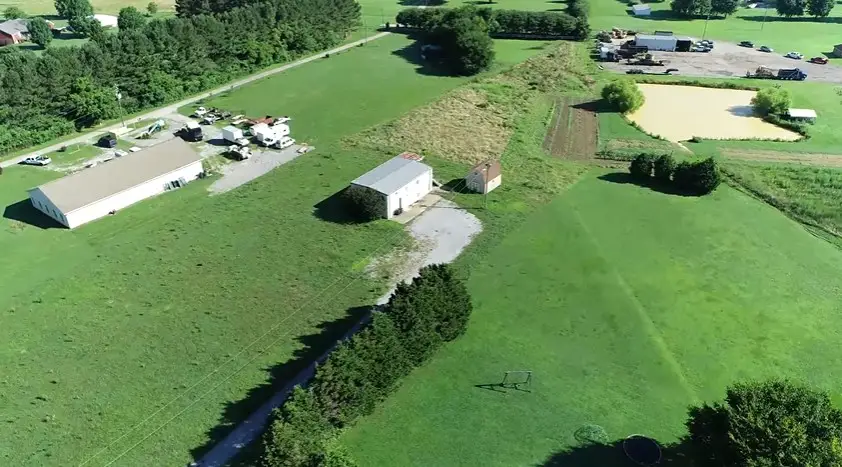 You can check with your local real estate office to see if they have any listings for land or check your local classified ads.
Sometimes some friends or neighbors might know where there is land for sale. You can also do it the old fashion way and drive around looking for land for sale.
Things To Consider Before Purchasing Land
Check out the gradient of the land because it is less challenging to build your barndominium on a flat piece of land. You also want to make sure it is not in a flood-prone area.
You will need to figure out what the taxes will be after you own your barndominium. If you are purchasing your land but waiting a couple of years to build your barndominium, you may have to pay taxes on the land.
Check what they will be after it is built because some tax rates are based on the size and value of your barndominium.
Make sure there is either running water or a way to build a well. You also want to ensure you can hook into the county/city sewer or septic system. You will have to install your own if you cannot do this.
You will need to check to see if there is a local electricity grid you can tap into or go "off the grid" using solar panels.
There should also be enough internet options and cell coverage or use satellite internet.
How Much Does It Cost To Build A Barndominium In Oklahoma?
What it will cost to build a barndominium in Oklahoma will depend on several factors. These include the design, size, location, and custom features.
It also depends on whether you use a kit or build from scratch. Some can be as high as $250,000, or the contractor could charge you by square feet.
For example, for a barndominium that measures 2,000 square feet, if the contractor charged you $145 per square foot, it would cost you approximately $290,000.
If you only had 1,500 square feet home and the contractor charged $115 per square foot, this size barndominium would cost approximately $172,000.
If you had one with a metal shell, premium windows, unlimited exterior, and an engineer foundation, it could cost $70-$90 per square foot. The metal shell would be about $38,000.
If you decide to purchase a fabricated barndominium kit, you could save almost 50%.
They will often deliver the shell, but you have to ensure that you have a concrete slab ready for the shell. The concrete slab has to measure the same as the kit or shell.
Conclusion
There has been a lot covered in this article about an Oklahoma barndominium to help you understand what they are, what they can cost, and how they can look inside and outside.
Now you are ready to find that special piece of land and start to work on your barndominium in Oklahoma.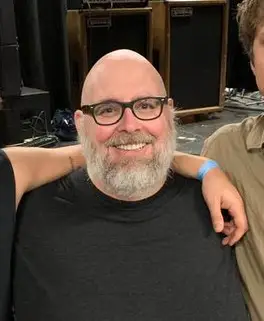 I'm James, your barndominiums advisor. Several years ago, I had no idea what barndominiums were. Although I'd spent over 10 years in the construction industry, the first time I heard about barndominiums was when I saw my neighbor building a new-style home. That was the first barndominium I've ever seen, and I found it so fascinating that I wanted to learn more about them.
More Posts