Most everyone wants to impress family and friends with the way their barndominium looks on the inside.
If you are not an interior decorator, this might be a daunting challenge for you.  Take time to think about your style and what you like.
A barndominium interior comes from what your style and preferences are.  They can be one design or a combination of several.
You can make your barndominium interior using eco-friendly items, repurposed wood, barndoors, and so much more. 
There are many places on the internet to get inspiration for the interior of your barndominium.  In this article are many pictures of different types of interior décor.
We will also tell you what to look for when doing your barndominium interior.
By the end of this article, you will know how to make your barndominium interior spectacular looking and something you are proud to show off.
Key Takeaways:
The interior is what is inside the steel frame
There are five things to consider when thinking about the interior of your barndominium
Make sure that you know how you want the interior to look before you start your build as it would be hard to change at that time.
What a Barndominium Interior Consists Of?
The interior of your barndominium is what is behind the steel frame.  It includes the kitchen, living and dining space, bedrooms, and bathrooms.
From cozy nooks to large living areas to the high vaulted ceilings.  Basically anything inside your barndominium.
Barndominium Interiors: Determining Factors
When you are building a barndominium, whether, from scratch or a kit, it can be a big help if you know what to look for in barndominium interiors.
Knowing this will inspire you and start you to think about what your want the interior of your barndominium to look like.
It will help to smooth out the process and make the building of the interior of your barndominium easier if you know what you want the interior to look like.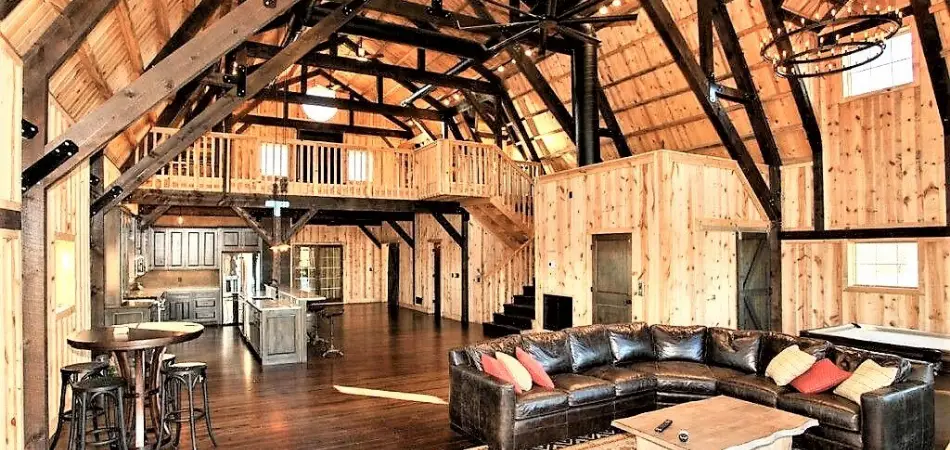 Overall Styling
This is the first thing that you want to consider when thinking about the interior of your barndominium.
As you look at how all the different colors and textures work together you need to think about what you want to include and the aesthetic when you start to build.
You will also know how barndominium interiors work together.  You will also be able to see how each small detail will support the look of the home.
Find your style and use that as a basis to design the interior of your barndominium.
When looking at the different styles, look at how the textures and lines work together, and if the floors are tile or wood.
Look at how the different coordinating or contrasting colors complement each other.
Bedrooms And Bathrooms
How many bathrooms and bedrooms are crucial to how comfortable everyone will be that lives there.  This is especially important with bathrooms.
During the morning routine, there can be a traffic jam If there are not enough bathrooms.  You should prioritize your bathrooms over the bedrooms and living rooms.
There should be at least one-half bath for your guests to use and be easily assessable without having to go through a bedroom to get to it.
You want to make sure that your barndominium does not have too many bedrooms because more rooms mean more walls.
This can quickly take over some of the open concept living space and can make the rooms smaller than they need to be if there are too many of them.
Traffic Flow
This is another important thing to consider.  You want to make sure that the interior is not cramped and that makes the home functional.
You want the traffic to flow in your barndominium, from everyone's room in the house to other areas in the barndominium.
When you consider how the ones living in your barndominium are going to be moving inside, it will help to ensure that no one will be running into each other as they move around.
One of the main considerations with the flow of traffic is how the rooms relate to each other.
You want to make sure that the interior is laid out to maximize the amount of traffic moving around in the barndominium at one time.
Dynamic Layout
This is also another important consideration.  If you have a well-designed layout, it will help with the flow of traffic but can set the tone for the entire look of the interior.
As you are planning the layout for the interior of your barndominium, consider how the different spaces will relate to each other.
For example, most will prefer to have the master bedroom on the opposite side of the barndominium away from the children's bedroom.
When designing the interior of your barndominium, you need to decide if you want a closed or open concept floor plan.
A closed concept is when the kitchen is closed off from the living room.  Open concept is where there is no separation between the living area and kitchen.
Material
Using the right materials for your interior is just as important as the layout.  Depending on the materials you use, you can soften or harden the feel of the interior.
To warm up a space, you can use a carpet or wooden floor.  This is especially good if you have an open concept and want it to be cozy in winter.
If you want a more contemporary, modern, use brick and stone to give your barndominium a cleaner-looking interior.
When choosing the materials for your barndominium interior, you have to consider the cost and your budget.
A wood floor can be expensive but if you can get repurposed wood flooring, you may be able to save yourself some money.
One of the more affordable alternatives that are less expensive is laminate flooring.
You also have to look at cabinetry, countertops, appliances, and more when figuring out your barndominium interior budget.
How To Choose The Right Style For Your Barndominium?
There are so many styles for your barndominium interior such as rustic, contemporary, modern, farmhouse, and more.
The question is, how to choose the right style for your barndominium.  Here are some suggestions to help make it easier.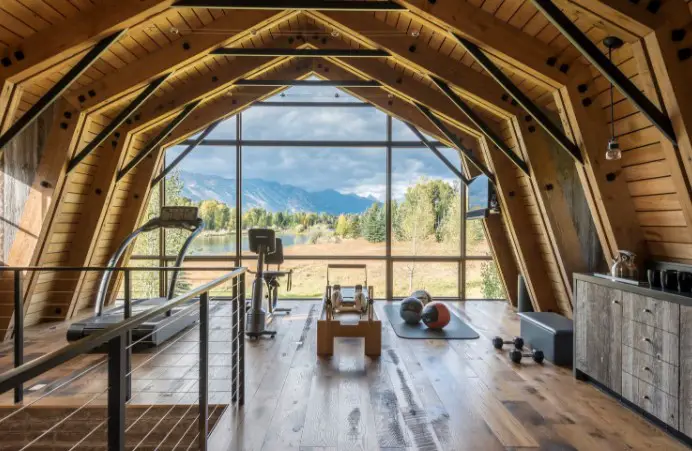 Where You Are Going To Put Your Windows?
You need to figure out where you want to put your windows and what connection they will have with the outside.
If you are building in a scenic area, you will want to be able to see the beauty of the area from your windows.
Most of the time with this scenario, you will want floor to ceiling windows to give you an unobstructed view.
This type of interior would look good with a rustic design using natural materials.
You could also go with a minimalist aesthetic look to keep the focus on the views outside and the structure of your barndominium.
Structure, Materials, And Shape
Another thing to consider is the above things when trying to find the right style for your barndominium interior.
For example, if you have gone for a modern look for your barndominium exterior, and decide you want a rustic interior, then that might clash or vice versa.
Make sure that what you decide compliments each other.
Furnishings And Décor
When building a barndominium, some build the interior around the décor and furnishings they already have.
Starting over with new furnishings and décor can be expensive but if you have the money, then go for it.
If you don't want to part with some or all the furnishings and décor or do not have the money to start over, just build your interior around what you have.
Consider a mid-century modern aesthetic if you have this type of furniture but you can consider a rustic look if you have a lot of homemade décors.
Unified Or Uplifting Style
To get a unified barndominium interior, mix and match elements you like.  You can pick a single style and then make sure that all the elements in your barndominium fit that style.
This can give the interior a unified feel and look.  There are also some that enjoy mixing diverse elements to see what they come up with.
You can also choose a barndominium interior style that uplifts you.  It will be a style that makes you want to come home every day.
It is a style that makes you feel welcome and relaxed and at home.
Barndominium Interior Ideas
Below are many different interior ideas to help you design your barndominium interior.  You can use old barn doors in a variety of ways, repurposed wood for floors and ceiling beams.
The sky is the limit.  Take your time to make sure that you get the interior of your barndominium the way you want it before you start to build.
Minimal Aesthetics
What this means is that you want a foyer or entranceway to be functional but not crowded.
When you step inside, there are the stairs leading upstairs and what appears to be a counter to the side and behind the door, there is a bench that simple decorations on it with a simple plant beside it.
Above it is a shelf with a framed embroidered pattern of Home Sweet Home.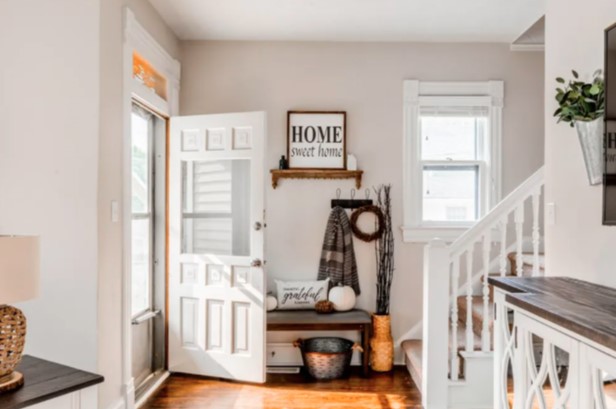 Simplistic Wooden Barn Door
They have taken the wood from the barn doors and repurposed them in a very unique way.
After cleaning them up, they have repainted them white and used them as a focal wall in the room.
They have also made three cutouts to display antique liquor bottles and a simplistic window.  Above the window in the center is a small deer hear.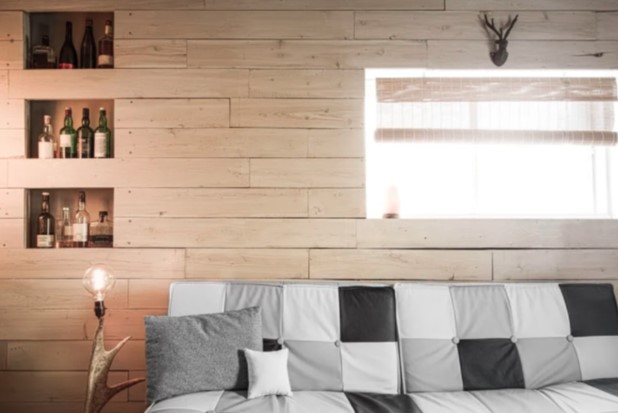 Bright, Eclectic Style
When talking about an eclectic style, this just means a collage of furnishings and walls with artistic movement done gallery-style.
In this room, they have done just that with a couch and love seat in deep brown with white tables and brown top.
The pillows are cream color and have a geometric design area rug.  In the one corn of the wall there hangs a wreath.  There is also an orange blanket on the couch.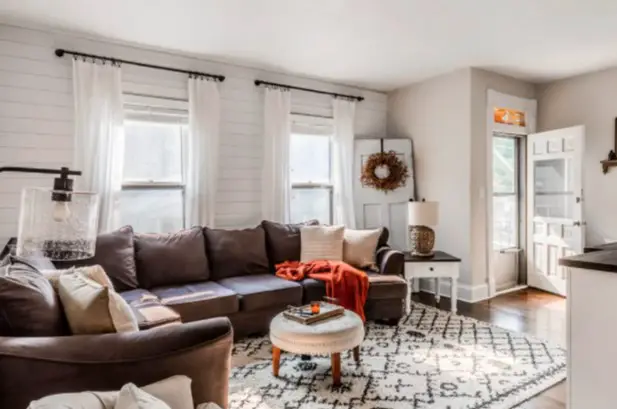 Barndominium Décor Repurposed
With this interior style, they have taken repurposed beans and used them on the ceiling.  Some of the barn wood has been used to make a television stand/ cabinet.
There are cacti sitting around in terra cotta pots.
Instead of having a fireplace, they have repurposed an old coal stove into one that uses wood and they have even found an old coal bucket in which they are putting the wood.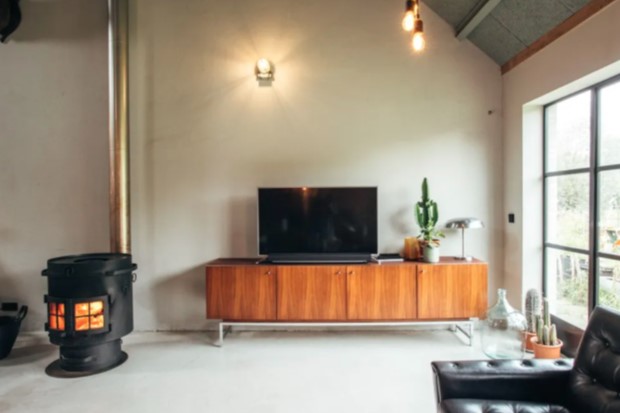 Metal Ceilings And Barn Lofts
In this barndominium they have used metal to make the ceilings that are supported by wood beams.  In the middle of the living room, there is a spiral staircase that leads to the barn loft.
Generally, these lofts have a sloped ceiling, so they are mostly used for extra sleeping space or just a space to relax, maybe even a small office or playroom.
Widen The Interior Appearance
When this barndominium was built, they chose blueprints that expanded the look of the open concept area to make it appear larger and more spacious than it really is.
The white cabinets in the kitchen area against the beige walls make it look bigger than it is.  Behind the kitchen, there appears to be a narrow staircase leading to the second floor.
Off the kitchen is the dining area with the living room extending across both the kitchen and dining space.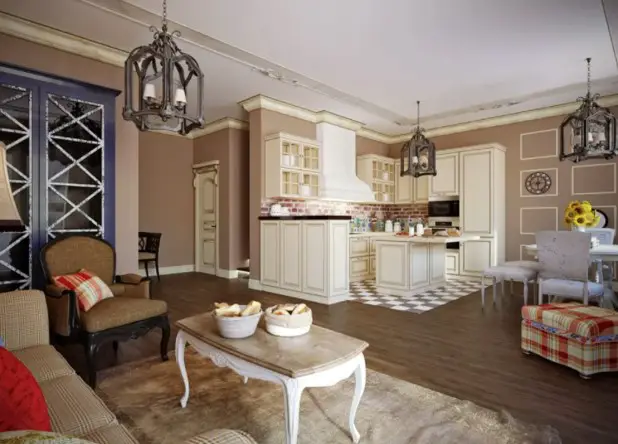 Rich Warm And Cozy Colors In Barn
Warm rich colors are red, orange, yellow, or a combination of them and will help to breathe positivity, energy, and sunshine into the room.
This room uses combinations of these colors to ger the brown hue of the furnishings.  The rug also has brown hues.  Plants also help to lend that vibe to the room.
Lodge Design Aesthetic
With this interior design element, there will be communal areas where everyone can gather and private areas.  Many times, they will use the wooden parquet flooring.
With this design, they have opted to use carpet and paintings, and tapestry on the walls.
This would be considered a communal room where everyone would want to gather to share a cup of coffee or just talk.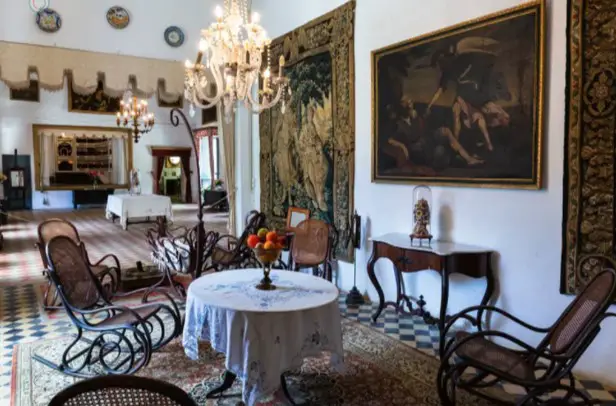 Barndominium Barn Loft
This is just an extra room, or rooms, that many times are used as play areas for the older children, guests' rooms, or a reading room.
Often they are the small area under an A-frame roof.  They are accessible with a staircase or a ladder.  There are some that are larg.
like this one, and the roof is flat, so it makes it easier to stand up in.
Rustic Stone And Wood Features
This barndominium has made excellent use of wood by making a covered porch with a wood beam ceiling and latticework sides.
The flooring of this covered area looks to be made of reclaimed barn wood.   It leads into a polished stone floor that can be used as a workspace or indoor entertaining area.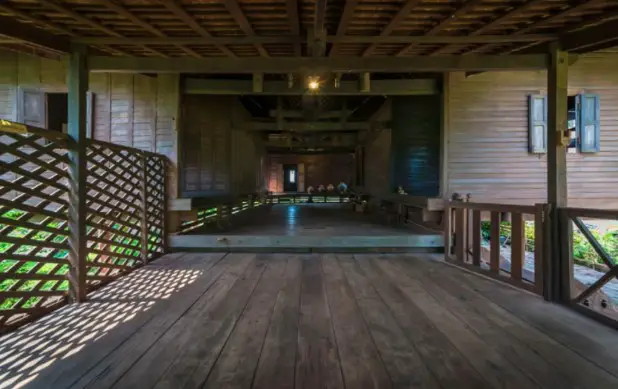 Barndominium Kitchen Interiors
This kitchen interior is modern but with a touch of country charm.  The checkerboard kitchen floor blends well with the darker wooden floor.
The cabinets are white with a black countertop.  They have used bricks to make the backsplash and to encase the fireplace both above and below it.
A very well-done area that makes you want to sit and enjoy a meal.
Classic Country Charm
This is a very inviting room that makes you want to just sit and relax in front of a warm fire.  They have given the one wall a rustic log cabin feels with the design of the log accent wall.
It looks like it should be an outside wall.  The floors also look like refinished wood and in front of the couch is a nice rug with a zebra print on it.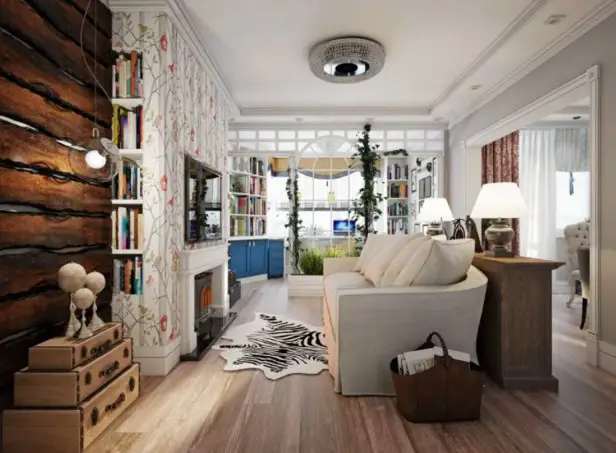 Wooden Bathroom Floor
This charming bathroom has not only made use of wood for the floor but also utilized the barn doors.
Wood floors in a bathroom are a great idea as long as they have been finished to be waterproof.  If water is spilled on the floor, it is easily cleaned up.
They have even used wood to make a frame around the window.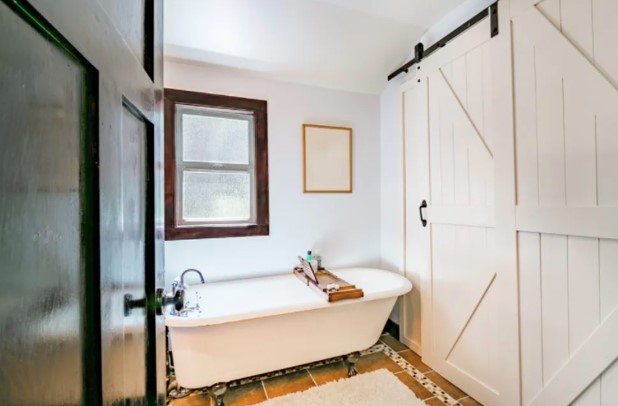 Rustic Modern Furnishings
This type of interior décor embraces the rustic warmth and charm with modern amenities.
You would use this interior design in an open concept floor plan with exposed, preserved natural architectural elements and modern furnishing.
The large windows let in the outdoors.  This room has embraced this concept with its futuristic chair, simple table, and half-coconut-shaped hanging lamp.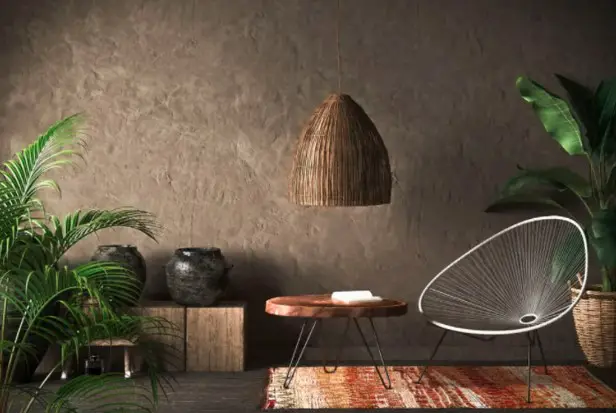 Eco-friendly Barndominium
Most barndominiums are considered eco-friendly.  In this interior design, they have reused and repurposed many things to make the decorations eco-friendly.
For the light fixture, they have used either driftwood or deer horns to make it.  They have reused wood to make the ceiling and long cabinets/shelves.
Stone has been used to frame in the fireplaces.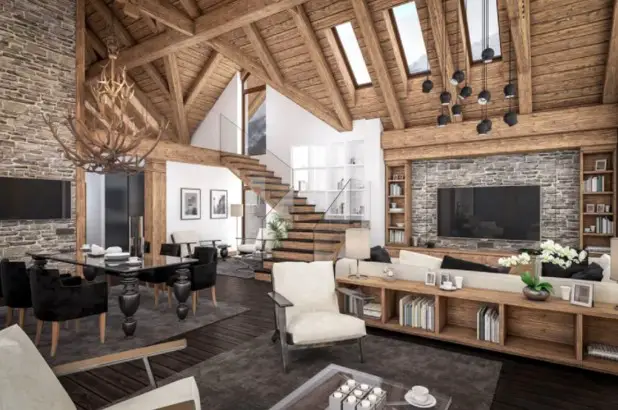 Conclusion
There are so many styles and designs that you can use for your barndominium interior.
Take the time to sit down and write down ideas of how you want it to look before making the final decision.
In this article, there are several examples of barndominium interiors to give you some idea of how they would look.
Make your decision wisely as it would be hard to go back and undo everything once the build starts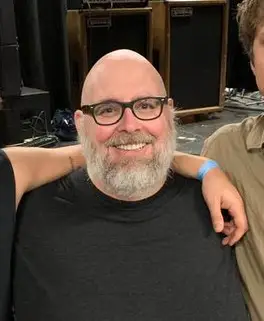 I'm James, your barndominiums advisor. Several years ago, I had no idea what barndominiums were. Although I'd spent over 10 years in the construction industry, the first time I heard about barndominiums was when I saw my neighbor building a new-style home. That was the first barndominium I've ever seen, and I found it so fascinating that I wanted to learn more about them.
More Posts