If you have land or are purchasing land and have the financing, you can build a barndominium in Florida.
Barndominiums are a great affordable and accessible alternative for building a traditional home.  This type of home is perfect for first-time home buyers or empty nesters.
Can you build a barndominium in Florida?
We have already established that the answer to that question is yes but what is the process, advantages, disadvantages, and most importantly, the cost?  Where do you find a barndominium builder in Florida?
If this is your first home, I imagine that you have so many questions, which we will answer in this article.
By the end of the article, you will have the knowledge to build your Florida barndominium.
Key Takeaways:
Building a barndominium in Florida, you can design it to fit your family and needs.
It can be hard to get financing for a barndominium
Barndominiums are one of the hottest trends in home building because of the rustic design style and open floor plans.
Can You Build A Barndominium In Florida?
Yes, you can build a barndominium in Florida.  It is a great option for traditional homes and can withstand hurricane winds up to Category 2.
They are built using the same building regulations as a traditional home.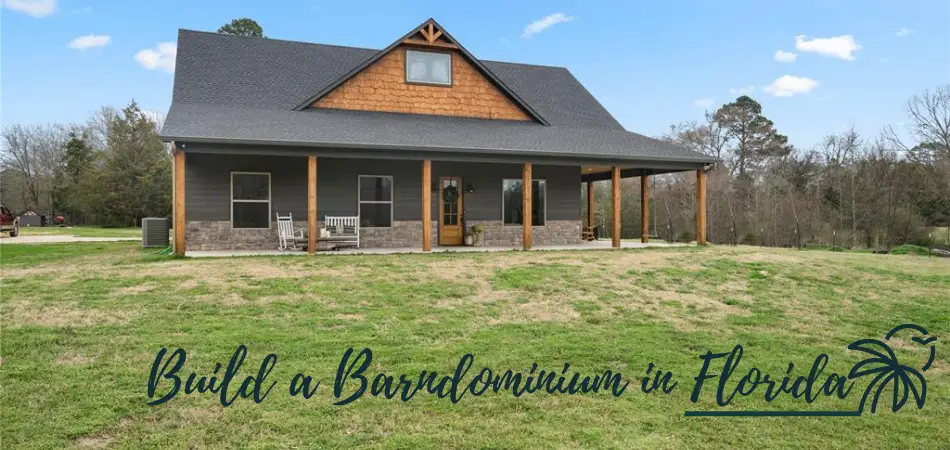 Advantages
You can build them anywhere and do not have to wait for your dream home on the perfect property. They can be built on your land and give you the freedom to design it to make your dream home.
A barndominium can be built faster than a traditional home. They can be built as quickly as six months, but the time depends on whether you hire a contractor, or you do most of the work yourself.
Can serve multiple purposes such as having a workshop for your home business or an office if you work at home.
A barndominium can withstand the elements due to the sturdy material from which they are built. The metal siding and steel frames will help to protect you from the rain and harsh winds.  The insulated wall will keep the moisture out and the cool air in.
Easy and cheaper to maintain as the metal siding is easy to clean and more durable.
Disadvantages
It can be hard to finance a barndominium and conventional mortgages are usually not an option.
Due to the customization of the barndominium, there is a smaller group of people wanting to buy it when you put it up for sale.
The exteriors of a barndominium are not for everyone because most look like a barn on the outside.
What Is The Permit Process For Barndominium In Florida?
The reason that you need a building permit when constructing a barndominium is so that the local government.
They can make sure that your barndominium meets the minimum standards set by the Florida Building Code.
There are different types of building permits in Florida so what you will need will depend on the work you are going to do.
When building a new structure, you will need a general building permit.  You will also need to have n electrical permit because of the electrical work that will need to be done.
Before you can begin building your barndominium, you need to get a permit and follow the necessary procedures.  If you do not, the local government can impose significant fines.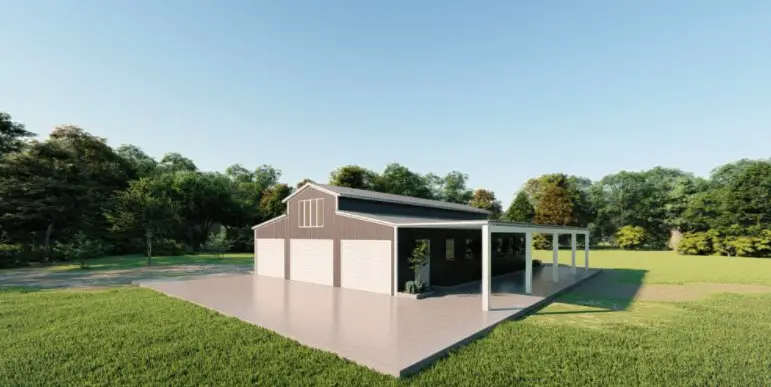 The first thing you need to do is fill out the application, which you can download from your local government website.
As you are filling it out, you must check the type of permit(s) you are seeking.  Some of the permits include building, electrical, plumbing, roofing, and more.
The next step is to select the type of permit request, such as a new permit, which is what you would need to build your barndominium.
Then you would check the property type, which includes multi-family residential, residential single-family or duplex, or commercial.
On the application, you have to state the square footage of the property that is going to be worked on and the dollar value for the work. Next, provide a description of the work.
In the next part of the application, you have to list the names of the responsible parties, property owner, architect, contractor, and structural engineer.
You have the names, phone numbers, and addresses. Then you will sign it in front of a notary public and take it to the building department with the proper fees.
When you turn in the permit application, you will also have to have two sets of plans for them to review.
The amount you pay will be a percentage of the permit fee, which varies according to the permit(s) you are getting.
Then you have to wait for the city in which you are building your barndominium to do a plan review.  The waiting time will vary by city but can take 30-60 days.
If there is an issue with the plans, you will have to fix the issues so the plans can be reviewed again.  The plan may have to go through several reviews like electrical, plumbing, structural, and more.
The plans may also have to be reviewed by external agencies, such as water and sewer.
If your plans are rejected three times, the reviewers, owner, and design team will have to meet with the Building Official before they can do any more reviews.
If the plan is approved, you will have to visit the Building Department in the city where you are building your barndominium
Before you can pick up your building permit, you will have to pay the rest of the fee.  Make sure that you keep your building permit in a safe place.
How Much Does It Cost To Build A Barndominium In Florida?
When figuring the cost of building a barndominium in Florida, you figure the cost based on square footage.
Doing it this way will help you get a more accurate idea of just how much space you can afford.
Pricing per square footage will also help you decide on the number of bathrooms and bedrooms your floor plan will have.
If you build a traditional home in Florida, it averages between $120-$200 per square foot.  This is just for the basic build of the home.
It does not cover extra features like custom cabinets or countertops, or appliances.
It is much cheaper to build a barndominium as it averages $100-$120 per square foot for the basic assembly.
A 1500 sq ft barndominium, for example, would cost approximately $172,000 but it can be more expensive depending on the materials you choose, interior furnishings, appliances, etc.
What Is The Best Barn Builder In Florida?
This is one of the biggest considerations you need to make when deciding to build a barn in Florida.
There are many construction companies to choose from but not all of them know how to build barns.  To make sure that you find the right builder, here are some things to consider.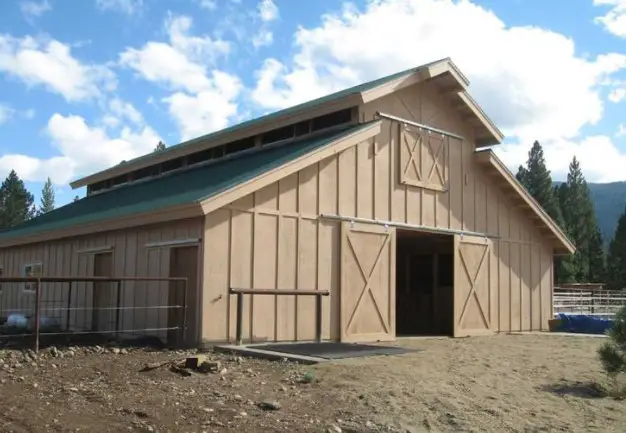 Check out the construction company's reputation. Check out their website and read the reviews by their former clients.  Doing this will give you a great idea about the type of work they do and if the client was satisfied or not.
Make sure that they have the experience building a barn so you will get the home you want and have it built correctly. Look for a builder that specializes in barns and metal pole structures of all types. The building process for building a barndominium is quite different than the process of building a traditional house.
Some of these builders of barns in Florida include:
CC Welding & Construction—this company is highly skilled in the building of metal pole barns and steel structures. They have a reputation for delivering high-quality work when building a barn.
Cantrell's Construction—they have been in business for over 20 years and work with steel buildings and residential construction.
Greene Construction—this construction company is a full-service contractor with years of experience. They can deliver custom projects of all types.
Barndominium Kit Providers In Florida
A barndominium kit is a prefabricated barndominium that will require being assembled by a contractor or yourself.
You can customize them to fit your needs and lifestyle and come in a variety of styles.  They come with steel or metal framing.
The common sizes of a barndominium kit are 30×40, 40×60, 60×70, and 60×60.
When buying a barndominium kit in Florida, they will deliver it with everything you will need to construct it at once.
This is a big advantage as you will get everything you need at once so you can start building immediately.
Barndominium Financing in Florida (Companies Available)
Yes, a barndominium can be a cost-effective option for owning a home but unfortunately, they do not qualify for first-time homebuyer programs or a conventional mortgage.
The reason is that they are technically multi-purpose structures.  They can serve as both a workspace and a home.
There are also not enough comparable sales in the market so the ones doing mortgages do not recognize them as a house.  They are also considered a workplace first and a residence second.
To secure financing, you will need to work with a lender to procure a standard loan.  The lender may do a personal loan if you are planning to build on land you already own.
If they were to give you a personal loan, it would be just enough to cover the cost of construction.
If you have to buy land, there is a possibility that you could take the loan you get to buy the land and roll the cost of construction in with that loan.
Here are some financial institutions where you can apply for financing:
Farm Bureau Bank—this bank is a great choice for those that want to work with a bank connected to the farming community. They have the knowledge to know what you need to finance a barndominium in Florida.
Farm Credit of Northwest Florida—they are dedicated to helping their customers find the best financing that will fit their needs. They have been doing this for years.
When building a barndominium in Florida, there are two types of loans you can get.
Construction loans—these are for the actual costs of construction and are a 12-month loan. With this type of loan, you will need to put down at least 20% of the value of the loan.
Permanent loan—this type of loan will pay for the remaining costs. It will also set your monthly payment, which is based on the traditional loan on the property itself and the amount that remains on your construction loan.
Conclusion
Yes, you can build a barndominium in Florida. They are a great option for those first-time homebuyers as they are not as expensive as traditional homes plus, they are quicker to build.
At the end of this article, you should now be knowledgeable enough to start the process of building your new barndominium in Florida.
Related Resources: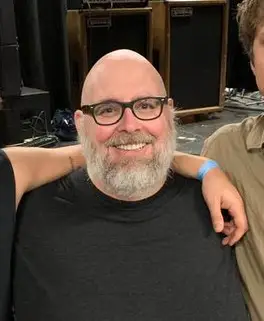 I'm James, your barndominiums advisor. Several years ago, I had no idea what barndominiums were. Although I'd spent over 10 years in the construction industry, the first time I heard about barndominiums was when I saw my neighbor building a new-style home. That was the first barndominium I've ever seen, and I found it so fascinating that I wanted to learn more about them.
More Posts