Ready to learn about what it takes to build a barndominium in Michigan? People everywhere are jumping on this house-building trend for several reasons, looking to downsize and simplify their way of living. While tiny homes and shipping container homes are still trending, bardnos are growing in popularity. 
This unique style house provides residents with a simple and patriarchal place to call home. It's becoming the go-to dream home for those looking to break out of the traditional housing market and live differently in Michigan.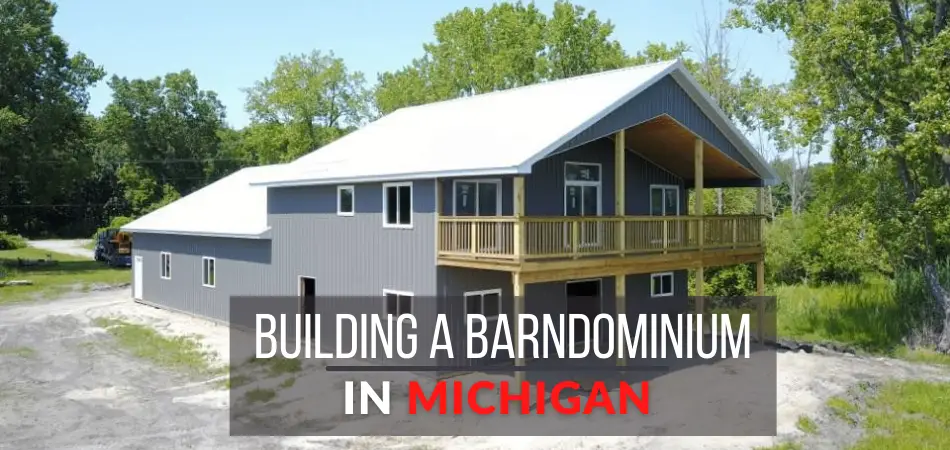 Barndominiums: What Are They and Why People Love Them
A barndominium is a steel structure that offers the design of a barn and the functionality of a traditional home. Because of their size, these homes are affordable, energy-efficient, and typically low maintenance. They can be built as big or small as you want.
Generally built as an open concept, they provide spacious living quarters while offering plenty of storage for indoor and outdoor activities such as RV camping, farming, and boating. Barndomomins bring together the work and living spaces, making them a convenient place to call home.
They come in various floor plans, offering exactly what you need and giving you several options to construct a place entirely yours.
They can be built from the ground up, built from a shell kit, or renovated using an existing barn. With research, investment, and planning, you can find the best option for your vision and budget.
What Are The Benefits Of Building A Barndominium In Michigan?
The biggest reason people love this option is because of cost savings vs. a traditional home. They are generally less expensive than building or buying a home in Michigan, and their simple design allows for a more energy-efficient home.
Another reason is the ultimate customizations you can make to the barndominium, giving you the look and feel you want.
Other benefits include: 
Versatile

Durable 

Easy To Build

Cost-Effective

Energy-Efficient
Barndominiums can be built faster, have lower maintenance, have lower property taxes and insurance rates, and are more energy-efficient than traditional homes. 
Whichever route you take, there are many options when building in Michigan. From first-time home buyers to empty nesters, a barndominium could be the dream house you've been searching for.
Building In Michigan: Getting Started
Can you build a barndominium in Michigan? Yes, you can! It might be cheaper to build in Michigan compared to other states.
The average cost of building a home in Michigan is around $90 to $150 per sq. ft. In some states, the average cost can be as high as $200 per square foot to build.
You can have your barndominium ready from the ground up within six months and under $360K (given that your buildup area is 3000 sq. ft, and you are charged $120 for every square foot).
However, no matter where or what you decide to build, permits are required to get started for any new or remodeling project.
You can expect to need building permits, zoning permits, and septic permits for your new build. These permit fees depend on the location and size of the home.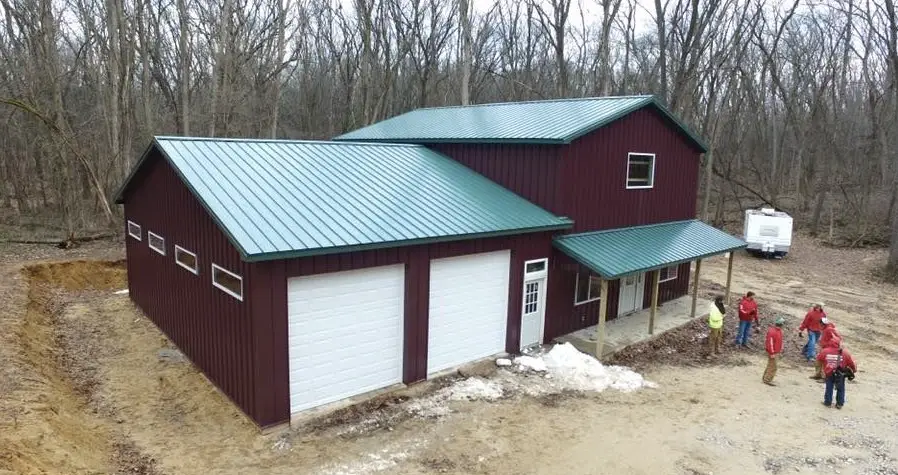 Michigan Building Permits For A Barndominium 
In Michigan, building permits are issued at the local level, and the requirements for when you need a permit will depend on the city where you live.
But generally, new construction will require a permit, including; an existing building, structural remodeling, and detached features like swimming pools and desks.
Depending on the size, scope, and type of your barndominium project, you might need to acquire additional permits outside the basic building permit.
Items that did not require a permit included finishing work such as painting, carpeting, titling, and any other basic repairs.
But remember, doing work without a permit where one is required will result in fines and penalties. Check with your local government before starting your barndominium construction in Michigan.
Permit Building Requirements Per Type
Residential Structures (One and Two Family Residential with less than 3,500 sq.ft.)
Building Permit Application

Minimum of two (2) sets of plans that include the following:

Foundation and floor plans

Roof and wall section

Building elevations

Site plan
Commercial Structures (Including One and Two Family Residential with more than 3,500 sq.ft.)
Building Permit Application

Copy of plan review approval letter.
Mobile and Pre-manufactured Homes
Building Permit Application

Minimum of two (2) sets of plans for the Foundation and the method of anchoring.

Site plan

Approved pre-manufactured units; one (1) copy of the Building System Approval and the approved plans.
How to get a building permit in Michigan?
To get a building permit in Michigan, you'll need to file a completed application with detailed schematics of the construction idea. You need to submit the application to the appropriate permitting office and pay the permit fee. Once the building plan is approved, your permit will be issued.
What kind of construction permits are in Michigan?
In addition to basic building permits, other permits might be required before you begin construction. These include permits for:
Paving and surfacing work

Zoning permits

Electrical permits

Mechanical permits

Plumbing and septic permits

Demolition permits
What is the cost of a building permit in Michigan? 
The cost of a building permit for a barndominium will depend on the jurisdiction. Cities set different fees for building permits. The permit cost is calculated based on the project's overall cost, the project's added value, and the project's size. Your local city building division can provide more information on the fees you can expect to pay.
If you learn how to build barndominiums and investigate possible builders thoroughly, you can increase your chances of being happy with your new home.
Here are some advantages and disadvantages to give you a better idea of what's involved in building barndominiums.
Pros and Cons of Building a Barndominium
No matter the type of home you decide to build, there will always be advantages and disadvantages. Items to consider when building a barndominium are:
Building zone requirements

Locate climate 

Labor costs

Permit fees

Property tax
While building a barndominium in Michigan can be cheaper, it still depends on the floor plan, materials, design, and the type of barndo you decide to build. Things to consider when building your barndominium:
Do you want a space for entertaining? 

Are you planning on raising a family? 

Do you have pets or livestock? 
When it comes to barndominiums, it's up to each homeowner to decide if the pros outweigh the pros outweigh the cons.
The Pros
Takes Less Time to Build 
Because barndominiums are easier to build than traditional homes, they require less construction time and could be eligible for faster building permitting.  
Extra Space
Most barndominiums are open floor plans and provide extra space for storage without taking up your living square footage. Some owners want an additional 200-300 square feet for entertaining but don't want to lose their backyard. 
A barndominium provides you both! You can utilize every square inch of your space in a productive way that gives you what you want.
Environment-Friendly
These homes are eco-friendly and cost-saving. They are perfect for those looking to downsize and want to minimize their carbon footprint.
Durability 
Barndos are constructed of metal, with a strong foundation and exterior. They can withstand fires, earthquakes, pests, and rot. This is ideal for those living in rural communities. 
The Cons
Finding Property Large Enough For Your Barndominium 
Most barndominiums require at least 2-3 acres to build. This increases for those who have livestock or looking for additional storage for RVs or dirt bikes.
It might be hard to find a lot size big enough in the cities and suburbs, depending on where you are in Michigan. 
Some Cities Don't Allow Barndominiums 
Depending on your location, some cities still don't allow barndominiums. Due to a number of factors, these types of homes are not permitted in most residential areas due to zoning laws. This can make it difficult to find a place to construct your new home.
Most Barndominiums Are Single-Story Homes
Most brands are single-story, but having two stories is nice. There are floor plans with two levels, but you might have to get creative with your planning.
The Cost of Building a Barndominium in Michigan
The average cost of building a traditional home is between $90 to $150 per square foot. The average cost of building a barndominium in Michigan is around $105 per square foot. It also takes around 23-40 weeks to complete the project. They are typically lower maintenance.
| | |
| --- | --- |
| Floor Plan Size  | Average Cost |
| 1,000 sq. ft. | $105,000 |
| 2,000 sq. ft. | $210,000 |
| 3,000 sq. ft. | $315,000 |
| 4,000 sq. ft. | $420,000 |
| 5,000 sq. ft. | $525,000 |
| 6,000 sq. ft. | $630,000 |
| 7,000 sq. ft. | $735,000 |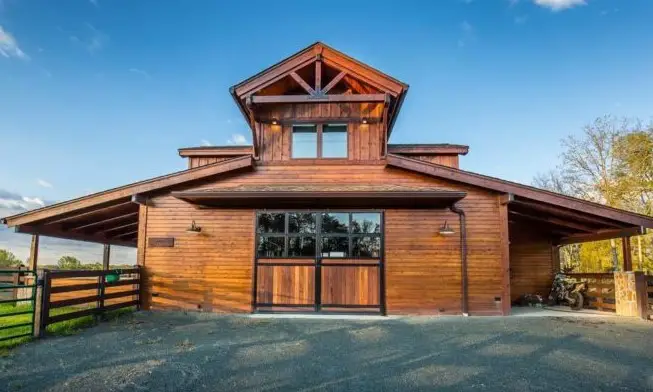 The cost of your barndo depends on several factors. This includes your contractor and the materials used for the project. Overall, for a 3,000 sq. ft. build, you should expect to spend $315,000 for a high-quality custom-designed barndominium unit in Michigan.
Costs to consider for your barndominium are:
Structural cost

Exterior costs

Interior costs

Permits

Costs of labor

Materials (steel, wood, etc.)

Inspections

HVAC 

Utility hookups (electrical and plumbing)

Additional customizations 
Remember that many of these items require a state-certified professional to install them. You have to make sure it's all up to code. It will also require inspection and permits, running heating, cooling, plumbing, electricity, etc.
Structural Costs
The structural costs include the frame, Foundation, and the clearing of your land. This also includes steel, wooden beams, bricks, and cinder blocks. The materials play a huge role in the overall cost of your barndominium. Steel costs will be around $7 to $25 a square foot, and WWood between $1 to $5 per linear foot. 
Items include: 
Foundation

Frame

Roof Columns

Rafters

Beams

Supports
Exterior Costs
Exterior costs include doors, landscaping, driveways, sidewalks, siding, porches, decks, windows, and lighting. These prices depend on the route and materials you decide to use.
Interior Costs
Like the exterior costs, the interior will depend on your square footage and the customizations you want to make. The interior costs generally take up less than 20% of your home's total cost.
Costs Include:
Flooring (hardwood, carpet, tile, granite, marble)

Appliances

Ceiling Fans

Fixtures

Countertops

Trim

Paint

Bathroom

Kitchen

Hot Water Heater

Wall Insulation 
Cost Breakdown
The Foundation: $5.41-$6.01 per square foot
The highest cost of the structure is going to be the Foundation. A 4-inch reinforced concrete slab is around $5.41 to $6.01. Plus, the cost for installment from a contractor.
Electrical: $3-$5 per sq. ft.
The electrical wiring for your barndominium will include indoor and outdoor outlets, main appliances, circuit breakers, and paying a licensed contractor. In addition, supply chain and labor shortages during COVID-19 have increased the costs of building a home in Michigan. The average cost for electrical wiring is $3-$5 per square foot.
Plumbing: $2-$5 per sq. ft.
This includes hookups for your showers, baths, sinks, toilets, sewage, septic tanks, water filters, and drainage. The average cost for plumbing in Michigan is $2-$5. 
Windows & Doors: $20,000
Depending on the type of windows and doors you choose, it could cost around $20,000. The price can jump if you opt for energy-efficient windows.
Kitchen: $11,000 to $43,000
In Michigan, basic kitchen renovations cost around $11,000 to $16,000, mid-level costs around $22,000 to $32,000, and large kitchen renovations are around $30,000 to $43,000.
Bathrooms: $7,000 to $43,000
The national average cost for a bathroom remodel runs between $70 and $275 per square foot. The average cost for a small kitchen in Michigan is between $7,000 to $16,000, mid-size is $14,000 to $32,000, and large is $19,000 to $43,000.
Flooring: $2 to 25 per sq. ft.
The flooring cost depends on the material you decide to use, from hardwood to tile. A good way to save money on flooring is to have the concrete slab painted and sealed when building a barndominium in Michigan.
Hardwood

: ​​$3-$22 per sq. ft.

Carpet

: $2 to $8 per sq.ft.

Title

: $2 to $25 per sq.ft.

Linoleum

: $3 to $5 per sq.ft.

Engineered wood:

$6 to $12 per sq.ft.
Roofing: $5,000-$45,000
The average cost to replace a roof in Michigan, according to HomeAdvisor, is $6,550-$11,900. A roof replacement could cost between $5,000 to $45,000.
Siding: $9,000
The average cost for siding is around $600 per square foot. The average Michigan home will need approximately 15 squares, costing around $9,000.
For example, different siding materials: 
Vinyl Siding: $6,000 – $13,000

Cedar Siding: $16,000 – $33,000

LP Siding: $10,000 – $20,000
Michigan Barndominaum: Additional Costs
Whether you are buying or building a barndominium in Michigan, there are a few additional costs you'll need to consider.
Travel & Delivery

Location

Customizations

Price of Steel

Labor

Land

Land Clearing

Permits & Inspections

Building Loan

Property Taxes
Travel & Delivery: $5,000 to $15,000
If you purchase a shell kit (more information below), that kit will need to be shipped to your location. Depending on the kit provider, this could cost anywhere between $5,000 to $15,000.
Location: $105 per sq. ft.
In Michigan, the average cost to build a barndominium is $105 per sq. ft. Depending on your city and county, the cost could be higher or lower.
Customizations: $300 to $30,000
Depending on your customizations, you could be looking at an extra $300 to $30,000. Make sure your customizations fit within your budget before getting started.
Price of Steel
Because barndominiums are constructed out of steel, the price of steel will factor into your building costs. Make sure you keep an eye on the price of steel as they are affected by world events and other factors. 
Land: $5,300 per acre
The average real estate cost in Michigan was around $5,300 per acre in 2021, according to the Great Lakes Regional Office. You'll either need to purchase land or have land in your name before you start to build.
Land Clearing: $2,400 to $3,900 per acre
The average cost for clearing land in Michigan ranges from $2,400 to $3,900 per acre, depending on the amount of foliage on the property. Other factors include the exact location in the state.
Permits & Inspections: $30 to $3,000
The county determines permit fees and building inspections. You'll need permits and inspections before buying or building a barndominium in Michigan.
VALUATION/Cost (based on the State of Michigan cost table

 

 

$0 – 500

$30

$501 – 1,000

$50

$1,001 – 10,000

$50 + $10/1000

$10,001 – 20,000

$150 + $9/1000

$20,001 – 40,000

$240 + $8/1000

$40,001 – 100,000

$400 + $7/1000

$100,001 – 300,000

$820 + $5/1000

$300,001 – 500,000

$1,820 + $4/1,000

$500,001 – 750,000

$2,620 + $3/1,000

$750,001 & Up

$3,370 + $2/1,000
ZONING & PLANNING FEES

Site Plan

$730

Site Plan

$430

Rezoning

$990

Special Use Permit (with site plan)

$320

Special Use Permit (without site plan)

$620

Planning Commission Special Meeting

$230

Development Parcel Plan

$450
Barndominium Builders In Michigan  
In Michigan, contractor costs are around $34 per square foot or 39% of the total project costs. So, if your barndominium is 2,000 square feet, you'll be looking at around $6,800 for labor costs. However, you'll need a custom quote from a company in Michigan. 
This will include roof installment, painting, siding, and framing. Before hiring a builder, you'll need a budget, floor plan, and design.
Items that are included in builder costs include:
Building permits needed for the project

Inspections and building fees

Materials and supplies 

Sales tax
When researching, try to find contractors specializing in building barndominiums in Michigan. Because this trend is becoming more popular, there are more and more companies who are willing to build barndos.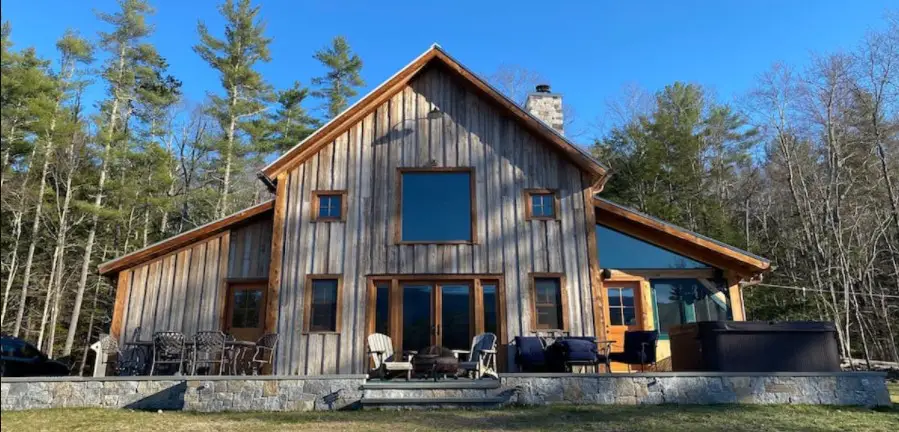 When researching, try to find contractors specializing in building barndominiums in Michigan. Because this trend is becoming more popular, there are more and more companies who are willing to build barndos. 
What You Should Look For In A Contractor
Experience

: Make sure you find a contractor that has the experience to build a barndominium. 

Honest

y: You'll want an honest and straightforward builder about the project. The wrong company could cost you both time and money.

Helpful

. Contractors should provide insight into the project. 

Reviews

. Research past reviews and see what other clients are saying about their work. Make sure they are the type of company you want to work with.
Recommended Michigan Barndominium Builders:
KAB Construction 

Michindoh Builders

DC Builders 
Have A Look: Building a Barndominium in Pennsylvania
Barndominium: Shell Kits
As mentioned above, a great option for those looking to go the DIY route is to use a barndominium shell kit. These are prefabricated kits that come with all the materials you need and a designed floor plan. Most even come with cutouts for windows and doors. But even if you don't want to do it alone, depending on your location, some companies offer builders to help you assemble the kit. Providing details like where the countertops and cabinets should go inside the house.
On average, a shell kit could cost you as low as $10,000. According to research, barndominium kit manufacturers in Michigan offer turnkey solutions that average around $200,000 or $95 to $125 per square foot. The price will also increase if you add wrap-around porches or second floors. You also need to account for your area's labor costs, which can be done by getting custom quotes from companies.
Michigan's established kit providers include ​​KAB Construction, Michindoh Builders, and DC Builders.
Barndominium: Turnkey
Another option is turnkey barndominiums. These are ready to move in and typically fully renovated. Because they are ready to move in, they will be more experienced than a shell kit, but you avoid going the DIY route. 
Turnkey barndominiums in Michigan range from $96,000 to $225,000, depending on the size.
Most Turnkey Options Include:
Plumbing & Electric

Stained Concrete Floor

Windows & Doors

Cabinetry & Countertops

Drywall & Insulation

Water Heater

HVAC Unit
How To Finance Your Barndominium Project In Michigan
Most people secure a loan when it comes to building or buying a new home. However, a barndominium might be more challenging to get financing for, and some institutes won't offer this option. However, it's not impossible; you might need some research.
Some people use a "construction loan," which is different from a traditional mortgage. This can sometimes be easier to acquire and easier to be approved for.
Regardless of your route, financial institutions still require a number of items before you can be approved. This includes:
A good credit score

Debt-to-income ratio

Current income

Employment 
Most mortgages require a 20% down payment, but some programs might only require 3.5%. Another hurdle could be the appraisal process in Michigan. A lender won't loan funds for more than the property is worth. 
Make sure you have all your paperwork in order before approaching a lender and that your project meets the zoning regulations set by the city. This will help move things along.
Barndominium Insurance In Michigan 
Whether it's a shell kit or a turnkey option, you'll need insurance. Your barndominium insurance is determined by several factors and depends on the agency.
Most of the time, barndos fall under what's known as a dual-purpose structure. This means you pay different rates for different parts of your home. Why? Because most barndominiums operate for both a residential and secondary purpose, i.e., a workshop or agricultural workspace. This is also called barndominium insurance. 
Some agencies don't cover dual-use structures for two reasons: 
they don't cover dual-use structures

they don't cover buildings with metal roofs
What Does My Barndominium Insurance Cover?
Barndominim insurance all depends on your policy. But insurance generally covers the following aspects of the structure.
Damage was done to the building.

Damage was done to specific possessions.

Costs to rent another place when making repairs

Injuries that need to be treated related to structural damage
Keep in mind that insurance doesn't cover everything. There are often separate policies regarding special circumstances like earthquakes and flooring. For example, Michigan is prone to floods, severe storms, winter storms, wildfires, power outages, and tornadoes. 
What Determines My Insurance Rates?
The following often determine your rates:
What is the space being used for

Your relationship with the insurance agent

Credit score

Past insurance claims

Condition of the structure

Location

Safety systems in place

Deductible
Michigan Property Taxes
The average Michigan property tax rate is 1.64%. The Tax Foundation ranked Michigan as having the 13th highest property tax in 2020. However, this rate varies from county to county. Here's an example of different property rates for the state of Michigan and what you might expect to pay for your barndominium annually. 
Amount Paid as a Percentage of the Home Value
| | | |
| --- | --- | --- |
| County | Median Annual Real property Tax Payment | Average Effective Real property Tax Rate |
| Alcona | $1,103 | 1.15% |
| Barry | $1,903 | 1.30% |
| Calhoun | $1,944 | 1.89% |
| Delta | $1,459 | 1.38% |
The money collected goes to multiple public services throughout the state of Michigan:
First responders and other law enforcement

Government services

Local levies

Municipal infrastructure and land construction or improvements

Municipal employees' pay

Resident Services 

Recreational services

Protective services
That said, a dual-use structure will have a different tax rate than a traditional residential home. To determine what you might have to pay in property taxes for your barndominium, speak with a tax assessor.
Conclusion

 
While building a barndominium in Michigan can have its own set of challenges, it can be an exciting endeavor and well worth it by the end of the project. There are a few hurdles, such as securing a loan or finding the property size to build on, but you can't put a price on having your dream home. Do your research and gather as much information as you can before beginning. Soon, you might be living in your dream barndominium! 
Related Resources: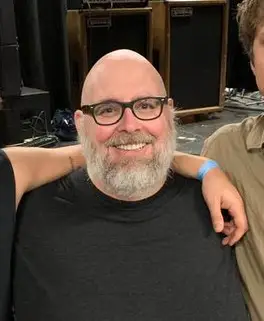 I'm James, your barndominiums advisor. Several years ago, I had no idea what barndominiums were. Although I'd spent over 10 years in the construction industry, the first time I heard about barndominiums was when I saw my neighbor building a new-style home. That was the first barndominium I've ever seen, and I found it so fascinating that I wanted to learn more about them.
More Posts