Owning your own house is a huge part of actualizing the American Dream, and it is one of the foremost essential steps anyone can take to pursue that goal.
It is often time-consuming and expensive to build a befitting home in this era, yet it's also true that it's one of the most fulfilling and rewarding things anyone can do.
If you've got a dream to establish your own home, you do not need to kill it due to the difficulties that may arise; you can still make it come true.
However, to raise your chances of success, choosing cost-effective building options may be a choice worth considering, which is where the idea of a barndominium in North Carolina comes in.
The process involved in starting this type of home is often challenging for many people to navigate.
However, this comprehensive guide will lead you through the different housing alternatives.
That's not all; you'll also understand the numerous advantages you stand to gain with it.
Without mincing words, let's start with the basics.
North Carolina Barndominium: What is it?
Barndominiums in North Carolina are an excellent choice for people who want to be close to nature but don't want to deal with the struggles of owning a large home.
This type of lifestyle has become increasingly popular in recent years.
Plenty of metal barn structures are lying around as waste across the country.
What builders have decided to form out of the shell of these existing buildings is a modern and custom-made home popularly referred to as a barndominium.
These buildings are adaptable to almost any environment and provide safety and comfort for those seeking a more sustainable lifestyle.
They are ideal for people who desire to live near the countryside. Aside from its relatively low price, it offers plenty of amenities despite being smaller than a traditional single-family home.
Advantages of Barndominium in North Carolina
There are myriads of advantages attached to this housing alternative. These benefits cut across many factors, including purpose, cost, space, environment, and several others.
Choosing a barndominium in North Carolina can bring your dream of owning a home to reality faster than ever imagined.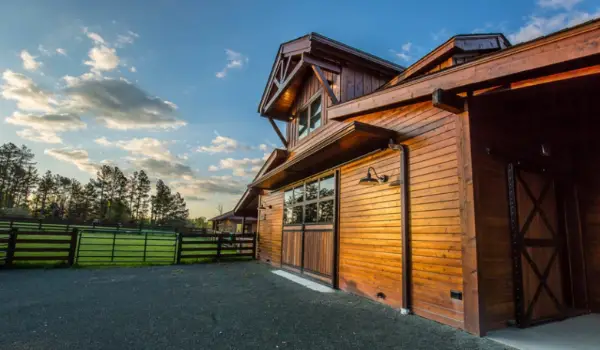 Other benefits you stand to enjoy include:
Accessible Setup: Traditional homes take nearly twice as long to construct. A standard house takes months to complete. However, a barndominium could take days or weeks to build. Hence, less money is spent on labor and construction.
Adaptability: A vital aspect of this type of building is its ability to adapt to different climates. They are ideal for freezing weather and can be used for multiple purposes.
Environmental adaptability: One of the best features of this building is its capacity to adapt to any surroundings. If these structures are constructed in temperate areas with little exposure to extreme weather, they are expected to last a long period and have a high level of energy efficiency.
Cost-effective: While all other benefits are vital, the most crucial part is the price structure. This building costs way less than a conventional house, allowing owners to install better facilities for the same price as a regular home.
Other additional benefits of using this structure include the following:
Extra space.
Easy to renovate.
Safety and comfort.
Best Barndominium Builders in North Carolina
Have you thought about who will assist you with your barndominium? If you haven't already done so, this is the best time.
If you look around the market, you'll notice a lot of builders. You may select the wrong one for your project if you do not take adequate measures.
There are a few things to watch out for when deciding which builder will construct a house that will meet your standard.
Aside from the builder's reputation, it would be best to consider their experience level.
Not every builder is disposed to using metal barn structures to make a shelter. If they've worked on a project like yours before, you can be confident that you'll get nothing but the best.
To narrow your search for the best builders, consider the ones below.
Amplify Buildings:
The designers and contractors at Amplify Buildings have provided people with their construction projects for years.
They manufacture their parts and put together high-quality structures according to your specifications.
So far, they've managed to build a good reputation despite working on many projects.
Circle M Construction :
This construction firm in North Carolina can help you design, construct, and execute your dream project.
They have a healthy relationship with the community and are committed to building structures you cherish for many years.
They are open and communicative, essential qualities to look for when choosing a builder in North Carolina.
Hoover Buildings:
Hoover Buildings specializes in converting housing pole structures into magnificent barndominium.
You should be on the lookout for this type of experience in a specific field when choosing a builder for your project.
Barndominium Kit Providers in North Carolina
Without a doubt, not everyone would want to build a barndominium in North Carolina from scratch in the usual method.
If you're one of these people, then kit providers are an excellent alternative.
These companies will manufacture an all-inclusive kit, deliver it to your location and assemble them on-site.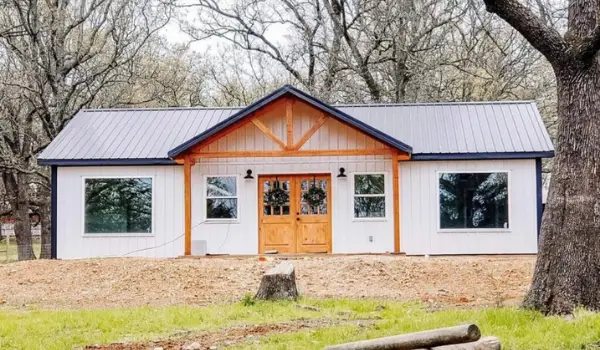 Unlike starting from scratch, you can get all you want at once when you use a kit provider.
These kits usually contain everything you need to get your building off the ground. They're also prefabricated, saving you the stress of searching for these materials.
Numerous kit providers are scattered all over the internet.
Some of the leading barndominium kit providers in North Carolina are:
Worldwide Steel Buildings and
Rhino Building
Here Are Some Questions to Ask Your Builder to Make Sure You Are Making the Best Choice:
Ask for references to ensure they are trustworthy and honest.
Ask to see their past projects.
Ask for past work experiences to ensure that he can handle yours efficiently.
Find Good Land for a Barndominium in North Carolina
You must consider the land factor before going ahead with your building plans.
North Carolina allows anyone to build a barndominium if they follow state and county regulations to construct the foundation and the building itself.
The rules and regulations are very similar to building a regular home in North Carolina. They require footers, linings, and load-bearing walls.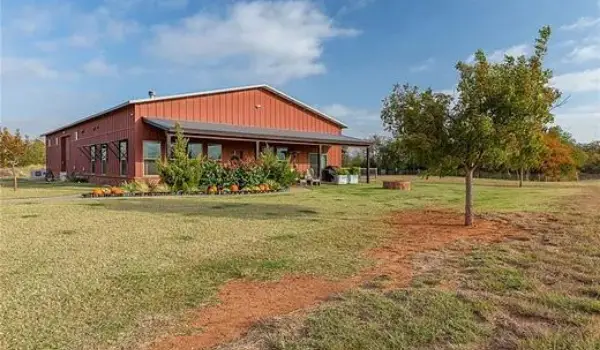 You can't make a project schedule until you figure out which land you'll use. Finding adequate land for this building project can be difficult.
Yet, searching the internet can give you a more comprehensive range of options. You'll find tons of aggregators and listings from which you can choose from multiple options.
Always ensure that whichever location you choose has the essential utilities.
Other factors to consider when searching for the perfect land to build:
Resale
Land Layout
Zoning
Region
Building a Barndominium in North Carolina: Financing
Financing is an excellent option for any project, not just building. It allows you to consider alternatives if you don't have the cash to complete your initial plan.
The two primary sources of financing a barndominium are:
Southern Bank:
The lenders at Southern Bank understand that not all loans are for the same reason. They regard each borrower as a singular entity and consider their concerns.
They are an excellent choice for anyone looking to build a barndominium in North Carolina because of their distinctive approach.
Farm Credit of North Carolina:
Farm Credit of North Carolina offers financial assistance to various rural construction projects.
They've assisted individuals in obtaining the funding they require by utilizing cutting-edge technology and offering cheap rates.
They are well-connected in the neighborhood and know what you need to build a barn dominium in North Carolina.
Factor to Consider
Your financial eligibility, however, is determined by a combination of factors like:
Appraisal:
Unless you have a large sum of money to put down on the house, you'll have to rely significantly on an appraisal.
Appraisers use recent sales data in your area to evaluate your project's value and the amount that may be obtained for its construction, as lenders will not lend more than the value.
Your Plan:
An appraiser doesn't just look at the square feet of your property and compare it to similar-sized homes in the neighborhood.
They evaluate each plan component and assign a value depending on the design, so make sure your plan clearly explains everything you intend to accomplish with the house.
Loan Options:
When financing your project, your loan options are the same as any other construction loan.
Consult your local lender to see if you qualify and if you can utilize the equity in your home to help with the down payment.
Your builder:
Your constructor is the most crucial component of the financing exercise because a good contractor will be responsible.
They'll ensure that your ideas are sound and that the construction process does not exceed the bank's timeframe.
Barndominium in North Carolina: Cost
Building costs in North Carolina have risen dramatically in the last year. Prices have increased by over 20% yearly due to a pandemic, inflation, and a turbulent real estate market.
Building this type of structure is far less expensive than building a traditional home, and someone may do it with little or no construction or design knowledge.
In North Carolina, a typical home costs $120 to $140 per square foot.
A barndominium in North Carolina typically costs roughly $120 per square foot.
With the difference in cost, you'll have more money to spend on the items you want in your house.
Wrap up
Everyone has a place to call home. However, this is only possible with the right decisions.
When there isn't enough money, this can mean settling for a less expensive structure. You can build a barndominium in North Carolina instead of spending money on time-consuming projects.
Related Resources: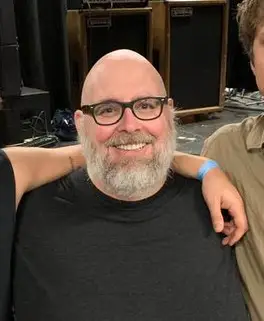 I'm James, your barndominiums advisor. Several years ago, I had no idea what barndominiums were. Although I'd spent over 10 years in the construction industry, the first time I heard about barndominiums was when I saw my neighbor building a new-style home. That was the first barndominium I've ever seen, and I found it so fascinating that I wanted to learn more about them.
More Posts