What is the difference between a barndominium and a modern barndominium or is there a difference?
Most barndominiums are built with the classic rural, country charm like you will find in days past when they built living quarters over their barn.
With a modern barndominium, you are adding a stylish, contemporary design.
In a modern barndominium, just what does this stylish, contemporary design mean?
Does this mean high-end appliances, expensive furnishings, or what?  What it can mean is that you have installed ornate light fixtures, raw wood that has been recycled and reclaimed, and bold accent colors.
We are not only going to tell you how you can build a modern barndominium but also show you what they look like and how they can add stylish contemporary charm to your barndominium.
Finish reading this informative article and then start making your barndominium into a modern barndominium.
Key Takeaways:
A modern barndominium lets you showcase your unique style
Installing ornate light fixtures is one of the best ways to turn your barndominium into a modern barndominium.
Turning your barndominium into a modern one does not have to be expensive or hard to achieve.
Modern Barndominiums — Everything to Know
The number one thing to know about modern barndominiums is what is your budget?
This includes building your barndominium from the ground up or revamping the barndominium you are currently living in.
Making your barndominium into a modern barndominium can include everything from gorgeous exterior details to practical floor plans.
You want what you choose to elevate the form and function of your barndominium.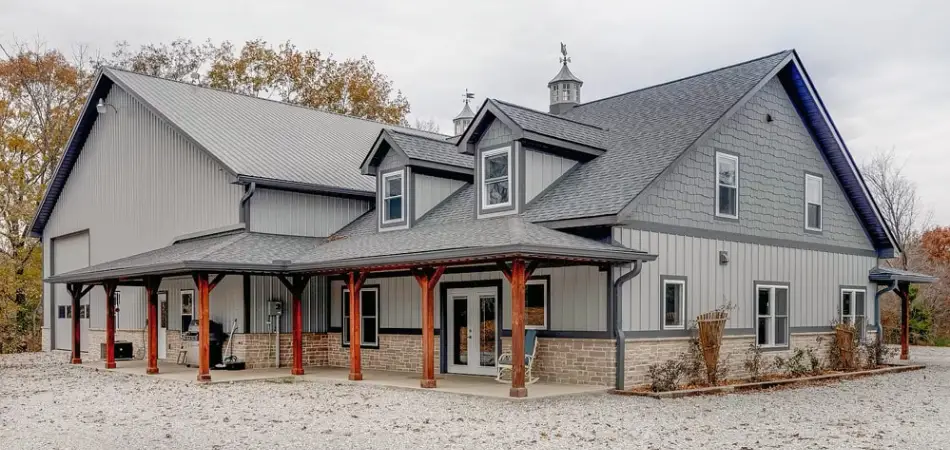 When "modernizing" your barndominium, you want to combine the comfort of the farmhouse inspired charm with the luxury of modern living.
You want to ensure that you have the balance of both worlds.  Below are some of the things you can use to make your barndominium into a modern one.
Barn doors
Using these types of doors can help the barndominium keep its farmhouse feel.  Make sure that you do any necessary upgrades to keep the doors from chipping or warping.
Replace the hinges if they are rusty and cannot be cleaned.  Doing these things will help your barn doors look polished and allow them to open and close easily on the tracks.
You can use these to separate rooms on the inside of your barndominium, such as closet or bathroom doors, and more.
Stone Accents And Features
You can include stone accents and features both inside and outside of your barndominium.  It can be integrated to accent your porch beams or frame entryway.
Log siding
Wood is ideal to match that modern barndominium farmhouse style.
With modern barndominiums, you do not have to use actual logs for siding as they now have siding that looks like logs but is made from a durable material.
Using this type of "log siding" gives you the log look but requires minimal upkeep and has the look of real siding.
Walk-out decks
These are sometimes used as balconies or small deck areas that you can access from your master bedroom, giving you a place to sit and enjoy your morning coffee.
This is also another way of extending your indoor space to the outside so you can feel more connected to nature.  It gives you somewhere to sit but is connected to home.
Extended covered porches
These types of porches are very popular today for modern barndominiums.  They will often extend from the sloped roof, giving you more of an outdoor space that is out of the sun.
Some owners will even use these areas to build an outdoor kitchen.
Built-in carports
This is another way you can elevate your barndominium to a modern one.  With an extended carport, it can provide shelter for vehicles and eliminate the need to build a garage.
If you are not parking your car there, it can also be used as an extended gathering place.
Batten And Whiteboard
When making a modern barndominium design, color can play an important role.
Most think of cherry or pine when considering colors for their barndominium but there are other colors you can use.
One color, in particular, is white board.  It is vertical, articulated siding.  It can give your modern barndominium a fresh, polished look.
Often it is combined with a strong trim color like navy blue or black.  This can draw attention to the exterior of your barndominium.
Modern Barndominium Kit Costing
Most barndominium kits are just the basic shell that averages $5,000-$70,000.  The final price would depend on what you have added to the basic shell.
Some of the things that can increase the price of your modern barndominium kit are choosing energy-efficient windows and doors, appliances, extra features, siding, roof, and more.
What Is The Average Cost Of A Modern Barndominium?
On average, a modern barndominium would cost $120 per square foot for a modern barndominium.  The price will depend on what modern features you want to include.
The price also can increase or decrease depending on the marketing trend for the cost of materials.
If you want to include a workshop, it will cost on average $40-$70 per square foot extra.
For an extended covered porch, you can figure to add $40-$70 more per square foot.
On average you can expect to add $130-$150 per square foot more for extra cooled and heated spaces, such as heating your workspace.
On average, for a modern barndominium, the price can range from $200,000-$360,000 or more.
Again, it all depends on the builder you hire, how much modernization you are going to do, what extras you add on, and more.
Modern Barndominium Ideas
Below are some ideas in which you can give your barndominium a modern look.
When deciding which ideas to use or using some of your own ideas, have a budget so you do not run out of money or have to borrow money before you finish your project.
In the pictures below, you can see some of the many elements that are listed in the article that can be used to give your barndominium a modern look, such as stone accents, lighting, and more.
Modern Barndominium Ideas 1
With this modern design, they have incorporated the use of stone accents with the large fireplace that is the center point of one wall of the barndominium.
With the large area rug upon which sits a couch and two chairs, it gives that area a nice cozy feeling.  All of the windows let in all that natural light.
They have also used a lot of repurposed wood, giving the inside a look that is not finished, that it is just the frame.
Modern Barndominium Ideas 2
This modern barndominium has used two ideas to give it a modern look.  They have a nice gathering place under their extended covered porch with what appears to be recycled barn beams.
Above the covered porch there is a nice walk-out sitting area that comes off a room on the second floor.
The siding on the barndominium gives it that rustic look of an old barn.  Sone has been used to make low stone walls.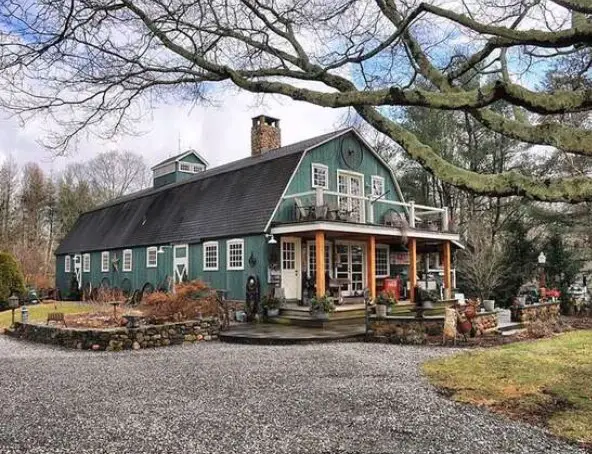 Modern Barndominium Idea 3
The owners have turned their barndominium modern by enclosing the old silo with stone and giving a stone barrier or frame around the lower part of their barndominium.
The siding appears to be repurposed wood or faux wood siding.  Above the entranceway, there is a nice walk-out porch and to the side is what appears to be a covered sunroom.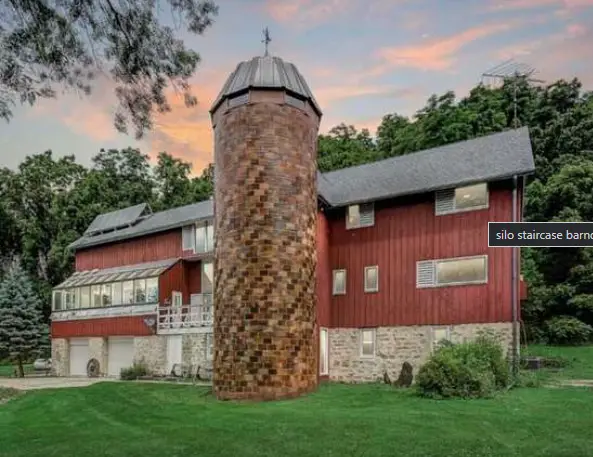 Modern Barndominium Idea 4
With this idea, they have given the room a minimalistic look with white walls, white furniture, accented with a rustic-looking wooden floor, and reclaimed wooden beams.
The optimal lighting is simple yet elegant.  The open floor plan has that classy, modern look.  It is a simple look, but everything goes together.
There is also a modern type of fireplace where the couch is in front of it, giving the area a cozy vibe.  The tall windows give off a lot of natural light.
Modern Barndominium Idea 5
Modern contemporary is one way of describing this open concept area consisting of the living, dining, and kitchen.
The walls are painted white, but the accents used are brown in the form of a geometric designed area rug, modern couches, and love seats that have the old fashion pillow arms and backs.
The stairway leading to the second floor is accented with wood along with the railings.  Each of the doors and windows is framed with reclaimed wood.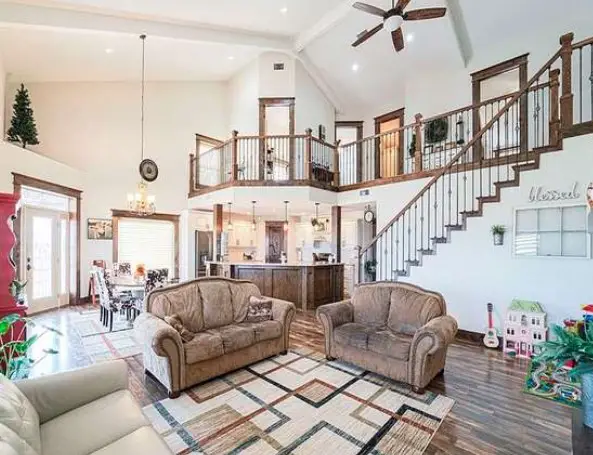 Modern Barndominium Idea 6
Just looking at this outdoor picture of the barndominium speaks "modern" from the large, covered porch to the man-made swimming poor that is encased in a stone wall.
There are even stones slabs for people to sit on with their feet dangling into the pool.  Holding up the covered porch looks to be recycled wood beams.  There is even a covered carport.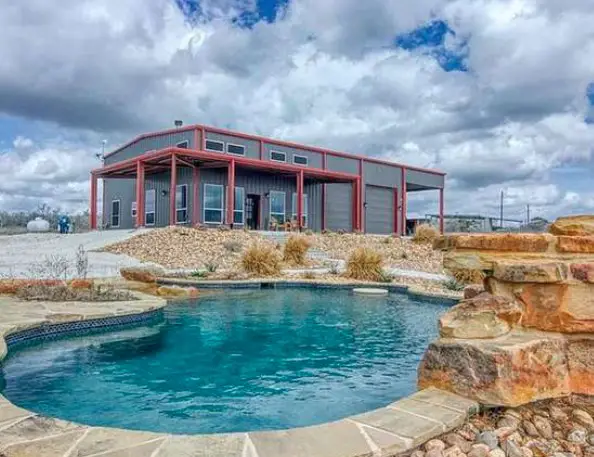 Modern Barndominium Idea 7
To give the barndominium a modern look, they have incorporated a polished stone floor.  To the side, there is a barn door that can be slid open and closed to the room beyond it.
To give it the rustic charm of a farmhouse, they have used wooden beams on the ceiling.  Again, large windows to let in all that natural light.
When decorating the barndominium, the owners have elected to use modern furnishings but antiques such as that older chest, which is being used as a coffee table.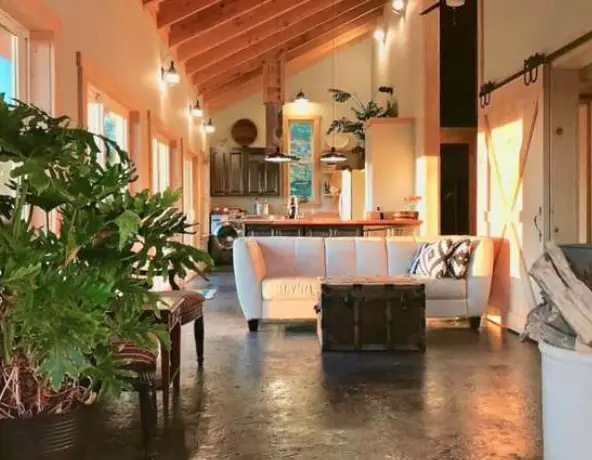 Modern Barndominium Idea 8
The way they have done this kitchen, dining, and living area is to make it appear larger with the light grey ways and white flooring.
For the ceiling, they have taken what appears to be old wooden slabs, cleaned and waxed them before using them on the ceiling.
It is almost like the room has been turned upside down, but it works.  They have added brown accents to the room in the form of small bookcases but most of the furnishings are white.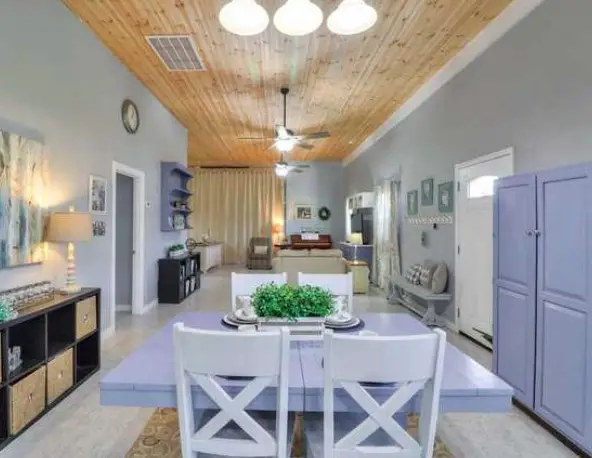 Modern Barndominium Idea 9
Here they have utilized the barn doors that slide open and closed to a workshop or garage.  It is a simple boxy barndominium with no thrills or frills on the outside.
They have taken what appears to be old barn wood and painted it a dark gray along with minimal windows.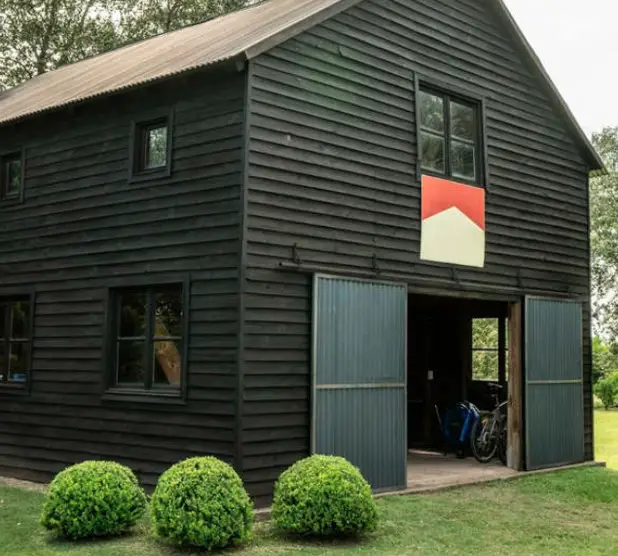 Modern Barndominium Idea 10
With the design of this barndominium the owners have used barn doors to accent the regular front doors.
They have also used the same design to outline the upper two windows but just in a smaller version.
There is also a rock/stone base around the barndominium and a nice, covered porch with stone pathways leading downward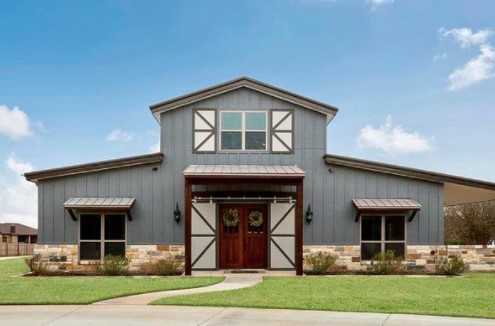 Conclusion
A modern barndominium does not 'have' to be over the top.
All it needs is a few details and such to give it a classy modern look.  In this article, we have told you things that you can use to give your barndominium a new look.
Plan it out how you want to make it modern.  There are many things out there to make it a modern barndominium without going over budget.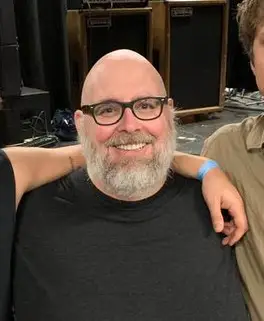 I'm James, your barndominiums advisor. Several years ago, I had no idea what barndominiums were. Although I'd spent over 10 years in the construction industry, the first time I heard about barndominiums was when I saw my neighbor building a new-style home. That was the first barndominium I've ever seen, and I found it so fascinating that I wanted to learn more about them.
More Posts