How tall you want your barndominium depends on many factors, for example, building materials, i.e., metal or wooden frame.
There's no denying that barndominiums are on the rise and in high demand.
For individuals who want to build a barndominium, this article will give you the reasons why you should consider it as the best option.
The article also highlights reasons why it might not be the ideal choice, but don't panic as there ways around them. Is tall barndominium good or bad?
The Good Side Of A Tall Barndominium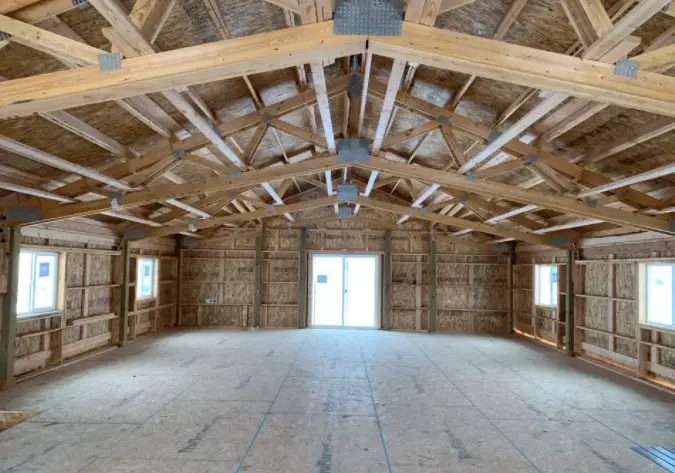 1. It Offers Large Space
barndominium offer a large space, courtesy of their open space under the roof span allowing room for creativity.
If you had to be creative with a typical house, the essential elements you'd be paying close attention to include the load-bearing wall.
The disadvantage of these walls is; they limit you from creativity.
And as already mentioned, there are numerous customization options with a barndominium which also depends on your taste
2. Maintenance Requirements
Any typical barndo has low maintenance requirements than a traditional house. Plus, barndominiums aren't different from conventional models except for the extra space.
But they bear a significant difference in their exterior designs, i.e., a barndo has a steel exterior.
Barndominiums are durable especially models with steel construction, and they require other maintenance like repainting and renovation, which are cheaper than those of a typical modern house.
3. It Is Eco-friendly
Note that barndominiums are made of eco-friendly materials. So if you want to be a part of the green revolution and reduce your carbon footprint, a barndominium is the way to go.
Moreover, a barndo can help you save on unnecessary expenses associated with cooling and heating, thanks to the insulation properties of its metal frame.
So, with this house, you can save between 25% and 50% on energy costs.
The Bad Side Of A Tall Barndominium
1. It May Be Challenging To Find Mortgaging Financing
Finding Mortgage financing is a significant challenge most new barndominium owners face in the US.
That's because they aren't technically considered houses. So, new owners are forced to look for other alternative financing options for their primary or secondary homes.
2. They Are Subject To Corrosion
Since most barndominiums have a metal structure, you should know that it's likely to suffer corrosion over time.
So areas with tropical climates aren't the best settings for constructing a barndominium.
Alternatively, you can paint the exterior or opt for other treatments to curb this problem
3. Not Everyone May Like The Exterior Design Of This House
A house with a barn-like exterior design may not be appealing. Such designs are synonymous with barndos, whose interior design is the opposite of the external appearance.
However, you can consult with your designer to make the exterior visually appealing as the interior decor.
The Major Benefit Of A Tall Barndominium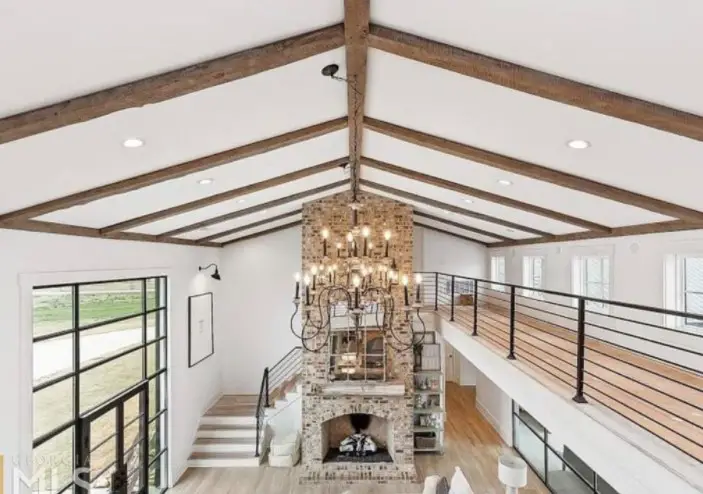 1. You Can Choose From Numerous Options
Unlike in the past, these days, you can design a barndominium the way you want.
So, if you were wondering the amount of money your Barndo will consume, it would solely depend on your design choice.
And that's because their popularity has also propelled their creativity.
For example, you can have a small square Barndominium with a 700 square feet bedroom.
Alternatively, you can incorporate more rooms, e.g., bedrooms and a shop in your tall barndominium.
Conclusively, there's always room for creativity when building a tall barndominium alongside the amount of cash you're willing to pour into it.
2. Cost-effectiveness
Surprisingly, the rise of these magnificent structures enables builders to offer their clients engineered foundations, unlimited exterior doors, etc.
And these may end up costing you only $38,000. With a typical home, you'll have to pay an upward of $290,600, translating to $145 per square foot for a 2,000 square feet building.
Even if the costs go down — say $172,000, which is $115 per square foot for a 1,500 square feet building— the price is still higher than that of a barndominium.
Note that with any barndominium, expect to pay between $70 and $95 per square foot, making it relatively cost-effective.
3. Ease Of Construction
If you're one of those impatient individuals who want to move in their house as soon as it done, then a barndominium is the ideal choice to opt for.
Regardless of the design, these buildings are easy to build, and the construction period is also relatively short.
So, if you're tight on budget, you should also consider this as an alternative option.
4. Durability
One of the best things about barndominiums is durability, an incredible feature for those without plans to build another house soon.
In addition, the buildings are typically sturdy and offer solid protection from certain elements. Also, it will keep pests away, and the house itself won't rot.
How Tall Is A Barndominium? (Not too tall!)
Notably, a barndo ceiling height can go upwards to more than 14 feet compared to typical houses with ceiling heights of approximately 8.5 feet.
Also, the buildings are mainly prized for their structure and size.
The versatility of the Interior decoration is mind-blowing as the design lets you decorate the interior with open home concepts.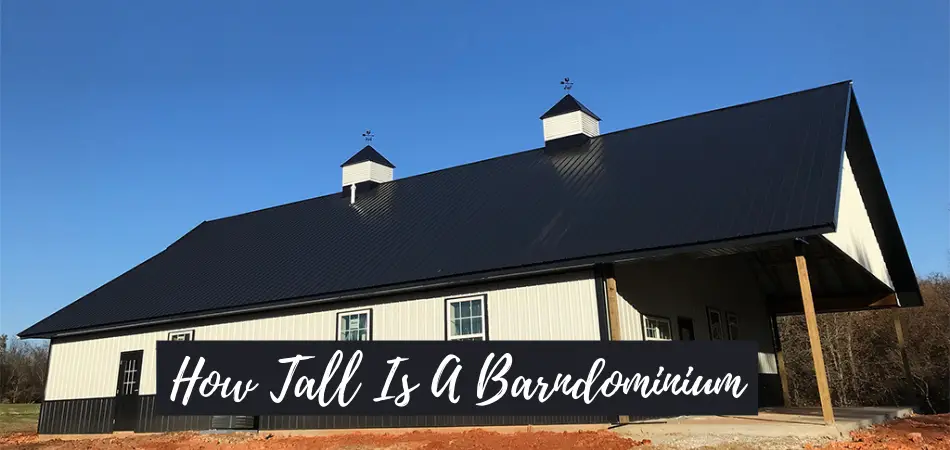 On the other hand, a 30×40 barndo can offer you an interior space of 1,200 feet, ideal for a three-bedroom house.
Also, a 40×75 barndo is a considerable choice, especially if you want a residential home. In addition, this is a perfect option for multi-purpose usage.
With a 60×70 barndo, you are at liberty to do with it what you please. Remember that the size can offer you a space of 4,200 square feet, meaning more room for creativity.
How Tall Is A 2 Story Barndominium?
Typically two-story houses have an average height between 20 and 25 feet. A two-story barndominium eave of 21 feet is ideal for 8 feet ceiling heights.
And a single story would require 10 feet eave. The majority of barndominiums have an average height of 16 to 20 feet; however, you can make your two-story barndo much higher.
Conclusion
One of the major reasons most people prefer barndominium is their spacious interiors which give you the liberty to get creative with the design.
So, if you've been looking for an affordable and durable house, then a barndominium is the go-to choice.
Though mortgage financing may be a challenge, with the rising popularity of these houses, that will hopefully change.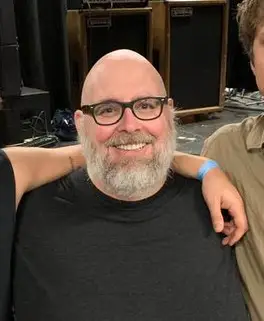 I'm James, your barndominiums advisor. Several years ago, I had no idea what barndominiums were. Although I'd spent over 10 years in the construction industry, the first time I heard about barndominiums was when I saw my neighbor building a new-style home. That was the first barndominium I've ever seen, and I found it so fascinating that I wanted to learn more about them.
More Posts