Barndominiums are the latest trend. It is becoming increasingly popular among first-time homeowners. Barndominiums are barn homes made of wood or steel with a large living quarter. Building a barndominium is very affordable and time-saving. This is one of the reasons first-time owners are fascinated by the prospect of building a barndominium. You have a lot of space to utilize according to your specifications to suit your concept of a dream home.
Building a barndominium is cheaper than building a traditional house. A fully fitted barndominium will cost around $95 – $120 per square foot. At this price, you would have completed the construction of your barndominium that is fully fitted and ready to move in.  Also from various estimates from contractors, the cost estimate for a small Barndominium(30×40) is around $100000 – $130000.
Barndominiums come in different sizes. The cost of your barndominium is dependent on the size. Large barndominiums size of 72 feet by 40 feet cost around $150000 – $180000 for key elements. While other Barndominiums sizes of 40 feet by 75 feet or 60 feet by 40 feet cost around $135000 – $145000 for their key elements.
If you are looking to build a small-sized barndominium, that will have enough space for two bedrooms. Also, you any to include a bathroom, a small kitchen and a workspace. You will have to consider the exterior cost, interior cost and structural costs when setting your budget.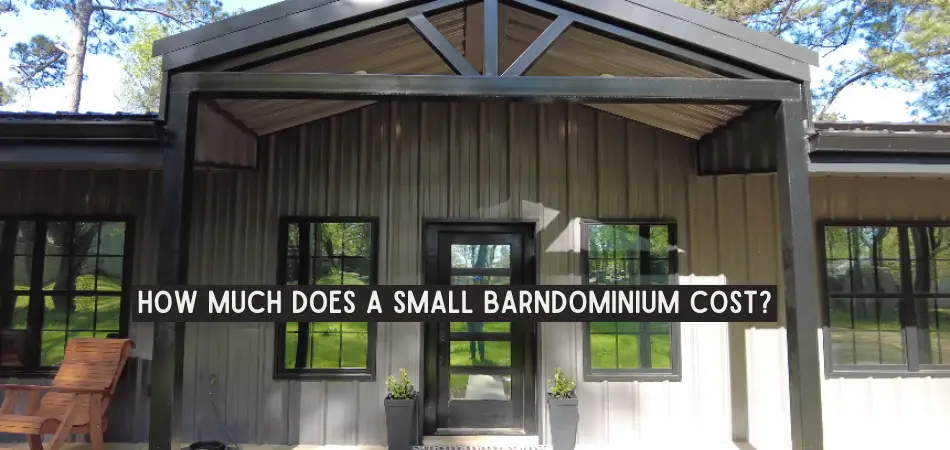 Exterior Cost Of A Small Barndominium ( 30 Feet By 40 Feet)
The major exterior costs you need to consider for your small-sized barndominium are the cost of the building shell, doors, roof, painting and windows. For your building shell, you can choose between wood or metal. Although wooden barn shells are more popular, metal shells are more durable. You would need to also consider the costs for clearing the land. This cost varies with region, but on average, it is between $1.3 to $2 per square foot.
Metal shells are fire-resistant and are not susceptible to weather elements. Also, wooden barn shells are more expensive compared to metal barn shells. Steel barn shells cost around $20 – $35 per square foot on average while wood barn shells cost around $95 – $125 per square foot.
The cost of doors should be between $2000 to $3000. While windows and paintwork will be around $2000 and $1000 respectively. The painting is done to protect the metallic parts exposed to weather elements and limit the formation of rust. Also, for the roofing, ensure that roof material is reinforced with high impact materials.
Structural Cost Of A Small Barndominium
The major structural components of the barndominium are the metallic/steel columns, concrete floor/slab and foundation. The cost of a foundation depends on the type of foundation used. You can build your barndominium on a ground-bearing slab foundation or a pier and beam foundation.

The choice of foundation used depends on the location and other factors. If the area has loose soil, you might want to consider a pier and beam foundation. A pier and beam foundation will transfer the load of the barndominium to the hard layer of the soil. Hence, providing strong support for the building. Also, If you fancy having a crawl space beneath your ground floor, then a pier and beam foundation is the way to go. Meanwhile, a ground-bearing slab foundation is cheaper.
Furthermore, for the steel columns, the price is between $50 to $100. The reinforced concrete floor cost between $5 to $13 per square foot. You will incur extra cost in terms of the ground beam if you make use of a pier and beam foundation . Steel beams cost around $60 – $150.
Interior Cost
The interior works in a barndominium include interior painting, installation of tiles, insulation,  fixing of wallpapers, and installation of vaulted ceiling. Vaulted ceiling costs between $50 – $ 75 per square foot. While the cost of wallpapers falls between $5 – $9 per square foot, tiles cost between $0.50 – $7 per square foot. Also, the cost of insulation differs with respect to the type needed for a particular area. Fibreglass insulation costs between $0.88 to 1.64 per square feet, while spray foam insulation costs between $1.5 to $4.9 per square foot.
Mechanical and Electrical costs
The mechanical works in a Barndominium include the plumbing materials, plumbing works and HVAC installation. Additionally, the electrical works in the barndominium are the lighting and wiring systems. The cost of plumbing materials for a small-sized barndominium is around $1000 to $3000. For the lighting, you might have to set aside $3000 to $5000. The installation of the HVAC for artificial ventilation costs around $4000 to $6000 for a small-sized barndominium.
Other costs you need to watch out for include the water treatment, fencing of the building, balcony, insulation and labour/assembly. The cost of labour/assembly of the key elements is usually around $25000 to $5000.
Costing Chart For A Small Barndominium Building  ( 30 Feet By 40 Feet )
| | | |
| --- | --- | --- |
| ITEM | LOW (IN USD) | HIGH (IN USD) |
| Electrical works | 3000 | 5000 |
| Plumbing materials | 1000 | 3000 |
| Foundation | 45000 | 50000 |
| Flooring | 3000 | 4000 |
| Insulation | 4000 | 6000 |
| Doors | 2000 | 3000 |
| Vaulted ceiling | 2000 | 3000 |
| Wallpaper | 1500 | 3000 |
| Acrylic emulsion paint | 1000 | 3000 |
| Plumbing under slab | 3000 | 4000 |
| Kitchen | 5000 | 8000 |
| HVAC | 4000 | 6000 |
| Drywall | 2500 | 4000 |
| Water treatment | 2000 | 3000 |
| Interior structure | 3000 | 4000 |
| Bathrooms | 3000 | 4000 |
| Building shell | 30000 | 45000 |
Conclusion
The average cost of  a Barndominium is around $95-$120 per square foot. For a40x30 Barndominium, the total cost would amount to between the range of $112000-$14400. For a regular house of this same size the total cost is almost two times the cost of a Barndominium. It is also advisable you visit at least three contractors for their price estimates and pick the best value for money estimate before hiring any.
I'm James, your barndominiums advisor. Several years ago, I had no idea what barndominiums were. Although I'd spent over 10 years in the construction industry, the first time I heard about barndominiums was when I saw my neighbor building a new-style home. That was the first barndominium I've ever seen, and I found it so fascinating that I wanted to learn more about them.
More Posts