The fame of barndominiums has grown in upscale cities and states in recent times.
The unique design of these structures is one reason why many people have gone all-in on the new housing option.
Also, because most people want a less pricey house that is more versatile than the average home, interest in barndominiums has continued to soar.
And this often begs the question, where can I find a barndominium?
Until recently, barndominiums have only thrived in rural parts of the US.
However, as the need for cheaper and more creative housing options arise, many prospective homeowners are considering them as a viable option.
While barndominiums have not been approved in the building codes of some states, others have embraced these unusual structures encouraging the new trend.
This guide gives detailed information on where to find a barndominium in the United States.
Know The Benefits of Barndominiums
While investing in a barndominium may sound like a thrilling idea due to its growing popularity, it is wise to learn the benefits of making such a huge investment.
Fortunately, information on the advantages of barndominium-living abounds online to help readers make the right decision.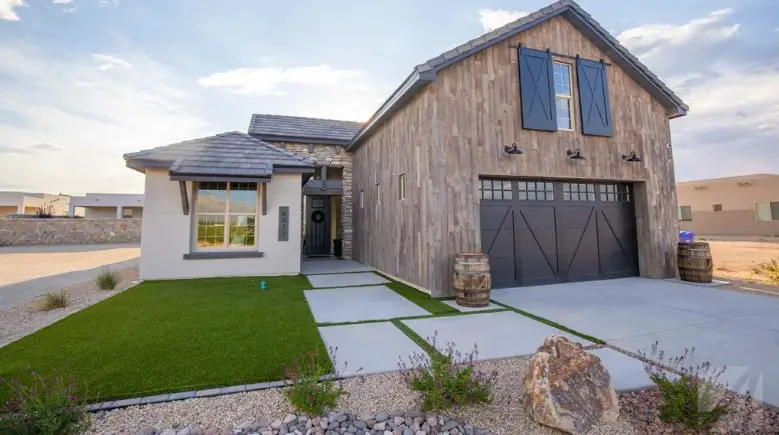 Knowing the benefits of investing in a barndominium will also help one know what is in it for them before committing thousands of dollars.
Below are the top benefits of a barndominium
Offers A High Level Of Durability
One of the main reasons barndominiums are gaining hold in rural areas is their high durability.
Most barndominiums consist of a metal shell frame made from the strongest construction material- steel.
The unique build of these structures allows them to withstand the same damage that will otherwise wreck a traditional home.
Barndominiums are resistant to moisture, rot, rust, pests, fire, and other severe weather conditions.
Take Less Time To Install
It takes months or even a year to build conventional homes. Barndominiums, on the other hand, take only a few weeks to construct.
It takes 2-3 weeks to put together a barndominium completely. This benefit is possible because barndominiums are made off-site.
If it is not a DIY project, all the contractor needs to do is put already made barndo parts together to fit the structure a person chooses.
The interior finishing is usually the time-consuming part of barndominium construction.
Dual Purpose Home Options
Due to its ample storage space, a barndominium can serve multiple purposes. One part of the barndominium can be used as a commercial outlet for a self-employed owner.
Those working from home can also carve out a house section for a home office without sacrificing any other room.
Provides Families With Extra Space
Since barndominiums are formed from the barn+ condominium concept, they feature open floor plans just like barns.
Instead of using four walls, which most people hate about conventional homes, barndominiums use partitions to define living spaces.
Although the exterior may not look as appealing, the interior spacing is usually better than that of a traditional home.
Reduces Loss From Fire Damage
Metal and steel have higher fire resistance than other materials. Hence, barndominiums are more fire-resistant than traditional homes.
During a fire incident, a conventional house is more likely to be engulfed in flames faster and may result in a total loss of one's properties.
Metal structures like barndominiums are less susceptible to heat and can hold their own for up to 400°c.
However, anything hotter than 400°c can cause significant damage to the structure.
How to Build a Barndominium
Building a barndominium is combining unique and traditional methods to create a beautiful, low-maintenance structure.
Unlike traditional houses built from wood and brick with 8-9 feet ceiling height, barndominiums are made from metal with a ceiling height of more than 14 feet.
Most barndominiums are prefabricated away from the site. Those looking to build their barndos themselves may consider getting DIY kits from states like Tennessee, Texas, or Florida.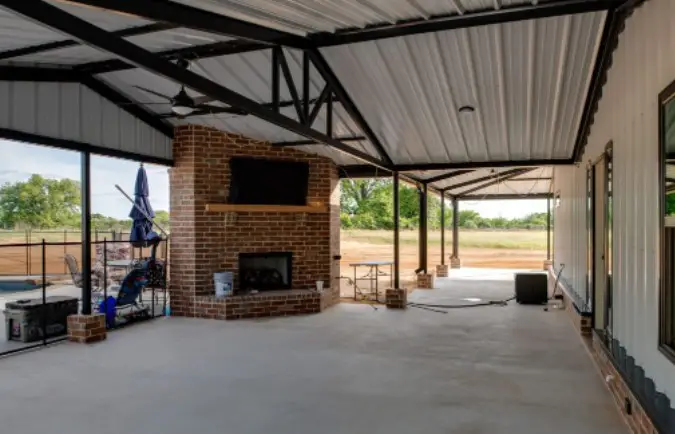 If it is any consolation for DIY homeowners, it is easier to construct a barndominium than a regular 2×4 stick structure.
Essentially, the building phase of a barndominium can be divided into three parts: the slab foundation, metal framing, and interior build-out.
One may also choose to hire a contractor to pour the foundation and build the metal frame while working on the interior.
This is a good idea if a person does not have any construction experience.
In the case that someone hires a contractor, then the only thing they have to do is to pick the preferred barndominium design.
However, it is worth noting that most, if not all, barndominium models are one-story structures.
Hence, for two or more floors for a barndominium, one may need to speak with a builder about the construction.
Where Can I Find a Barndominium Around My Premises?
The barndominium housing option has continued to grow in popularity after the Fixer Upper Show in 2016.
In 2016, barndominiums became the top search on websites like Pinterest with people usually asking, where can I find a barndominium?
And since then they have grown in popularity.
These structures can be found in rural areas of the US, including cities in Texas, Missouri, Arkansas, and Alabama.
Before deciding on which city or state to build a barndominium, it will be helpful to learn what city offers the lowest prices and highest volumes available.
Below are some states to check out for the best barndominium deals
West Virginia
Building a traditional home in West Virginia will usually cost about $105 per square foot.
Building a barndominium, however, is a little cheaper than the former as it costs $81 per square foot in construction alone.
Hence, if one decides to build a barndominium in West Virginia, they will be able to save costs for other house projects like setting up appliances, electronics, and cabinetry.
Alabama
Erecting the conventional style home in Alabama may set one back $80-$150 per square foot.
The average cost per square foot in building a barndo in Alabama, on the other hand, is $70 -$90 if one hires a contractor.
For a DIY project, one will spend $30-$40 per square foot, which is significantly less than the price of a traditional home.
Mississippi
The greatest advantage of building a barndominium in Mississippi is the cost. It costs around $75- $100 per square foot, making it suitable for people of all economic statuses.
Compared to traditional homes that cost nothing less than $100-$200 per square foot, barndominiums are a desirable housing option.
Ohio
Building a barndominium in Ohio is more feasible for a lot of people than constructing a traditional home. The cost of building a conventional house in Ohio is $95- $120.
While this price may be affordable for some, it is prohibitive for a few others. The $80- $93 price range for barndominiums in Ohio allows buyers to have cash left over to handle other projects.
Michigan
The cost of building a barndominium in Michigan depends on the size of the house and other features.
However, on average, it costs $90-$105 to build a barndominium in Michigan. Interior finishes, labor costs, and materials may impact the price.
Compared to building a traditional home that ranges from $90-$150 per square foot, a barndo in Michigan is a cost-effective option.
Louisiana
Building an average home in Louisiana ranges from $110-$140 for every square foot. It is worth noting that the price only reflects the cost of construction.
Labor, materials, and customizations may significantly increase the given price. On the other hand, barndominiums cost around $97 to build in this state, making them a budget-wise option.
Iowa
As compared to traditional homes where one has to pay $100-$155 per square foot, barndominiums are on the cheaper side in Iowa.
Building a barndominium comes out to around $90- $105 per square foot, making it 20% less than a standard home in the state.
North Dakota
North Dakota is one of the pristine states in the country and also one of the cheapest states to build a barndominium.
On average, it may cost $96 per square foot to build the structure leaving one with enough money to spend on furniture and house accessories.
Compared to building a $135 per square foot traditional home, barndos are undeniably a good choice for those on a tight budget.
Idaho
Idaho is a beautiful state that gives a mix of rural and urban life.
Those looking to build in Idaho will find that barndominiums are one of the cheapest but luxury housing options available in the state.
Constructing a barndominium in Idaho may cost $99 per square foot.
Traditional homes, on the other hand, will cost $120 per square foot. Hence, one may save $20 on every square, thereby having some cash left over for other projects.
Nebraska
Building an average home in Nebraska is around $134 per square foot.
Building a barndominium costs $34 less, which brings the price to about $96 per square foot. This makes Nebraska one of the cheapest states to build a barndominium.
Which Barndominium Should I Choose (The Right Guide)
Before investing thousands of dollars in a barndominium, one must consider several factors to ensure that they make the best decision.
There are different styles, designs, and materials used in constructing a barndominium.
The barndominium a person choose depends solely on individual preferences, needs and budget.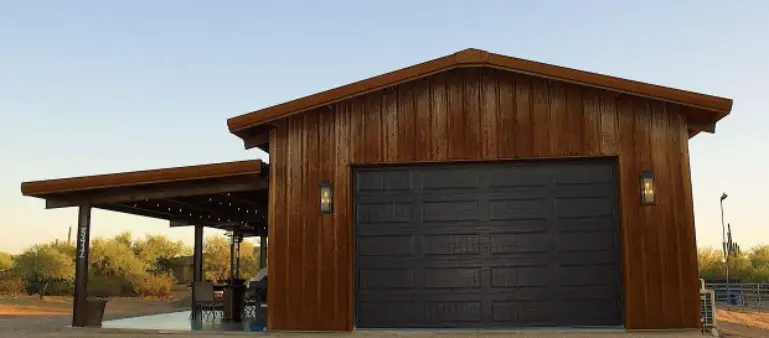 Below are some critical factors of a barndominium that should help one in the decision-making process
Pre-fabricated Kits
The price for a barndominium depends on several factors like the size, interior finishes, material, etc.
A bare barndominium shell may cost around $10,000 for 2000 square feet. However, it can raise as high as $200,000 for a foot barn home.
Pre-fabricated kits are often cheaper than building a barndo from scratch.
The cost-effectiveness, shorter construction time, and less extensive architecture are a few reasons why prefab kits are gaining popularity.
A prefab barndominium will price around $20-$140 per square foot.
Steel Vs. Wooden, Brick, Or Stone Material
One can choose to use steel, wood, or brick as the construction material for their barndominium. However, the different materials hold various pros and cons.
For instance, it takes twice as long to erect a wood-framed barndo as it will take to put together a prefabricated steel structure.
However, a wooden, brick, or stone barndominium has a longer lifespan than a steel barndominium.
As for construction, steel barndominiums are easier and faster to construct as they demand fewer construction skills, unlike other materials.
When it comes to cost, the cost of steel framing a house is around $9.50 while the cost of wood framing a home is about $1-$5 per square foot.
Layout And Design
Barndominiums have country home designs that create a strong influence on barn stylings.
The layout mostly features a gambrel roof, open floor plan, and repurposed pole barns transformed into living spaces.
However, one can draw out their layout plans themselves. This includes mapping out the entire site, recreation spaces, parking spaces, etc.
Affordability
It is essential to consider the cost and plan out one's budget before building a barndominium.
While they are generally cheaper than traditional homes, other factors like materials, labor charges, location, and size may hike the price.
Also, it is worth noting that the cost of steel has been volatile since 2021 due to shortages.
Hence, always check updates for recent prices in materials, plumbing, wiring, and labor before making monetary commitments.
Location
Some cities and states still do not allow the building of barndominiums due to their building regulations.
This is why barndominiums are more prevalent in rural areas where the building codes are less strict.
Aside from that, the weather condition in one's area is a huge factor to consider before building a steel barndominium.
While barndominiums can stand up to heavy winds as high as 150mph, stronger winds and tornadoes will most likely damage the structure.
Also, it may not be a good idea to build a barndominium in areas with constant, heavy rainfall as water can corrode the steel frame and weaken its structural integrity.
It is possible to reinforce a barndo and give it higher resistance. However, this may cost a person more than their initial budget.
Floorplans
Unlike traditional homes, the layout and floorplans in a barndominium can be adjusted according to the owner's taste.
Hence, a 4000 square feet barndominium can create four or more bedrooms with office or commercial spaces.
They come in an array of sizes. Therefore, owners can choose prefab kit floorplans ranging from an 80×100 to a 20×40 floorplan.
A higher floor plan means more space. However, this option will impact a person's budget.
Amenities
Basic amenities like water, waste management, and gas may not be readily available in rural areas. In that case, it is essential to factor in the costs of installing such utilities.
Consider installing a propane tank for gas access and a septic tank for water and sewer access.
Also, installing an HVAC system will help one control how hot or cold the house is which is especially vital in some states.
Barndo Size
Barndominiums come in different sizes; small, medium, and large. It is essential to choose a size that fits one budget plans.
Before that, ensure to select a land that fits the size of the barndominium. Don't forget to leave extra space that may be needed for office, privacy or recreational activities
Style
Just like with a traditional home, barndominium homeowners can choose an interior decorating style after construction.
One can go with the barn theme and opt for a rustic barndominium look. One can also opt for a more contemporary theme and choose a modern barndominium design.
Again, it depends on individual preference.
Conclusion
As barndominiums gain popularity among prospective homeowners across the states, builders and designers are looking for how to cater to the new demands.
However, anyone asking, where can I find a barndominium? must consider their budget and other factors to make a good decision.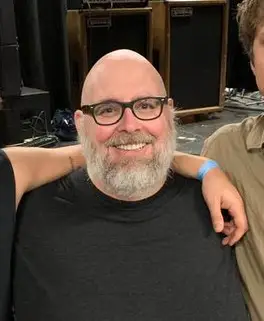 I'm James, your barndominiums advisor. Several years ago, I had no idea what barndominiums were. Although I'd spent over 10 years in the construction industry, the first time I heard about barndominiums was when I saw my neighbor building a new-style home. That was the first barndominium I've ever seen, and I found it so fascinating that I wanted to learn more about them.
More Posts