What is a Cottondale barndominium and what makes them so attractive to potential buyers?
One thing is that they can pack more into a small area when you compare them to other barndominiums.
The Cottondale barndominiums are smaller in space but give you a lot.
These barndominiums are what many call fancy barndominiums because the inside looks like you have spent thousands of dollars on the furnishings and curb appeal.  They can be your permanent home or maybe your vacation home.
In this article, we will cover what is considered fancy barndominiums and what it will cost to build your own.
We have even included some great photos of the inside and outside of these types of barndominiums.
Know These Top Five Fancy Barndominium Ideas
Below you have some pictures of what fancy barndominiums can look like inside and out.  The first picture shows a walk-in closet that most people would love to have.
Granted, they do not show much space for hanging clothes, but the shelves and drawer space are out of this world.
And then we have this amazing bathroom with a window that gives you a great view into the woods where you may spot wildlife while bathing.
Perfect for secluded fancy barndominium get-aways in the mountains.
Then you have that amazing bedroom that could be a master bedroom or guest bedroom, followed by a beautifully landscaped barndominium that has both living space and a two-car garage.
The last picture of what fancy barndominiums can look like shows the living and dining space with lots of windows.
This would be beautiful with wonderful views of the ocean or the mountains.  Either would be quaint get-aways.
Fancy Barndominium Idea-1
Wow!  Doesn't this entryway look so inviting?  Nice front porch where you can place a couple of rockers or plants in pots.
Lots of windows on each side to let in the natural like and then you can see around the side that the porch area continues into what could be a great patio area.
This is just one of the great front entries that can invite you into your new barndominium.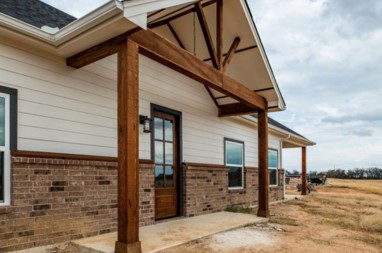 Can you say massive, open concept living area that can accommodate the entire family gathering at Christmas or Thanksgiving?
There is even a quaint fireplace to warm you on those cold nights.  As you can see, the front door opens into a small foyer before you step into the living room.
The lighting figure is very different and adds ambiance to the room.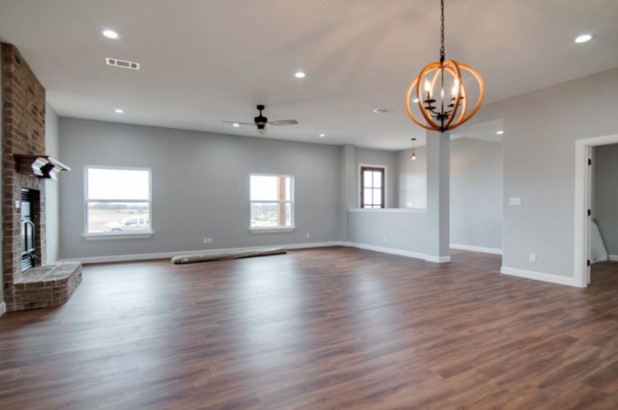 Fancy Barndominium Idea-2
This kitchen is every cook's dream kitchen with state-of-art stainless steel appliances and plenty of counter space.
There is also a breakfast bar where you can seat six for meals or for the children to do their homework while you are preparing a meal.
There is plenty of room for more than one in the kitchen to work together.  Everything gives this kitchen space a very elegant high-end look.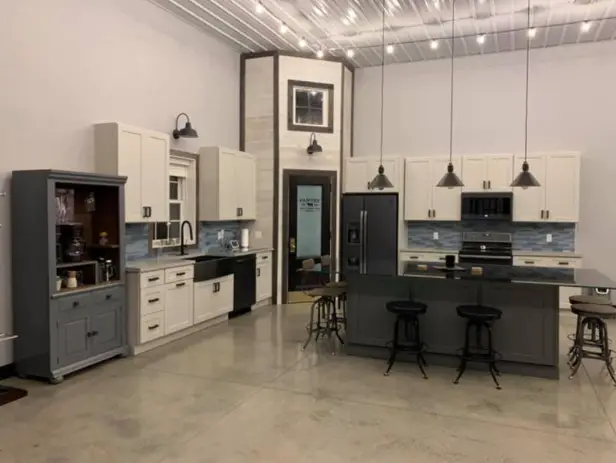 This picture below shows you how you can utilize the living space off of the kitchen as a gathering space and not as a dining area.  Instead, the island, or bar, is what they use for meals.
When you are preparing a meal, you can still converse with your guests.  It is almost like they have turned that area into a recreation area as there is a pool table in a small room off the side.
This is an area that is just inviting you in to have a great time with friends and family.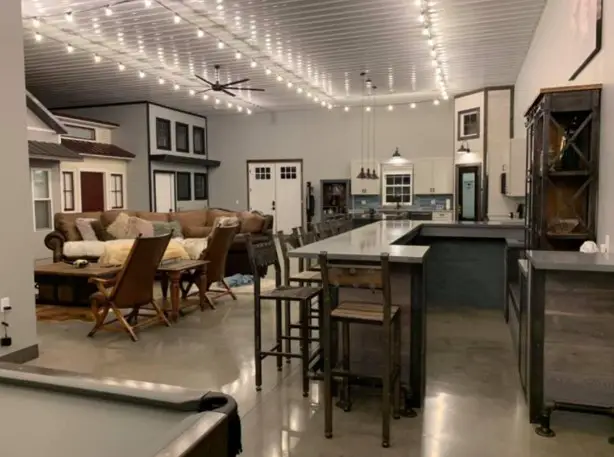 Fancy Barndominium Idea-3
This is a very interesting concept for fancy barndominiums.
They have designed theirs to give it an old west general store feel with plenty of room to sit outside and enjoy the beautiful weather.
The main door has been installed into the corner of the building, inviting you to come inside and visit.  The red finish draws your eyes to the simplicity of the barndominium.
There are plenty of windows to let in the warm sunlight.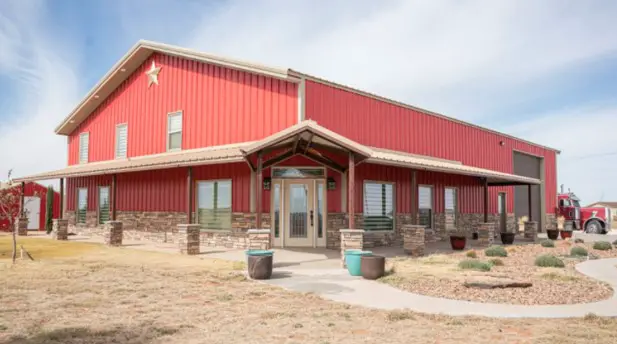 Here is another awesome kitchen in sort of an octangle shape.  Plenty of cabinet space, stainless steel appliances, and what appears to be a door to either outside or a pantry.
The floor is beautiful and adds warmth to the room.  Plenty of room to move around.  Great light fixtures and it opens into the dining or living area.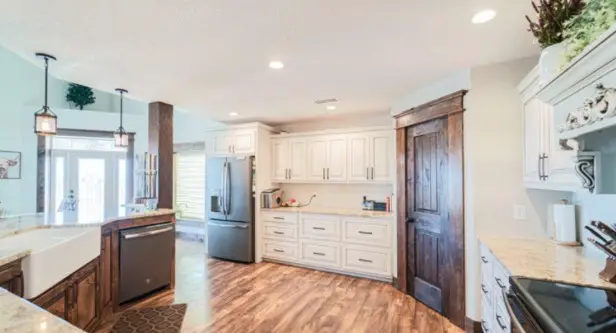 Fancy Barndominium Idea-4
A great entertaining area that is covered to protect you from the heat but open to welcome in the breezes.
There is also a porch or balcony that you can get to from possibly the master bedroom or living area of the house for you.
It will help you enjoy your morning coffee, an afternoon nap in the hammock, or a cocktail watching the sun go down.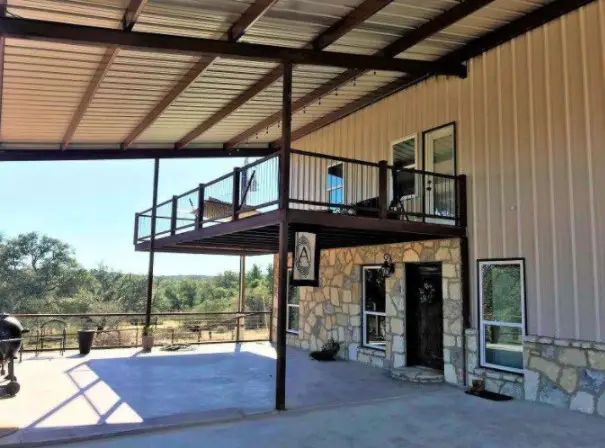 This is a very warm, cozy kitchen and living area.  With all the rich-looking wood walls and subtle lighting, this looks like a mountain get-away.
It is a perfect place for a couple.  The bedroom is on the second floor.  Looking at various fancy barndominiums, this one just shows that it does not need to be large for it to look fancy.
The kitchen is not huge, but it is functional and while cooking, you can talk to your spouse who is relaxing in the living area.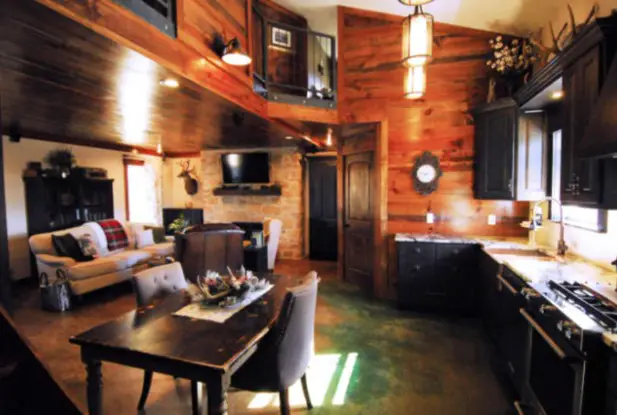 Fancy Barndominium Idea-5
This is another fancy barndominium that shows small is luxurious with a small, functional kitchen and a living space with a sectional couch that just invites you to sit down and curl up with a book.
It is very comfortable looking.  Off the kitchen, some stairs lead to the second floor and the bedrooms.  Large window in the kitchen that lets in all that natural light.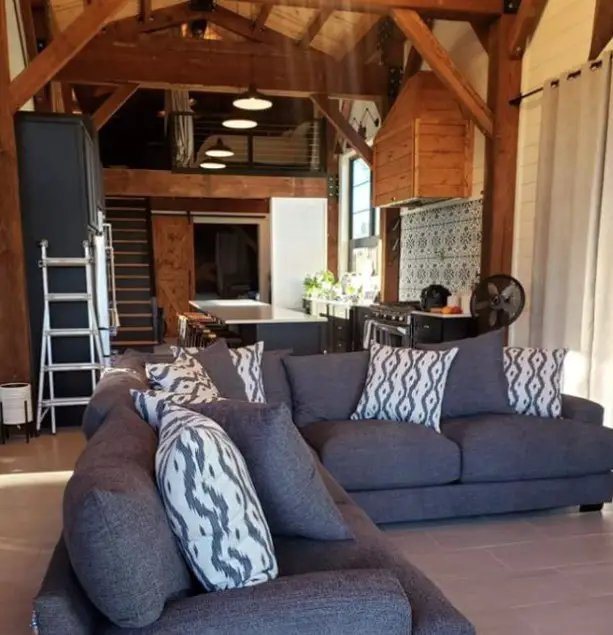 This is a picture of the kitchen in the above picture that you cannot fully see.  When you look at it, you can see how it ties in with the great living room.
It does not have stainless steel appliances but instead has a stove that looks a bit old fashion but works well with the décor.
Between the living area and kitchen, you can see two large patio doors that lead to the outside.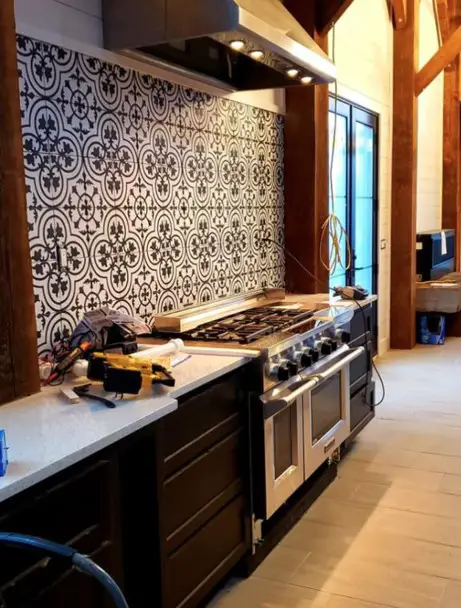 How Much Does a Fancy Barndominium Cost?
There is no set price on what fancy barndominiums cost.
It depends on several factors such as square footage, the number of bedrooms, whether it is from a kit or built from scratch, the furnishing, and appliances, and so much more.
Kits
| Bedrooms | Size of Kit | Building System | Concrete Slab | Building Erection | Interior Finish |
| --- | --- | --- | --- | --- | --- |
| 2 | 30' x 40' | $15,000-$17,400 | $4,800-$7,200 | $9,600-$14,400 | $48,000-$120,000 |
| 3 | 40' x 60' or 40' x 75' | $26,000-$29,900 | $9,600-$14,400 | $19,200-$28,000 | $64,00-$160,000 |
| 4 | 60' x 60' or 60' x 70' | $32,200-$41,800 | $12,000-$18,000 | $24,000-$36,000 | $72.000-$180,000 |
Per Square Foot For Turnkey Fancy Barndominiums
2,000 square foot–$190,000-$250,000
3,000 square foot–$120,000-$375,000
Cost Of Metal Fancy Barndominiums
| Item | Price |
| --- | --- |
| Kit | $20,00-$90,00 |
| Clear land | $1,300-$4,300 |
| Delivery of kit | $5,000-$15,000 |
| Assembly of kit | $25,000-$50,000 |
| Foundation/concrete slab | $4,000-$12,500 |
| Insulation | $1.100-$2,200 |
| Plumbing | $400-$1,900 |
| Sewer/septic | $2,000-$9,500 |
| Electrical | $600-$2,200 |
| HVAC | $2,600-$13,500 |
| Siding | $6,000-$16,000 |
| Roofing | $5,400-$10,700 |
| Total | $74,000-$228,000 |
Summary
Cottondale Barndominium—attractive ideas, of which there are many.
Too many to showcase in this article but we have shown you several bathrooms, living areas, bedrooms, kitchens, and outside of fancy barndominiums to give you an idea of these types of barndominiums.
We have also included a cost chart to help you see if they can fit into your budget as a permanent home or weekend get-away.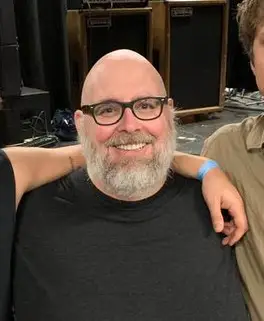 I'm James, your barndominiums advisor. Several years ago, I had no idea what barndominiums were. Although I'd spent over 10 years in the construction industry, the first time I heard about barndominiums was when I saw my neighbor building a new-style home. That was the first barndominium I've ever seen, and I found it so fascinating that I wanted to learn more about them.
More Posts