Your job has transferred you to Utah and you don't want to rent an apartment so what can you do?  You can purchase or build a traditional home but there is another solution.  You can build a barndominium.
How much to build a barndominium Utah? Let's just say it is cheaper than building a traditional home and it can be built quicker.  The average cost is $120 per square foot, about $25 less per square foot than a traditional home.  This price, though, is only for the construction of the barndominium.
This article will cover what else is included in the cost of building a barndominium, how to find land for it, and what some of the great advantages of a barndominium are in Utah.  By the end of the article, you will know why a barndominium in Utah is the solution to your housing conundrum.
Key Takeaways
Open concept floor plans
Building a barndominium in Utah instead of a traditional home will save you money.
Can be built from a kit or the ground up
Can You Build a Barndominium in Utah?
Yes, you can build a barndominium in Utah.  It is quicker to build and less expensive so you will be saving money to enjoy all the things that Utah offers.  Utah is also a very affordable place to live with beautiful views of the stunning mountains.  Being able to design your own home allows you to take advantage of those views with floor-to-ceiling windows.
What are the Advantages of Building a Barndominium in Utah?
One of the biggest advantages of building a barndominium in Utah is the low cost because of the prefabricated design.  There is also the fact that building a barndominium is easier and quicker than your traditional home.  It is less time-consuming and stressful.  Within weeks, you can have the main construction done but with a traditional home, this can take months.
With a quicker and faster build time, you will be saving money that you can use to upgrade your countertops, cabinets, and appliances or to add on a garage or workshop.  When you build a barndominium, it will allow you to reduce your energy costs because it is easy to make them energy efficient.  This will help with the hot scorching summers and freezing winters.
Since most barndominiums use prefabricated steel, this helps make them energy efficient to keep your home cool in the summer and warm in the winter.  Using the right insulation and energy-efficient windows also helps.
Another advantage of building a barndominium in Utah is that you don't have to use a cookie-cutter design.  Building a barndominium allows you the freedom to choose the floor plan that best suits your needs and lifestyle.  You can choose an open concept floor plan with the master suite on one side and the other bedrooms on the other side to give you more privacy.
The steel construction also makes your barndominium more durable for the heavy snowfall that Utah can get in the winter.  There is also less maintenance plus less worry about termites.  You also will not have to paint it as often or worry about wood rot.
How Much to Build a Barndominium Utah?
Building your barndominium from scratch is usually cheaper in Utah than it is in other parts of the country so this makes it more affordable.  When looking at the price of a barndominium, it is generally figured per square foot but that price is just for the construction of the barndominium.  You still need to figure out other various costs such as land clearing, a delivery fee of a kit or material, furnishings, and more.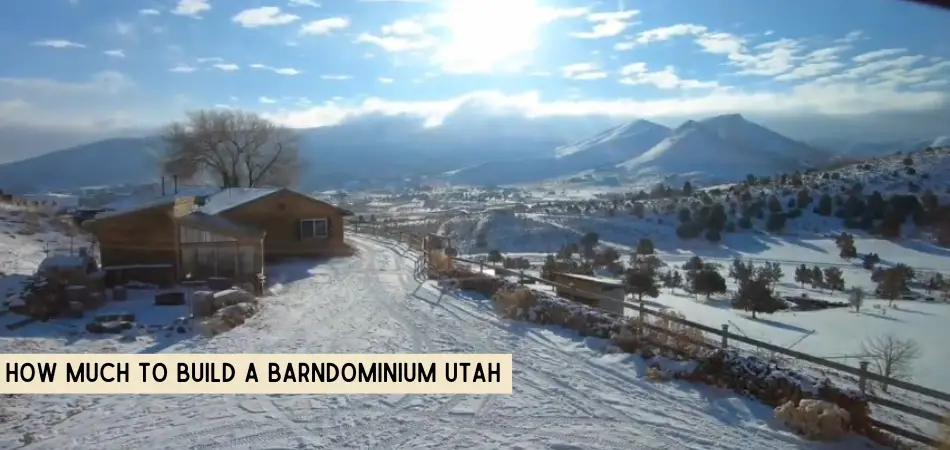 It is best to find out the cost per square foot to help you set your budget as to what you can afford plus add in some extra for unexpected expenses.  On average, it costs $120 per square foot, so a barndominium of 2,000 square feet would cost approximately $240,000.  You also have to factor in the cost of a contractor.
Even if you build it yourself, you will still have to hire subcontractors for electrical, plumbing, and HVAC work unless you are experienced and licensed in these areas.  All of these have to pass inspection for the barndominium to be livable.
If you decide to start with a kit instead of building from the ground up, you can purchase a barndominium kit, which can start as low as $20 per square foot.  The price is figured by the type of kit, size, design, and what is included.  A basic kit generally consists of the main building parts, which are the shell or frame that can be prefabricated wood or metal, exterior doors, prefab metal roofing, and all the bolts and fasteners needed to put it together.  Some will include the exterior windows.
As mentioned, a 2,000-square-foot home built from scratch is approximately $240,000 but if you bought a basic kit at $20 per square foot would be $40,000 but you would have other expenses no matter which way you choose to start.
| | |
| --- | --- |
| Expense | Approximate Cost |
| Land | $3,000-$150,000 |
| Clearing the Land | $1,500-$5,000 |
| Concrete slab foundation | $4,000-$12,500 |
| Insulation | $1,100-$2,500 |
| Plumbing | $500-$1,900 |
| Electrical | $700-$2,500 |
| Sewer or septic | $2,500-$10,00 |
| HVAC | $2,700-$14,000 |
| Flooring | $7,500-$29,000 |
| Roofing (if not included in the kit) | $5,500-$11,000 |
| Drywall and interior | $6,000-$32,000 |
| Blueprints | $60-$2,100 |
| Contractor | $30,000-$60,000 or 10%-20% of project total |
| Sub-contractors | $85-$95 per sq foot |
| Materials (if not buying the kit) | $25,000-$100,000 |
| Floor plans | $1,500-$4,50 |
If you purchase a kit, and no windows are included, this is another expense plus siding, delivery of the kit or material, appliances, countertops, cabinets, if you are adding a garage or other outbuildings, etc.
Where to Find Land for a Barndominium in Utah?
The best way to find land to build your barndominium is to talk to a local real estate agent where you want to build your barndominium.  This is where a lot of your budget will go.  You can also drive around to see if you can find any land with for-sale signs.  One thing to note is that land is going to be more expensive the closer you want to live in Salt Lake City.  You will also get a smaller plot of land.  If you want a larger plot of land you will need to look in areas that are less developed.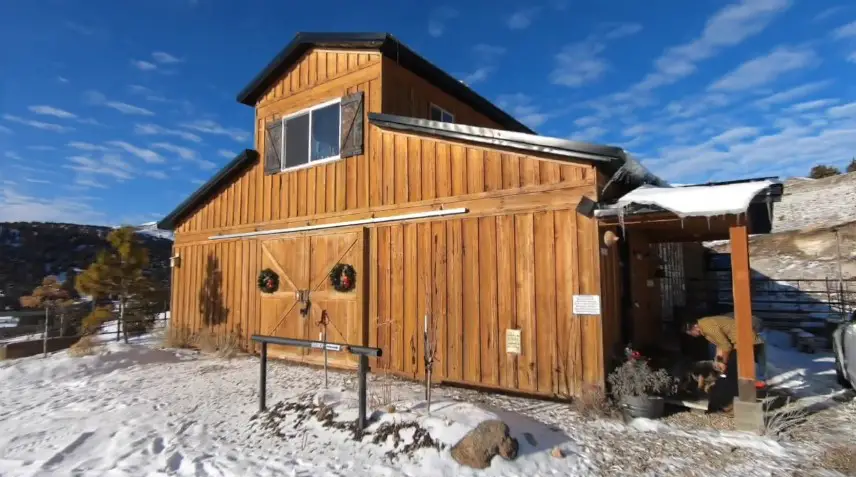 If you plan to build a large barndominium you should talk to the office that handles county regulations to see if there are any restrictions on what size barndominium you can build on the land you are considering purchasing.  You don't want to purchase land and then find you have to change the size of your barndominium because of size regulations.
Conclusion
The answer to the question, how much to build a barndominium Utah will depend on many different factors but it is cheaper to build than a traditional home.  You are also aware of the many advantages of building a barndominium in Utah.  Now that you have read this article, it will help you set your budget to build a barndominium in Utah.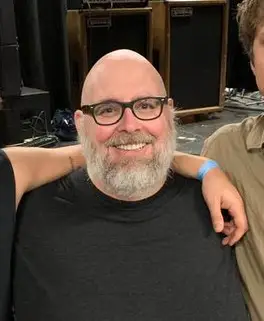 I'm James, your barndominiums advisor. Several years ago, I had no idea what barndominiums were. Although I'd spent over 10 years in the construction industry, the first time I heard about barndominiums was when I saw my neighbor building a new-style home. That was the first barndominium I've ever seen, and I found it so fascinating that I wanted to learn more about them.
More Posts