A barndominium is a combination of barn and condo and neither one generally has a garage so why would you want one with a barndominium?
It is just an added expense and space that could have been used for something else.  Yes, these are true but a barndominium garage can have a purpose.
Having a barndominium garage has become a popular feature that many new homeowners of barndominiums are having added to their floor plans.
One reason is that with a garage, it gives homeowners a place to park their vehicles.  It also gives them a workspace.
In this article, we will cover everything you need to know about a barndominium garage to help you make a uniform decision.
You will know whether you want to include this in your plans when selecting your floor plan for your barndominium.
We will also cover floor plans that include a garage, the cost of building one, and why you need them.
Key Takeaways
Adding a barndominium garage will give you the opportunity to have your own home business without having to travel.
A place to park your car to get them out of the sun or harsh winters.
Can also be an extra area to build a game room, man cave, or workshop
Garage For A Barndominium: Do You Even Need One?
One of the main reasons that you need a garage for a barndominium is that it is not just for parking vehicles.  It can be used for so many other things.
When you build a barndominium garage it is a guaranteed way of building a home that you and your family will want to stay in.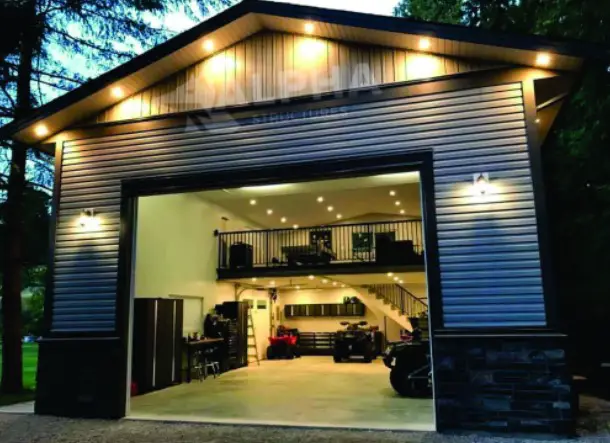 In most traditional homes, when a garage is mentioned, it is either a one or two-car garage.
That is all the space you have and if you want to use it for anything else, your vehicles may end up being parked in the driveway instead.
With a barndominium garage, you have a lot more room.
A garage for a barndominium can be of various sizes, such as 9×30, 10×12, or larger.
There are some that will build a workshop/storage area and a garage with a covered porch area between the two.
It does not matter if you are drawing up the blueprints for your floor plan or having a professional do it, be sure that you consider a garage and what you can do with this extra space.
What A Barndominium Garage Can Be Used For
Parking vehicles to keep them out of the weather
Workshop
Home business
Can be turned into extra bedrooms or living space if needed
Storage
Game room
How To Make The Most Out Of Your Barndominium Garage?
When designing your barndominium garage, you want to make sure that you get the most out of the space.
Here are some things that you can do to ensure that you do.
Make sure that it is the right size
To make sure that you are building the right size, you need to consider what the main function of the space will be so you can get the right amount of space.
Are you going to be storing vehicles there and if so, how many?  Are any large recreational vehicles?  Are you going to use any area for storage or shelves?
Consider Your Shop space
Many times, one of the reasons that a person builds a barndominium is so they can live where they work. This will cut travel time to their business.
If you are going to use part of the barndominium for a shop instead of the garage, do you want it to be separate or attached to the garage or barndominium?
You can also customize the shop space as you want it.  Some will use half of the garage for a shop and the other half for parking their vehicle.
Doors
Barndominiums are easy to customize so there is the freedom to choose the right garage doors. Although it depends on the size of your garage, you can add as many bay doors as you want.
They can be barndoors on a sliding track, a door that goes up like a regular garage door, or double doors that just swing open.
You will also have to decide if you want a door from the garage to the house.
Hobbies
This can cover jet skis, snow skis, kayaks, ATVs, and more that you are going to need to store in your garage.
Storage
When designing your garage, make sure that you are including storage space for items such as a deep freezer, an extra refrigerator, the BBQ grill, and other things that do not fit into the barndominium.
How Much Does a Barndominium Garage Cost?
When figuring the cost of a barndominium garage, the price is figured into the square footage of the barndominium.
On average, the cost per square foot is $70-$100.  You will also need to figure in the labor costs, which will depend on the contractor hired and how much of the work you do yourself.
There are also the costs of materials and what you will need to finish out your garage.
This can include shelving, special coatings on the garage floor to make it easier to clean and keep stain-free, type of doors, and more.
For example, a 3,000 square foot barndominium, including a garage, can average $120,000-$375,000 but the final price would depend on the features the house has.
Barndominium Garage Kits
As mentioned, when building a barndominium, the garage is included in the square footage.  This is the same for a barndominium kit.
When you purchase a barndominium kit, the added space for a garage is figured into the size of the kit you purchase.
Most kits will include the exterior materials that are needed to build the barndominium.
You can purchase kits in sizes 60×60, 30×40, 40×75, and 40×60.  The cost will depend on what size you choose, whether you want to include the insulation, type of siding, and more.
A basic barndominium shell can cost $10,000 on average.
Barndominium Garage Plans
Below are some of the floor plans with a barndominium garage figured into the plans.  As you can see from the plans, there are different floor plans that you can use.
There are also different sizes of garages and placements as to where they will be on the barndominium.
Barndominium Garage Plans Example 1 – Floor Plan 224
This is a uniquely shaped barndominium as it is long and narrow, at 105×15.2 with the garage at the end of the barndominium.
This floor plan takes part of the garage and turns it into a hobby/storage area.
You can enter the barndominium from the garage into a hallway that leads to two bedrooms and onto the living area.
From the floor plan, it appears to have a door that leads into the hobby/storage area and two bays at the front.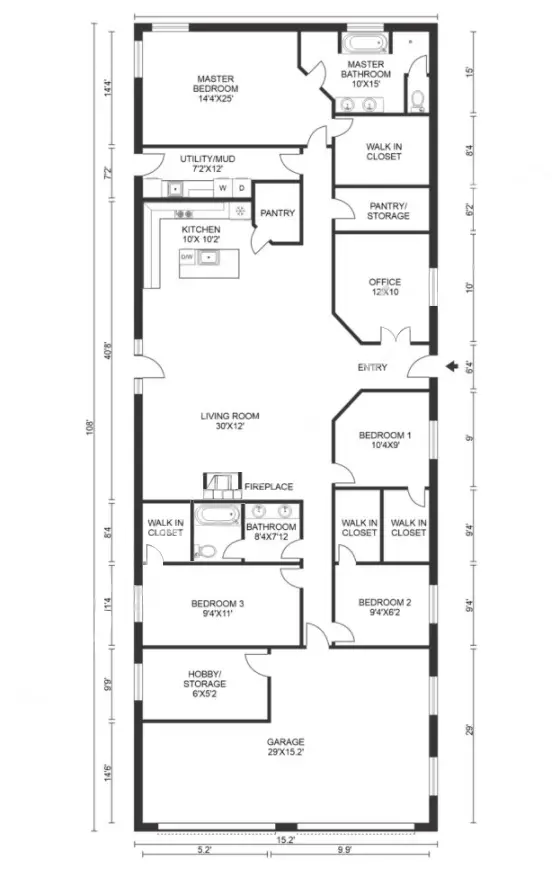 Barndominium Garage Plans Example 2 – Floor Plan 225
With this floor plan, they have decided not to build the traditional garage but instead, they have built a large carport.
You can walk from the carport into the barndominium in what is called a flex room, down a small hallway to the kitchen area.
With a carport, you can also use it as an entertaining area for family BBQ's.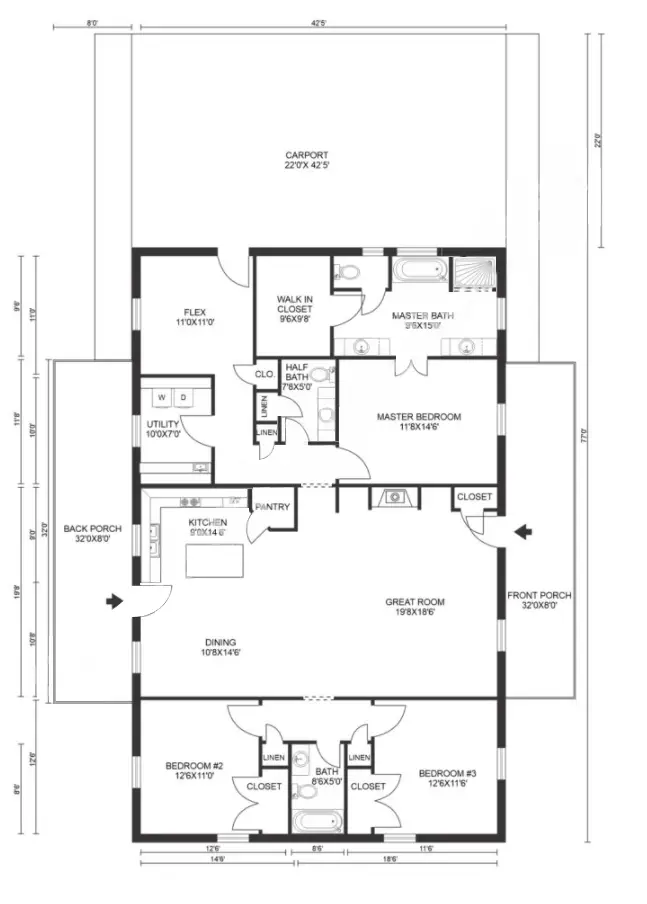 Barndominium Garage Plans Example 3 – Floor Plan 226
This barndominium floor plan shows that they have taken the barndominium and split it in half, making one-half the living quarters.
On the other half, there is a garage and then what appears to be some type of concrete slab but it does not say what it is used for.
There is a covered drive that leads to what appears to be doors on the garage and the other concrete area.  From the garage, you can access the barndominium into the laundry area.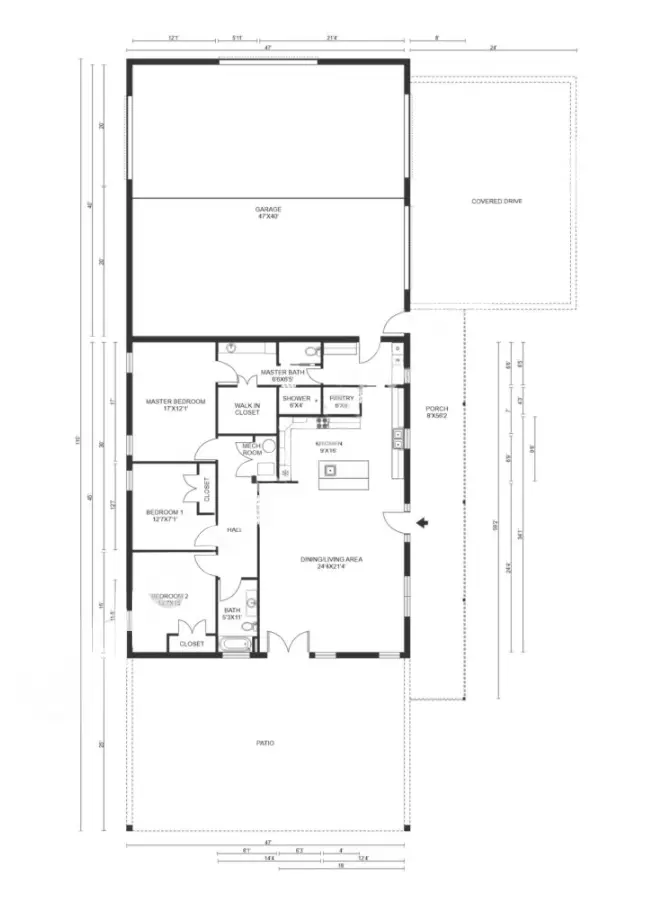 Barndominium Garage Plans Example 4 – Floor Plan 227
This is another unusual way to have a barndominium garage as it is connected to the barndominium by just a corner of the garage.
The entrance leads into the utility room in the barndominium.  It is a two-car garage but from the floor plans, it is hard to say where the doors would be to drive into the garage.
There is an outer door that comes off the front side of the barndominium.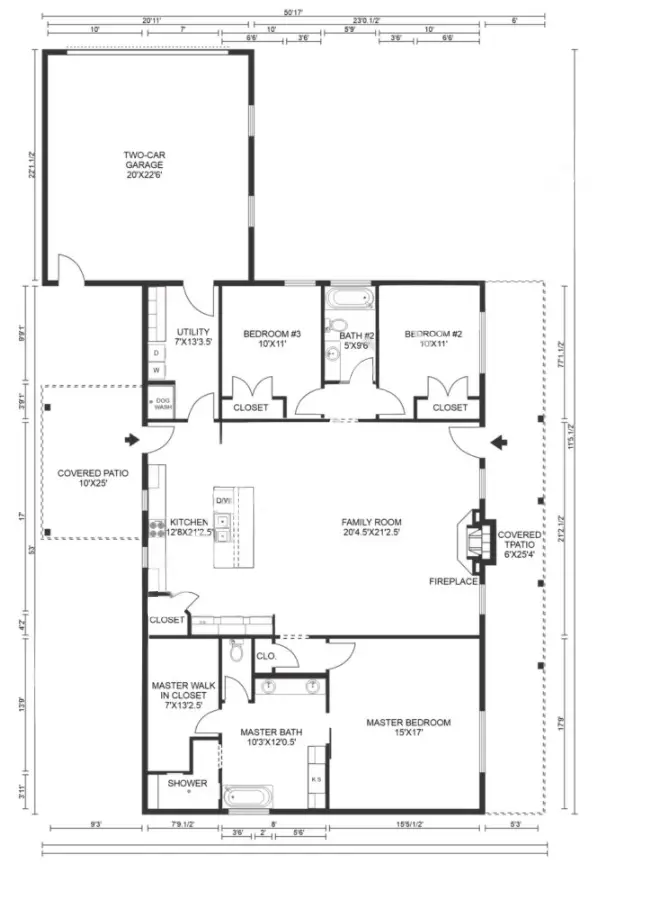 Barndominium Garage Plans Example 5 – Floor Plan 228
This floor plan for a barndominium garage is one of the more practical ones as the door leading into the barndominium opens just off the kitchen.
This makes it easier to carry groceries from the car into the kitchen.  There are two outer doors that lead into the garage.
This garage looks as if it is going to be used as a workshop or storage because there does not appear to be double doors you can drive a car into the garage.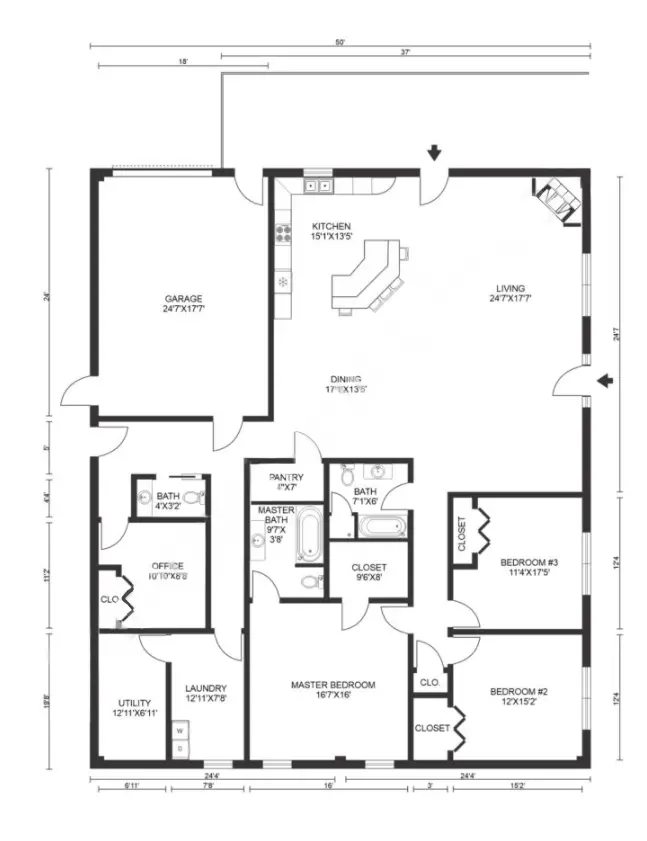 Barndominium Garage Plans Example 6 – Floor Plan 229
This is also a carport and not a barndominium garage.  It leads to a covered porch, which has an entrance that leads into the kitchen rea.
It is a smaller barndominium with only three bedrooms, which includes the master bedroom.
There is still room for a family of four but many more than that there would not be that much room to move around.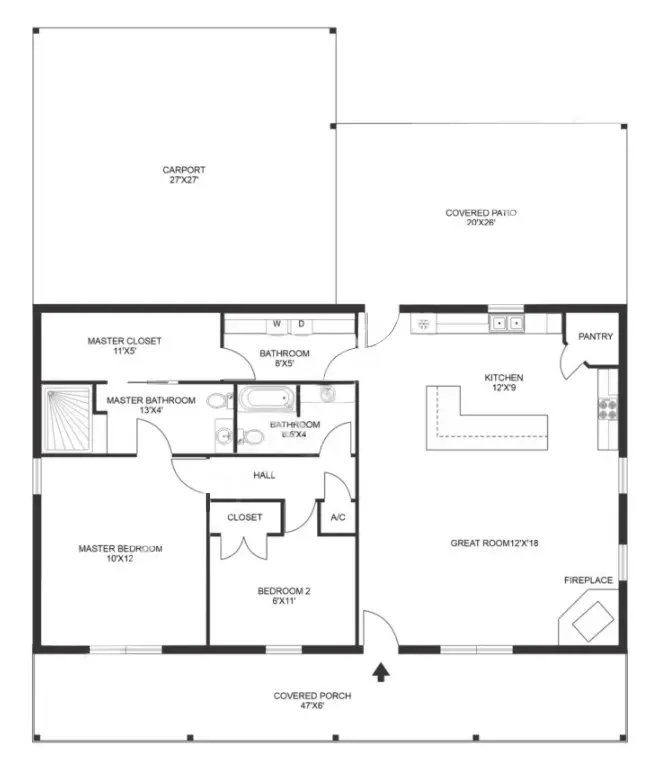 Barndominium Garage Plans Example 7 – Floor Plan 230
This is another different floor plan where the garage is sitting on the corner of the barndominium and has room enough for five cars.
There is also a bathroom in there and a mechanical room.  It leads into the barndominium through the mudroom straight into the living space.
You have to walk across the living space to take the groceries to the kitchen.
All of the bedrooms and extra bathrooms are on one side of the barndominium with the living area in the middle.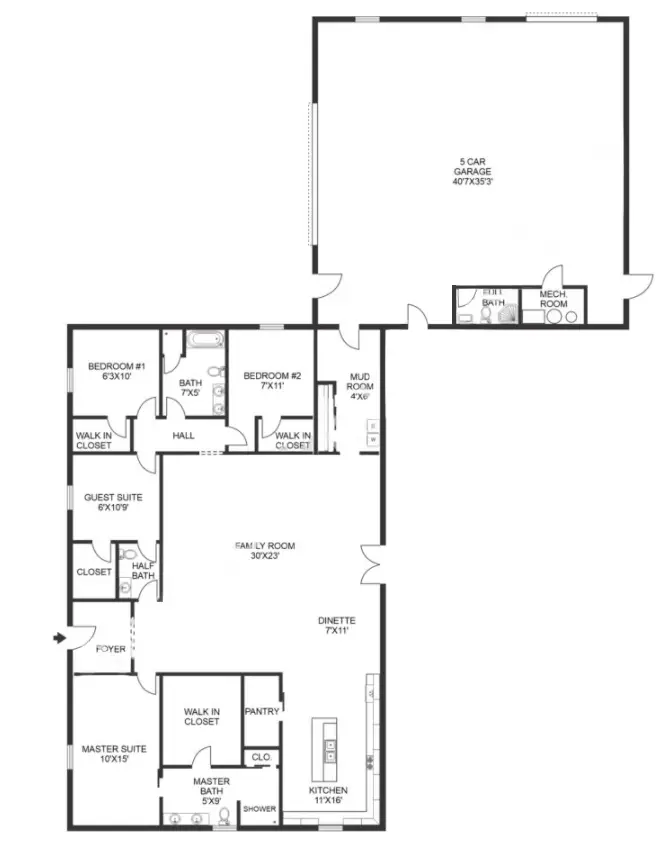 Conclusion
When you are figuring the cost of a barndominium garage, the cost is generally figured in the price in the square price of the entire barndominium.
We have also shown you various floor plans and how a barndominium garage can be configured into the plans.
The article also covers what to consider when figuring out the layout for your garage ad what it can be used for.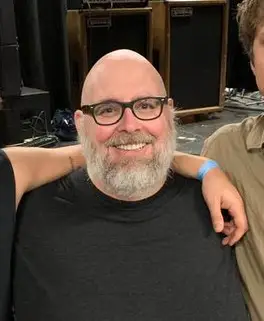 I'm James, your barndominiums advisor. Several years ago, I had no idea what barndominiums were. Although I'd spent over 10 years in the construction industry, the first time I heard about barndominiums was when I saw my neighbor building a new-style home. That was the first barndominium I've ever seen, and I found it so fascinating that I wanted to learn more about them.
More Posts