It's no secret that in today's world, people are looking for ways to downsize and simplify their lives. We've seen this with popular trends such as tiny houses or shipping container homes.
There's even a search for smaller, more efficient traditional homes. But there's another house-building trend becoming popular in the United States. So while tiny houses and shipping containers might be on your list to check out, we recommend adding a barndominium. 
This unique house provides residents with a practical and simple way of living. The concept originated in Texas but quickly took the house-building world by storm. Yes, even in Wisconsin.
Barndominiums, Barndos, Shouses: What Are They?
A barndominium is exactly what it sounds like: The combination of a barn and a condominium. Also called "Barndos or Shouses," these homes are affordable, energy-efficient, and low maintenance. They are typically constructed out of metal, merging the design of a barn but the functionality and features of a home.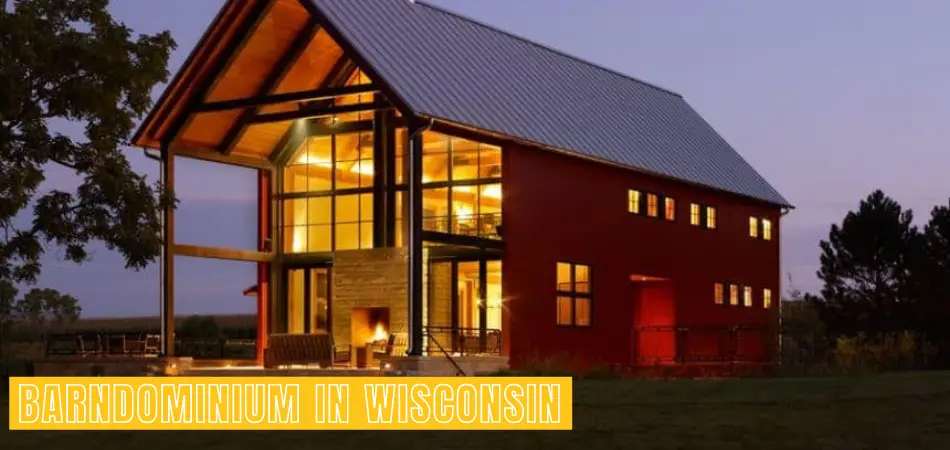 Functional, stylish, and designed to have a spacious feel, when it comes to building a barndominium in Wisconsin, your options are limitless.
You choose a floor plan that meets your needs, adding extra storage or a workshop. Barndominusn combined the work and living spaces in a simple, affordable way with all the modern conveniences. 
Some people have transformed an unused portion of their barn into a self-contained living space or storage solution. With research, investment, and planning, you could turn your unused barn into a rentable or livable space.
Are you interested in learning more? Read on for an in-depth look into building a barndominium in Wisconsin. Tips, advice, costs, and the benefits of this unique type of home. Take the first steps towards creating a functional and stylish place to live!
The Benefits of Building a Barndominium in Wisconsin
The most significant benefit is affordability! Barndominiums are generally less expensive than building or buying a traditional home.
Their simple design allows for a more cost-efficient home, and they can be easier to maintain daily. In addition, there's a variety of floor plans, which allows for the ultimate customization, giving you the style you want.
If you're looking for a cheaper home alternative, the barndominium might be a viable option. The next step is choosing how you want to build.
Hiring a builder, using a barndominium kit, and repurposing an existing structure are all options for setting up your barndo. Whichever route you take, there are lots of options when building in Wisconsin. From first-time home buyers to empty nesters, everyone loves barndominiums!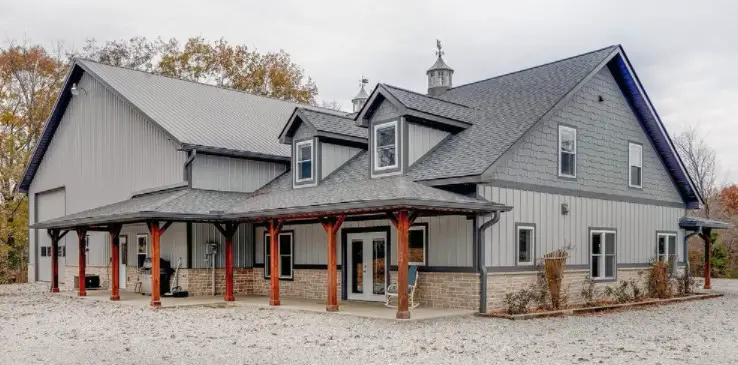 Getting Started
Can you even build a barndominium in Wisconsin? Yes, you can! For those wanting to escape the hustle and bustle of city life, a barndominium offers just that.
And if you are a resident or property owner, you can build on your land. This unique type of home provides the best of both worlds. You are combining the space and convenience of home while offering a rural homestead's natural setting and community. 
That being said, different permits are required for building a barndominium (or any new or remodeled structure). The types of permits depending on the project, but you can get expert building permits, zoning permits, and septic permits for your build. The fees will also depend on the building's location, property, and size.
Wisconsin Building Permits: What's Required
In Wisconsin, you will need a permit to build all new structures, remodel, or renovate an existing building. This includes electrical, plumbing, and mechanical work. Structures fall under commercial buildings, houses, sheds, decks, fences, patios, pools, and garages.
For all new construction, you'll need permits, which are generally required before you start work. Not collecting the correct permits could lead to fines and double the normal price of permit fees. 
Essential Items That Must Comply With State Regulations (Not Limited To)
Exits

Stairways

Ventilation

Fire exits

Smoke detectors

Carbon monoxide alarms

Protection against termites and decay

Erosion control

HVAC installation

Electrical installation

Plumbing installation

Insulation

Water heater

Water/Sanitary/Storm Connections
Items That Require A Wisconsin Professional
Plumbing must be supervised and installed by a licensed plumber (only after the home is legally occupied can the owner install additional plumbing)

Heating contractors must be state-registered 

Electrical work must be supervised and installed by a Wisconsin-licensed electrician.

Municipalities might have additional licensing and bonding or insurance requirements for contractors.
We recommend requesting certificates of insurance from the contractors you hire to ensure that proper liability and worker's compensation coverages are in place. This will help minimize your liability if any injuries or damages happen caused by the contractor.
Where To Get A Building Permit In Wisconsin?
In Wisconsin, all building permits are issued by the Building Inspection Office in your city. The office will have the requirements and the types of permits you need to get for your barndominium project, along with the information on the application process.
You'll also need to schedule a building inspector to check the building when the time comes.
What You Need For The Application
Your local municipality sets the regulations and requirements. That being said, you will typically need a signed and completed application form along with plans for the project.
The Building Inspection Office can provide the details you need to have ready. You might also need copies of survey reports, and any permit fees will need to be paid when you file your application. 
How Much Are Permits In Wisconsin?
While permit fees largely depend on your project, you can expect to pay between $50 to $100 for resident projects. Once approved, you can start hiring a contractor and purchasing materials for your new barndominium.
The Advantages and Disadvantages of Building a Barndominium
There will always be pros and cons to any project. Things to consider wherever you build are building code requirements, climate, labor cost, permit fees (see above), and property tax.
Building a barndominium in Wisconsin can be cheaper than building a traditional home, but it depends on your floor plan, chosen materials, and overall design.
First, you must ask yourself what you want from your home. Do you want a space for entertaining? Are you planning on raising a family? Do you have pets or livestock? The barndominium can be custom-built to accommodate all these things.
It's up to each homeowner to decide if the advantages outweigh the disadvantages of a barndominium. Check out the list below to see if this is the right direction.
Advantages
Takes Less Time to Build New Barndominiums
Because barndominiums are typically smaller than traditional homes, they require less construction time and might be eligible for faster permitting. If you choose the right contractor, you could have a completed barndominium in 6 months or less! 
Lots of Extra Space
Barndominiums are built to be open spaces, which means you gain extra space without taking up any extra square footage. For example, some homeowners want an additional 300 square feet for entertaining but want to lose their backyard. 
With a barndominium, you can have both! These homes are designed to take advantage of every square inch. No wasted space! 
Eco-Friendly
These homes are perfect for those looking to downsize from a bigger space. In addition, this is perfect for minimizing their carbon footprint and saving money on heating and cooling utility bills.
High-Level of Durability 
Because they are constructed mainly from metal, barndominiums are reported to withstand fire, earthquakes, pests, and rot easily.
It's a highly durable home perfect for rural communities where nature and wildlife reside. This is not just for country living or remote locations; they can be built anywhere with the proper amount of space, including inner cities. 
Disadvantages 
Some Cities Don't Allow Barndominiums 
While many municipalities are becoming more open-minded about building barndominium, some cities still don't allow them to be built. A few reasons a city might not allow a barndominium are city ordinances, lot sizes, covenants, and restrictions (C&R).
Be sure to research your local ordinances before construction on any home. This will save you both time and money. You don't want to start construction and then find it illegal in your location!
Most Barndominiums Are Single-Story Homes
While most people can live in a single-story home, having the extra room of two stories is nice. Most barndominiums are single-story homes; however, floor plans include two levels.
You might have to get creative with your space planning, but it can be done! Another option might be adding a walkout basement or loft area instead of a second story. This could save you money while also getting the extra space you want.
See Also: Building a Barndominium in Kentucky
The Cost of Building a Barndominium in Wisconsin
While the cost will ultimately depend on several factors, such as materials and the builder you hire, the average cost of building a barndominium in Wisconsin is around $100 to $115 per square foot.
Compared to a traditional home ($150 per square foot), this type of home is much more affordable. It also takes around 24 to 30 weeks to complete, is typically low maintenance, and there are options for barndominium kits to be delivered to your door.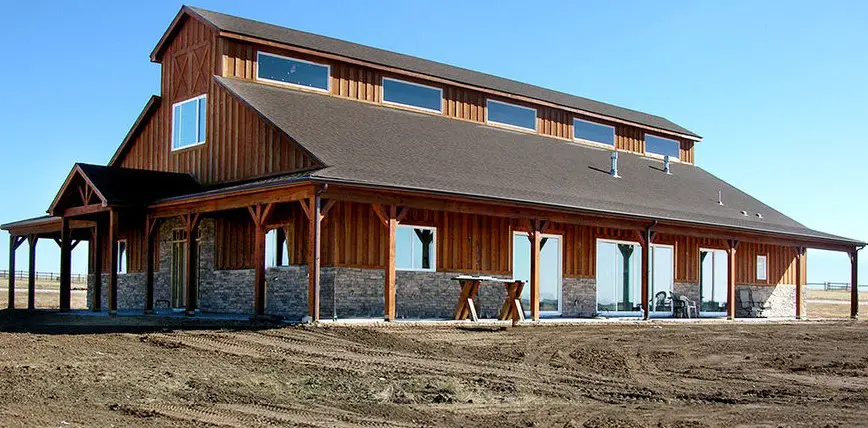 Keep in mind that there are other costs to consider: 
Structural cost

Exterior costs

Interior costs

Permits

Labor costs

Materials

Building inspections

HVAC 

Utility hookups

Customizations 
Many of these items require a state-certified professional to install and ensure the structure is up to code.
A few ways to save on costs are to:
Repurpose an existing structure or barn

Purchase a barndominium shell kit
Both these options still require inspection and permits, running heating, cooling, plumbing, electricity, etc.
STRUCTURAL COSTS
The structural costs for your Wisconsin barndominium will include the frame, foundation, and the clearing of your land (if you plan to build on it).
From steel to wooden beams to traditional bricks to cinder blocks, the materials you choose for your home will determine the total costs. Steel costs will be around $7 to $25 a square foot, and wood between $1 to $5 per linear foot. 
The most expensive is your foundation (it's also one of the most crucial parts of any home). For a 4-inch reinforced concrete foundation slab in Wisconsin, you're looking at around $5 to $7 per square foot. Plus, the cost of labor to get it installed.
Additional items are Frame, Roof, Columns, Rafters, Beams, and Supports, with the average costs of a roof installation in Wisconsin between $8,000 to $20,000.
EXTERIOR COSTS
Exterior costs also depend on square footage and materials used. This includes exterior doors, landscaping, driveways, sidewalks, siding, porches/decks, windows, and lighting. But, again, these will largely depend on the style, size, and materials you decide on for your Wisconsin barndominium. 
For example, different siding options are going to factor into your cost:
Vinyl Siding: $6,000 – $13,000

Cedar Siding: $16,000 – $33,000

LP Siding: $10,000 – $20,000
INTERIOR COSTS
Again, interior costs depend on your square footage and how many customizations/upgrades you decide you make to the barndominium. Depending on the chosen route, the interior generally takes up less than 20% of your home's cost. 
But you can expect the following items to be a part of your interior design: Flooring, Appliances, Ceiling Fans, Light Fixtures, Countertops, Trim, Paint, Bathroom, Kitchen, Hot Water Heater, Wall Insulation, etc.
Materials like hardwood flooring, tile, carpet, quartz, granite, marble, etc., will also play a part in this cost. Choose the material you want, but be prepared to research your city's price and labor costs. The lower quality materials might be cheaper but won't last as long.
Barndominium Builders: Finding The Right One 
You'll need a custom quote from any contractor in Wisconsin you're considering to help build your barndominium. While they are different, the average labor cost is around $45,000. This includes painting, roof installment, siding installation, and framing.
Therefore, before hiring a builder, you must ensure you have your budget, floor plan, and design all in place to receive an accurate quote.
Items that are included in contractor costs are going to be: 
Any building permits needed for the project

Inspections and building fees

Materials and supplies 

Sales tax

You'll also need to research and see if Wisconsin contractors specialize in building barndominiums. Thanks to the increasing demand for this project, some companies now provide the services to build one. There are even some builders who only build non-traditional homes or provide shell kits.
Builder Expectations: What You Should Look For
Experience: Find a contractor that is skilled or has experience building barndominiums. They should also have insight into the type of permits and inspections you'll need for this project.
Honesty: Along with experience, you want an honest and straightforward company. You need to be able to trust the company building your home! The wrong company can cost you time and money.
Helpful. Contractors should be helpful; you are hiring them for their experience and expertise. 
Reviews. Find out what past clients are saying about their experience with the builders you're looking at hiring. Learn how they are at communicating, their work effort, and if they stay within budget and the proposed timeline.
Recommended Wisconsin Builders:
Orchard Construction, Inc.

Omni Builders

Morton Buildings, Inc.

Fritz Home Builders
Choosing A Barndominium Shell Kit
Another great option for those looking to go the DIY route is building with a barndominium kit. These kits are designed with floor plans and provide all the materials you need to build.
But this route doesn't mean you have to do it alone. Some companies offer experts that guide you through the entire process and help you with the details, like where the countertops and cabinets should go. 
A basic barndominium shell kit in Wisconsin could cost around $10,000 to $200,000. The higher price point depends on the custom outfitting and additional add-on you choose. Also, it depends on how simple or complicated you want to go with your home.
Items like wrap-around porches or second floors will drive the cost up. You can expect to pay labor costs based on your location if you hire experts along with your kit.
Wisconsin's established kit providers include Countrywide Barns, Piano Builders, and Myers Buildings.
Each of these builders is going to offer different products and prices. Research to see who's a good fit for your project and who fits within your budget.
Getting A Barndominium Loan
Because barndominiums are still a new trend, finding a loan to start constructing could be challenging. Traditional mortgage lenders might not provide financing for this type of home. Lenders are limited by their loan program guidelines.
It might not be that they don't want to help, but they are restricted in financing a barndominium. In addition, this type of project has to be an approved property type and meet the appraisal standards in place.
That being said, there are financial institutes that can provide the financing you need, but you'll still need to meet the requirements.
Lenders look at your credit score, debt-to-income ratio, current income, and employment. Most traditional loans require a 20% down payment; however, programs and other options might be available. 
The biggest hurdle could be the appraisal process. A lender won't loan money for more than the project is worth. Several factors generally determine appraisal, the biggest one being the existing home values in the area.
Another option is taking out a construction loan instead of a traditional mortgage. These can be easier to get and often approved for. But, again, we recommend researching a handful of companies and finding the right lender for you.
Many have taken a route to get a construction loan instead of a mortgage. This is because construction loans can be easier to get and easier be approved for than a traditional mortgage.
In addition, construction loans generally last about a year, which is plenty of time to build your barndominium. 
Ensure that your project meets the city's zoning regulations, and your finances are in order, the required paperwork. All this can help move the process of building your barndominium in Wisconsin. 
Barndominium Insurance In Wisconsin 
Any building project is going to require insurance. Every home, asset, and vehicle must be insured and is lawfully required. Your Wisconsin barndominium insurance will be determined by several factors, and yes, you can ensure a barndominium! 
These homes typically follow what insurance companies call "a dual-purpose" structure. It exists to ensure the different sections of your home.
The first part is residential, and the second purpose is anything from a workshop to an agricultural workspace. This is also just called barndominium insurance. Some insurance companies won't cover your barndo because a) they don't cover dual-use structures, and b) they don't cover buildings with metal roofs.
The best next step for insurance is to check with your current agency. They may or may not be able to help. If not, there are plenty of companies that can cover your barndominium.
What Will My Barndominium Insurance Cover?
This all depends on the policy, but typically insurance covers the following:
Damage was done to the building

Damage was done to certain possessions

Costs to rent another place when making repairs

Injuries that need to be treated related to the structural damage
As is typical for insurance, you won't be covered for everything you need. Items like flooding or earthquakes will likely need a separate policy. Wisconsin is prone to flooding, wildfires, and tornadoes. Be sure to have the right insurance for your home in this state.
What Will Determine My Rates?
The items that could/will determine your rates are:
What is the space being used for

Your relationship with the agency

Credit score

Past claims

Materials and condition of the structure

Location

Safety systems in place

Deductible costs
Property Taxes
Wisconsin has some of the highest property taxes in the country. According to research, the state's average property tax is around 1.68%. This is the 8th highest average of any state in the United States.
This high rate is driven by the state's greater reliance on local service delivery, the government using the property tax, few local revenue options, and the state's constitutional uniformity clause (which requires all properties to be taxed at the same rate).
That said, a dual-use structure will have a different tax rate than a traditional home. Just like the dual-use structure insurance, you'll pay taxes for the different parts of your home.
The best way to figure out what you might owe on your barndominium is to speak with a Wisconsin tax assessor. They can help you determine what you'll pay in annual property taxes.
Conclusion

 
Building a barndominium in Wisconsin can be a challenging but exciting endeavor. Though there are a few hurdles to get through, the advantages of the barndo can be well worth it.
Of course, it's up to you if you want to move forward. But once you find the right builders, lenders, and insurance, you could be well on your way to living in your dream home.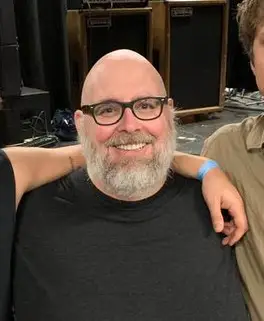 I'm James, your barndominiums advisor. Several years ago, I had no idea what barndominiums were. Although I'd spent over 10 years in the construction industry, the first time I heard about barndominiums was when I saw my neighbor building a new-style home. That was the first barndominium I've ever seen, and I found it so fascinating that I wanted to learn more about them.
More Posts