Do you have a large plot of land on which you want to build your new home, where you can entertain and have guests over for the weekend? Or maybe a large family or you have your relatives living with you? Then this size Barndominium would be the ideal size for your needs.
The 4,000 square foot Barndominium cost will vary according to different factors such as building from scratch or kit, appliances, roofing, DYI or contractor, or more. On average, it costs $20 to $50 per square foot just for the Barndominium. This price does not include anything else that is needed to finish it out.
In this article, we will cover what a 4,000 square foot Barndominium costs on average and other essentials to make it a livable home for you and your family. There are also some floor plans online to help you figure out how to design this amount of living space to best fit your needs.
How Much Does a 4,000 Square Foot Barndominium Cost?
As mentioned, the average cost per square foot is $20 to $50, so a 4,000 square foot Barndominium structure would be $80,000 to $200,000. Then you have to figure in all the other costs, such as the slab, plumbing installation, electricity, HVAC, contractor cost, permits, inspections, and more.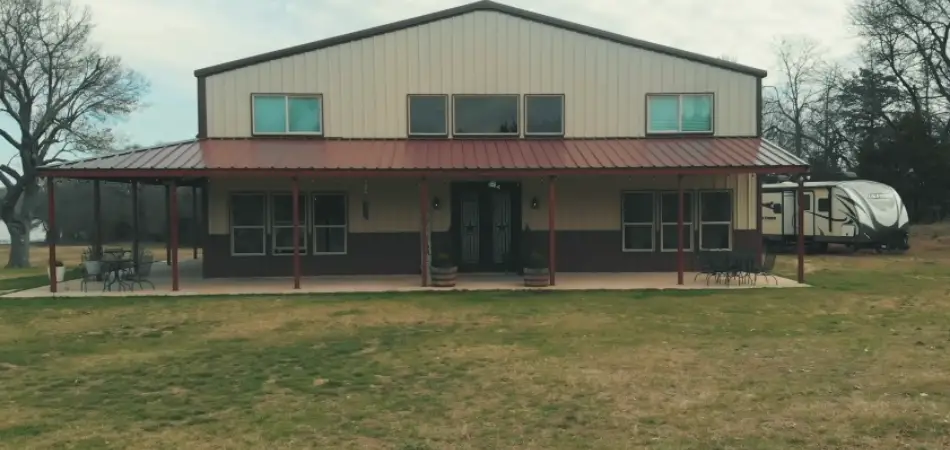 All these will vary according to where you are building your Barndominium as costs vary from state to state. Below is the average of the extra costs that will need to be figured into your Barndominium budget.
| | |
| --- | --- |
| Blueprints | $60-$2,500 |
| Material | $26,000-$110,000 |
| Contractor | $28,000-$70,000 |
| Land | $4,000-$170,000 |
| Clearing the land | $1,800-$6,000 |
| Foundation | $5,000-$13,500 |
| Insulation | $1,200-$2,900 |
| Sewer and Septic | $2,500-$11,000 |
| Plumbing | $600-$4,000 |
| Electrical | $900-$3.500 |
| HVAC | $3,700-$16,000 |
| Flooring | $8,000-$29,000 |
| Roofing | $7,000-$14,000 |
| Drywall & Interior | $6,000-$35,000 |
When buying a Barndominium kit, there may also be a delivery fee, which could cost $6,000 to $18,000, depending on the company you purchase your kit from. Suppose you decide to add extras such as a garage, skylights, workshop, high-end appliances, driveways, large porches covered or uncovered, and more. In that case, this will all add to the cost.
You will also have to figure in your Barndominium budget permit and inspection fees, doors and windows, labor costs, and more. Some Barndominium kits will include the windows and exterior door; if not, you will have to add those on top.
Read Also: 3,000 Square Foot Barndominium Cost
Why Would you Choose a Barndominium?
There are many reasons to choose a Barndominium besides the two obvious reasons, which are affordability and that they are quicker to build. You also have your choice of floor plans that can be designed for your family and needs. Most offer an open-concept floor plan to give you that one-on-one time with the family. As such, someone can be in the kitchen cooking and still be able to see and converse with those in the living room.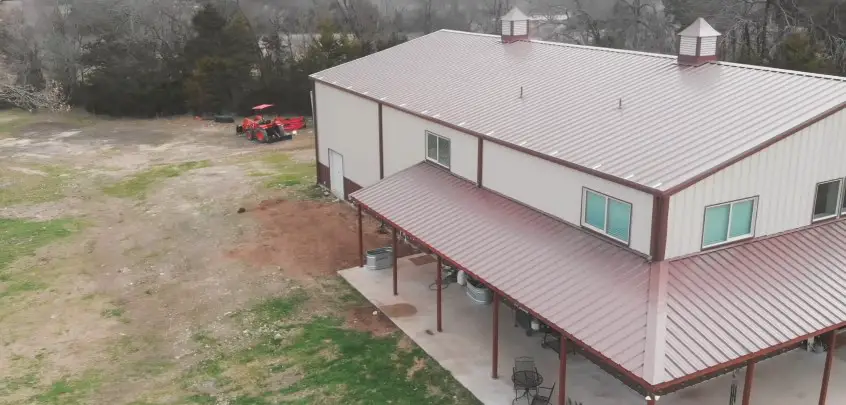 They also have a lower maintenance requirement. On the inside, it is hard to distinguish between a traditional home and a Barndominium. The outside is different as a Barndominium can be made of various materials, roofing, and components. They are generally built using a steel or metal frame, so you don't have to worry about termites.
They are more durable because of their metal framework. Most can stand up to category 3 hurricane winds. If there should be a fire, it will not immediately go up because of the framework. Traditional homes require a new coat of paint every few years, but a Barndominium can last longer.
A big plus for choosing a Barndominium is its energy efficiency. According to research, people living in a Barndominium can save at least 25% or more on their electric bill. But how much you save will depend on how thick you insulate your Barndominium. Spray foam is generally used, so you can spray it as thick as you want. This type of insulation prevents moisture and air from getting inside.
There are different sizes of Barndominiums, so it is easy to adjust them to the size of the piece of land you are building on. A Barndominium can serve multiple functions. It can have an attached or detached building for a home business. It can be designed to host two families.
Conclusion
A 4,000 square foot Barndominium cost an average $80,000 to $200,000 or more. It depends on various factors, such as the type of furnishings, appliances and whether it is all a DYI project or contractor. It is a great option for a large family or one that wants to entertain.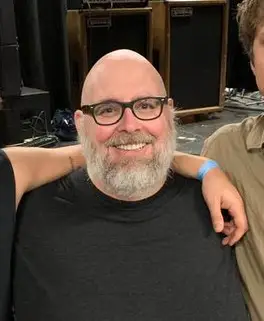 I'm James, your barndominiums advisor. Several years ago, I had no idea what barndominiums were. Although I'd spent over 10 years in the construction industry, the first time I heard about barndominiums was when I saw my neighbor building a new-style home. That was the first barndominium I've ever seen, and I found it so fascinating that I wanted to learn more about them.
More Posts