Just because it is called a "barndominium" it does not have to look like a barn on the outside or have a modest interior.
When building a barndominium, you can make it look as simple as you want or as luxurious as a five-star mansion without the five-star price.
A luxury barndominium will generally have high-end appliances, a luxurious bathroom with a jetted tub and huge walk-in shower, and more.  As some have referred to it as a "tricked out pole barn."  
When you have designed to build a barndominium, you get to choose the floor plan, the furnishings, appliances, and more.
In this article, we will talk about the benefits of a luxury barndominium, how to build your luxury barndominium, and the benefits.
We will also touch on the cost, plus show you some ideas of what you can do to have a luxury barndominium.
Key Takeaways
A five-star barndominium without the five-star price.
Unique light fixtures
Wood accents
Spa-type bathrooms
Benefits of a Luxury Barndominium
There are many benefits to owning a luxury barndominium.  One is that they can be small and quaint or large and spacious.
The sky is the limit.  When designing your bathroom, it does have to be the general type of shower, sink, and toilet.
Instead, you can make it where there is a separate walk-in shower with rain show heads, a seat to sit on while showering, and more.
You can also have a jetted tub to sit in and let the soothing water melt your cares away.
Other benefits include:
Open concept
With luxury barndominiums, you have the open concept floor plans that will give you the space you need for your leather couches, fireplace, and luxurious kitchens with stainless steel appliances. It gives you more room to entertain and while cooking you can still be in touch with others in the living space.
Durability
Not only is a luxury barndominium durable but it can last a long time. You do not have to worry about termites with metal or steel frameworks.  They are also stronger in storms.
The building process is smoother
The metal buildings that make up the luxury barndominium can be put up quickly when you compare them to a traditional house. The quick build helped prevent too many weather delays, and the home was not exposed to the elements as long as it might have been with a regular home build.
Eco-friendly
Most of the materials that are used in building a luxury barndominium are environmentally friendly. This will help you reduce the immediate and long-term carbon footprint
How Much Does it Cost to Build a Luxury Barndominium?
The actual price for a luxury barndominium would depend on the square footage and the interior furnishings, appliances, and more.
For example, if you were to build a 2,500-square-foot luxury barndominium, it will cost as much as $320,000 with the kit, which averages $127 per square foot.
The starting price for a luxury barndominium is $250,000 but it will depend on the high-end furnishings and high-grade material.
Most will start with a kit because it is a little cheaper than building from the ground up.
If you start with the kit, the price will include the design, framing materials, doors, windows, and siding.
These types of barndominiums have more opulent components, such as Western red cedar, Northwest timber, or Douglas fir for the materials to frame the barndominium.
Most of the time, when building a luxury barndominium, it is not a DIY project but one where you will have to hire a contractor.
A significant factor in the final cost will be the labor.  If you want to add a roof-covered outdoor area, that averages $30-$50 per square foot.
How to Build Your Luxury Barndominium?
The first thing that you need to do is make sure that you have the land upon which you will build your luxury barndominium.
It will need to be cleared and make sure it is flat so the concrete pad can be poured on it.  If you are going to start with a kit, you will have to purchase it.
Some companies that sell barndominium kits will also erect the exterior of your barndominium but if not, you will have to pay to have it erected.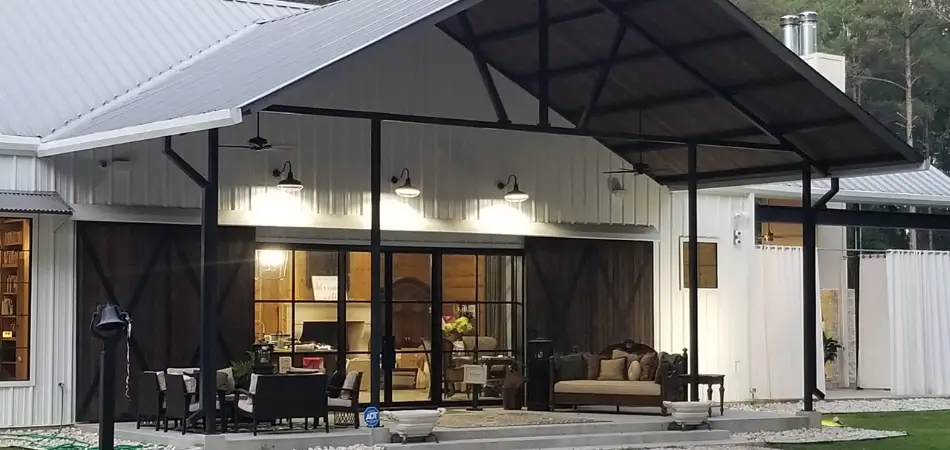 Whether you are building it from scratch or a kit, you have to have the concrete pad poured, which will be either four or six inches thick.
You will have to make sure that public utilities are available.  If there is no running water to your property, you may need to drill a well.
You also want to make sure that you can hook into the county/city sewer or septic system.
Check to make sure there is an electric grid you can tap into.  Once you have all this figured out, then it is time to put up the outer shell of your barndominium.
If it comes with doors and windows, they will also need to be put in.  Once your shell is up, it is time to frame it and then you can start to work on the interior of your luxury barndominium.
You will need to hire a licensed professional contractor or subcontractors to install the plumbing, electric, and HVAC systems.
You can generally build your luxury barndominium within six months or so, depending on the weather, if you have the materials and the financing.
Steps To Build A Luxury Barndominium
The first step is to pour the foundation. The concrete is used to secure the posts to the ground, around which the frame is built.
Generally, the material used for these posts is made of steel.
The Second step, the barndominium has to be framed. The framework can be any combination of metal and wood.
Some are set using steel beams, which are put in place using a crane. Then the walls, roof, and foundation are tied together.
Inside it will be framed with wood timbers to make installing the drywall and insulation.
Many times, how the framework is done, will eliminate or reduce the number of weight-bearing walls to give more flexibility to the design.
The Last step is putting in the plumbing, wiring, and HVAC system followed by the insulation, then drywalling, painting, and installing the floor.
Luxury Barndominium Ideas
Below are some luxury barndominium ideas so you can see what they look like both inside and outside.
These are just many of the different designs that you can use for your luxury barndominium.
Luxury Barndominium Idea 1
This is just an overview of a luxury barndominium and how large it can be.  It is set in a nice, wooded area that gives you plenty of privacy.
There is also a swimming pool and garage that possibly has room for some type of business.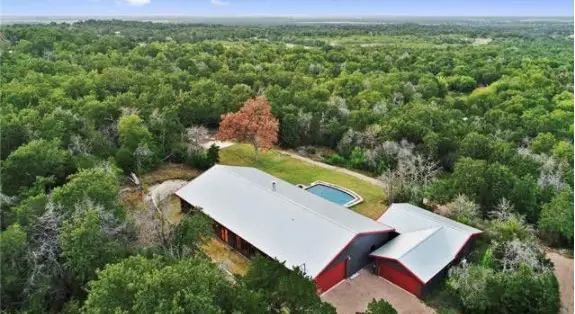 Luxury Barndominium Idea 2
Here you have the living and kitchen area with a beautiful wooden spiral staircase that leads to the loft.
High ceilings with a lot of recessed lighting fixtures that light up the entire area.  The living area has a leather sectional sofa and a butcher block coffee table.
From what is seen of the kitchen, there are high-end stainless steel appliances.  It appears to have a brick background.
Luxury Barndominium Idea 3
This is another view of the living area showing a large fireplace and large windows giving a good view of the outside.
The fireplace gives the room a cozy look, someplace you would want to gather on a cold winter night.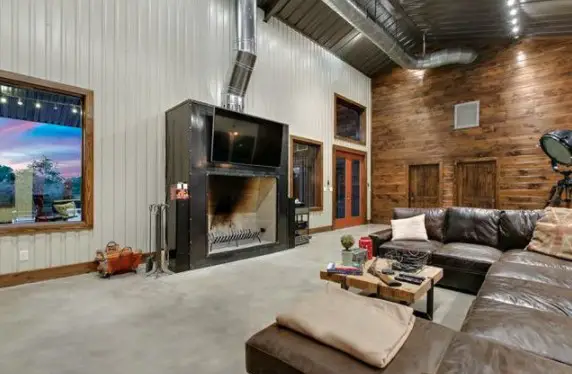 Luxury Barndominium Idea 4
This is another view of the living and kitchen area.  Behind the leather sectional are another double door leading to the outside and more large windows.
You have a great view from either side of the luxury barndominium.
There is also a nice island with barstools for your friends and family to sit and eat a meal or just to enjoy a drink and talk to you while cooking.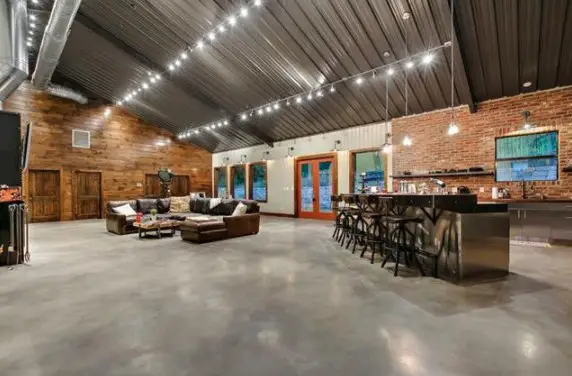 Luxury Barndominium Idea 5
Now we get to see the luxurious kitchen with butcher block countertops.
There appears to be storage under the counters but no cabinets on top, just nice shelves for cookbooks, spices, and more.
There is also a huge window where you can look outside and enjoy the view while you are doing dishes.  It also appears to have double ovens.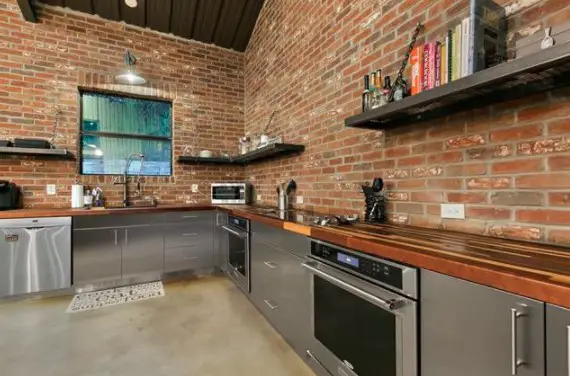 Luxury Barndominium Idea 6
This is a side view of the kitchen and you can see that the barstools are made of wood and the island also has a stainless steel base like the rest of the kitchen.
There are also three single-hanging lights over the island.  The kitchen is large enough that two people could cook in the area without running into each other.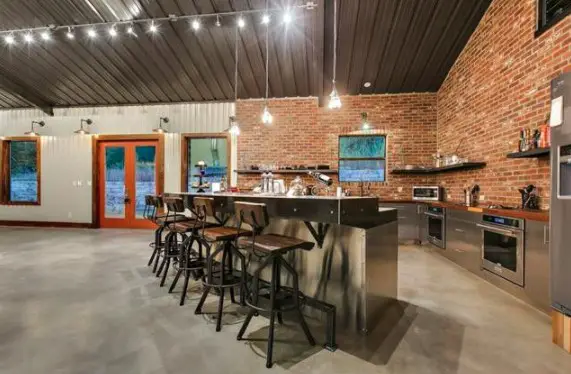 Luxury Barndominium Idea 7
A very warm comfortable inviting master bedroom with what appears to be a barn wood wall behind the bed.
At the foot of the bed, there is a large ottoman that can also double as storage for bed lines.
There are also two comfortable-looking chairs and a small coffee table to sit and read before bed or enjoy a nightcap or coffee in the morning.
Again, two large windows give you a great view of the outside, morning or night.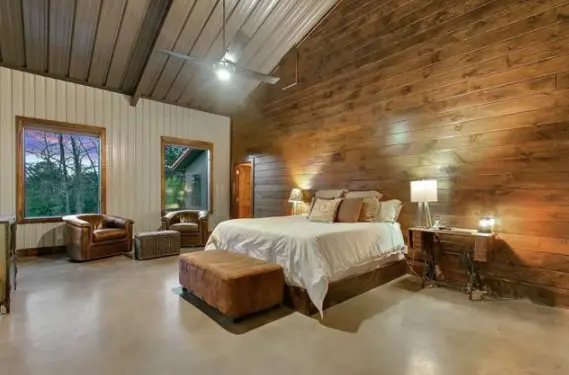 Conclusion
A luxury barndominium can be inviting and cozy even with expensive furniture and high-end appliances.
We have covered with it will cost to build you this luxury barndominium and the benefits of choosing this type of barndominium.
As you can see, building one is not much more expensive than a traditional home but with a luxury barndominium you have more freedom to design it as you want.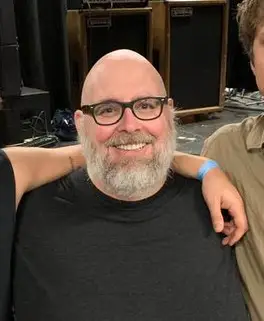 I'm James, your barndominiums advisor. Several years ago, I had no idea what barndominiums were. Although I'd spent over 10 years in the construction industry, the first time I heard about barndominiums was when I saw my neighbor building a new-style home. That was the first barndominium I've ever seen, and I found it so fascinating that I wanted to learn more about them.
More Posts