The interior of your barndominium is what you will see when you step inside.  It is the kitchen, dining, living spaces, bedrooms, bathrooms, and more.  It is your stamp on your designer barndominium.  They are what is found inside of your post and beam or steel-enclosed post building.
These 40 incredible barndominium interiors illustrated in this article can include expansive great rooms, tall, vaulted ceilings, a loft with cozy nooks for reading, stunning master suites, and more.  The list is endless so it may be hard to choose which to utilize to make your barndominium your own.
This article will share with you 40 incredible barndominium ideas to help make choosing what to use a bit easier.  We will also cover some of the things you need to consider before making your final decision on your interior design.  Read on to find inspiring barndominium interior ideas.
Key Takeaways
• Your barndominium interior idea should reflect who you are
• Old refurbished wooden barn doors make excellent interior doors when put on tracks to slide open and shut.
• A large kitchen is a major part of your barndominium interior design.
Barndominium Interiors: What to Look For?
When trying to decide what barndominium interior design you should use, there are several things to consider ensuring it reflects you and your lifestyle.  You want to choose an interior that will make you happy and want to live there.  Take time to look at interior designs online and in magazines to give you some inspiration.  This will also help you to know what you can add and some of the things you should include that you never considered.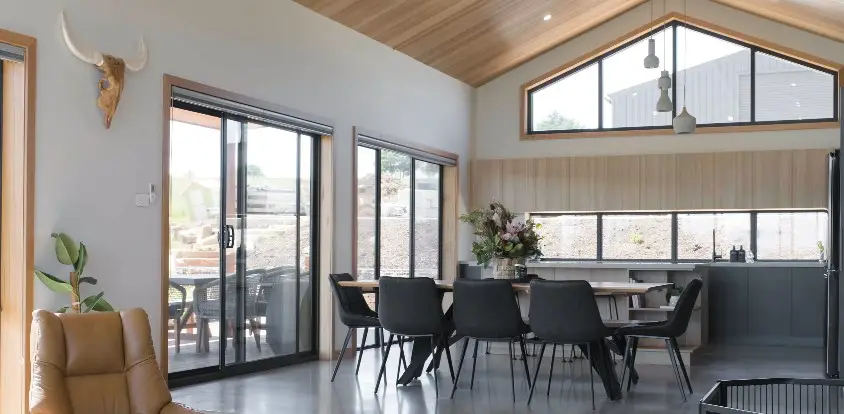 Knowing what you want your barndominium interior to look like before you begin to build your barndominium will save you time and money later if you find the interior you chose is not your style and have to start over.  It will make building your barndominium simpler and give you an estimate on the cost of building it.  Knowing what fits your lifestyle will also save build time.
Style
This is something that you need to look at when you are browsing magazines and the internet for barndominium interior ideas.  You will notice that some certain textures and colors work together, and others do not.  Knowing this will help you decide what you might want to include and how you want the different rooms to look.  It will help you see how little details can support the larger look of your barndominium.
Take note of colors that do and do not work together, the way the lines and texture work together or not.  Look at the floorings to see if it is made of tile, real wood, or laminate, and how the different colors complement each other or not.
Bedrooms And Bathrooms
This is crucial to know because you want to make sure that it will be comfortable for everyone living in the barndominium.  This is why it is important to know just how many bathrooms and bedrooms you will have in your barndominium.  You want to make sure that there are enough bathrooms so when everyone is getting ready in the morning for school and work, there are no traffic jams or rushing to get ready.
If possible, you should try to prioritize the number of bathrooms before you decide on the number of bedrooms and living areas.  You should also always try to have a powder room for the guests in a convenient location.  When figuring out the number of bedrooms you need to be sure that you do not have more bedrooms than you need.   This means if you have too many, you have too many walls, which equals more expense and less living space.  They can encroach on the interior space.
Flow of Traffic
You need the flow to complement the style and make it functional too.  You need to consider just how many people will be moving around in your barndominium at various times.  You want to design your interior so that no one will be bumping into someone else as they walk around the barndominium and go from room to room.
You want to see how the rooms connect to each other.  You want to make sure that the rooms are laid out to get the best possible feel and to be sure it does not look like a traffic jam or too cluttered.
Layout
Having a layout that is designed well will help with how everyone can easily move around the barndominium.  Take a moment when designing the interior and consider how the different spaces will correlate to one another.  This is something that you should take note of when you design the interior of your barndominium.
You need to decide if you are going to have a closed or open concept.  If you have a concept that is closed, then the kitchen, dining, and living space are separate from one another.  With an open concept, it is one big area with no walls separating the rooms.  This opens up the feel of the rooms to make them more inviting.  The one drawback with an open concept is that sometimes it can make getting work done in the kitchen a little difficult if you are also socializing with the people in the living area.
Materials
The types of materials that you use are just as crucial in your barndominium interior ideas as the layout itself.  The interior of your barndominium can either be softened or hardened by the materials you choose for the interior.  One example is to warm the interior of your barndominium is to use carpet, wood, or a combination of both, especially with an open concept.
If you are looking for a modern, contemporary feel, then you should use stone or brick to give your barndominium a better look.  When choosing materials, look at the cost, especially when you are trying to stay within budget.
40 Incredible Barndominium Interior Ideas
Below are 40 incredible barndominium interiors to help you with the planning of your barndominium interiors.  There is also one exterior idea that gives you the chance to see the interior from the outside and how it can look to others as they walk up to your front door.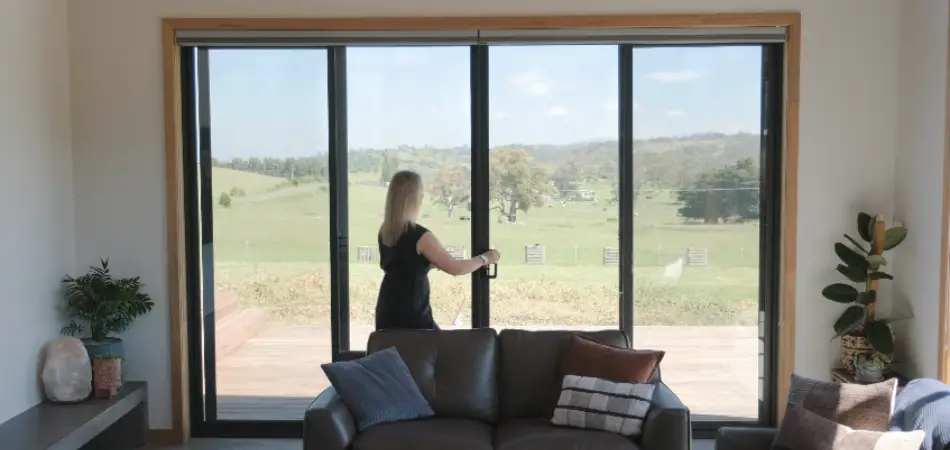 Georgia Style Idea – 1
If you are going for that open contemporary look and feel, then this is the barndominium interior style you should go for.  It gives you that contemporary, rustic look, as you can see by the interior shots of this barndominium.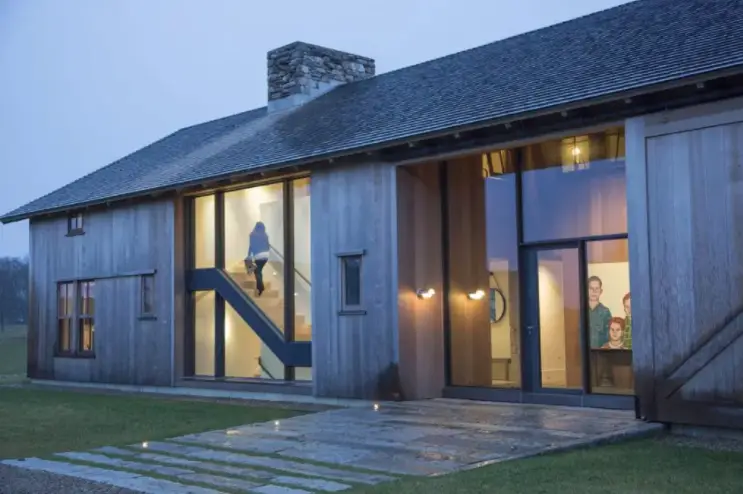 Boyd House Texas Idea – 2
This is a very unique approach to a kitchen island.  Inside the island, or counters is a seating area.  Although not shown, there could be a table in the open section so everyone could sit around the table. There also appear to be some type of doors on the outer side that could be opened for storage.
Rustic Illinois Barndominium Idea – 3
This is a well-designed kitchen with a sliding barn door that covers shelving for storing extra things.  Modern black appliances against white cabinets and a countertop that has a grey-marble look.  There is also a huge island with seating for four.  Everything is well-placed, making it functional and easy to work in the kitchen.
Modern Minimalist Idea – 4
This is a modern minimalist, which means that it is trendy and stylish that is meant to bring relaxation and peace to your barndominium.  With this style, more is less as you can see by the furnishings and not many decorations on the wall.  There are a lot of open spaces with neutral walls and lots of windows to let in the natural light.
Barndominium for Horse Lovers Idea – 5
This simplistic kitchen is small and functional with a small counter extending into what could be the dining area.  If you want, you could put a couple of barstools there and use it as a place to eat.  There seems to be adequate counter space but it is a kitchen that is more for one person to work in.
Rustic Idea – 6
When talking rustic, it generally means lots of wood accents and high beamed ceilings.  There can be different woods used also with the same or coordinating colors.  In this one, you can see the different colors of wood and how they all work together.  There are also your metal rails for the stairs and to support the beams.
White Barndominium – Idea 7
This room has uniquely patterned wood flooring.  The walls and counters are white with wood countertops.  The door also matches the wood countertops.  It is simple and with the white walls, you can add your personal touch.  It also has recessed lighting throughout the room with three hanging lights over what appears to be an island or table.
Barndominium Idea – 8
The centerpiece of this room is the floor-to-ceiling white stone fireplace with a distressed wood hutch on either side.  There is a staircase that leads up to a door that could lead to the master suite or other rooms.  A nice dark wood floor sets off the white walls with a tall wood ceiling.  The door frames are trimmed in a dark wood that almost matches the floor.
Barndominium Idea – 9
Although this is not the actual interior of your barndominium, this gives you an idea of what you can do with a patio by including a nice outdoor kitchen.  There are even draperies that are tied back but could be pulled shut if it is raining or you want some privacy when on your patio.  The outdoor kitchen is encased in stone and the floor appears to be some type of stone also.
Barndominium Idea – 10
This is the perfect layout for an open concept as you can see from the living space into the dining space and kitchen.  From the furnishings, they seem to be going for a western theme with cowhide print throws on the back of the couches and large ottoman.  The walls are a beige with high wooden beam ceilings and logs framing what appears to be a hallway.  Plenty of natural light from all the windows.
Barndominium Idea – 11
This is a very unusual sitting area with white shiplap walls and modern art and decorations.  There is a dark wooden floor and double doors that lead to the outside.  On one side is a leather couch with a matching chair on the other side.  It is a very bright and airy room.
Barndominium Idea – 12
Very rustic, a cabin-like feel to the bedroom with large windows giving you plenty of light and a great view.  The wall behind the bed is made of logs while the other walls appear to be wood paneling.  The ceiling is also wood and there is carpet on the floor.  The bed has a very unusual headboard that almost looks like the back of a box with two sides.  There are what looks like two small patio tables on either side with two lamps on the wall.
Barndominium Idea – 13
This is a very large dining area that is ideal for large family gatherings.  There is white shiplap on the walls and the floor is dark brown wood.  French doors trimmed in brown lead to the outside.  Two unique light fixtures hang over the table.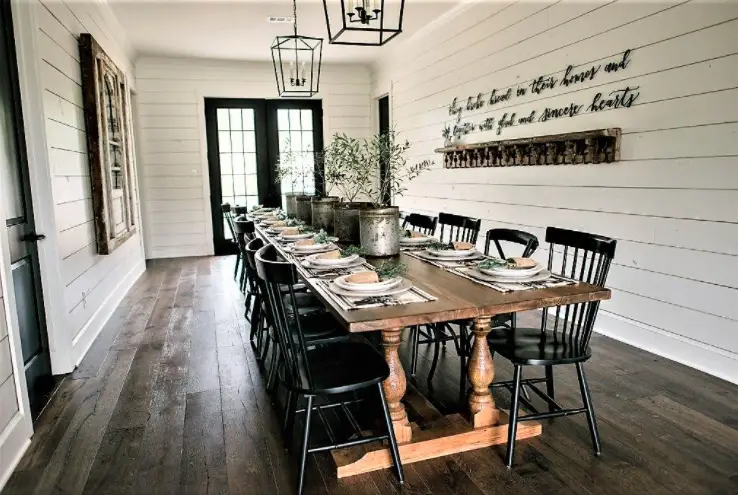 Barndominium Idea – 14
This is a very different idea for a master bath with a sunken tub framed by four windows letting in a lot of natural light and giving you a great view of the outdoors.  There is a stone wall with some type of tank, fish or reptiles, in the middle of the wall.  There is no door closing off the bathroom.  There also looks to be some type of book or knick-knack shelf at the end of the tub with a plant sitting on the tile under the shelf.
Barndominium Idea – 15
Another different take on what a bedroom could look like.  There is a regular bed with two other beds that could also double as just a sitting area against the wall.  Below them are four drawers for storage and a shelf above them.  These two are like an alcove.  There are also two windows and a nice ceiling fan.  The floor is a nice medium shade wood.
Barndominium Idea – 16
This is an interior that is hard to describe as there appears to be a minimalist bedroom with high white wooded ceilings and an accent wall painted grey.  The floor is wood and the bed faces two nice large windows.  In the other picture, it looks like a tub is sitting where you can see down into the great room but is hard to tell.
Barndominium Idea – 17
Another simplistic living space with white walls and ceilings with the windows trimmed in a darker color.  The two windows are separated by a square column and in front of each window is a window seat.  The room is white with a medium-brown floor.  The couches are a light gray with brown accent pillows.  On one of the sides of the window, there appear to be wall decorations blocks of wood while the other side is plain.
Barndominium Idea – 18
This barndominium has floor-to-ceiling A-Frame windows that give the room a bight airy feeling.  The walls are white with some nice artwork.  The furniture is all white in the living space with a large table made of light wood behind it.  There is also a fireplace.  In the dining area is a nice wooden table with a glass overlay.  The floor is some type of light tile or linoleum.
Barndominium Idea – 19
A beautiful sitting area with large windows behind the one couch and a floor-to-ceiling large glass window that gives you an unobstructed view of the acreage and cattle outside.  It has lovely artwork on the walls, which are white along with the white furniture and white tiled floors.  Color is added to the room with the dark curtains and wood trim on the ceiling. Around the windows, and the walls.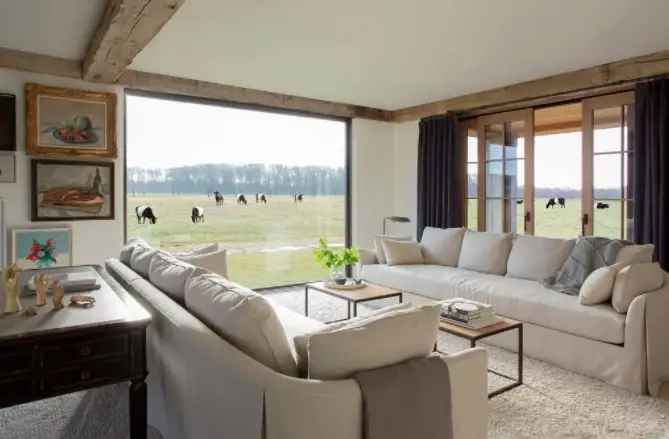 Barndominium Idea – 20
This appears to be some type of loft area that looks as if they have made it into a yoga studio or just some extra sleeping space.  There is a large window to let in some natural light with plants and a Buddha statue on a table in front of a black curtain.
Barndominium Idea – 21
This is a warm cozy view of the living areas and dining area.  One of the living areas has a fireplace to give it a cozier feeling.  There are wood and white ceilings with tan walls.  Three large windows give you plenty of light.  The floors are light wood with rustic furnishings.  Very warm and inviting areas.
Barndominium Idea – 22
This is a very unique barndominium interior with tung-and-grove wood ceilings and white walls with blue trim.  There is a small sitting area off the dining area with two chairs and a large bookcase.  Off the dining area is the kitchen with a nice island.  There is a hallway that leads to these areas.  Wood floors are used in this area.
Barndominium Idea – 23
This is another picture of the above interior which shows the living area off the dining area.  The living area has modern comfortable furniture and a hutch.  With this interior and the furniture used it appears a bit crowded but cozy.  The little reading nook is a nice space.
Barndominium Idea – 24
A very cozy living area with a nice wood-burning stove in the corner on a stone flooring although the rest of the flooring is wood.  Three doors lead out to the porch and one on the side that also leads outside.  There is a nice cabinet on the same wall as the woodstove.  The furnishings are simple with a couch and wing chair, and an ottoman that all look like comfortable seating.
Barndominium Idea – 25
This is an open concept with the kitchen to the side, a dining area, and then a living area.  The walls are wood and they contrast nicely with the grey wood that leads up to the balcony, off which is another staircase that leads up to another floor.  This staircase can be closed off with a sliding barn door.  At the top of the balcony, there is a door that leads to the outside.  The furnishings combine modern leather with old-fashioned in the lamps and hutch.
Barndominium Idea – 26
This is an awesome living space with a Native American flare with the throws on the couch and chairs and rug.  There is also a large stone fireplace with Native American artifacts on the walls.  The walls are white trimmed in wood with large windows to let in a lot of natural light.  The wood floor has different colors making it very unique.
Barndominium Idea – 27
This is a rustic-looking living area with exposed beams and a very rustic, unfinished-look balcony.  The couch is placed facing two floor-to-ceiling windows and French doors that lead to the outside.  They have used a barrel as an end table with a lamp.  Between two poles is a hammock.  Large beams separate the dining area from the living area.
Barndominium Idea – 28
A very distinctive kitchen with flooring that appears to be stone.  It is done in shades of brown with dark wood cabinets and white countertops.  The huge island has a dark countertop that is made to look like a table is sitting on a wooden box.  The small benches have an unfinished look as do the legs of the island and wood box it is sitting on.  Most of the light wood in this kitchen has that unfinished wooden look.  All flows well together.
Barndominium Idea – 29
This kitchen has combined a kitchen table with the island and can seat five people.  At the end of the island are three cabinets to hold your dishes with a frosted glass front.  The countertops are white with dark wood cabinets with a stainless-steel hood over the cooktop, which is part of the dining table along with a small sink at the end.  A regular sink is behind the island.  The floor is different shades of light wood.
Barndominium Idea – 30
This looks like an old-fashioned kitchen with a modern flair.  Instead of an island, there is a large table with a white countertop.  It has a shelf underneath to hold bowls, appliances, and more.  It is a white wood that looks to have been washed with a brown stain and is very heavy looking.  At one end is a sink.  On the back wall, there is a cabinet, and the store is encased with shelves on both sides.  On the other side is another cabinet but there are no regular cabinets on the walls.
Barndominium Idea – 31
This is another example of an open kitchen with the kitchen leading into the living space but no formal dining area.  At the one end is a nice fireplace with looks to be reclaimed barn wood on the walls.  Two windows frame the fireplace.  The walls and ceiling are white.  The kitchen has dark grey cabinets and the island has a butcher block countertop.  The other counters appear to be white.  There is a large door leading to the outside between the living room and kitchen.
Barndominium Idea – 32
This is a very busy living space that does not appear to give a good traffic flow.  The walls are white with a high-beam wood ceiling.  The windows and doors are framed with a darker wood as the floor is a mixture of different dark woods.  There appears to be a fireplace to the side.  Behind the couch is a nigh set of bookcase shelves.   Although there is a lot of furniture, it looks to be a great gathering place.  It is open to the kitchen.
Barndominium Idea – 33
A nice dining space that has several large floor-to-ceiling windows.  The ceiling has exposed beams and dark wood columns holding up the beams.  To the back, there appears to be a simple kitchen with shelves instead of cabinets.  There is a lot of space that could have been utilized better.  It is not a real inviting place to gather or eat.
Barndominium Idea – 34
A different type of island that is sure to be the talk of your barndominium interior.  It is L-shaped with light wood posts holding up the top with tractor seat barstools.  Between the wood posts, there appears to be a tin or vinyl insert that is blue which makes the area pop.  Behind the island is the small but functional kitchen.
Barndominium Idea – 35
The main feature of this area is the spiral staircase which is more of a conversational piece than something useful, especially if you have small children.  Instead of the typical banister, it looks as if it is a ribbon that has been curled.  It is done in a light brown wood, which goes great with the flooring and walls.  At the base of the staircase is a nice potted plant.
Barndominium Idea – 36
This is a great way to use your patio area with a coffee table in the middle of a couch, loveseat, and four chairs.  Great space for the family to gather and talk about their day.  The floor is pricks with an outdoor kitchen at the end.  The archways and columns are of the same material as the floor with a dark wood ceiling and distressed beams.  There are several ceiling fans across the area.
Barndominium Idea – 37
This is an awesome living space with a large stone fireplace at the center.  A coffee table sits between two brown leather couches with lamps at each end.  The wood on the walls looks like reclaimed barn wood with a very rough look that adds a lot of character to the room.  In one corner, there looks to be a music area with guitars on the walls.  Two sliding doors lead to the outside with the kitchen on the other side.
Barndominium Idea – 38
This is an overhead view of an interior plan shown earlier in the article, Idea 34.  Although the kitchen is not that large, it is very functional and makes it easy to converse with friends and family while you cook.  There are four hanging lights with the shades being a frosted glass in a bell shape.  There is also recessed lighting to make it lighter.  The stainless-steel refrigerator is on the end with the stove in the middle and the sink in the corner.  Lots of nice cabinets for storage.
Barndominium Idea – 39
Nice layout with a leather sectional in the living space with a large wooden coffee table.  There is a small pub-type round table with four bar stools but no official dining table although there is room for one off the kitchen. The walls are a light wood that has no shine to them with a dark framework holding up the ceiling.  There is a staircase leading to the balcony with dark wood steps.  The one thing that this barndominium interior could use is more windows to let in the natural light.
Barndominium Idea – 40
The centerpiece of this barndominium interior is the large natural stone fireplace. This interior could be considered an open concept although the kitchen is tucked back into the corner of the space with only one window.  This makes it a little dark.  There is no island but there is a shelf where you could place the food to be carried to the dining area.  The window is framed in dark wood with a dark countertop.  The walls and cabinets are white.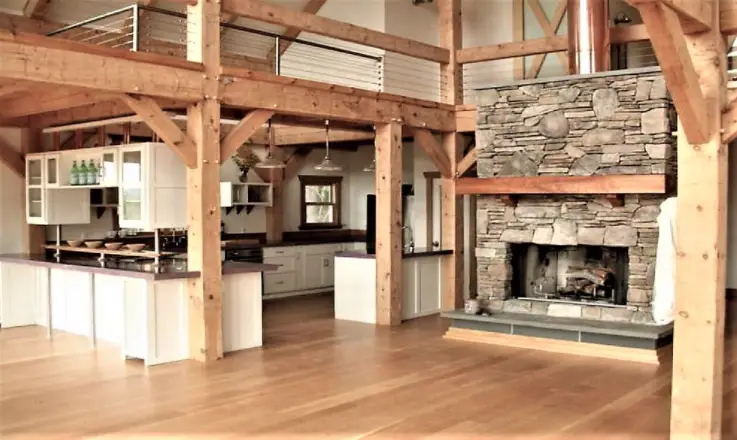 Conclusion
Now you have seen 40 incredible barndominium interiors to give you some ideas of how to design your barndominium interior.  We have also covered what you should consider before even choosing your interior.  Take the time and plan your layout and interior before making your final choice.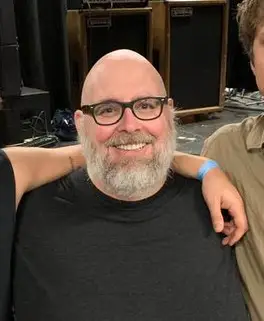 I'm James, your barndominiums advisor. Several years ago, I had no idea what barndominiums were. Although I'd spent over 10 years in the construction industry, the first time I heard about barndominiums was when I saw my neighbor building a new-style home. That was the first barndominium I've ever seen, and I found it so fascinating that I wanted to learn more about them.
More Posts