You have the land and the floor plans for your one-bedroom barndominium so now all you need to do to get started is to pour the foundation.
Once it has been poured, it will have to sit for several days to cure but how long will depend a lot on the weather.
The question is, how much does a 20×30 concrete slab cost?
What is included in the final price and not included?  Should you budget extra money for unexpected expenses?
All of these questions will be answered in this article so read on.  When you are finished reading, you will have an understanding of the cost of the concrete slab and how they figure the price.
How Much Does a 20×30 Concrete Slab Cost?
One thing to note is that not all concrete slabs are the same.  There is a national average for a concrete slab but what your contractor charges may not match it.
There are different factors to take into consideration but on average, the cost is between $4-$8 per square foot.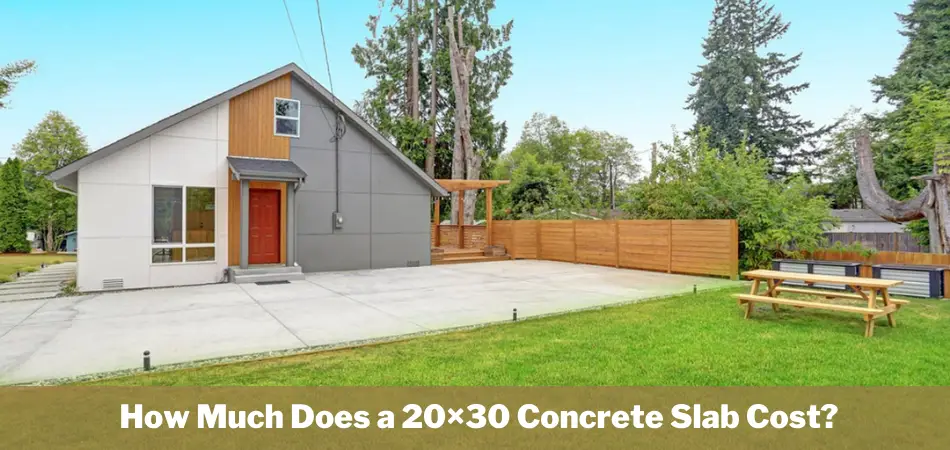 The area where you live will also have an impact on the cost.  In some states, the cost for materials and labor may be higher.
Some of the more expensive states for material and labor include California, Washington, and Hawaii.  Some of the lowest states include Nebraska, Alabama, Mississippi, and Oklahoma.
| | |
| --- | --- |
| Expense  | Cost on average |
| 4-inch concrete slab | $2.83 per square foot |
| 5-inch concrete slab | $3.20 per square foot |
| 6-inch concrete slab | $3.57 per square foot |
| 20×30 4-inch concrete slab material | $1,698 |
| 20×30 6-inch concrete slab material | $2,142 |
| 20×30 4-inch concrete slab done by a contractor | $4.00 per square foot equals $2.400 |
| Thich edges | $1.00 per square foot extra |
| Vapor barrier | $0.50 per square foot |
| Reinforced wire mesh | $0.40 per square foot |
| 20×30 concrete slab with thick edges, vapor barrier, reinforced wire mesh | $1,140 extra to the cost |
| Hiring contractor to pour 20×30 concrete slab with all features | $4,800 labor |
What's Included in the 20×30 Concrete Slab Price?
When talking about the final cost of the 20×30 concrete slab price, here are some things that are included:
Fiber mesh reinforcement to increase the concrete slab's strength
3,000 PSI concrete six inches thick
Rebar around the perimeter of the slab to give added support
2×6-inch lumber to create a wood form around the concrete slab
Laborers and a contractor to pour and finish the concrete slab.
What's Not Included in 20×30 Concrete Slab Prices?
The one thing that is not included in the price for a 20×30 concrete slab is the price of a pump truck, which is used if the concrete truck cannot reach the site where the concrete is to be poured.  That can add approximately $900 to the final cost.
Also, any extras such as wanting a thicker concrete slab, or having the concrete be colored.
If they have to do sub-base preparation this can cost on average $1.25 per square foot.  This can include grading and compacting the top-grade soil.
Concrete Calculate Process
To determine how much concrete, you will need for a 20×30 concrete slab if you are pouring it yourself or the approximate cost of the concrete slab, not including labor, you can use this formula
You first need to determine how thick you want the concrete.
Measure the length and width that you want to cover, which in this case is 20×30
To determine the square footage, you will multiply the length by the width.
Now you covert the thickness to feet from inches
In feet, multiple the thickness by the square footage. This will give you the cubic feet.
Now you will convert the cubic feet to cubic yards. To do this, multiply the cubic feet by .037
You can purchase bags of concrete and mix it yourself but that is a lot of bags and mixing plus the concrete slab may not be uniform when finished.
It is best to hire a contractor and have the concrete poured.
Are There Any Other Things that Would Increase the Cost?
On average, the concrete slabs are four inches thick but if you want them thicker, that is going to add to the cost as they are using more concrete.
If you want to give it a protective coat once it has been poured it will cost extra.
When you need to have the landed graded or leveled out so that the concrete slab is poured evenly you will either have to do it yourself or hire a professional to do it.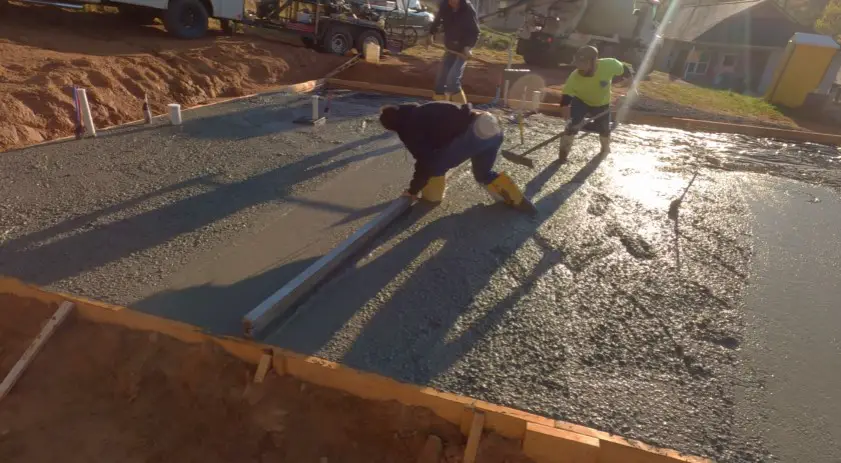 An example of an added cost is what it would cost to add epoxy to the concrete.  This is to give the concrete slab an abrasive-resistant, glossy coating.
It would cost on average $4.75-$9.75 per square foot.  If you would like part of the concrete slab to be stamped to mimic cobblestones, brick pavers, or tiles, that would be $9-$16.25 per square foot.
Summary
How much does a 20×30 concrete slab cost?
On average, it can range from $4-$8 per square foot but the actual price depends on the thickness, the area where the slab is going to be poured, and any extras you might want.
To get a general idea of what a standard 20×30 concrete slab would cost, you can use the enclosed concrete calculator formula.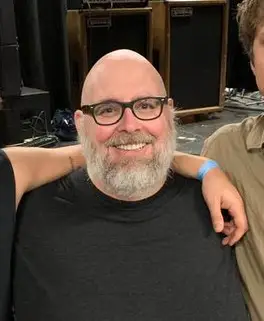 I'm James, your barndominiums advisor. Several years ago, I had no idea what barndominiums were. Although I'd spent over 10 years in the construction industry, the first time I heard about barndominiums was when I saw my neighbor building a new-style home. That was the first barndominium I've ever seen, and I found it so fascinating that I wanted to learn more about them.
More Posts