When you build a 1,400 square foot Barndominium, you are getting the best of both worlds. This square footage is halfway between the average-size single-family home and the popular tiny house. This size can have two or three bedrooms, depending on their size, and is perfect for couples just starting out or empty nesters.
The average 1,400 square foot Barndominium cost would be $56,000 to $140,000 for the structure. You also have to figure in other expenses like installing your electricity and plumbing, contractor cost, permits, insulation, appliances, and more. All total could cost $250,000 or higher.
This article will go into more detail about what the 1.400 square foot Barndominium cost will include to give you an idea of where your money will be spent. It will also discuss how long it will take to build it, the benefits of this size Barndominium, and floor plans.
How Much Does a 1,400 Square Foot Barndominium Cost?
How much it would cost will depend on several factors, including if built from a kit or scratch. If you can do any of the work yourself, that will also cut the cost. If using a Barndominium kit, a shell kit can cost as little as $25,000, but that only includes the metal frame, roof, and hardware. It could include the windows and exterior door for a few thousand dollars more.
Finishing out a Barndominium to make it livable does not have one set price because there are a lot of upgrades and features you can choose from. If you decide to include a garage or workshop, that will add $35 to $70 per square foot, covered porches will add $25 to $60 per square foot, and if you want a sunroom or other heated or cooled space, that can add $100 to $150 per square foot.
On average, a 1,400 square foot Barndominium would be $250,000 or higher.
Added Costs
To make your home energy efficient, in addition to energy-efficient windows, you want to make sure you have your Barndominium well insulated. The insulation will keep your cool or hot air from escaping through the ceiling, walls, and flooring. The one most recommended is spray foam insulation. The cost to insulate your Barndominium averages $2,100 for a three-inch spray foam installation.
You need to figure in drywall, which is put up after you have insulated your barndominium. This is what turns your metal framework into walls. It is fire-resistant, so this is considered a safety feature. On average it will cost $2,200 to $3,600.
The plumbing and electrical are two of the most expensive factors in your barndominium besides the kitchen and bathroom. One thing that makes the plumbing so expensive is that you must have a Certificate of Occupancy, which means you must have running water. The work has to be done by a licensed plumber and then inspected. Plumbing includes installing all the pipes for your sinks, showers, toilets, dishwasher, washer, water heater, and tubs.
How many pipes you need to use will depend on the number of bathrooms and appliances you have that will need water. On top of the cost of materials, there is the installation and labor, which can cost from $6,000 or more.
A licensed electrician must also do the electricity to pass inspection. The cost can depend on whether you are going totally electric or want to have a gas furnace, which will be an added expense. There will be indoor and outdoor outlets, circuit panels, wires run, light switches, ceiling lights, and more. The materials and labor will average $3,000 or higher.
For HVAC (Heating, ventilation, air conditioning), this includes an air conditioning unit, air ducts and filtration, and a furnace. The price depends on the size and number of people living in the barndominium. Because the more people, the more powerful the HVAC system you might need, also if you have high ceilings. A new system can average $6,000 to $11,000.
The kitchen and bathrooms can cost $60,000 or more. It depends on the number of bathrooms, whether you have a tub, shower, or both. How upgraded they are, such as a jetted tub, your choice of appliances, countertops, cabinets, etc. You can lower the cost by doing some of the work yourself.
Even if your Barndominium kit included windows and exterior doors, you still have interior doors for the bedrooms and bathroom, closets, and storage areas. You have extra windows and doors if you add on a workshop or garage. If you got a kit with no windows, energy-efficient windows cost, on average $350 to $750 each, depending on the size. Most prices include labor, and interior doors average $110 each.
There are also permits, labor, material, the cost for the slab to build it on, land clearing, furniture, and more.
How Long Would it Take to Build?
The time frame to build a 1,400 square foot Barndominium can take six months to a year. It can take longer if you work on the building when you have the time. With a contractor, it may not take less than six months. Also, the time frame can vary if you are building from scratch or a Barndominium kit.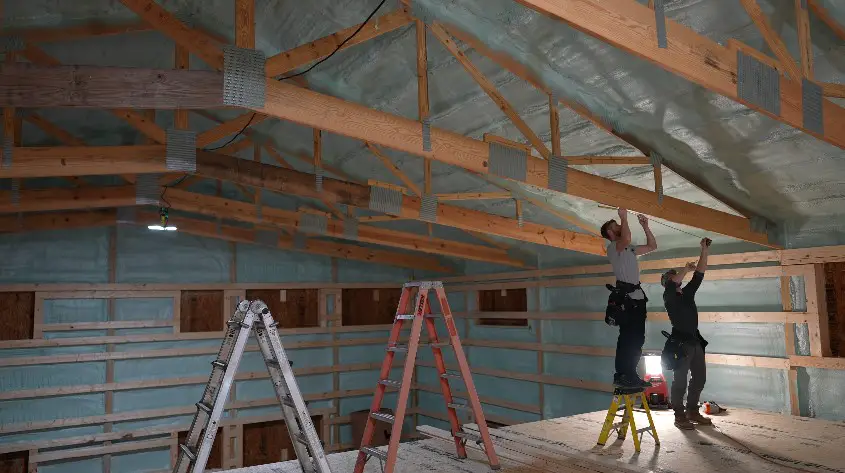 Factors That Determine Building Time
Foundation time—this is what your Barndominium will be built on and a crucial part of building your Barndominium. Make sure that the construction material is of good quality. Laying the foundation takes hard work and planning. It can take two to three weeks if the underground soil is compacted or unstable to support the foundation. It has to be worked to make it stable to hold the foundation.
Framing—this is laying out and attaching all of the major components to make your barndominium. It also includes framing the ceilings, walls, windows, doorways, and fixtures. Doing it yourself will take longer than it would an experienced builder because everything has to fit perfectly without any gaps between the pieces. This can take four to five weeks.
Roof—once the framing is done, it is time to put the roof on. It takes time because each piece has to be correctly secured, so there are no leaks. Most builders will use special methods to make them energy efficient. Putting on a roof can take one to two weeks. If you are adding solar panels or ventilation systems, that will add more time.
Utilities—this includes plumbing, electricity, HVAC, etc. The time frame depends on when the licensed professional can get there to do their part. They need the time to place everything in their correct locations and run the pipes and wiring. They also must ensure that the indoor bathrooms meet the proper EPA standards. If you have a workshop or garage, this adds time. It can take a month or less for all of this.
Insulation—when insulating your Barndominium, it will include your ceilings, attic if there is one, and the walls. The type of insulation will also play a part in the time frame. You will also need to ensure that proper ventilation systems are in place in all rooms. It can take a week or two to do this job.
Benefits of a 1,400 Square Foot Barndominium
Building a 1,400 square foot Barndominium has many benefits. One major benefit is that it is all on one floor, so it is ideal for seniors or anyone with mobility issues going up and down stairs. It also lessens parents' worry when there are no stairs for their children to climb or get hurt on. There is also less maintenance.
A 1,400 square foot Barndominium is more energy-efficient, which helps to lower your electric bill. It is an ideal home for a professional couple, as they could have a master suite and use the other room as a home office.
1,400 Square Foot Floor Plans
Below are floor plans for a 1,400 square foot Barndominium. They will give you some insight into how you can utilize the space.
1. A unique 1,400 square foot Barndominium floor plan as it has an RV garage attached. It measures 34 x 42 feet. It only has one bedroom, so it would be ideal for a couple who enjoys traveling in their RV and uses their Barndominium as a home base. It has two garage doors.
The living room, kitchen, bedroom, and bathroom are all on one side of the Barndominium. You step out of the kitchen to a short hallway leading to the bedroom, the bathroom right off the kitchen. You can step out of the bedroom to the outside. The downside to this floor plan is that there is no kitchen island or dining room to eat your meals and no laundry room.
2. This 1.400 square foot Barndominium has opted only to have one bedroom and use some of the space for a laundry room. The bathroom is misplaced at the end of the hall, instead of next to the bedroom. You should switch the laundry room and bathroom. The kitchen has a bar to eat at plus a nice size living room.
Off the great room or living room, there is a nice porch. From the floor plans, it appears that you can enter the outside from the bedroom hall. There is a garage with lots of storage with an optional basement.
3. This floor plan offers you three bedrooms, one of which is a master suite. The master suite has a walk-in closet and two bathrooms, one has a shower, and one has a tub, with the toilet in a separate room between them. You also enter a basement from an entryway off the great room. There is also a utility or laundry room. There is a two-car garage on that same side with storage and access to the basement also.
In the middle are the kitchen, dining, and living areas. Off the living room are a covered porch and a patio off the kitchen. On this side are two bedrooms with a bathroom in between the two. It is also a guest bathroom and is entered from the short hallway.
4. Here you have three bedrooms, including the master suite, with a great room between them. On the master suite side, the laundry room is right out the door. There is also a two-car garage. Leading into the barndominium is a small stoop or porch.
The kitchen, dining area, and the other two bedrooms are off the great room, and their shared bathroom is also the guest bathroom. The kitchen has a small pantry, and there is also a patio off the great room. This is a great floor plan as it uses the space well.
Conclusion
A 1,400 square foot Barndominium cost averages $250,000 or more as there are many other factors to figure into the cost. This article also showed you several 1,400 square foot floor plans demonstrating how to utilize the space. The time frame can be six months to a year. Once you have read this article, you will know if this size Barndominium will work for your family and lifestyle.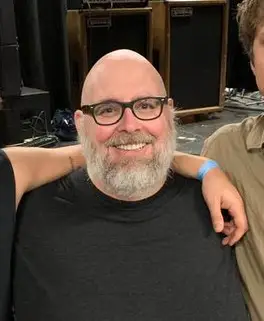 I'm James, your barndominiums advisor. Several years ago, I had no idea what barndominiums were. Although I'd spent over 10 years in the construction industry, the first time I heard about barndominiums was when I saw my neighbor building a new-style home. That was the first barndominium I've ever seen, and I found it so fascinating that I wanted to learn more about them.
More Posts