Many, when thinking of a metal building, think of only using it for storing things, using it as a workshop, but very seldom as someplace where you could live.
The truth is you can live in a metal building.  They are becoming quite popular as living spaces.
We have established that the answer to the question, can you live in a metal building, is yes.  Another question is why would you?
In most people's minds, when they think of a metal building, it is this huge, cavernous building that causes your voice to echo when inside.  It seems so cold and impersonal.  Almost impossible to make it into an enjoyable living space.
In this article, we will cover the question can you live in a metal building, the advantages, and disadvantages, and the cost to do so.
We will also share with you a layout sample of what it would be like to live in a metal building and who builds them.
Is there any risk in Living in a Metal Building?
As mentioned, yes, you can live in a metal building.  It is a living solution that is becoming very popular in today's society.
There are so many reasons why you can and would want to live in a metal building.  They are affordable and customizable.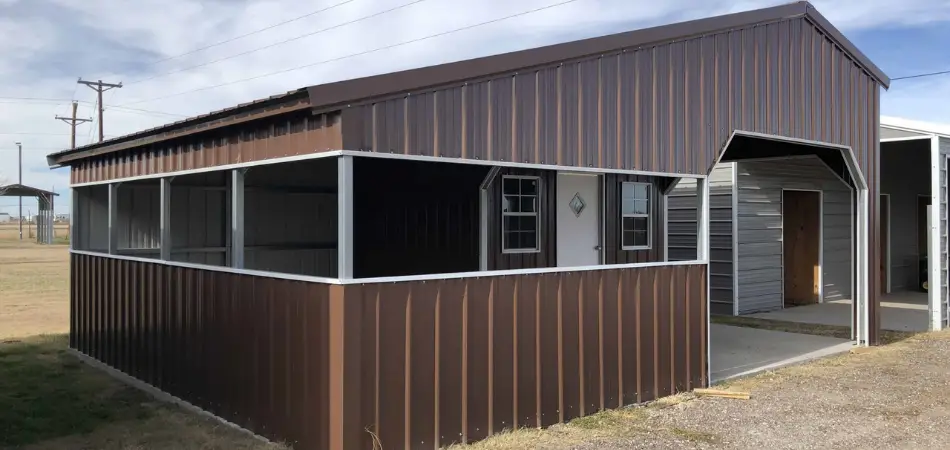 Tips for Purchasing a Metal Building
Before you purchase your metal building to turn into your dream home, here are some tips to help you make the right choice.
One of the first things to do is consider just what size metal building you are going to need.
Is it going to just be for living in or is it going to accommodate a work area or shop?  How many members of the family, how many bedrooms, size of rooms, and more?
Above all, make sure that the building you choose does not exceed the budget you have set.
If your budget will allow it, choose a bigger size building than you need to give you extra space for the future.
If you have not started a family yet but plan to, you need to figure how many children you want to have in the size of the building.
You also need to make sure that it is weatherproof and energy-efficient.
Know These Before Living In A Metal Home
Having their own homes is a goal for many people but unfortunately, the costs of a regular home can be out of reach for some potential homeowners.
This is where metal buildings for homes can come into play.  There are different types of metal buildings that can be used as a home.
Some like to use metal shipping containers as the framework for their home while others use adaptive steel buildings.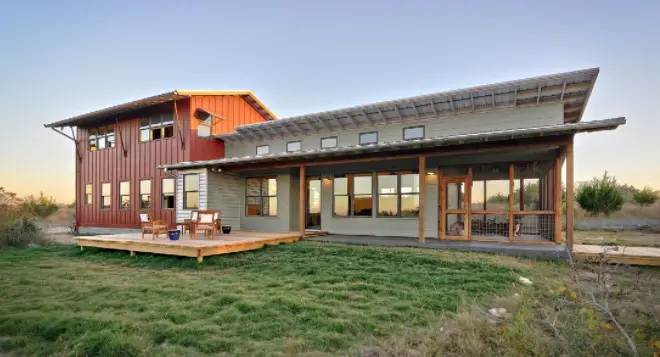 Before you decide to live in a metal building, there are some things you need to consider.
A conventional look is possible
Some are hesitant about living in a metal building because they feel it would not be aesthetically appealing.  The truth is that they do not have to look all-metal, dull, and bare.  There are several ways to make it look like a real home and not a metal building.
Make sure you are working with an experienced company that has been designing metal buildings into homes for many years.  They will be able to make it look less like a metal building and more like a home.
Proper insulation
Insulating your metal building should not be an issue if you have the right materials and have them properly installed.
Make sure that the one who insulates your metal building is skilled in insulating that particular type of building for a home.
There are different requirements to insulate a metal building and a traditional home.
Having the right insulation will help to reduce your energy consumption significantly.
If your home meets certain energy rating requirements, you may even get some incentives or tax breaks.
Different types of insulation can be used, such as spray foam insulation, loose-fill insulation, rigid board insulation, and batt and blanket insulation.
Noise insulation
Even with walls in place, it can be pretty noisy inside of a metal building when you consider just how big it is.
This is why you need to insulate for noise.  Most of the time, the insulation in your roof will also be your noise insulation.  Make sure you talk to your builder about it.
Not more likely to get struck by lightning
Many have the misconception that if you are living in a metal building that your home is going to be one giant target for lightning strikes.
This is not true.  Even if your home is struck by lightning, it will just absorb the energy to the ground.
With a traditional wooden home, there is a good chance it would catch fire if struck by lightning.
Advantages of Metal Buildings
Affordable:
With a metal building, you start to save money the day you start building.  These are also made of long-lasting materials, so they save you money long-term.
Durability:
The materials that are usually used on metal buildings will protect them from rust and corrosion when they are exposed to the elements.
The materials have incredible strength.  Their metal roofs can last forty or more years.  They are also resilient to mold, rot, and mildew.
Customizable:
Metal buildings offer unlimited floorplan options so you can make the layout of your home the way you want.
With a metal building, they do not require the same type of inside walls that a traditional house would require.  You can shape your home the way you want and fit your needs.
You can choose your color palette, choose a roof that has shingles or tiles, and some even offer a façade that can make it look like brick or stone.  The inside can have all the interior features of a traditional home.
They allow you to have larger interior wall spaces to help improve the comfort and insulation of your home.
Dual purpose:
They cannot only be used as your living quarters but also for your business if you work at home or have a home business such as a car detail shop.
With the structure of the metal building, it is easy to convert part of it into an area for your business, which will save you money having to build two separate spaces.
Low maintenance:
These homes are less pest-prone because they are not made from wood, and for many pests, wood is a food source.
Metal is not a food source for them.  Metal buildings, if properly treated, require less maintenance.
They are basically maintenance-free except for cleaning the gutters and doing an occasional power wash.
Eco-friendliness:
Some metal buildings used for homes are made of recyclable materials.  One example is shipping containers.
Also, if you ever decide that you want to tear down your metal building, the materials used to build it can be recycled.  They are also energy efficient.
Reduce construction time:
For a traditional home it can take a year at least to build but with a metal building, it can take two to three weeks considering that the frames of the metal building are made ahead of time.
All that is required is to put it together to form the house.
Easy to remodel:
A metal building stands on external walls, so the interior columns do not have to bear the weight of the structure. This means that you can make changes to the interior when you want.
Being easy to remodel means you can experiment with different designs, make bedrooms larger, make one large bedroom into two smaller ones, all by removing interior columns.
Disadvantages of Metal Buildings
Although a metal building has many advantages, there are also several disadvantages
Money:
Although steel prices and lumber prices are now about equal, the cost of building a metal building and labor charges are much higher.
With metal buildings, they have to be made precisely so they demand professionals who are experienced in these types of buildings.  These professionals can be in high demand.
Metal buildings also have to use various bolting and screwing techniques so there is expensive equipment involved.
Labor costs also contribute to the price and are one of the main components for making it costly to build a metal building home.
Heavier weight:
The metal is heavier than wood so you may need to use forklifts to bring the metal to the building site.
Being heavy could cost more with transporting the material.
Insulation concerns:
Although they are energy-efficient, insulating a metal building can be a challenge.
The metal is more conducive to cold and heat so this can cause some sweating from the temperature changes.  This could cause moisture to be where it is not desired.
Not meant for multi-story homes:
If you want a home with more than one story, then using a metal building is not going to work.
Who Builds Metal Building?
There are many companies that build metal buildings.  To find out who in your area does this you would need to do an internet search for your area.
You could also talk to your Better Business Bureau or your local real estate offices.
Building a Metal Building: Costs
On average, according to The National Association of Homebuilders (NAHB), the average cost to build a metal building is $359,228  of which $237,760 is for basic construction costs.
The chart below is just an average of the cost, which can be higher or lower.
If you build your metal building in a prime real estate location, the costs are going to be higher because these areas are more expensive.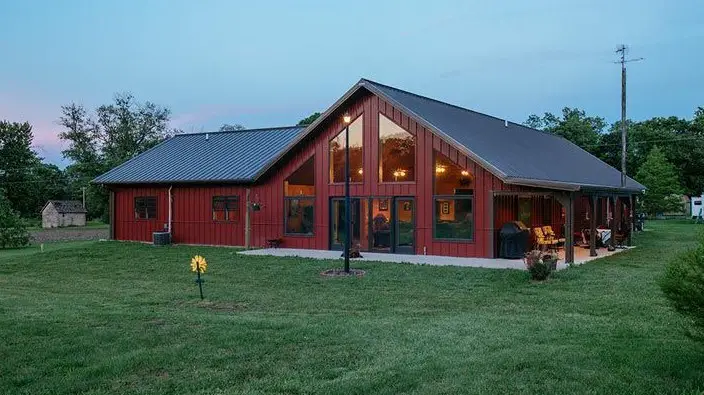 The size will also be taken into consideration when figuring costs because the larger the metal building, the more it is going to cost per square foot.
The location also plays a large part in the cost, which will be based on the current housing market in that area.
The house will be more expensive if there is a high home demand.  On average, the price per square foot is $`112-$125.
| Basic Component | Cost | Description |
| --- | --- | --- |
| Site Work | $15,903 | Building permit fees, inspections, designing & planning, impact fees |
| Foundations | $25,671 | Concrete foundations, excavation, wall retaining, backfill |
| Exterior Finishes | $33,066 | Roofing, windows, doors, exterior wall finishing |
| Framing | $41,123 | Trusses, framing, metal beans, sheathing |
| Major Systems | $32,746 | Electrical, HVAC, Plumbing |
| Exterior Amenities | $16,591 | Landscaping, outdoor structures, clean-up, driveways, finishing touches |
| General Expenses | $21,835 | Any costs associated with working with an external contractor. |
| Lot Cost & Service Connections | $97,996 | Deconstruction of existing property or buying the lot, installing drainage, water, gas, electric, and telephone connections. |
| Additional Financing | $7,525 | Costs of financing the construction. |
If you decide to go with a metal building kit, on average the kit can cost $20,000-$85,000 with the square foot averaging $10-$50.
You also have to figure in the cost of installation and assembly, which could average $25,000-$45,000.
See Also: Barndominium Cost Calculator
Summary
Can you live in a metal building?  The answer is yes you can and there are many advantages to doing so.
There are also a few disadvantages.  With today's technology, you can turn a metal building into a nice living space, customized as you want it.
Our article gives you an estimate of what it will cost and what you should know before choosing this type of housing.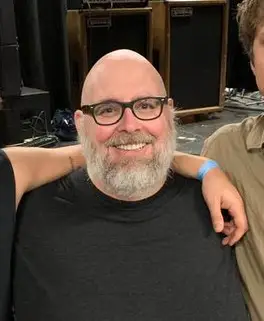 I'm James, your barndominiums advisor. Several years ago, I had no idea what barndominiums were. Although I'd spent over 10 years in the construction industry, the first time I heard about barndominiums was when I saw my neighbor building a new-style home. That was the first barndominium I've ever seen, and I found it so fascinating that I wanted to learn more about them.
More Posts