Are you ready to build your dream home but unsure where to begin? While deciding to build a home isn't a new concept, some are looking for something a little more non-traditional.
Today, we have tv shows about tiny houses, making homes out of storage containers, and the list. However, what is not talked about as much is barndominiums. They are quickly becoming the latest trend in the unique house-building world.
Keep reading to learn why this is the home of the future and why you should consider building a barndominium in Georgia.
Barndominiums: What Are They And Why Build One?
In short, a barndominium is a residential building that combines the features of a barn and a condominium (also known as Barndos or Shoes).
They can be any style and size, typically designed to be both functional and stylish. Most barndominiums are built with an open floor plan and high ceilings, giving the home a spacious feel.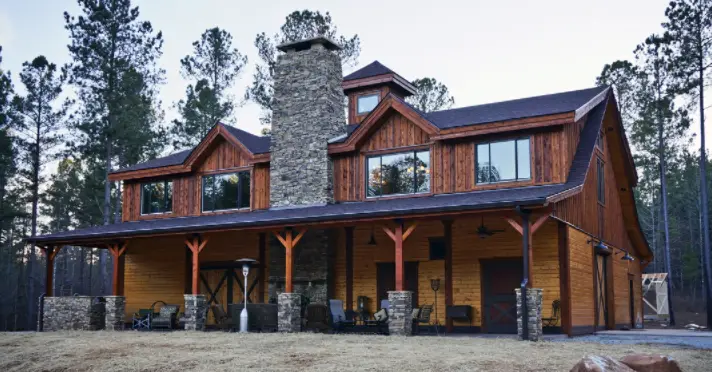 If you decide to build a barndominium in Georgia, they are typically a metal building, but other materials can be used. On the outside, they look like a barn, but inside, they feel like a traditional house.
Others can be built to have a separate work area, extra storage, or a shop. The possibilities are endless on how you can build your barndominium.
The Benefits of Building a Barndominium
While there are many benefits to building a barndominium, the main factor is the ultimate cost savings. Barndominiums are typically less expensive than traditional homes.
This makes them a good option for first-time home buyers. The open floor plan gives lots of space, allowing new families to grow.
Also, depending on how they're built, they can be easier to maintain, and most are built with high-quality materials that can withstand severe weather conditions. In addition, those looking for a unique home will be the talk of the neighborhood.
Can You Build A Barndominium In Georgia?
Yes, you can build a barndominium in Georgia. The trend began in the Texas area, but now barndominiums can be found anywhere in the United States.
Keep in mind that building a barndominium in Georgia will require a building permit from the local county government. This will be true of any state or city you decide to build. Permits are still required even if you plan to build on a plot of land you own. 
Now let's get into the Pros and Cons of building a barndominium.
The Pros and Cons of Building a Barndominium in Georgia
Before building a barndominium in Georgia, there are a few things to consider, including the climate, the cost of materials, and the building code requirements.
While they are generally quicker to build than traditional homes and less expensive, it depends on the design, floor plan, and materials used. 
As with buying or building any home, there will always be pros and cons. It's ultimately up to the individual to decide if the pros outweigh the cons. But to be honest, there are very few cons when building a barndominium in Georgia.
The Cost of Building a Barndominium in Georgia
How much does it cost to build a barndominium in Georgia? The average barndominium cost in Georgia can range between $20-$110 per square foot.
This makes the average cost for a barndominium around $30,000 to $275,000, with the average size of a barndominium ranging between 1500 and 2500 square feet. Generally, the construction of a traditional home can range from $100 to $200 per square foot.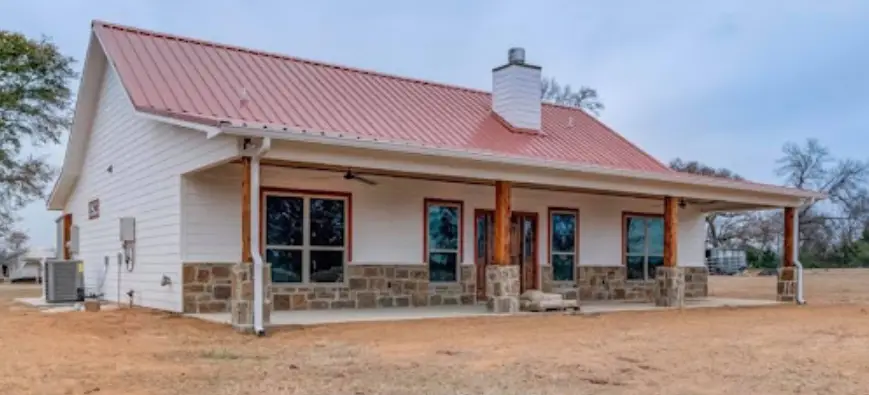 Homeowners often repurpose an existing structure and turn it into their dream barndominium instead of building from the ground up, lowering costs. There are also barndominium kits available.
In addition to the price per square foot, there are other costs to factor into the building of your barndominium. This includes labor, materials, permits, inspections, and running electricity and plumbing to the structure. The cost of all these things for a barndominium in Georgia will vary depending on the size and style of the home.
Structural Costs
The biggest factor in the structural costs is the foundation needed to build the barndominium. The most common material used is concrete which can cost around $3 to $5 a square foot for a 4-inch reinforced foundation. Sealing your concrete foundation generally costs between $2,000 and $6,000.
Exterior Costs
The exterior includes anything outside the barndominium, including landscaping, sidewalks, driveways, and exterior doors. Depending on the material used and the size, the roof can cost between $5,000 to $11,000.
Siding will also need to be factored in. Whether you choose vinyl, brick, or stucco, the siding can average around $6,000 to $10,000. 
Exterior costs also include putting in electricity and plumbing. These costs depend on the materials used, the professionals doing the work, and the building inspector to ensure everything is up to code.
Interior Costs
One of the highest interior costs is going to be flooring. If you opt for wood, carpet, or tile, the cost can be around $8,000 to $14,000, depending on the brand and the size of the barndominium. However, some decide to use the concrete slab as their floor. This would need to be professionally painted, sealed, and waterproofed.
Other interior costs include painting the walls, shelving, cabinetry, appliances, fixtures, and furnishings. The big expense will be the kitchen. You can figure $25,000 for a low-end kitchen and $62,000 for a high-end kitchen. Kitchen costs largely depend on design and appliances.
Barndominium Builders in Georgia
This will be one of the most important decisions you'll make when building your barndominium. After you have settled on a floor plan and a budget, it's time to start looking for a professional builder in Georgia. 
It can be a challenge to find the right builder for your project. The construction and the quality of work can vary from company to company. The right builder can save you time and money, while the wrong one can cost you both.
Here are some key things to look for when choosing a builder in Georgia:
Experience. Not just construction experience but experience building for this type of project. Traditional home builders might not be the best fit for building a barndominium. But with barndominiums becoming more popular, there are more and more companies specializing in this type of project.
Honesty and Integrity. These are crucial to have in a builder. You want a company that is straightforward throughout the entire process. 
Understanding and Helpful. You are relying on the expertise of this company. You need to work with a builder who will give you the best options for your home, not just the easiest and cheapest route.
Good Reviews. Before you hire a contractor, be sure to research and ask around about the company. Find out what their past and current customers are saying about their work. How's their customer service? Do they stay within budget? How long does it take them to respond? All vital questions to ask.
Barndominium Kits in Georgia
Another option for those not wanting to build from the ground up or hire a contractor is purchasing a prefabricated barndominium kit. These kits can be as simple as putting furniture together.
The way these kits work is they are ordered based on the floor plan you choose and shipped straight to your build site. When it's delivered, the kit has everything you need for the barndominium, including raw materials and fittings. Sometimes it includes windows and doors, depending on the provider. 
These can either be ordered from an outside company, or you can check with your local builders to see if they have kits for sale. Some kit providers will send a contractor to oversee the project. Be sure to ask if you need/want that level of support.
Building A Barndominium In Georgia: Financing, Insurance, and Taxes
What Are The Financing Options For Building A Barndominium In Georgia?
As stated in the cons list, funding a barndominium can be challenging. That being said, some companies work with people in Georgia on various agricultural projects and understand that everyone's needs are different.
The best recommendation we can make is to do your research and call around to find the best lender for your project.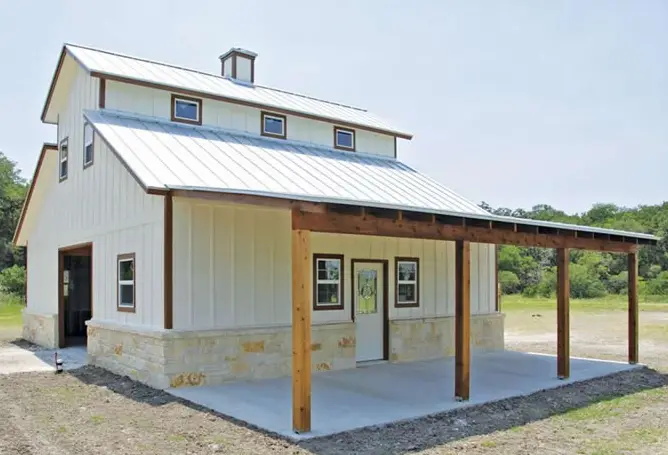 Regulations and requirements will vary based on location. If your bank does not offer to lend for this type of project, other options exist. In Georgia, companies that offer construction loans include Farm Bureau Bank, Georgia Farm Credit, and AgAmerica Lending. 
There is also the option to apply for a construction loan instead of a traditional mortgage. Sometimes getting approved for a construction loan can be easier than getting a mortgage.
What Are The Insurance Requirements For A Barndominium In Georgia?
Like any investment or property you are purchasing, insurance is always a good idea (also required) if you want to protect your investment. Make sure that you are properly covered with insurance for your new home.
In Georgia there are several different types of insurance you can get for your barndominium in Georgia. The type of coverage mainly depends on factors like common weather events and if your home is in a flooding zone.
This all factors into what kind and how much insurance you need. But not to worry. An insurance agent can help you acquire the right coverage, even for a barndominium. Talk to your current insurance agency and prepare to look for an additional company.
What Type of Taxes Do You Pay For A Barndominium in Georgia?
Again, just like insurance, taxes will need to be paid with any home or property you own. Yes, even in your barndominium in Georgia. That being said, there will be different tax requirements for your barndominium compared to a traditional home. 
A barndominium might fall under the category of dual-use construction. What does this mean? It simply means a different tax for living and storage areas.
The best way to get an idea of the type of taxes you'll need to pay is to have a tax assessor come out to the barndominium. They will be able to asset and let you know what type of taxes you can expect to pay.
Conclusion

 
Now you have a good idea of what it looks like if you decide to build a barndominium in Georgia. Research is the most important aspect when building a barndominium.
Make sure you have a floor plan, a design, a place to build, a good builder, a building inspector, and all the information to get started. As you build your dream home in Georgia, we hope you consider a barndominium.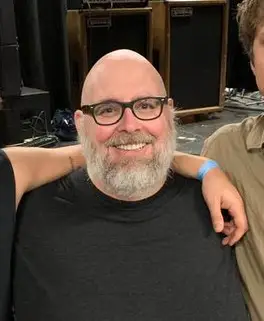 I'm James, your barndominiums advisor. Several years ago, I had no idea what barndominiums were. Although I'd spent over 10 years in the construction industry, the first time I heard about barndominiums was when I saw my neighbor building a new-style home. That was the first barndominium I've ever seen, and I found it so fascinating that I wanted to learn more about them.
More Posts