Are you ready to build your dream home but not sure where to start?  Are you looking for a different type of home?  Today you see shows about tiny houses, making homes out of storage containers, and so much more.  What is not talked about is living in a barndominium.
Building a Barndominium in Georgia, Elements, Cost, Builder, etc. is the way to go.  You and your family will have a home with an open floor plan, giving you lots of space to grow.  Your home will be the talk of the neighborhood so let's get started.  This is a wonderful home for first time buyers.
Read on to learn about the pros and cons, of which there are more pros. Quicker to build than a traditional home and less expensive.  Keep reading to learn why this is the home of the future.  If you have a plot of land, use it for your new barndominium.
Building a Barndominium in Georgia
Building a barndominium in Georgia is usually a metal building but can also be other materials.  On the outside, they look like a barn but inside a regular house with an open floor plan.  Some even have a separate work or storage area.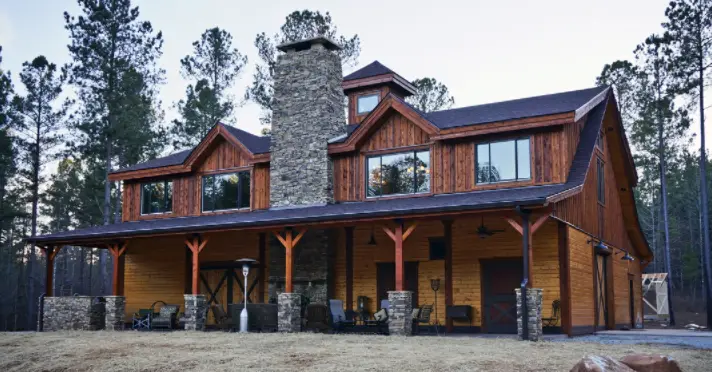 They can be built for one person or more.  The larger they are, the more they will cost.  They are the latest trend in the unique house-building world.  They can be built in various shapes and sizes with different materials.  The possibilities are endless as to how you can build your barndominium.
Can you Build a Barndominium in Georgia?
Yes, you can build a barndominium in Georgia.  True, they were first built in the Texas area but are now found almost anywhere in the United States.
Pros and Cons of Barndominium Building in Georgia
When you ask people about the pros and cons of building a barndominium in Georgia, you will hear several answers.  As with building any type of home, there will be pros and cons.  It is up to the individual to decide if the pros outweigh the cons or vice versa.
How much does it cost to build a Barndominium in Georgia?
The average barndominium cost in Georgia is $20-$80 per square foot.  This makes a barndominium cost $30,000-$120,000.  Many times, homeowners will repurpose an existing structure and turn it into their dream barndominium.  Some also use a barndominium kit.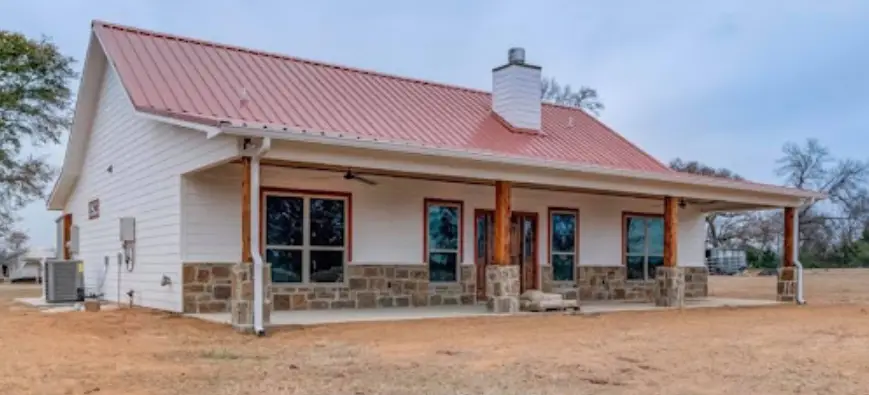 In addition to the price per square foot, other things factor into the cost of a barndominium such as permits, inspections, and running electricity and plumbing.
Structural Costs
One thing that figures into a structural cost is the foundation that is needed for the barndominium to be built on.  Most will use concrete and it can cost $2.83 a square foot for a four-inch foundation. For example, if the barndominium is 40'x70', the concrete foundation can cost $4,800-$7,200.
Exterior Costs
As the name indicates, this is anything that is on the outside of the barndominium, including landscaping.  The roof can cost $5,000-$11,000. Depending on the material used and size of the barndominium.  There is also the siding used.  It can be vinyl, brick, or stucco, which can cost $6,000-$10,000.
Exterior costs can also include the cost of putting in electricity and plumbing, from the material to the professionals doing the work to the inspector.  It can include driveways, sidewalks, and exterior doors.  All of these things can add several thousands of dollars to the project.
Interior Costs
One big interior cost would be the flooring.  Some decide to use the concrete slab as their flooring and just paint it.  If you opt for wood, carpet, or tile the cost can be $8,000-$14,00.  Again, it depends on the area size and type of flooring.
You also have the painting, mirrors for the bathroom, shelves, furnishings, cabinetry, appliances, and more.  For the lower-end kitchen, you can figure $25,000 but a high-end kitchen can be $62,000.
Barndominium Financing in Georgia
One thing to note before building a barndominium in Georgia is that financing, or finding funding, can be challenging because it is hard to get a mortgage for them.  The regulations can vary by location.  When applying for funding, apply for a construction loan instead of a regular mortgage.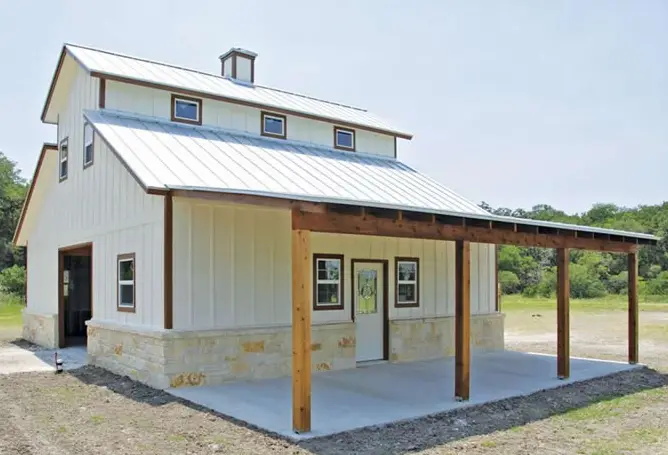 It is easier to get that type of loan for building a barndominium than it would be to get approved for a mortgage.  Check with the bank you deal with first and then check with the other lending businesses if your bank does not offer loans for this type of dwelling.
In Georgia, you could apply for a construction loan at Farm Bureau Bank, Georgia Farm Credit, or AgAmerica Lending.
Where will you get a Barndominium kit in Georgia?
One of the things that you can do is to purchase a prefabricated kit if you do not want to build it from scratch.  When using a barndominium kit, it can be as easy as putting furniture together.  To find a barndominium kit, you can check with your local builders.  If they build barndominiums, they may also have kits for sale.
With a barndominium kit, you place an order based on your needs and the floor plan you choose.  When it is delivered, it will have everything you need.  This includes the raw materials and fittings.  Some may include windows and doors.
Where you Will get Barndominium Builder in Georgia?
This is one of the more important decisions that you have to make when building a barndominium.  If you are not going to do it yourself, you need to find a builder.  Hopefully, you will find one that does the majority of the work, so you do not have to hire people for jobs the builder is not experienced in.
Two of the main things you want to find in your builder are a good reputation and honesty.  They should also be trustworthy and experienced.  All of these qualities will help save time and money.  You can check with the BBB in your county or online.  Check out any open houses for new homes and talk to their builders to see if they build barndominiums.
Final Thoughts
This article has gone over what you need to do for Building a Barndominium in Georgia, Elements, Cost, Builders, etc.  Now it is time to get started.