Do you want to live in a unique home?  Do you want to live in a barn-condo type house?  If you answered yes to either question, the answer is a barndominium.
With this being still such a new terminology, some people are turned off by the first four letters…barn. Do not let those four letters stop you from exploring the latest trend in housing today.
Barndominium is a concept that has been around since 1989 when a man was working on a planned community centered around living with horses.
Today one of the more popular ones is the black barndominium.
In this article, we will cover why a black barndominium is so popular along with the pros and cons of owning a barndominium.
We will also show you several barndominium ideas showcasing why the black barndominium is so popular and how beautiful it can make the exterior.
Key Takeaways:
Black barndominiums give the home a stealthy mysterious look as to what it will look like inside.
They offer a great open floor plan.
Black goes with many other colors for a great looking exterior
Why Black Barndominiums are so Popular?
A black barndominium is so popular because it gives your barndominium a look of elegance without the price tag for luxury and elegance.
On average, the cost is $50-$80 per square foot whereas a luxury home averages $150-$250 per square foot.  They are also easy to build.
Many people today want a unique home, and what can be any more unique than a black barndominium.
They are also popular because of the large living space and the open concepts.
As with any house, whether it is a traditional house or a barndominium, there are always pros and cons, which are listed below.
Black Barndominium Ideas [With Budget]
Below are many ideas on how your black barndominium can use the black exterior.
With some, the entire barndominium is black while others offset the black with wood accents, stone, and lots of windows to let in the natural light.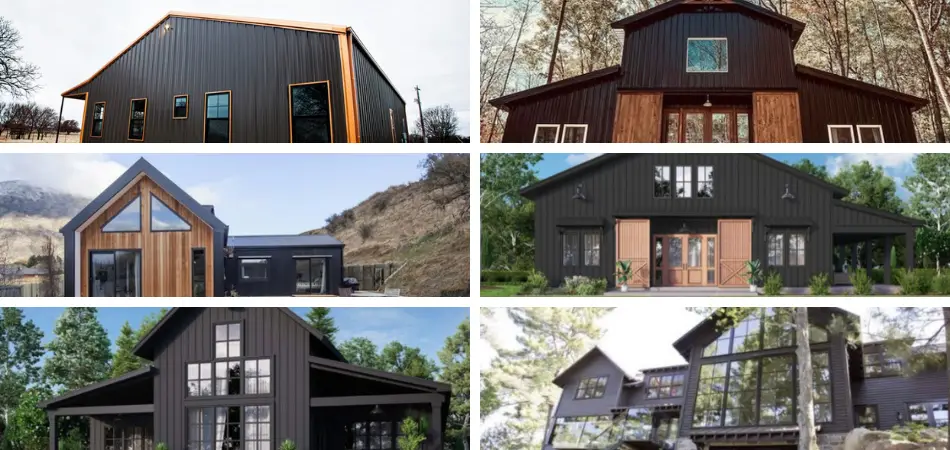 Black Barndominium idea 1
With this black barndominium idea, they have used an L-shape build, making the front appear as if the front has a wooden cutout, then it is offset with a white ceiling.
They also use two triangle windows at the top, sliding glass doors, and a narrow window to the side.
With this idea, the black exterior is not overpowering as the brown accent immediately draws your eyes to it.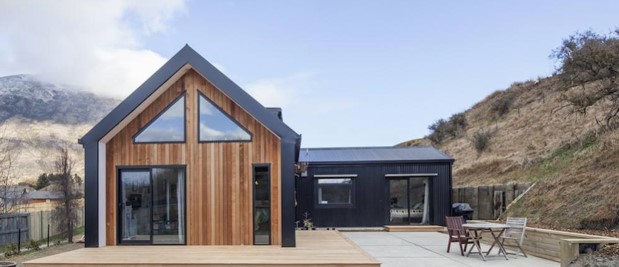 Black Barndominium idea 2
With this idea, it is accented with beige wooden barndoors that lead to the double front doors.  On each side are a pair of regular-sized house energy-efficient windows.
There are also three industrial lights in what appears to be a grey color.  Above the door are three windows and to the side is a covered porch.
The black exterior is well thought out, once again using light wood door accents.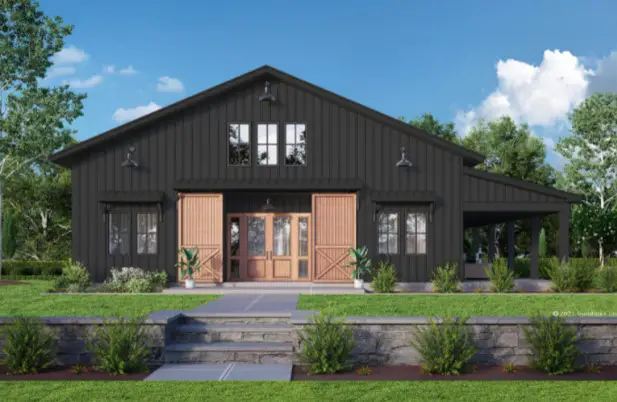 Black Barndominium idea 3
This black barndominium has no accent color but instead, the exterior stands out because of the beautiful, tall triple group of windows with one set of four windows extra on the middle row.
These are letting in a lot of natural light.  There is also a tall plant that sits on each side of the windows.  On the right and left sides of these awesome windows add some greenery.
On each side, there is a small porch with more windows.  The architect knew just how to accent the black exterior without using a wooden accent.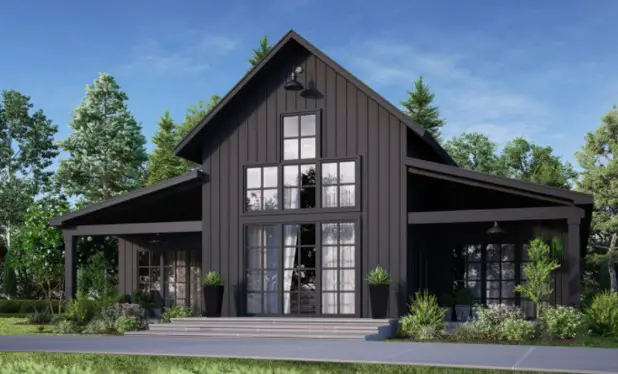 Black Barndominium idea 4
With this black barndominium, the builder has made it appear that there are three different sections of the black barndominium.
They're using washed-out brown barn doors and a darker wooden finish that encases the front door.
This one has very few windows with there being two windows with two pains side by side on each side and one larger window on the top of the front of the barndominium.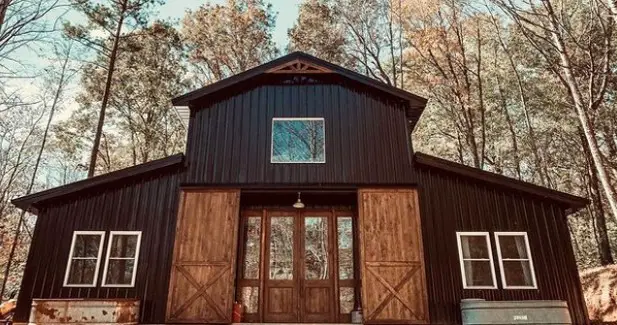 Black Barndominium idea 5
With this black barndominium the accent is on widows and more windows and a stone façade in front of the foundation.
There are several sections of this barndominium, each with many windows.  Into what appears to be a basement, there are large sliding glass doors.
Very elegant and with all of these windows, the black barndominium will get a lot of natural lightening.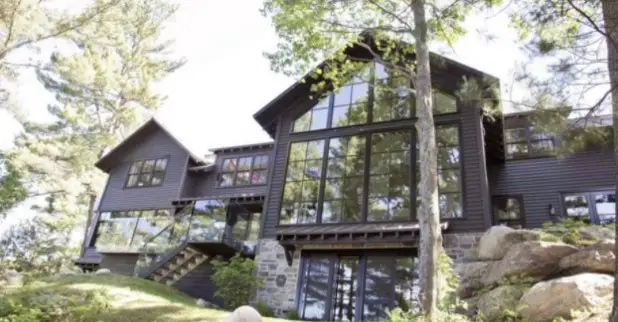 Black Barndominium idea 6
This is a simple, yet elegant look for this black barndominium, again accented with windows and a stone border around the foundation.
There is a single floodlight at the top of the barndominium under the roof shining down on the yard.
Above the roof that covers the front porch are three sets of wide windows with basically the same type of windows.
All these windows do not offer much privacy inside the black barndominium but do let in a lot of light.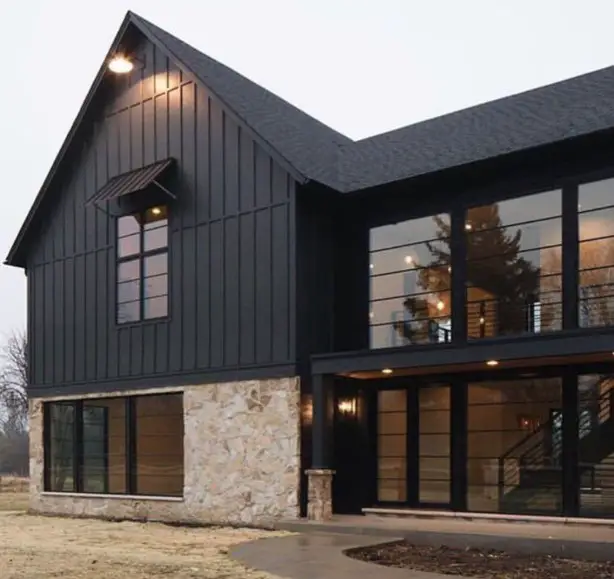 Black Barndominium idea 7
This black barndominium has what appears to be a deep grey corrugated siding and black guttering.  This appears to be a side entrance to the home.
In front of the side door, there is a small concrete porch that is trimmed in a white-picket-fence-looking front and corrugated roof.
The glass door is framed in black.  All work together to give it a homey feeling.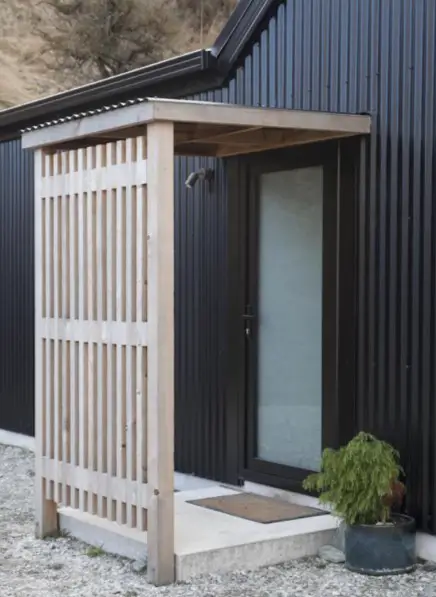 Black Barndominium idea 8
This L-shaped black barndominium is accented by brown at the front, which encases two triangle windows and sliding glass doors trimmed in black.
On the side, there are three tall widows, also trimmed in black.  Around the black barndominium is a nice light wooden porch with a white concrete patio off to the side.
Very well thought out black barndominium with the placement of windows.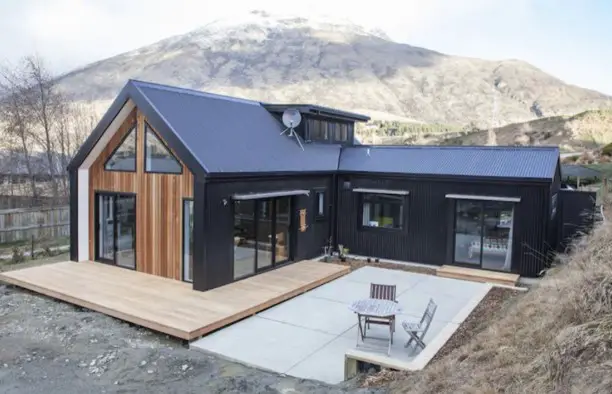 Conclusion
As you can see from the different ideas, a black barndominium, can give you an elegant or simple look to your home, whatever your imagination wants to create.
We have also covered why they are so popular plus the pros and cons, of which there are more pros.  So be adventurous and when designing your new barndominium, go with black.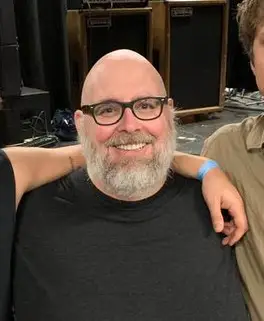 I'm James, your barndominiums advisor. Several years ago, I had no idea what barndominiums were. Although I'd spent over 10 years in the construction industry, the first time I heard about barndominiums was when I saw my neighbor building a new-style home. That was the first barndominium I've ever seen, and I found it so fascinating that I wanted to learn more about them.
More Posts