When discussing 4-bedroom barndominium plans, this does not mean you have to use these rooms as bedrooms.
They can also be used for a study, a game room, or an office.
This size barndominium could either be a 60×70 or 60×60 and utilize the two-story floor plan. There are so many possibilities with this barndominium.
4-bedroom barndominium plans allow you to have the room to expand your family or to have that extra space for guests. 
There is even a possibility that you could use the extra bedrooms to start your bed and breakfast. 
Read on to see some spectacular 4-bedroom barndominium plans, some even with a garage or a shop.
We will also give you some guidelines on what to consider help make the decision a bit easier as to whether this type of floor plan is right for your family and lifestyle.
This article will also cover the price for 4-bedroom barndominium floor plans.
Key Takeaways:
The 60×70 will give you approximately 1,800 square feet of living space with a shop or garage
4-bedroom barndominium plans are customizable for your family and lifestyle
Extra bedrooms can be extra income
4-Bedroom Barndominium Plans – Things to Consider
Before you choose your 4-bedroom barndominium plans, there are some things that you need to consider.
Seeing them on paper or the computer is nice, but do they fit your lifestyle?
Do you want all the bedrooms on one side or one floor, or do you want your master suite separate?
This is just one thing to consider when planning your barndominium.
Lifestyle
This will be different for everyone. Here are some things you need to consider about your lifestyle.
How many children do you have, and if you will add to your family in the future? If so, how many more children?
How often do you have overnight guests?
Will you need a room for a study, home office, play, or game room?
How are you going to utilize the common living spaces
How large do you need the rooms to be
All this information will help you understand just how many rooms you will need and what their size should be.
Another thing to consider is if you have someone working different hours, such as the night shift, you might consider putting their bedroom further away from the other bedrooms and living spaces so they can sleep without being disturbed.
Consider The Land
This is also an important factor. Many 4-bedroom barndominium plans include a large porch or deck in the front, back, or both.
If you build your barndominium with lots of great outdoor views, you want to make sure that you consider that in your layout.
You want to ensure that you can take advantage of those views from as many rooms in the barndominium.
For example, if you have a beautiful mountain or forest view, you might consider having the main living room wall facing that way with large floor-to-ceiling windows or even the master suite. Imagine waking up to that gorgeous view every day. You should consider where the sun rises and sets and try to plan your porch there so you can enjoy a cup of coffee watching the sunrise.
Storage And Closets
Naturally, you want your barndominium to be beautiful, but you also want it to be functional.
You want to make sure when you choose your 4-bedroom barndominium plans that you make sure that there is enough room for storage and closets.
This includes not only your bedroom closets but also the pantry if you are including one in the plans.
You should also have a closet to hang guests' and family's coats in when they visit. You will also need storage space to store clothes in the off-season, holiday decorations, and more. If you are adding a garage or workshop to your plans, you will need to include storage there.
Traffic Flow
At first, when looking at floor plans, this might be a little hard to envision, but you must get this right so everything flows in your new barndominium.
You should try to map out the common paths to ensure that you are creating routes for your space that are accessible.
If you are planning to add a garage and, after shopping, carry the groceries inside, you want a short walk to your kitchen and pantry.
You do not want to walk across your living and dining space to get to the kitchen, nor do you want a long hallway.
Also, you want to ensure that the laundry room is accessible, and if you are building a second story, you do not want the laundry room on the second floor.
There would be many stairs to go up and down every time you do laundry.
You also need to consider if you will have a closed or open concept. You can have an open space between the living area and kitchen with an open concept. This will make your barndominium seem more open and inviting. This is a good concept to choose when choosing your 4-bedroom barndominium plans.
4-bedroom Barndominium Plans And Costs
Many factors go into figuring out the cost of your 4-bedroom barndominium. These factors include its location, interior finishes, design, size, and more.
It also depends on whether you are building from the ground up or using a kit.
A kit with just the basic shell can be as low as $20 a square foot, but if you build it from the ground up, it could be $95=$125 per square foot.
On average, a basic barndominium with eight rooms or more can cost $60,000-$120,000.
The final price will depend on the appliances, interior finishings, and if you add a workshop or garage. The final price also depends on whether you do all or some of the work yourself or hire a contractor.
Many 4-bedroom barndominiums are 2,000 square feet, so the average cost for a barndominium kit would be $40,000-$80,000.
But then you have to figure in the interior furnishings, including appliances.
For a turnkey barndominium, it can average $180,000.
Other costs can include
Foundation–$6 per square foot, which can be $6,000-$24,000
Electricity–$4,000-$16,000
Plumbing–$4,500-$18,000
Windows and doors–$20,000 or more and includes installation
Appliances, countertops, and cabinets–$60,000 or more
Flooring–$8,000-$32,000
4-Bedroom Barndominium Plans: These Floor Plans Will Inspire You
Below you will find several inspiring 4-bedroom barndominium plans, including a workshop and a garage.
These will give you an idea of the different plans you can choose from.
4-Bedroom Barndominium Plans With Shop Example 1 – Floor Plan 122
This plan includes a garage/shop at one end of your 4-bedroom barndominium. There is an entrance from this area to the laundry room into the dining/kitchen area.
Along one side is the master suite and three other bedrooms, which share a common bathroom entered from the hallway. They have also included an office.
The common bathroom is also one that guests use. Along the front is a large porch.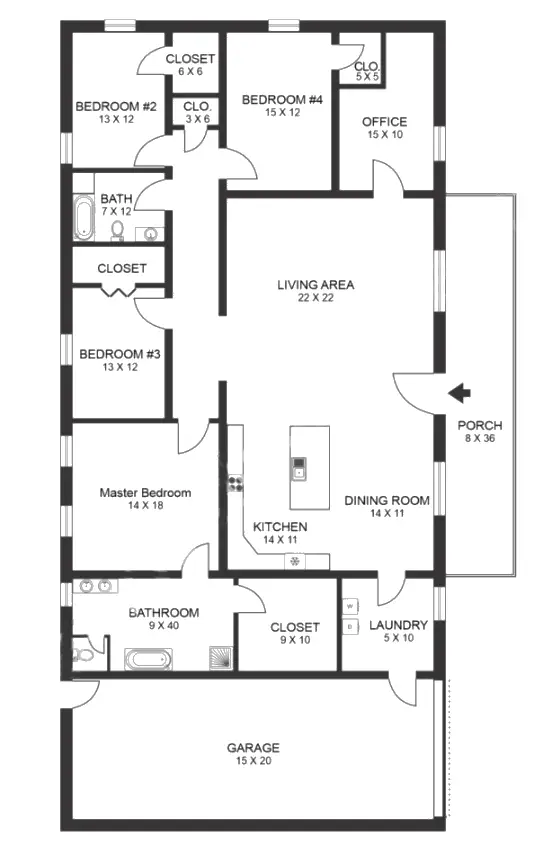 4-Bedroom Barndominium Plans With Garage Example 2 – Floor  Plan 123
This floor plan includes a large garage that would probably be for two cars, or part of it could be utilized for a work area or storage.
You enter a hallway leading to the kitchen with the pantry in the corner. The master suite is right off the kitchen/dining area, and so is the half-bath.
A small hallway leads to the bonus room, which could be used as an office or study. At the end of the barndominium are four bedrooms, with a playroom.
There are two jack-and-jill bathrooms with the laundry room at the end of the barndominium.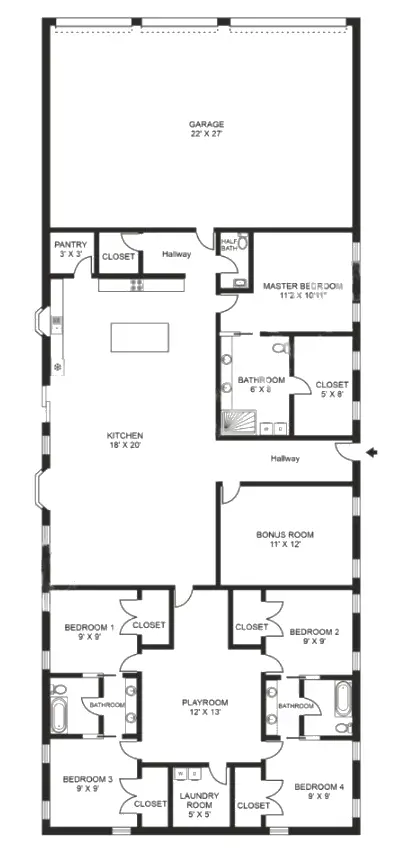 4-Bedroom Barndominium Plans Example 3 – Floor Plan 124
These 4-bedroom barndominium plans have no master suite but just four equally sized bedrooms that are 12×12 with two bathrooms shared between them, but they are not jack-and-jill bathrooms.
There is also a half-bath. What takes up most of the space is the very large living area. The kitchen is in the middle of all the bedrooms, plus a laundry room and pantry.
This is a very simple floor plan.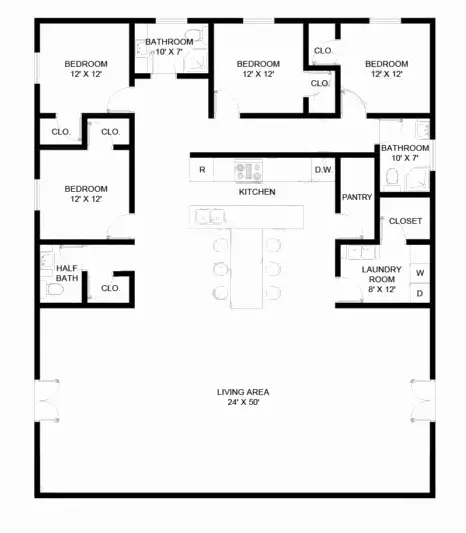 4-Bedroom Barndominium Plans Example 4 – Floor Plan 125
This is a unique floor plan with three bedrooms at one end of the barndominium and the master suite at the other. There is also a den and bonus room.
Two of the bedrooms share a jack-and-jill bathroom, and from the floor plans, it appears that the occupant of the other bedroom has to go through one of the other bedrooms to the bathroom.
As you enter the barndominium, there is a half-bath off the foyer.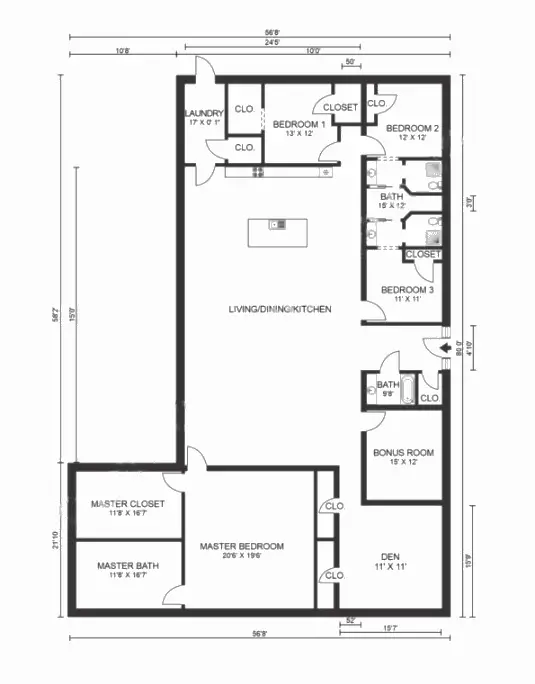 4-Bedroom Barndominium Plans Example 5 – Floor Plan 126
This is a well-thought-out floor plan and makes good use of the space.
At one end, you have three bedrooms with a jack-and-jill bathroom, and the other has an ensuite bathroom.
There is also a large playroom in this area and an office and storage space. A hallway leads to the dining, kitchen, and living space with a half bath for guests.
There is also a front and back porch. The master suite is at the other end, along with the laundry room.
4-Bedroom Barndominium Plans Example 6 – Floor Plan 127
These 4-bedroom barndominium plans also do not have a designated master suite, although one bedroom is larger, so that could be it.
The living area is at one end, along with the kitchen, pantry, and half bath. The laundry room is at the other end amount the bedrooms.
Three of the bedrooms share a bathroom accessed through the hallway. The larger bedroom at the end has its ensuite bathroom.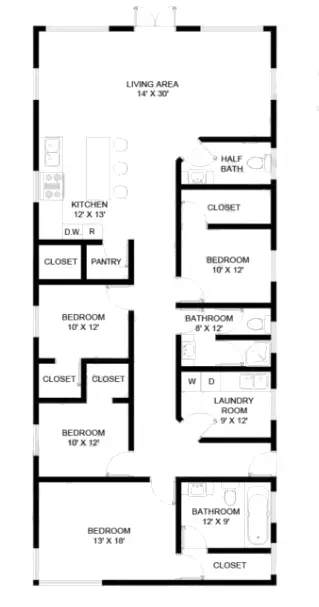 4-Bedroom Barndominium Plans Example 7 – Floor Plan 128
This floor plan has a large front porch that opens into the living and dining area and kitchen. Off the dining area are the panty, which is at the end corner, and the laundry room next to it.
Also, off the kitchen is an office. Also off the kitchen is the entrance to the large master suite.
Going down the hallway, you enter into a playroom, of which are four bedrooms, with two bathrooms at each end of this area.
The guests would also have to use one of these bathrooms. With this design, the children would have their wing or area of the barndominium.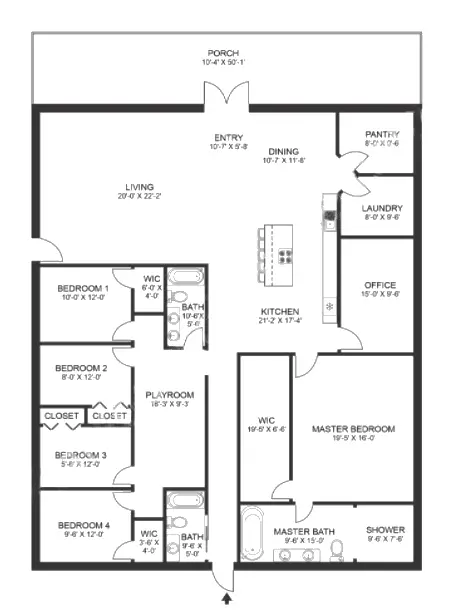 Conclusion
As you can see by these 4-bedroom barndominium plans, there are many unique ways to use them, some good and some not so good or well thought out.
We also covered the important things to consider before choosing your 4-bedroom barndominium plans and the cost of building your dream home.
Reading this article will help you choose the right plan and know the approximate building cost.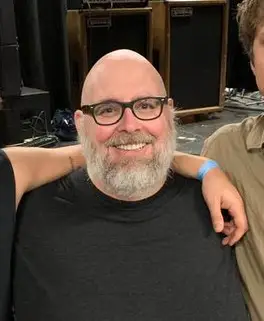 I'm James, your barndominiums advisor. Several years ago, I had no idea what barndominiums were. Although I'd spent over 10 years in the construction industry, the first time I heard about barndominiums was when I saw my neighbor building a new-style home. That was the first barndominium I've ever seen, and I found it so fascinating that I wanted to learn more about them.
More Posts