A bathroom is an essential part of any home, whether it is a traditional home or a barndominium.  They can be luxurious with a spa-like quality or something small and functional.  They can also be just a half bathroom for guests.
Before building your barndominium, you should have a list of barndominium bathroom ideas.  These should include the style, size, how many, color, and more.  Look at various bathroom ideas online to give you some design ideas, from rustic to modern sheik.
In this article, you will see different bathroom ideas.  Take the time to look at the designs, imagine them in your barndominium, and see if they match what you want.  You can also take different designs and combine them to make your bathroom one of a kind and unique.
Key Takeaways
Make sure that the design you choose is functional
The tiles should be anti-skid on the floors
You do not want your bathroom to look too cluttered and cramped
Best 12 Barndominium Bathroom Ideas That Will Attract You
Below you will see twelve barndominium bathroom ideas that range from rustic to modern.  You will also see how you can repurpose things to use them in your bathroom designs as accent pieces and for storage.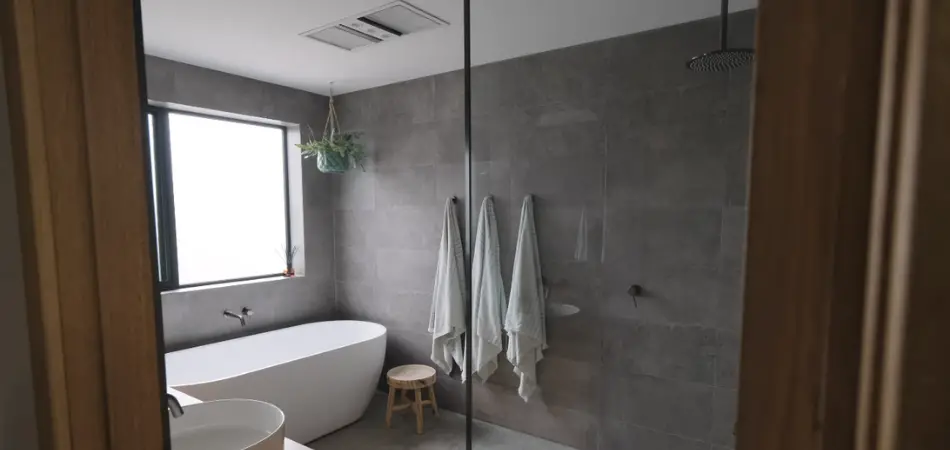 Idea 1
This is a modern design for your bathroom with a clean crisp line.  There is plenty of under-counter storage with cabinets and drawers.  A large mirror goes the entire length of the counter.  The biggest drawback of this bathroom design is that there is only one sink and most want two sinks, especially if this was a master ensuite.  With one sink, there is plenty of counter space.  The tub is enclosed but you still do not have all that much privacy The shower has a glass door that opens instead of sliding.  A well-designed bathroom overall.
Idea 2
This barndominium bathroom design does offer two sinks but not much counter space or storage space.  There are modern fixtures with square sinks that sit on the grey countertop.  Each one has its own large mirror frame in wood. Between the sinks and bathtub/shower combination is the toilet.  There is a textured wall in the bathtub/shower but it is hard to tell if it is some type of stone or special wallpaper.  This would most likely be a guest bathroom and most likely your typical size bathroom with room for two but it might be tight.
Idea 3
This bathroom wall decorative towel holder looks to be made of reclaimed wood and gives a depressed look.  At the bottom are four hooks or knobs to hold four towels.  They could hold other things such as your robe.  In the middle is a wreath and above are two picture frames with simple says inside of them.
Idea 4
For the decorations in this bathroom, they have made a ladder/shelves out of barn wood to use to drape a hand towel over.  It has been left unpainted and none of the wood pieces to make the rungs march in size or width.  They have also used an old table to put on a wash pitcher and bowl, using the pitcher for flowers.  To keep with the rustic look, there is a clawfoot tube.  Above is an older lighter fixture that at one time looked like it could have held candles but has now been redesigned for electric lights.
Idea 5
With this barndominium bathroom design, they have gone back in time to reuse old tin/aluminum washtubs that were used for laundry into sinks.  Above it, they have built a wooden shelf in which they installed the faucet.  An old mason jar holds hand soap.  For the mirror, it appears that they took an old window and replaced the regular glass with mirrors to make a unique mirror.  On the wall is an older ladder that is being used to hang towels on.  This is the type of bathroom that would have people talking about it in a good way.
Idea 6
This is a bathroom that uses a lot of modern techniques but also has repurposed wood that is used to build shelves into the wood.   It is a small vanity with one sink and minimal counter space.  Behind the vanity is a huge round mirror framed in wood.  Off to the side there looks to be some tile work upon which there is a shelf to hold a plant and other small things with several hooks at the bottom.  Above the mirror are three lights in matte black that point downward.
Idea 7
This is a simplistic sink but there is no counter space except at the end but it looks like a tray of some sort.  The sink looks like a very scaled-down horse trough and it is sitting on a wooden table that looks to be built from using scrap wood. The modern faucets are put into the wall.  Above the sink is a simple mirror.  On the floor is a bucket that contains rolled-up towels.
Idea 8
This is a very unique barndominium bathroom design.  Over the toilet is a bathroom shelf that holds two small and two medium quilted type containers to put things on and on the top shelf is where you can lay towels.  Beside it is a small wooden trash can and the sink is so tiny because it sits on the top of an old whiskey barrel.  Unique but there is no counter space and with the tiny sink, you do not have much room to wash your hands or brush your teeth.  Above the sink is a round mirror that looks to be framed in wood pieces or some type of fabric.
Idea 9
This barndominium bathroom design has a nice thick wood countertop with open shelving below but this also exposed the pipes of the sink.  It is a sink bowl with a faucet that looks a little like the old-fashioned pump handle without the handle.  The walls are one in wood planking and beside the countertop is the toilet.  On the white tile floor are blue throw rugs to give some color to the room.
Idea 10
This is another view of the above bathroom design and as you can see, there is a nice mirror framed in a different type and shade of wood with three lights.  There is plenty of counter space.  The vanity is well thought out but it would have been nice to put the sink at the other end instead of by the toilet.
Idea 11
With this design, they have put the tub inside the shower, which seems a bit strange as there is no privacy if someone wants to take a bath while the other wants to take a shower.  If this is done at the same time, the one in the tub would have to be worried about getting splashed, or making it a relaxing bath.
Idea 12
This is a great idea for repurposing an old wash tub by putting two shelves in there and mounting them to the wall.  It gives you space to store towels, shampoo, and other bath products.  It will give your bathroom a wall piece that can be a great conversation piece.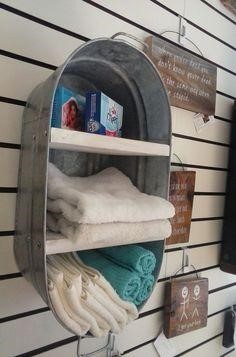 Summary
In this article, you have seen twelve barndominium bathroom designs that can turn your bathroom into a conversation piece.  Everything does not have to be new and modern.  There are many things out there that you can use and make new and functional again.
I'm James, your barndominiums advisor. Several years ago, I had no idea what barndominiums were. Although I'd spent over 10 years in the construction industry, the first time I heard about barndominiums was when I saw my neighbor building a new-style home. That was the first barndominium I've ever seen, and I found it so fascinating that I wanted to learn more about them.
More Posts