Investing in wedding venues has become a profitable business in several parts of the country. While you may prefer to hold a small wedding, others would love the idea of having a grand wedding with a large crowd consisting of family and friends.
However, for this, you need a wedding venue with an ample space, making a barndominium wedding venue the best option. Barndominium wedding venues offer you a classical, exotic feeling to getting married.
At the same time, it provides enough space and rooms for catering and others for your guests' convenience. What's more, the place is well ventilated, and it makes for a perfect place for the best decorations.
This article discusses the types of barndominium wedding venues and what is involved for it to be profitable.
Key Points
Barndominium wedding venues are very spacious.
It costs between $12,000 to $14,000 to build a pole barn.
Wedding venues are highly profitable if you manage the investment well.
A wooden barn is the cheapest barn type for a wedding venue.
Are Wedding Venues Profitable With Barndominiums?
In a definite answer, yes. Making money from a wedding venue is possible. However, it is not always that easy. A wedding venue might be beautiful and well designed and still not bring the profits you might expect. Therefore, you must carefully plan and strategize to get high returns.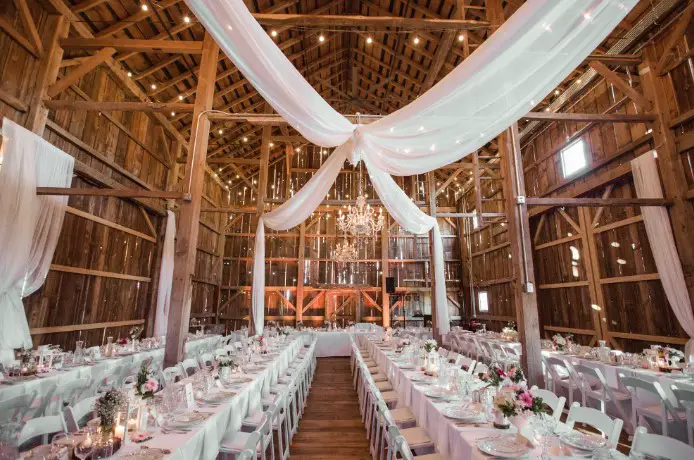 It is best to go for a barndominium wedding venue for higher profits in investments. Why? Because barndominiums are cheaper and easier to build, and what's more, you can get as much profit as traditional wedding venues offer.
Types Of Wedding Barndominium You Need To Know
There are three significant types of barndominium in the wedding venue business. Each one tends to have a unique design and structure peculiar to them. When selecting a specific kind of barndominium for a wedding venue, you must check the costs of the barndominium and its durability.
While at it, remember that not all types of barndominium fare well in certain areas. Therefore, you must select one which can withstand a region's climate. The types of barndominium for a wedding venue are:
Pole Barn Type
A pole barn is also called a pole building. Initially, its sole purpose was to serve different agricultural purposes. However, nowadays, it serves as a home and a wedding venue. A pole barn structure consists of vast open space with a high ceiling with no basements. On the other hand, the frames consist of laminated wooden posts prefabricated by a company. Pole barns are ideal for wedding venues because of the ample space they provide.
Steel Barndos
This barn consists of steel columns attached to steel beams while the metals are attached using screws. In summary, 90 per cent of the building comprises steel materials. Unlike a pole barn, barns made of steel are resistant to extreme climate changes and make them more durable. What's more, it's cheaper to build steel barns than to build pole barns.
Wooden Barndos
Wooden barns offer a more classical feel to their occupants than the other barns. Being one of the first barns in Australia and America, building a wooden barn needs high construction expertise. The problem is that wooden barns are not durable. Therefore, they might need specific reinforcements in the structure and painting to last.
Things You Will Need To Build A Barn
When building a barn for a wedding venue, consider several things to ensure high profits from the investment. You must not only get the appropriate documents that approve a short-term lease, but it is crucial to check the location you intend to site the barn.
In summary, the idea is to look for every way possible to ensure that the customers are happy while making profits. It doesn't just guarantee high profits, but satisfied customers bring good reviews for the long term, making you stand out among competitors. A few things worth checking are:
Research The Competitors First
For one's barn wedding venue to excel, checking the people doing the same business in the area is crucial. If it turns out that many people are doing the same business, it isn't a good idea to continue building the barn. This is because the competition will be higher in these regions and you wouldn't be able to get their profits.
On the other hand, if there are fewer barns, it's ok to go through with the siting. Still, you must also check to see if the existing competitors are making enough profits.
Inspect The Location
The location of the barn is another crucial factor to consider. It would be best to build a wedding venue on a large piece of land that is accessible enough for a large crowd. When looking to find a cheap large piece of land, it is best to look for land in rural areas. As long as the venue is beautiful, people will be willing to leave urban cities for weddings in the area.
It's also essential to ensure the barn is located in a green-friendly environment with no insects, animals, or wildlife. This may cause clients problems and, in turn, give the barn bad reviews.
Barn Cost
The barn you intend to use for a wedding venue might vary from the capital you have to invest. A few options to note are that it is cheaper to set up a wedding venue with an already existing barn than build from scratch. However, it is crucial to note that renovating an old barn will incur costs.
Furthermore, the type of barn you select will also affect the overall set-up cost for a wedding venue. If you are looking for a cheap option, pole barn cuts it. It costs about $25,000 to erect a decent pole barn. Although, the price might vary depending on the dimension of the building.
Utility cost
The major utilities necessary for a wedding venue are water and electricity. It might be hard to get these things in rural areas, but you can get local contractors to supply the utilities. Or, better still, you can strike a deal with the government to have the utilities sent to the wedding venue. It should not cost too much to have water and electricity in a venue. However, it depends on how far a company is supplying from.
Getting the Permits
The zoning codes for building a barn are different for every state. Therefore, it is crucial to learn a state's zone codes before setting up a wedding venue. Registering the business under the correct authorities is another vital thing. After registration, you should have a permit to tell that the business is legitimate.
While some clients might not ask about a permit, some very well-educated persons will. If you can't provide a permit, it might lead to authorities' seizure of the barn.
Advertising/Marketing Costs
Finally, a fast and easier way to reach out to clients is through sponsored ads. With almost the entire world's population having access to the internet, it makes for the best option. It would be best to post everything about the wedding venue on social media platforms.
You can also consider creating websites where you post adverts, services, and costs. To make the process easy, allow clients to be able to book and pay for the venue on the site.
Summary of Costs For a Barn Wedding Venue
Below is a summary cost of what it takes to build a barndominium for a wedding venue.
| | |
| --- | --- |
| Items | Prices |
| Location. | $50,000 |
| Utilities. | $5000 |
| Barn. | $54,000 |
| Marketing and permit costs. | $1000 to $3000 |
| Furniture, landscape, and others. | $80,000 to $100,000 |
How Much Can You Make from a Barn Wedding Venue?
On average, a barn wedding venue owner can make between $12,000 to $14,000 for each event. Although, this depends on the type of barn, size, and the services rendered for the wedding. Also, a couple might request special services, which can incur a higher cost.
How Much Is Land Required To Build A Wedding Venue?
The size of the land depends on the capacity a wedding venue holder is willing to accept and that which they can afford. There isn't an exact size for you to build a wedding venue. While some couples would instead love a wedding with few people, others would prefer having the whole gang at the venue.
With that in mind, a venue of 1000 square feet should be able to carry 80 guests at most, and it also takes twice the size to carry 160 guests. On the other hand, if you want a venue to hold a large capacity of people, say 250 to 300 guests, it's best to build a 3000 to 3700 square feet in size wedding venue.
Conclusion
Are you thinking of venturing into the wedding venue business? Why not Invest in a barndominium wedding venue today. Barndominium wedding venues are cheaper to set up, more durable, and provide the necessary space that a couple might need for their wedding. Read up to know how to go about setting up one.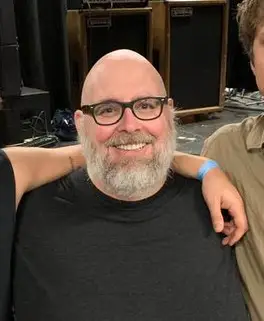 I'm James, your barndominiums advisor. Several years ago, I had no idea what barndominiums were. Although I'd spent over 10 years in the construction industry, the first time I heard about barndominiums was when I saw my neighbor building a new-style home. That was the first barndominium I've ever seen, and I found it so fascinating that I wanted to learn more about them.
More Posts