When building your barndominium and needing extra space, adding a loft will give you extra added space.  There are many things that you can use that extra space for, such as storage, a play area for the children, extra sleeping space, and so much more.
There are many barndominium floor plans with loft to choose from.  You will just need to look at different ones to find one that suits your needs.  These lofts can be in the middle or to one side or the other of your barndominium.  They can be accessed by a ladder or stairs.
This article will showcase several floor plans that utilize a loft space to give you some idea of how and where it can be put.  It will also cover tips on how to design your barndominium loft.  By the end of this article, you will know whether you want to have a loft in your barndominium and how to design it.
Key Takeaways
When designing your loft, you need to make sure that there is enough headroom to sit comfortably, even adults.
If you have an A-frame barndominium roof, you want to make sure there is enough room to move without hitting your head on the side.
Know what you are going to use it for.
Designing Your own Barndominium Floor Plans With Loft
When designing your barndominium floor plans with loft, the first thing you need to do is decide what you are going to use it for.  A loft for storage generally is not as large as one that is used for sleeping or as a play area.
If you decide to use it as a space for sleeping, home office, or lounge area, choose your furniture wisely.  You could use a couch or futon that converts to a bed.  Instead of chairs, you can use beanbags, especially if it is a play area for children.  If you are using it for a home office, you will need space for a desk or work area and a small filing cabinet.  What else you would need would depend on what type of work you do.
You also want to make sure that there is a wall or barrier at the end so if it is a play area, the children do not fall off.  Whether you use stairs or a ladder depends on the age of the child and what works best for the adult to climb.  If it is a sleeping loft you want to be able to make the bed comfortably.
There should also be at least one window to bring in natural light.  When putting in lights, it might be better to use recessed lighting so no one hits their head on lights.  If using it for storage, you can build in small cabinets with storage cubicles.
Top 7 Barndominium Floor Plans With Loft That Will Inspire You
Below are seven barndominium floor plans with loft to help inspire you as to how you can build your barndominium and incorporate a loft into your designer plans.  Many times, when people think of a loft, they think of a small, compact area but with these plans, this is not the case.  Most of you could consider the 'loft' as a second floor.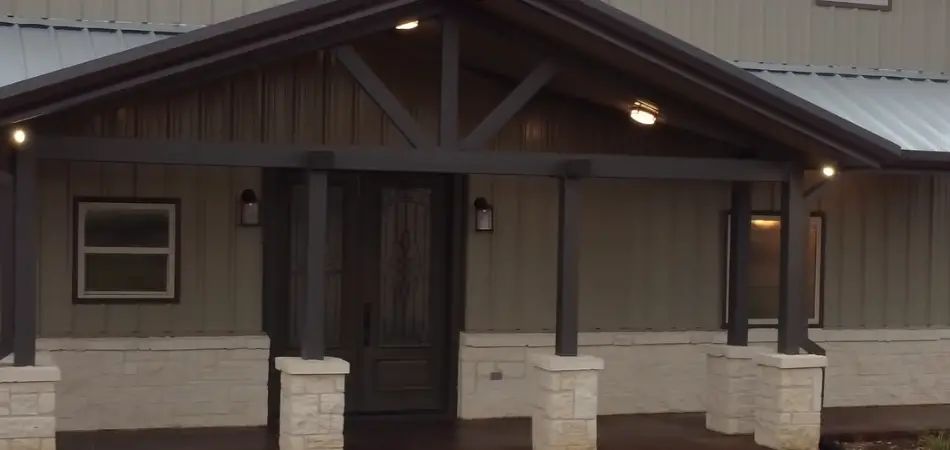 Example 1 Plan 188
This floor plan gives you a lot of space in the main living area for the entire family to gather, complete with a garage and laundry area.  The master suite is between the garage and the family living area.  In the kitchen, there is a large butler's pantry and a half bath for guests.  In the loft, there are three bedrooms, with a jack-and-jill bathroom.  There is also an ensuite bathroom for the third bedroom plus extra space to just hang out.  There is also a laundry shoot to send the clothes down to the laundry room.
Example 2 Plan 189
With this loft floor plan, they have utilized it as a play area, a guest bedroom that has a bathroom, and two storage units.  One is off the guest bedroom while the other one runs the length of the loft.  This is a great use of loft space.  The lower level is where you find the master suite and two bedrooms with a jak-and-jill bathroom. There is also a den with another bathroom for guests.  In the middle is the kitchen, dining, and living space with a nice pantry.  There is also a laundry room.
Example 3 Plan 190
They are using their loft for a large play area that runs the length of the barndominium off which you enter two bedrooms.  You have to go outside the bedrooms on the other side of the loft to get to the bathroom.  In the main living area, there is the master suite with a garage on one end plus a smaller garage on the other end.  There is a living and kitchen area but no formal dining area.  There is also a laundry room and a mud room off the smaller garage.
Example 4 Plan 191
This layout is great for a family just starting or has a small family and only requires a master suite and another bedroom.  They have made the loft an open area to give you versatility as to what you want to use it for, such as an area for sleeping if you have overnight guests or the children are having a sleepover, a play area, or just a place to go get away from everything and read.
Example 5 Plan 192
This is a great layout for a larger family that needs a lot of bedrooms.  The loft has a common area where they can gather to read or play games.  Downstairs is the master suite to give the parents privacy while the children enjoy their loft.  There is also a nice living, dining, and kitchen area with a pantry, laundry room, and half bath, plus a garage.
Example 6 Plan 193
This floor plan offers you a nice gathering area plus two guest bedrooms and a bathroom.  If you did not need two guest rooms, you could use one as an office.  Down in the main living area is the master suite and another bedroom plus laundry room and office/den space/
Example 7 Plan 194
This floor plan is designed for a single person or a couple as they have put their bedroom/master suite in the loft.  The downstairs is their living area with a half bath for guests, a pantry, and a utility/laundry area.  There is an island for dining and a nice living room.  This is a smaller barndominium that only measures 36×24.  Great use of space.
Summary
As you can see by these barndominium floor plans with loft,  they can be used as the second floor for bedrooms to give the children and the adults their own private space.  If you are building a smaller barndominium, the loft can become your bedroom.  There are so many ways in which you can use a loft, as these different floor plans show.
I'm James, your barndominiums advisor. Several years ago, I had no idea what barndominiums were. Although I'd spent over 10 years in the construction industry, the first time I heard about barndominiums was when I saw my neighbor building a new-style home. That was the first barndominium I've ever seen, and I found it so fascinating that I wanted to learn more about them.
More Posts