The front door of a home, traditional or barndominium, is one of the first things that a peron notices when you come up the sidewalk.  It can be made of wood, glass, or what ever suits your style.  It is part of the curb appeal of your home and can help to increase or decrease the value of your home.
When choosing barndominium doors, you need to also consider what theme or style you are using for the interior and exterior. You want it to compliment both, not clash and stand out in a bad way.  Take time to look at the various doors before deciding on which to choose.
Barndominium doors for the exterior can be expensive so be sure of the design, style, and size before purchasing it.  In this article we will look at several exterior doors to give you an idea of the different ones you have to choose from.
Top 8 Most Stylistic Barndominium Front Door Designs
When choosing barndominium doors, you want them to be stylish but practical.  In these eight stylish exterior doors, you will see just that.  There is sure to be something that will become your favorite barndominium exterior door.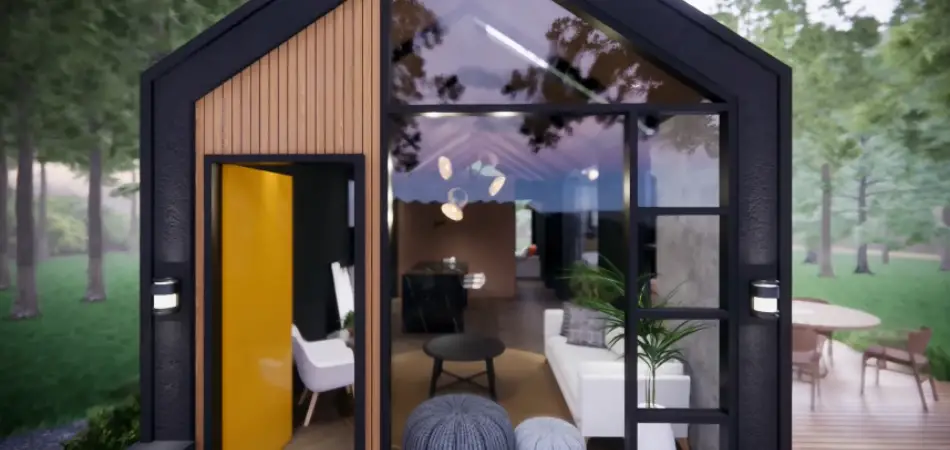 Rustic-style Barndominium Front Doors Idea 1
If you have ever envisioned living in a castle, then this rustic exterior door encased in stone would be a great door to choose.  It even has a small opening that can be opened from the inside so you can see who is standing there before opening the door.  On there are dark-colored sconce lights.  The handle is black wrought iron
Classic Style Barndominium Front Doors Idea 2
This is your classic black exterior door with two oblong windows on each side in a white framework.  Also beside the door frame are two white flower boxes with some type of short flowering tree.  In front of the door on the porch is a welcome mat that says "Home," making you instantly feel welcomed in this home.
Craftsman Style Barndominium Front Doors Idea 3
This is your classic exterior door that can fit most any décor style.  It is made of a dark wood with six small windows at the top so you can see who is there.  It is set in a white wooden frame with two black coach lights, one on each side.  The handle looks to be a burnished metal along with the lock.
Flawless Arched Barndominium Front Doors Idea 4
This is a very classy barndominium front door.  On each side of the wooden door are two oblong windows, one a little bigger than the other that have some deign in them.  At the bottom and middle at the top, the door is divided into panels.  The front of the house is done in brick.
Bold Red Barndominium Front Doors Idea 5
This double red door is sure to make a statement when people come to visit.   The double doors give you an extra-wide entrance, making it easier if you are moving in or bringing in something that is exta wide.  On both sides of this door are glass panels enclosed in a black frame.
Modern Cottage Barndominium Front Doors Idea 6
Not many people like to have black exterior barndominium doors but this one sets off the white exterior of the barndominium.  The large glass panel in the door makes it not seem dull or unappealing.  The two lights help to highlight the door with candlelights.
Mid-century Barndominium Front Doors Idea 7
This mid-century barndominium front door idea offers smooth horizontal wood panels along with a shiny black door handle.  The door offers a blend of natural shades of orange and green that go great with the furniture on the porch and the exterior of the barndominium.
Barndominium Front Doors Idea 8
This type of front door gives you a country flair like you are getting ready to go into a country general store, complete with a rocking chair on each side.  Each door has large window divided by wood into six panels.  Over the door is a large light that will give you plenty of light.
Summary
Exterior barndominium doors are no longer your simple wooden doors.  Now they can be a vibrant color such as red.  They can be solid with a peep hole or half glass.  Gone are the simple plain doors so let your imagination run wild and choose what fits your style.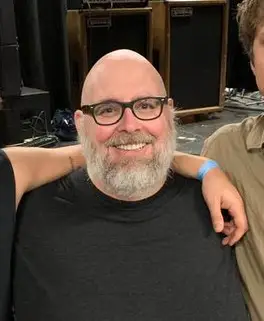 I'm James, your barndominiums advisor. Several years ago, I had no idea what barndominiums were. Although I'd spent over 10 years in the construction industry, the first time I heard about barndominiums was when I saw my neighbor building a new-style home. That was the first barndominium I've ever seen, and I found it so fascinating that I wanted to learn more about them.
More Posts